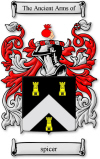 (back 10 generations to Switzerland/ Germany)
(Click on first name for Vitals; spousal surname for associated family)
______ Speicher (c.1678-bef.1788)
Unknown (c.1681-bef.1791)
I
Ulrich Speicher (bef. 1710-bef.1785)
Maria ____ (c.1717-bef.1819)
I
Johan Christian/Christoph Speicher (1720/38-after 1790/bef. 1797)
Christina Mishler (1734-1817)
I
Joseph Christoph(er) Speicher, Sr (1762/68-1830)
Elizabeth Miller +(1770-1818)
I
Joseph Christoph(er) Speicher II (1797-1862)
Rebecca Musser (1829-1892)
I
Laura Catherine Speicher (1859-1919)
Christian F. Lee (1858-1906)
I
Annie J. Lee (1885-1971)
Charles Frederick Krause (1884-1973)
I
Hilda Elizabeth Krause (1921-1997)
Richard Orville Miller +(1920-2015)
I
Susan Kay Miller (1949- )
Larry Edsel Pearce (1948- )
^
Annie Rebecca Pearce Matthew Carter Pearce
(1971- ) (1973- )
*Spelled various ways in English, including Spicer, Spycher, Spigher. Speiger, and Spiker
+Elizabeth Miller's family was southern Somerset County Amish. Richard Miller's family was northern Somerset County Lutheran, no relation. Both families originally settled in Eastern PA. Joseph Christian Speicher's mother-in-law, Anna Mishler (1715-1789), was also a Mueller.
DOCUMENTATION:
Cindy Leonhardt. e-mail. 4 Jan. 2011
Glades Star, p. 256. Garrett Co., MD. September 1947*
Internet source. 4 Jan. 2011
http://web.me.com/abacusinfo/Lehman-Burke_Family_History
J. Virgil Miller. Both Sides of the Ocean. Morgantown, PA: Mastof Pub., 2002
"Johan & Joseph Speichers." Glades Star. September 1947, p. 256
Various Public Member Family Trees, Federal Censuses, & other documents. Ancestry.com
*Speicher family Bible contains record. Owned in 1947 by Lt. Paul E. Speicher, Jr., Morristown, NJ, great-grandson of Joseph Speicher, Jr.
Last revised 1/17/20