by
Larry Pearce
6/18/22
Chapter 6A – More Retirement Activities, Vacation Travels

Before I forget – I'm getting older, ye know – look for special addendums* to this and other edited chapters later this year that will include more photos, artifacts, and even video clips of the experiences being talked about. While part of a new chapter, this section includes a summary of the time leading up to what Susan and I consider our formal retirement from major positions, Mt. Aloysius for me at the end of 2013, and Bishop McCort for her in 2014, or lessor activities I have mentioned in Chapters 3Dv, 4A, and 5. I have divided this chapter into three sections: "Vacation Travels," "Family History Work," and finally, my thoughts on moving from Forwardstown into a retirement setting.
Our travels have taken us to the majority of states and 20 countries, from the time we were married in 1970 until now. I'll mention as many as I can remember, even though most came before this project. After Susan and my brief and inexpensive honeymoon in Gettysburg, not far from my Presbyterian Hill and Wilson ancestors' farms, and the next day Lancaster, very close to Susan's Lutheran Miller and Amish Speicher ancestors' farms, we returned to our new home to finish graduate work and student teaching. I suppose our first real vacation came after daughter Annie was born, a week with my mom and dad in a lovely cabin on a Canadian lake. I remember the scenic boat ride and tours of the capital, Ottawa, and  Fort Henry, along the St. Lawrence in Ontario. Turning on the car radio one night, I was able to listen to our home station, WJAC Radio, my employer some 1,200 miles away. I was told that this unusual phenomenon is called a skywave or "skip."
When I was just a boy, I was part of family trips to Florida. My mother's Gray familes have owned property there going back to her Grandfather Robert, a veteran of the Civil War. My own young family and I continued to travel the 1,200 miles to Dad's brother Howard's near Orlando, with a stop halfway at Mom's brother Norman "Bob's" in Wilmington, NC. Six months after our Matt was born, 1973, we arrived at my brother Paul's in Vero Beach and later in the decade at his place in Miami. After graduating from Penn State and serving in the US Air Force, he became a pilot for various airlines, National, Pan Am, and Delta, and usually lived several hours from his base, but always offering lots of fun and interesting activities: swimming, zoos, music, etc.
I had flown to his first house in Ft. Lauderdale on spring break as a college student. I remember the tan I got there that lasted for weeks. I showed it off to all my friends, thinking I was one of the "wild bunch." Before Paul's retirement to the Charlottesville area, he and his wife lived on what I called "the sheep ranch" in Connecticut where our son Matt worked for two summers and where Susan and I stayed after sending Matt off to Germany in 1989. Those were good times with family.
Another one of the first vacations for our young family was driving through the New England states after stopping for three days in New York City. In the Big Apple we spent a day each in various parts of Manhattan: northern, lower, and central. We toured the cathedrals of Sts. John and Peter, Wall Street, and had a tour of the NBC broadcast studios and Radio City Music Hall.
Then we drove east along the coast to Mystic Seaport, a wonderful maritime museum in Connecticut. Then a sort hop to Providence, Rhodes Island, where we spent the night with car problems. After a fix we toured Cape Cod – too cold to swim – Plymouth Rock, and Boston, where Matthew later considered enrolling at Boston College. After a lengthy drive back west to Philadelphia, we visited Susan's cousin's family and saw the sights there. That must have stuck because Matthew chose Penn as his Alma Mater.
Other driving vacations we took when the kids were small included a two-weeker in the mid-60s through the Western United States during what must have been the hottest summer on record. We visited Susan's dad's cousins in Iowa, then headed for South Dakota, where we walked through the famous Corn Palace Museum in Mitchell. Annie was starting to show-off her speaking skills by reading road signs. Sioux City came out "Si-ox City." We chuckled from the front seat each time we heard it. How we loved the Badlands and Black Hills, where we had to wait until the buffalo crossed the road in front of us. We enjoyed the Fourth of July fireworks from Mount Rushmore. After posing with a real Indian, we spent the night in a $12 motel with no hot water and a hole in the sheet, where I got my big toe stuck. The next day, we swam with the Native Americans in a pool where the water circulated up from the bottom through rocks. Annie was too scared to go down the 25-foot slide.
After driving across desolate Wyoming, we landed at Susan's Aunt's house. They too had sheep, hundreds of them. From there we toured the magnificent Yellowstone National Park. Words cannot describe the wonders there. One memory I have is of Susan's cousin-in-law killing a rattle snake that tried to cross the dusty road in front of us in Green River County. From there we cut the corner off Utah to get to my cousin Jim's house in Grande Junction, Colorado west of the Rockies. We were on our way back home. He had a nice pizza waiting for us. Next, over the Continental Divide with Susan driving I-70, I thought I'd be cute. I reached across and turned off the ignition switch, saying. "We can coast down to Denver from here." Her eyes got big as she failed at turning the engine back on. Was it the altitude or my attitude? All I know is that between the two of us, we got the car off the road and restarted. I think if she had had a gun that day, she would have shot me. Later that afternoon we arrived at Jim's brother Lee's place south of Denver. Excited to see us, he exclaimed, "I've just ordered a pizza for us." None of us dared say, "We just had one for lunch at your brother's house!"
Another memorable road trip occurred a few years later, in May, when we drove south along I-81 through Virginia. Our first stop was the Shenandoah Apple Blossom Festival in Winchester. I was Station Manager at WJAC Radio at the time and never had problems getting free tickets to see "stars." Miss Dolly Parton, a favorite since I had first seen her on TV as a teenager at Uncle Merle's, was the headliner there, so I put in my request at the box office. I was told to wait, and so we did – until I was ready to give up at the beginning of the second half. I realize now the the main act never opened a show, and so we hadn't missed a thing. What a memorable night that was – and free! The next day we watched the long parade with the late actor, John Ritter, as Grand Marshall.
Later in the day we left I-81 and climbed the Blue Ridge to Luray, VA, where we spent the night after swimming in a rather cool motel pool. I immediately caught a cold and was miserable the rest of the trip. We toured the famous caverns of the same name and drove south to the 215-foot high Natural Bridge. Little did we know that our daughter Annie would be living and teaching just west of I-81 in Radford and Virginia Tech, Blacksburg.
After exiting Virginia into Tennessee we toured the American Museum of Science and Energy in Oak Ridge, TN. Had we turned the other direction we would have been in Sevierville, near Gatlinburg, now the home of Dollywood after it moved from Nashville. But that was then, and Dolly was still in Music City. My Uncle Dale's sister-in-law worked for the United Methodist Publishing House there, and she gave us a nice tour after we had seen everything at the original Dollywood. Just north of the city, on our way home, we visited the Johnny Cash Museum, home of another hero of mine. Several of his family were working there.
Up through Kentucky, we stopped at Mammoth Cave National Park and went deep underground. Further east from there was horse country, and we saw lots of thoroughbreds just off the interstate before arriving at friend Violet Eash in Huntington, West Virginia. She taught at Marshall University then. After a day's driving, we were "treated" to a driving tour of the area, both sides of the Ohio River. Needless to say, we were glad to get back to her apartment. By the next day we were back home in Somerset County, a little road weary but none the worse for the wear.
Two more trips, south and west in the States, before we take off to Europe. Susan and I had been to Disney World with the kids, years before the latest areas had been added, but  many things came together to motivate us to go back later in 2013: Mom and Dad had passed; my sister Ellen, their caretaker, was anxious to go back to Florida where she had spent many years after College and professional training as a physical therapist; and Susan and I wanted to see more of Disney. Just north of Orlando is an enormous retirement resort called "The Villages," with golf courses, pickleball courts, and endless cart paths. Ellen saw this as the perfect fit for her continuing active lifestyle after retirement. We all flew down, rented a car, and made reservations for staying and touring The Villages. Honestly, after seeing that place, many aspects of Disney seemed anti-climactic. Upon returning home, Ellen made a deposit and was soon selling, packing, and moving south with golf clubs in hand.
Around that time my wife and I agreed to meet Daughter Annie on the West Coast, where she had been attending a conference. We flew into Vegas and rented a car and a hotel room. That evening, before settling in, we drove out to the magnificent Hoover Dam. Like many parts of the West that I am about to describe, there are no words to adequately help you understand if you've never seen it. The next morning we were off to the north rim of the Grand Canyon, then to Zion and Bryce Canyon National Parks.
The next day, in a move that I have regretted ever since, we drove all day north through the desert at sometimes 90 MPH to get to Salt Lake City for a 5:00 rehearsal of the Mormon Tabernacle Choir, a dream I've had since playing their programs every Sunday evenings on WJAC Radio. I hope some day to hear them in person, but getting there in a safer manner. We pulled up to the curb in front of the new temple, and asked about the meeting. A man told us that the evening's practice had been cancelled. I was heart broken, but we found a room, had dinner, went to bed, and toured the many other sights in the city. We got to hear an organ recital in the new hall and imagined what it must be like to tape the 93-year old program with 200 singers, 100 musicians, the grand organ, and lots of lights. We watch the show every Sunday on BYU-TV now and remember what almost was!
Heading north from the Great Salt Lake, we traveled through both desert and pine forest, mostly uninhabited, to get to Susan's Cousin Becky's in Salmon, ID, and the mountains where her father had prospected for gold years before. This had been the home of Sacajawea, the 16-year old Native American who guided Lewis and Clark on their great adventure through the west. While the views were spectacular there, I became more appreciative of the greater variety of grass and trees and wetter water table we have back East.
Turning right after entering Idaho, we came off the mountain past the Little Bighorn Battlefield. We turned left then onto what the cowboys must think is an interstate – it's two lanes with no traffic in sight – and spent the night in Missoula, Montana. Susan and I went into the first restaurant we could find, about 7 in the evening, a McDonald's.
Apparently it was about to close along with the whole town as the stools were turned upside down on the tables. They kindly took our order, we turned two stool over, and ate. After a short walk around town, we bedded down, thinking, "We'll get the real tour in the morning." Guess what, we left town around 9 the following day with the feeling that there wasn't a lot of activity in that college town, anytime ever!
Next stop was the small town, back in the panhandle of Idaho, with the French name – Coeur d' Alene. We were enticed by the lure of a real silver mine. Perhaps this was especially meaningful because of our living back East where so many towns began as mining communities, for coal that is. The Sunshine Mine is near Wallace, ID. We were back in the mountains then, and soon crossed the Spokane River into the state of Washington, where the city of the same name straddled a beautiful waterfall. After getting a motel, we enjoyed a movie in the Imax format, the story of Lewis & Clark. That connected to my hometown of Pittsburgh, where the team had constructed the river boats used in the exploration, and my brother's residence in Charlottesville, VA,  where Lewis lived after returning East.
The next morning we continued west and drove through the little rodeo town of Ellensburg, WA. Naturally, we thought of my sister. Finally that day we arrived in Seattle and my cousin Jim's new house. A fellow-graduate of Penn State, he inspected and designed banks for a living, before his retirement. We had a nice tour of the city and even saw the men famously throwing fish back and forth at the market. We had picked civil engineer daughter Annie up from the airport the night before, and it was a bit hard to keep her heart on our tour as she kept getting side-tracked by the unusual architecture. I felt like we had to tie her to her seat in the rental car as we said goodbye to Jim and headed south to see a fellow Wycliffe volunteer from Oregon. We had met him in England
We drove down the coastal highway into California and crossed the Golden Gate Bridge into San Francisco, regrettably after dark. Somewhere, earlier in the day, our "check engine" light had come on, and after a good night's sleep, we found our rental company to get a new car. Two things – one bad and one good: first, the light simply meant that is was time for an oil change, not a big deal; and second, they took our tiny gas-saving four-cylinder and gave us a behemoth eight-cylinder, saying "That's all we have." After a wonderful tour of the City by the Bay, we climbed into the foothills among the vineyards and windmills, to find our first gas station, where the liquid gold was over $5 per gallon. That was back when we were paying under $3 back home.
The last stop before returning to Vegas was Death Valley, where the temperature was 114-degrees. None of us had ever experienced heat like that. The worst part was the highway sign as we entered: "Turn off air-conditioning." This made no sense to us, but apparently kept the engine from overheating. We complied and later raced from the parking lot into the National Park visitors' center. We were never so glad to get back to the 90-degree Las Vegas. We returned the rental car there, said goodbye to Annie, who flew back to Virginia, and got on our plane back to cool and mountainous Somerset County.
I said at the outset that Susan and I had been to 20 countries and many states during our marriage. Let me say, in qualifying that, I was alone on my mission trip to Haiti, and she was without me in Hawaii celebrating my parents' Golden Anniversary with my sister. Our first overseas trip together was so see Matthew in Germany in 1990. I had explained that he was an exchange student who, with his sister, was to see many more parts of the world. I remember stepping off the ramp in Frankfort and seeing our son and his adopted mother waiting for us. We were delighted, but not so much sitting in the back seat heading north of the Autobahn at 100 MPH. There were three lanes each direction – fast, faster, and fastest – and seems like we spent most of the time in the far left lane. I recall looking back at a car coming up on us, faster than we. She pulled over, and the car passed, leaving us in a cloud of wind. The dear woman had a nice lunch of cold cuts for us when we got to their home. Afterwards, we were escorted to our bedroom, where she pulled the blinds and said that she would waken us for supper. This being our first experience with jet lag, we hardly felt like we had rested when she opened the door and turned the lights on. When we went into the dining room, we were greeted with – are you ready for this – another meal of cold cuts. Now, I love cold cuts, but many of these still had the fat on them. After an evening of welcomes and stories of our son, we were, once again, ready for bed. The next morning, we had more cold cuts, but this time an option of some cereal, thank heavens. I had the feeling later on that full meals were reserved for weekends with family.
This would be a good time to also explain that folks in Northern Germany are easily a foot taller than we average Americans. I'm five-foot eight and I could only touch the floor with my toes while sitting in the bathroom. Poor five-foot two Susan had to jump up on the throne and never could touch the floor. I don't know that we ever saw our faces in the mirrors. It was all we could do to touch the pedals when we borrowed the Windmuellers' bikes for a July 4th ride. I remember standing in line to get into the famous Bavarian castle, Neuschwanstein, and seeing three lines: Asian, American, and German; each was a foot taller than the other. Anyone who doubts Hitler's wanting to build a superior race should go there.
There are so many wonderful stories to share, but I'll have to save some for my addendum. The three of us skirted the Alps on our train ride to Salzburg, birthplace of Mozart, and Vienna, the music capital of Europe. The overnight train ride north to Hamburg is worth describing. We had shared a sleeping car for six, and soon discovered that the European who use this accommodation are not exactly modest. I grabbed a top bunk in my street clothes with Susan under me. Matt was nearby, but the rest carried smelly sheep skins with them and proceeded to undress down to their skibbies right in front of us. We didn't know whether to laugh at the immodesty or cry from the stench of their carry-ons. We were so tired that we made it through the night. But wait – there's more. When we got off the train the next morning in Hamburg?, Matt had a local guide find us a room for that next night. He insisted, knowing the reputation of many German towns, "No Brothels." The man shook his head and left, returning in only a few minutes, handing Matt a paper with an address on it. Turns out, the room was right around the corner from the train station. We were delighted – until we saw the signs below the room and to the right and left – (in English) Strip shows. Women for Sale, etc. Disappointed and a little embarrassed, we kept the room and had a lovely time touring before our next train took us to Berlin.
The Berlin Wall had come down in the fall of 1989, as Matt was getting settled speaking German. But many of the East-West protocols were still in place. I remember our train coming to a stop at the East German border outside of West Berlin. We waited for fifteen minutes with East German soldiers circling the train, which started up again and took us to the city. Next to seeing Matthew, our visit to Berlin was the highlight of our time in Germany, for me at least. We ate our first lamb sandwiches in the shadow of a World War II bombed-out church, now the Kaiser Wilhelm Memorial and reminder of those awful days 80 years ago now. Thoughts of Susan's dad riding in the belly of a B-17 as a ball turret gunner in his 35 bombing runs ran through our minds.
Another once-in-a-lifetime vacation was two decades later when we met Annie in Italy where she had gone to a conference. After gliding in over the Alps, we landed in Milan and took the train to Venice, the ancient city built entirely on water. While our sleeping accommodations weren't first class, our impressions of Doge's Palace, St. Mark's Basilica, the Rialto Bridge, and the many museums were. Before long we trained to the Leaning Tower of Pisa. To say that my mouth was in a dropped position the entire time we were there is no exaggeration. One has to see it to believe it. From there it was several days in Rome, an historic city beyond description: the Vatican, St. Peter's Square, which is really round, the Colosseum, the area where St. Paul was held, and of course the food. Did I mention that we continued our string of McDonald's stops too? And yes, the restrooms are always free there. The next time you see Susan, ask her about flooding the apartment by misusing the bidet! We wondered if the Pope had water pressure then as the Vatican was just on the other side of the towering stone wall. I'm sure he would forgive her. Oh well, back to Milan and over the Alps on the way home.
The transportation in Germany, Switzerland, and Italy were very similar: small cars and lots of trains. By the time of our third trip to the Alps with the publishers of "Mennonite Family History" (MFH), we were familiar and comfortable with reading maps, paying tolls, and asking for directions. Our first trip was with a group out of Philadelphia called Untours, which as the name implies consists of two weeks of housing, a train pass, an orientation, several guided tours, and basically being left alone to go and do what one wants. Susan and I brought the kids along on a wintry second visit. While we felt a little more at ease, we were still in awe at the mountainous panoramas and steep cog railways. The MFH tour concentrated on Susan's deep maternal Swiss-German Anabaptist roots. A look at the article, "Christianity Comes Home: Part III", explains the intimate experiences we had with her distant relatives there. And I thought my Pearce ancestors were "nonconformists"! I guess Susan and I were made for each other.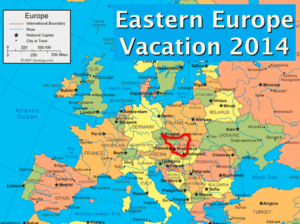 In 2014 my family of four decided to venture into the eastern part of Europe, a round-trip consisting of Hungary, the Czech Republic, Austria, Slovakia, and Poland. At that time the prices for tourists were low and I have to admit that I had usually looked down at these non-English speaking peoples. But overnight train stops in Prague, Vienna, Budapest, and Krakow, to name a few cities, certainly changed my attitude and understanding. These were some of the earliest homes to the Reformation, fine arts, and ancient history. My understanding of world conflict was greatly implemented. Having been just miles from today's disaster in Ukraine, my heart goes out to those peoples who just want freedom.
Surely the most exotic two-week trip we took was through our friend Jim's church group to Israel and Jordan. We flew into Tel Aviv, boarded a bus, and headed south to the port city of Eliat on the Red Sea before crossing into Jordan, stopping to tour the ancient deserted city of Petra, and riding north from there to Amman. If Jerusalem, Galilee, and Petra were high points, Amman was a low, with Susan sick in the hotel from food poisoning, probably from eating a "dirty" salad. This was the same day that word of her best friend Lucille's death reached her. Fortunately, I don't eat much salad when so many exotic foods are offered on such a once-in-a-lifetime trip, and I never got sick. In fact, that Bible-based, learning vacation comes as the most-recommended from all others. My faith now has a new dimension – having seen where the Old Testament characters lived and walked where Jesus walked. Better than books and more serious than sermons, the Holy Land now lives in my soul.
Not counting the layovers in London's Heathrow on our ways east, Susan and I have been in England twice, once in the south as part of our Wycliffe mission days, and another time in the north, as part of our Ireland and Scotland tour. Before ending this installment, let me highlight the latter. While the majority of my mother's ancestors came through various parts of Northern Ireland, they no doubt originated in Scotland. Unfortunately, about the only records we have of this journey are the surnames: Gray, Campbell, Leslie, Crawford, MacKrell, etc. A look at the E-gen Family Tree Index will provide some proof. The beginning and ending of Susan and my trip to these two countries involved the tiny airport at scenic Shannon in the southwest. We were no sooner on our way to our first night's stay in the rental car than, driving on the left-hand side of the narrow road, I had to decide to hit a giant tour bus head-on or side-swipe a stone riverwall. I chose the latter and, while saving the lives of husband and wife, I paid for it dearly when I turned the car in, having opted out of the extra insurance coverage. Working our way up the west coast of the Republic, we saw the magnificent Cliffs of Moher and Galway Bay, to name a few stops. Then, cutting cross-country, we came upon The Ulster American Folk Park, birthplace of Thomas Mellon. What a nice surprise to learn the background of this famous American who lived just of the Laurel Mountain from us. Now in the British United Kingdom, we walked the wall and toured the museum on Derry, or what the British call "Londonderry." My Gray and Crawford ancestors defended that city in 1689. The Giant's Causeway was indescribable. So many other stops we made, but we had to turn the car in and stay over night in Belfast before boarding the ferry for Scotland.
Landing in the beautiful little seaport of Stranraer, we picked up another car and headed for our overnight in historic Glasgow to the northeast. Continuing the next day around waterways and mountains we stopped and heard the story of how my Campbell clan slaughtered the MacDonalds of Glencoe in 1692. I'm glad the American fast food lets me patronize them and not limit my diet today to tomato soup. Get it? Other stops that week included Stirling, the home of King Robert the Bruce, another family ally. Of course no trip to Scotland would be complete without time in the capital, Edinburgh. The walk from the castle down "The Royal Mile" to the Queen's residence, with everything in between, can take the better part of a day.
An American can easily have the impression that most everything in Scotland is rural. We certainly did as we "took the short cut" through a national park to our ride back to Ireland on the ferry. What scenery! Warning: watch for wandering sheep on the back roads. From Belfast we took the train south to Dublin and an all-too-short-a-stay. We could see the Guinness Beer plant from our hotel window and of course had to have a tour and a sample. Only later did I learn that one of my ancestors, the Rev. William Jack, preached at the Bull Alley Church in Dublin in the mid-1600s. And no history of Ireland would be complete without knowing the sacrifice of Patrick Pearse, for who the main street at Trinity College is named. Considered a patriot for his death before a firing squad on Easter Sunday 1916, Pearse's house out in the country was of particular interest to us. You may only want to see the famous Scrolls housed at Trinity. but there's so much else to see in the capital city.
Susan and I agree that if and when we travel again, we will visit Switzerland and Ireland, but the one-word advice I would give to anyone waiting for retirement to travel and take vacations is – "Don't." While Susan and I enjoyed good health leading up to our retirements around age 65, we couldn't have possibly fit all of our wonderful times into the years since. First, who's to say that our kids and the friends and relatives we visited would have been available had we waited. Second, our health clearly has been declining in the past decade. We may have more money now to spent, but we wouldn't be able to do the walking that most vacations require. In conclusion, if you want to travel and see the world, do it now while you are still able. More about this in the final part of this chapter, "One Last Move." But next, let me share another passion: Researching, Writing, and Sharing Family History."
*Addendum: This is a 2022 Father's Day remembrance from my Daughter Annie's Facebook page that came at the perfect time and means the world to me:
A friend posted a list of tourist locations yesterday and I was amazed to realize I'd been to nearly all of them, many as a kid on family vacation. I posted a comment to that effect saying I'd been lucky to have Clark Griswold for a father. Dad, we sure don't always agree about things, but you had a grand vision for the family experience and made it work out somehow despite the odds. Happy Father's Day to my father Larry Pearce. My life is immeasurably richer for all the places we went and things we saw*. Thank you from the bottom of my heart!
*except St. Augustine – I cracked up when I saw that on this list. I'll never forget that car trip to Florida – being rescued from middle school, stopping along the highway for dad to be violently ill from too much hot coffee in a plastic thermos, driving all night, stopping briefly at South of the Border for a bathroom break, and FINALLY making it to Saint Augustine, where we all fell blissfully asleep in the dark, air conditioned theater of the tourist center watching a movie about the place. I think another trip must have been for my cousin's wedding. If so, we circled back through Atlanta on the way home and had a great time. That wedding was ultimately what led me to choose Georgia Tech for grad school, and the rest is history…
Reminder: Look for other special addendums to this and other edited chapters later this year that will include more photos, artifacts, and even video clips of the experiences being talked about.
Move to: Chapter 6B – More Retirement Activities, Writing Family History
Return to: Table of Contents
Last revised 6/25/22