by
Larry Pearce, uncle
with lots of narrative from the subject
1/21/20
My nephew Stuart lives with his wife Beverly in Mt. Pleasant, SC. The couple has three adult children living in various places between nearby Charleston and far away Hawaii. I have written earlier about Stuart and his musical talent and daughter Mary Michelle and her film-making career. Stuart is a graduate of Georgia Tech with a degree in Mechanical Engineering, and now a civilian employee with the U.S Navy. His whole immediate family went to Hungary in 2007 on an English language mission trip.  Michelle and he went to Puerto Rico in 2011 and 2013 on a cleaning and rebuilding mission trip after devastating storms hit the Island. In recent years it seems like Stuart and Bev themselves are also  living in harm's way. Every time a hurricane threatens the southeast coast of the U.S., and there have been many over the years, we call or e-mail to ask if they're OK. The usual reply is something like, "Oh yea, just a few inches of rain and a little wind here. We live up on a hill, you know." In addition to being a husband, father, and servant of his God and country, Stuart may have just found his "other" calling. These are the details of that.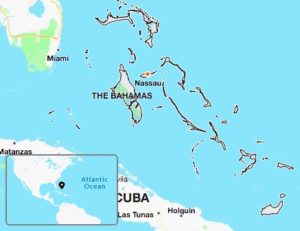 Hurricane Dorian hit The Bahamas Sept 1-2, 2019. The Commonwealth of the Bahamas is comprised of 700 islands and over 2,000 rocks and cays, sprinkled over 100,000 square miles of the Atlantic ocean southeast of Florida.

Water Mission (WM), a non-government organization (NGO) headquartered in Charleston, SC,  began preparations before the storm hit. They shipped water purification systems as soon as Bahamian capability to receive shipping opened back up after the storm, and they had people on the ground there surveying damage. WM had founded a disaster relief branch of the organization after recent hurricane devastation in the Caribbean. Their normal operations had been providing clean drinking water to villages in developing countries around the world that didn't have any, all under the title of The  Global Water Center.
Water Mission's request for volunteers to help in The Bahamas contained the following descriptions, general and specific:
*We welcome all volunteer skill sets but are specifically seeking volunteers that have a background in construction, logistics, engineering, electrical, water treatment, or general maintenance. Any experience with reverse osmosis water treatment systems is a plus.
*We will be setting up and monitoring water treatment systems in the impacted areas of the Bahamas, primarily in the Abacos and on Grand Bahama.
*Volunteers must have a valid passport, be able to spend extensive time outside in hot temperatures, be comfortable with rudimentary accommodations that could include rustic camping, no electricity, no working restrooms, no running water, etc.
*Volunteers must be able to walk long distances or stand for long periods of time, be comfortable with unisex accommodations, and be extremely flexible and comfortable with unknowns.
After reading these criteria and determining that WM is a good, well-run organization of faith, Stuart said, "Sign me up." He continued:
They were interested in me, and we set up an interview. They accepted me as a volunteer, sent me forms, and recommended that I get the CDC vaccinations for The Bahamas. That took about two months to finish. Once I had the vaccination plan in place I sent them possible dates to go; 30 December-18 January were the dates I sent, but they revised to 5-17 January. I was part of Team 6 that consisted of three volunteers, one full-time WM person on Abaco, three volunteers on Green Turtle Cay, and one in Freeport.
We had one assignment: figure out why one of the systems is not longer starting as it is supposed to. The issue started mid-December. When starting, it would bog down the generator so much so that it would shut it down. The team before us figured out that if they wrapped a rope around the shaft of the motor and pulled when it was starting, that was enough of an assist to get the system going.
There is one small system installed in Treasure Cay, about a 30-minute drive north of Marsh Harbour. This was a problem system, the same one in use at three other locations with no issues at the other sites. This system would make about 1200 gallons in eight hours. A larger unit in Marsh Harbour will make 7000 gallons in the same amount of time. We passed out 7-gallon containers for people to put the water in and transport to their homes. We tested the water several times a day for six different water quality parameters. It was the only water I drank the whole time, and it was good.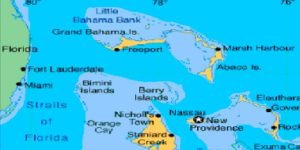 This is a day-by-day description of Stuart's activities:
Day 1 – We tried to figure out the problem with the system in Treasure Cay. We took almost every thing apart, checked the wiring, connections, etc. We found some things that needed fixing and were hopeful for success, but none. During our stay we were in a four-bedroom rental house that someone had loaned to WM. Until there is power and water service, the area will not be attractive to tourists. So, for now, the owner must have figured it's better to have people there to keep it clean and as protection against possible looters. We bought food at the local store and cooked it. Things seemed fairly normal, not like we were roughing it.
Day 2 – The retired NASA engineer and nuclear plant manager stayed at Treasure Cay to continue trouble shooting. I went to Marsh Harbour to assist with running the Reverse Osmosis (RO) system. Treasure Cay and Marsh Harbour has full time, local operators, but we were there to help with any issues they are having and keep them company and help load water. It can be a long day watching pure water get made from salt water. Marsh Harbour had a couple of repairs that needed to be made before making water. The foot valve had failed, so priming the feed water pump was frustrating and difficult because the water would leak out. We replaced it and two other worn-out fittings and cranked-up the system.
Day 3 – We experimented with moving the feed water pump closer to the water so that the pressures are better at low tide and the RO plant can continue operating. Success! The pressure are better. Now the system will be able to operate no matter what the tides are.
Day 4 – When we could not figure out the problem at the Treasure Cay site, we kept asking the NASA engineer, "You're the rocket scientist; what's the problem?"  His reply was, "Rocket science is easy compared to figuring out this problem." We eventually moved the pump at Treasure Cay closer to the water. We had to scavenge material to build a platform. Success also; now the water pressure's better.
Day 5 – It's a national holiday in The Bahamas: Majority Rule Day. We went to Green Turtle Cay to see that system and how it operates: no issues there. We continue to  scratch our heads about the problem at Treasure Cay.
Day 6 – Make water, scratch heads.
Day 7 – We went to a local church that the team had been attending called New Vision. The church is collecting and handing out food and supplies, and there are tents on the property for people. Afterwards, we went out in a borrowed boat for a short time. Again, they were glad to have us keep an eye on it.
Day 8 & 9 – Make more water & scratch heads.
Day 10 – Make even more water, scratch head, go pick up next group of volunteers, & show them systems. Scratch more heads. It's almost time to go home, and the Nuclear Plant Manager and Water System Maintenance Supervisor have an idea about the problem.
Day 11 – We tested the idea: success. The motor start relay was bad. We bypassed it with a manual switch and got the system running. Freeport system has same problem. We discussed our solution with them.
Day 12 – Fly home and learn then that Freeport has implemented the same solution: success.
Final observations:
#1: Good attitudes with the locals. They are very appreciative for the water. They know they could not be there cleaning up and repairing without water. WM will be there until reliable drinking water is available.
#2: There is still not power or city water to any of the cities affected by the storm. This situation may last 3-6 months. There's a lot of damage. The resorts are starting to get repairs done. This is good; the locals will have jobs, but we don't know how their houses will get repaired. Most did not have insurance. More trips for reconstruction? It will be 5-10 years before the islands will be back to "normal," by my estimate.
#3: There are a lot of groups helping: World Central Kitchen is providing meals, but they are scaling back as restaurants open so they are not competing. Samaritan's Purse has large crews for clean-up and mucking out houses. WM, however, is the only group providing water. There is now a local grocery store open; it is a busy place.
Stuart concludes his report by saying simply, "Good group, good trip." This author (and uncle) would like to add, "Good job, nephew! We're proud of you."
Last revised 1/22/20