George  (1828-1907)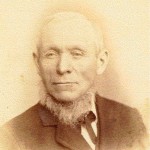 b. Bavaria, Germany; r. West Deer/Pine/Richland Twps., Allegheny Co., PA (father probably George, Sr.; Farmer)
-Emigration: 1846; the 1850 Census shows a George (24) and Elizabeth (19) Hoffman (brother & sister?) living with a Weaver family in nearby Shaler Twp, probably just before George married.
-Military: Civil War volunteer from Richland Twp.; family tradition says he had an early discharge because of a large, young family
-Cause of death: Certificate simply says "Old age"
-Burial: St. Paul's Evangelical Lutheran Cemetery, Flagstaff/ Sugarloaf Hill, North Park, McCandless Twp., PA
–Last Will & Testament
Annie/Anna Katherine Brown *(1829-1890)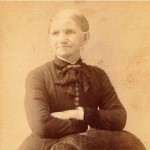 b. Germany, Scotland, or possibly Philadelphia*; r. Pine/Richland/West Deer Twps., Allegheny Co., PA (parents James & Annie Sims Browne; Homemaker)
-burial: St. Paul's Evangelical Lutheran Cemetery, Flagstaff/ Sugarloaf Hill, North Park, McCandless Twp., PA
Marriage: before 1849
Children+:
1. George, Jr. (1849-1921) (m. Mathilda Sarver)
2. Mary (1852- ) probably never married and George, Sr. lived with her in West Deer after becoming widowed, according to 1900 Census
3. Anna Katherine Hyde (1853-1890/1926) (m. Charles J. Walter)
-burial: St. Paul's Lutheran
4. Louis (1855-1920) (m. Elizabeth J. Bryson)
5. Rosanna/Rosa (R.A.) (1860-1932) (m. Henry Miller)
-burial: St. Paul's Lutheran
6. Christena (1862-1928) (m. Frank Drum)
7. Rachel Elizabeth (R.E.) (1866-1946) b. probably Richland Twp.; r. West Deer Twp., Allegheny Co., PA (m. William James Campbell; our line)
-burial: East Union Presbyterian Cemetery, WDT
8. Elizabeth ? (1874-1927) Annie would have been 50 when she was born; not found in family records.
* one Ancestry.com family tree suggests the "K" is for Krug, possibly a maiden or family name, and that Annie/Anna was also born in Bavaria. The 1928 death certificate of daughter Christena (Drum) states that Annie's maiden name was Hyde and that she was born in Germany.
+ my earlier Vitals page mistakenly included a Margaret Hoffman (b. 1846) of NJ who married a William Maines.
Documentation:
Notes from Edna Gray
Family tradition & cemetery records
U.S. Federal Censuses, 1850-1900, military records, and various Member Public Family Trees from Ancestry.com. 12/31/13.
RETURN TO OUR HOFFMAN FAMILY TREE
RETURN TO OUR BROWN(E) FAMILY TREE
Last revised 2/15/21