Transcribed with [Comments]
by
Larry Pearce, great-grandson
with memories from
Grace TeSelle, granddaughter
2/7/21
Part IV – Two Letters from Two Nieces, 1945
(Click on images to enlarge/hit back arrow to return)
The jury's still out on the exact relationship of Lois (Mrs. Frank McKim) to Alice. I have an e-mail into family and will post the answer when I get it. At the same time, these letters contain many names, some of whose identities we may never know. Research continues as the letters provide a good look into the final days of World War II and life in Western Pennsylvania. I had believed that the second letter was also to Great-grandmother Alice, but you have to read my evolving comments to find out the particulars.
Letter #1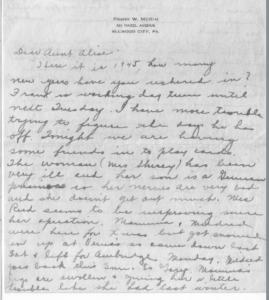 ---
Date      Postmark         Medium   From                        To
1945       Ellwood City        Letter         Niece Lois                   Aunt Alice Hill
---
Frank W. McKim
423 Hazel Avenue
Ellwood City, PA
Dear Aunt Alice,
Here is is 1945. How many new years have you ushered in? Frank is still working day turn until next Tuesday. I have more trouble trying to figure the days he has off. Tonight we are having some friends in to play cards. The woman (Mrs. Shirey) has been very ill and her son is a [unclear – German presinic?] so her nerves are very bad and she doesn't get out much. Mrs. Reed seems to be improving since her operation. [Momma?] and Mildred were here for X-mas but got snowed in up at Verna's so came down last Sat. & left for Ambridge Monday. Mildred goes back this Sun. to Gary's. [Momma's] legs are swollen & giving her a little trouble like she had last winter.
[Comments:  The answer to the first question is easy: Alice has "ushered in" almost 80 New Years. "Frank" is Lois' husband, as we can surmise by the letterhead. Our guess with Lois' inability to figure out his days off is that he does shift work. But, there are many important unanswered questions in this letter: Who did niece Mrs. Frank McKim, or "Lois" as we'll find out at the end, belong to? Who was "Mrs. Shirey," "Mrs. Reed," "Momma," "Verna," "Mildred," and "Gary." Alice's oldest daughter was Bessie Reed (Hill) (1887-1974), my grandmother, and so I believe the Reeds were part of the family, but I can't place Mrs. Reed just yet. The rest of the references are impossible without help from someone in that part of the family. Our work continues!
Frank got me 2 needed dresses for X-mas & we bought [clothes] for Myrtle. Everything seems so expensive and of no value.
We got a letter from Mr. Arthur to close [the] estate out. We feel we are entitled to a statement, so wrote for one just to see the results, not that we intend to cause trouble. I told Frank [that] things seem pretty shady as far as us receiving any information about anything.
I had a letter from Eva & she said she has been ill some. All her friends have died. She has been in bed since Nov. 29. Her dad is at Woodville as he lost his mind. He is 83 yrs. old.
[Comments: The first sentence is easy: Lois' husband bought her two dresses for Christmas, and of course they were "needed." What woman wouldn't say that? Surely "Myrtle" is their daughter. The statement saying that "everything seems so expensive" would be true even today and reminds me of what Alice wrote in the last part about the wartime economy. But what is meant by "no value"? Not much for the money? Again, it's no different today to the thrifty shopper.
[Apparently "Mr. Arthur was a lawyer or banker and perhaps one of the parents has died, leaving the family to close the estate, but obviously Lois and Frank would like more transparency
["Eva," in the last paragraph, a neice, was the daughter of Alice's sister Hopie (1867-19070 various spellings). Hopie had married Robert Sample (sometimes spelled "Semple"). Eva was no doubt elderly because, "All her friends have died and she has been in bed since November." If her dad is 83, she could be in her 60s. As we indicated earlier, Woodville was a State Hospital for the insane.]
Hope you keep well this winter. If this weather keeps up, you won't get out to see us until spring, will you? Here is a clipping from our paper I though might interest you. I have some working to do so must get busy. Let me hear from you soon. A Happy New Year to you is our wish for 1945.
All my love,
[signed] Lois [McKim, niece][end of 1st letter]
[Comments: The final section simply wishes her Aunt Alice a Happy New Year with hopes that she'll stay warm and healthy. Apparently, and was confirmed in Part III, the winter of 1945 was a snowy one. Alice is encouraged to write.]
Letter #2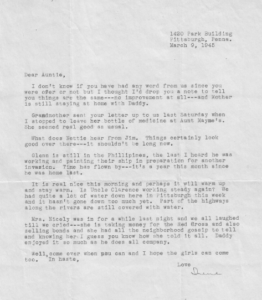 ---
Date      Postmark         Medium   From                        To
---
3/9/45   Pittsburgh, PA    Letter          Niece Irene                Aunt Myra Miller, Sarver
1420 Park Building
Pittsburgh, Penna.
March 9, 1945
Dear Auntie,
I don't know if you have had any word from us since you were over or not, but I thought I'd drop you a note to tell you things are the same – – – no improvement at all – – – and Mother is still staying at Home with Daddy.
Grandmother sent your letter up to us last Saturday when I stopped to leave her bottle of medicine at Aunt Mayme's. She seemed real good as usual.
What does Nettie hear from Jim? Things certainly look good over there – – – it shouldn't be long now.
Glenn is still in the Philippines. The last I heard he was working and painting their ship in preparation for another invasion. Time has flown by – – – it's a year this month since he was home last.
[Comments: Not unlike the first letter in this part, there are a few questions. First, we think the "Irene" who has signed it was not Alice's niece, but actually her granddaughter, because we can find no others of that name in the Hill tree. If her reference to "Glenn" (Coss) "in the Philippines" is her husband to be, then why does she address the recipient  as "Auntie"? Furthermore, "Aunt Mayme" is Great-grandma Alice's daughter, a validation of Irene belonging to one of Mayme's siblings. Irene Claire Hill was born in 1924, so she would have been 21 and working away from home. I believe  that "Daddy" was Alice's oldest son Harry (1891-1945) and beneficiary of the family farm, and "Mother" was Hulda (Fisher) Hill. Harry was no doubt ill. His daughter Grace says that he had suffered a heart attack and raised vegetables and eggs to sell. He possibly took over or helped my Grandmother Bessie with an egg route in Pittsburgh's North Side. He died that same year as the letter was postmarked. Thus, by a process of elimination, I think that "Auntie" is Alice's daughter Myra. Confirmation comes below in a reference to "Uncle Clarence," Myra's husband.
[Further confirmation comes as Irene asks about Myra's daughter Nettie (1924-2012) and husband Jim Stark (b. 1923), who was also overseas in the War. The good news is two fold for Irene: The War "shouldn't be long now" and although she hasn't seen her Glenn in a year, "Time has flown by."]
It is real nice this morning and perhaps it will warm up and stay warm. Is Uncle Clarence working steady again? We had quite a lot of water down here in Pittsburgh this week, and it hasn't gone down too much yet. Part of the highways along the rivers are still covered with water.
Mrs. Nicely was in for a while last night and we all laughed till we cried – – – she is taking money for the Red Cross and also selling bonds, and she had all the neighborhood gossip to tell, and knowing her, I guess you know how she told it all. Daddy enjoyed it so much as he does all company.
Well, come over when you can, and I hope the girls can come too, In haste,
Love, [signed] Irene [end of second letter]
[Comments: At the end of the letter we know that Irene is working away from home as she talks about the "water down here in Pittsburgh." Grace tells us that Irene had attended what is now Duff's Business Institute in Pittsburgh and was working as a secretary for a bridge engineer there. She later worked as a secretary at Cross Roads Church and in fund raising for the Salvation Army. "Mrs. Nicely" was possibly Alex's mother who was working for the Red Cross. Remember that Irene's late sister Hazel had married Alex Nicely before she died tragically delivering twins. Irene says, "Mrs. Nicely was in last night and we all laughed."   Irene closes by inviting Auntie Myra to visit, hoping "the girls can come too," probably a reference to 20-year old Alice and 12-year old Melva.]
It seems each old family correspondence contains surprises and invitations to do more research, a chance to meet and ask questions of kin we've possibly never met before. I've  asked my Cousin Grace in Florida all the questions from letter one above, which was definitely addressed to Great-grandmother Alice. But, letter number two was definitely intended for Mrs. Clarence (Myra Hill) Miller. The final part of our Hill-Moon series was written to daughter Myra by her mother Alice. While it contains concerns, it also gives a glimpse into the rich community life in southern Butler County in 1946, including an automobile ride with my dad, who had just purchased his first vehicle after the War. Unfortunately, Mother Alice would be gone the following year. Perhaps this would be one of her final letters. Grace continues to remember those days and respond to the questions I've asked in this series. I'll continue to revisit and revise these articles, so check back.
Return to Part I – Mother to Daughter Letter, 1932
Return to Part II – Three Postcards, 1940-1941
Return to Part III – A Letter from Wintry West View, 1945
Part V – A Letter from May 17th, 1946
Last revised 2/10/21