By
Edna Gray
Transcribed [with Introduction & comments] by
Larry Pearce, nephew
7/27/16
Introduction
First, let me say that a more complete biography of my Aunt Edna "Ed" Gray will be presented in Part II: "Faith, Family, and Education," including some of my wonderful memories of her. Part III: "Memories of my Parents," shares some of Edna's fond recollections of her home life. But, do allow me to explain at the outset how I came to learn of her broad literate background as well as some of her interesting experiences. After she died in 1997, Aunt Ed's personal effects were distributed as per her wishes to various members of the immediate family, including a box of notes, mostly genealogical in nature. Some years later, I had been writing a brief biography on the life of her brother Merle (1927-2013) and was given this box of notes to see what I could make of it. After a cursory review of the material, which true to Aunt Ed's nature, consisted of many small scraps of paper copied onto other small scraps of paper and all clipped together. There were carbon copies of letters of inquiry to several distant relatives and other responses from many of the same relatives. She, indeed, seemed to be the only one in all the Gray-Campbell families keeping their history alive. To make a long story short, I cited some of her information in those early days of my work and let the rest sit in a dark corner of my office. To be honest, I was mostly concerned that she, as I, was in search of our earliest Scots-Irish ancestors, always a prize for genealogists. I believe that written evidence shows my great-great-great grandparents to have been James and Mary Patterson Gray, and so did she at one time before crossing them off her many lists and going in another direction. Just this summer my research led me to an ongoing project involving several other James Grays of early 19th century Western Pennsylvania. So, almost 20 years after her death, I decided to revisit Aunt Ed's notes and listen to what she had to say about our ancestors. To my amazement, she'd been saying many things that I missed the upon first hearing, and much more. I have decided to share some wonderful, heart warming stories from her life and times as well as one  absolutely incredible tale of what could only be described as an "adventure." In fact, this tale ends with what Aunt Edna refers to as "a Divine Miracle." The story is so compelling that I'm starting this series with it.  Although Aunt Ed intended to complete, before her death, what she called, "A Memoir of Appreciation for the Lives of my Beloved Parents: Bertha Campbell & Paul B. Gray," I have only found a few short stories from that Memoir, and I will share them in future parts along with personal reflections, poetry, and a short autobiography from her life. I've even found some pictures that I think you'll enjoy. So, let's begin!
As do most writers, whether of novels, songs, or screenplays, I'm going to begin Part I with an excerpt from her personal journal detailing some background on her younger days, followed by a scary story that sounds like it came from Hollywood. I had never heard this tale while I was growing up, but I have to assume it's true because in a surprise ending, she has what I consider written, published proof. Perhaps some of our family who knew her had heard this and other stories and will share other experiences she may have revealed. The bottom line is that I believe this first episode shows us the kind of "stuff" this woman was made of. It puts in perspective and provides context for the way she lived her life, as we shall see. If you like what you hear, come back for more in Part II and beyond in what's yet to be discovered. Let's hear Edna's amazing story of her first trip to Florida:
Edna's Late Teen Background
[Edna: Having graduated from high school in 1938 and worked for several years as a caregiver for some local families and as an aide in two local institutions, I was about to experience a new direction in my life.] In late August 1941, Mother called me to say that I was needed for a two-week stint as a secretary. A neighbor, Eleanor Strain, who worked at our local Freeland Nursery, was to go on her annual vacation. The experience during those two weeks was a decisive turning point–I at once knew an intense secreterial training course would fit me for the business world that seemed to beckon me, somehow. I never regreted the decision and loved every minute of the 18-month training course and job experiences that followed.
In September 1941, I entered Butler Business College [BBC], registering for the secretarial course. With assistance from the school principal and owner, R.B.F. Regal, I was very fortunate in finding an excellent living arrangement with Mrs. J.A. Ehmer at 601 East Pearl Street in Butler. Mrs. Ehmer was a lovely, quiet widow in her late 60's. Of German backgound, she was an excellent cook and had a beautiful house. She always treated me as a beloved daughter after losing her own. Three family tragedies had left her sad, lonely, and grieving: the loss of her husband and two children, all under tragic circumstances. Her only son, Harry, a tall, handsome lad, had died in the late 20's with Tuberculosis. He was an excellent pianist and musician. After long periods at Seranac Lake, NY, for treatment, he came home, but on Christmas Day, after coming downstairs to play his beloved piano, he died suddenly, his final moments with the family. Harry lefts a young widow. Mrs. Ehmer's only daughter, Pearl, was killed instantly in an automobile accident in Ohio. Mr. and Mrs. Ehmer had just left for California in the early 1930's with Pearl and her husband, Victor E.C. Adams. Just a day away from home, their car, driven by Victor, broad-sided a car being test-driven that had run a stop sign. Pearl, 5 months pregnant with their first child, went through the windshield. Pearl and her wee babe were buried side-by-side in the same coffin. Mrs. Ehmer also lost her beloved husband, June 1941, in the family's third tragic situation, when he fell from an oak tree on their farm while trimming limbs. Only 6 months earlier, as a Christmas present, Mr. Ehmer has bought his wife a new 1941 black, V-8 Buick sedan. The car was registered in her name, but she hadn't driven in years. [Little did she know that she would soon be driving a lot, assuming the head of the household.]
Mrs. Ehmer had called the BBC late that summer to request a student-companion, secifying three trequirements: 1. The young lady must be at least 21 years old; 2. She must have 2 years driving experience; and 3. She must be willing to attend St. Mark's Lutheran Church with her. My class of 120 students at BBC were all recent high school graduates. I was the only student over the age of 21. I had been out of high school 3 years and had had a driver's license since I was 19. In addition, I was very familiar with the Lutheran faith, having worked at St. John's Home and attending St. John's Church in Mars after high school graduation. [I was a perfect fit for Mrs. Ehmer's needs.] I continued to live with Mrs. Ehmer right through graduation from BBC in April 1943.
My first job out of business school was at Union National Bank. Two months later I accepted a Civil Service position with Civilian Personnel of the War Department at the U.S. Army Deshon General Hospital in Butler. Although I resigned that position effective September 2, 1945 (VJ Day), I had accumulated enough annual leave to make possible my retention on payroll until the end of November of that year. On November 14, 1945, Mrs. Ehmer and I left for Florida to spend the winter. With the War over, gasoline was again available, and she had looked forward to the trip.
Edna's Journal – "My First Trip to Florida: A Brief Encounter"
Day 1, Wed, Nov 14: At noon, Wednesday, we left Butler in a cold rain, wet leaves everywhere. A map from AAA directed us to the Pennsylvania Turnpike at Irwin to Breezewood, south on 126 to Winchester for overnight. As we parker on the tree-lined street, the soggy fallen leaves were almost knee-deep. The old Victorian mansion, with beds so high we used a step stool to reach the downy-soft mattress, proved a haven on the inky black night.
Day 2, Thurs, Nov 15: Leaving Winchester via Route 11, we stopped at the Natural Bridge to see that magnificent sight. At Roanoke, Route 220 brought us to Ashboro, NC, for overnight.
Day 3, Fri, Nov 16: Continued on Route 220 to Cheraw, SC, and took Route 1 South to Louisville, GA, for overnight. Weather now beautiful. Warm, clear starry night. Awakened early with the song of the mockingbird coming from every tree. We stayed in a lovely modest southern home, but recall folks were not concerned with "dust" on the furniture.
Day 4, Sat, Nov 17: Left Route 1 at Jacksonville, FL, and on to Ocala via Route 301. Overnight a Ocala in the "Florida Hotel" – a small, pretty stucco, one-floor building with arches arounda narrow veranda. Parking lot was across the quiet street. The room seemed to have connecting baths which were shared by occupants in rooms on either side. We had to share with two servicemen. Navy fellows, I think. Ocala is (or was) a lovely, quiet, small country town, and we found it so pleasant and friendly on a stroll up Main Street during the warm "summer" evening. It appeared all the country folks came to town for Saturday shopping and the bright lights. Later, I went to the car in the parking lot to get oranges for a bedtime snack. In the process of relocking the car and juggling fruit, one orange rolled under the car, which I retrieved the next AM when leaving the lot.
Day 5, Sun, Nov 18: We checked out of the hotel at 8:30 AM for the final lap of our trip to St. Petersburg, about 130 miles. About 9:00 we stopped at a small coffee shop for a light breakfast with "yesterday's" donuts. On our way again at 9:30, taking Route 41 to Tampa, a lap of 100 miles with 30 more to St. Pete. Route 41 was a 4-lane highway with raised cement medial strip, very straight and so level one could see for miles ahead. The country appeared quite desolate and barren: no buildings or towns, and since it was Sunday, little or no traffic.
About 10:30, a blue Plymouth sedan, probably at 1938 or 1939 model, passed us at a high rate of speed. When I glanced over at the passing car, I noticed the driver, alone, wore and Army overseas cap with two silver bars. I thought to myself, "There goes a Captain in a hurry." He appeared out of nowhere and was soon out of sight. After driving about another hour or so, probably 11:45 or near noon, we observed the same care ahead weaving back and forth from the passing lane to the right lane. My first thought was that the drived was probably "drunk," and I slowed considerably to stay well behind and try to pass with some caution. When the driver realized that I was not going to pass immediately, he stopped suddenly, pulling his car at an odd angle, with his two front wheels on the grassy berm and the rear wheels on the cement highway. As I slowly passed, I observed the driver's left hand out the car window waving a white cloth. He appeared to be bent over the steering wheel. Since there had been no traffic all morning, I readily recognized the car as the one having passed us at high speed about 1 1/2 hours earlier. "The Captain again," I thought. (In my inexperience, the "white handkerchief signal" meant nothing.)
After passing, I observed the car in the rear-view mirror pulling quickly onto the highway. He caught up to us, driving in the passing lane and attempting to crowd us off the hgiway as he came abreast. I determined not to drive faster than 65 for fear of losing control in my limited experience. I was hoping and praying we would see a service station, buildings, or motorists soon. Suddenly, a two-story box-like building appeared on the left up ahead–I immediately hit the brakes, telling Mrs. Ehmer to roll up her window and lock the door, saying, "We are going to have to stop." Coming abreast of the building, I stopped squarely in the right lane, and so suddenly that the loud screeching of tires would surely alert anyone on the building. Mrs. Ehmer switched off the radio, but I immediately turned it back on saying, "He can't scare me."
After I stopped, he slower his car abreast, then pulled at an angle across my left front fender. As he got out of his car and walked toward my door, I observed that he walked as though crippled in the hip area. His legs moved in a wobbling motion. He wore a summer Army Khaki outfit with a silver 1st lieutenant bar on the collar of his shirt. (Double silver bars on a Captain's overseas cap.) I could not be sure if there was an "audience" for I did not look back. I felt some security with at least a building nearby. My perturbation totally displaced any fear. Both cars were parked in the right lane; his car angled across my left front end. With all our door locked and my window cracked slightly from the top, the man and I conversed as follows: I said, "Military personnel have no authority to stop civilians on the highway." He said, "I'm just a poor, broken-down civilian myself; I got shot up over there fighting for you. If you'll just pull your car over there (pointing ahead to the grassy berm), there won't be any trouble." I pulled our car ahead over on the grassy berm and stopped. When he pulled his car onto the berm behind me, there were about two car lengths between our two vehicles. As I looked back, watched, and waited, nothing happened. (At this time, I observed that the front radiator grille of his car was covered with red dust similar to that seen in Georgia.) I said to Mrs. Ehmer, "I don't think he knows what he wants; I'm going."
I drove back onto the highway and sped away. (I should mention that he continued to sit in his car, no doubt undecided what to do next.) Next, I saw him coming up on us at a high speed, and again I determined not to exceed 65. This time he stayed in the passing lane about a car-length behind, waving a pistol out his window aiming in the direction of our tires. I said to Mrs. Ehmer, "He has a gun and may shoot our tires. We have to stop." Next is truly a Divine Miracle.
Suddenly, I noticed several groups of travelers off the highway on the right, possibly 50 or 60 feet from the road edge. The travelers apparently had just finished lunch, and what I remember most vividly was a lady shaking a tablecloth on the edge of the group. (The movement of the cloth had caught my eye, for bushes nearby had obstucted a full view of all the group.) At the sight of the people, I instantly braked, causing a loud screeching of the tires. The lady with the tablecloth was quickly joined by the others who stood and stared. After the "screeching" stopped, I pulled over on the grassy berm. The man who follwed also stopped, about two car-lengths behind me. By this timel, we had an audience; the travelers had all come to the edge of the clearing and were staring in our direction. This time he approached my door from the read. He said, "I'm sorry to cause you this embarrassment, Miss, but I signalled for you to stop and you didn't stop." I said, "I DID STOP. Maybe you'd like to tell me what you want." He said, "I'm looking for a stolen car. I had a car like this once. All I want is the motor number of this car." I turned to Mrs. Ehmer and asked whether she had something which would show the motor number. She reached into the glove compartment and pulled out a manual which had the motor number entered in an ID section. I passed it out the crack at the top of the window. He took it and copied it onto a paper against the rear door window, slopping ink down the window glass. He returned the manual and walked back to his car. (All this time, the travelers' audience remained in place.)
When I pulled back on the highway continuing south, I observed him make a "U" turn across the medial strip and head back north. (He may have anticipated we would report to Tampa Police and did not want to be in the area.) We arrived in Tampa about 1:00 and stopped for a quick lunch. I recall having a toasted cheese sandwich. We still had about 30 miles to St. Petersburg over Gandy Bridge, a seven-mile stretch over Tampa Bay. We had reservations at the Central Hotel in St. Petersburg. After checking in, Mr. Thorne, Manager, went with me to put the car in the hotel garage. It was about 3:00 by the time we were settled in our room. I plugged in a small radio we had brought. As I sat down in one of the chairs (Mrs. Ehmer was already sitting.), I said to her, "What do you think that guy really wanted this morning?" It may seem strange, but it's a fact, this was the first time either of us had mentioned the incident. Later when reflecting, it seems almost incredible that neither of us thought of reporting the event to the police. (Nor did we mention it to Mr. Throne.) In my own case, I believe my mind was so taken up with the reposnsibility of the trip, directions, safety, etc., that there was just no space left for one more concern. Hence, a total blockout until all objectives were under control several hours after the encounter, and time for reflection on the day's events. Too, we were already in "another world" of beauty, warmth, and sunshine after our dismal, cold Pennsylvania. It never occurred to us that something "bad" could happen. We just dismissed it.
About 10 days after our arrival in St. Petersburg, we read in the daily newspaper that a young man, John Lynch, had been picked up by police for "falsely wearing officers' uniforms to impress local girls." I still have the clipping, hereto attached: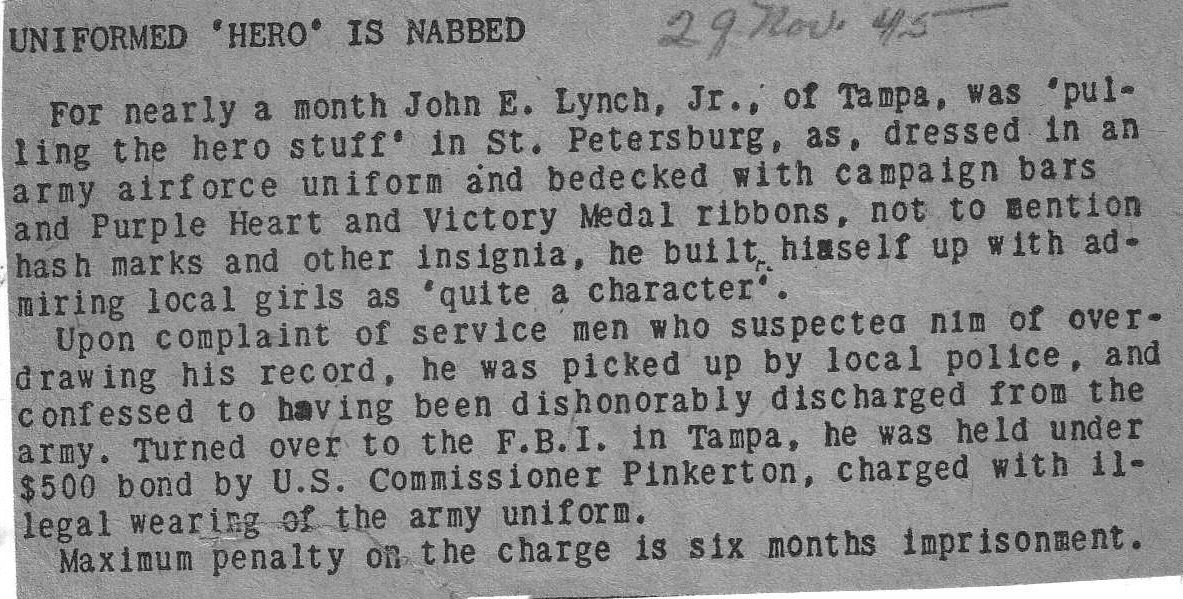 [End of Edna's journal]
Our time with my Aunt Ed continues in Part II: "Faith, Family, and Education," as we learn more of her background and hear her artistic and creative side, which includes several of her poems. The series on Edna Gray ends, for now, with Part III: "Memories of my Parents." As we suggested above, If you're a Gray or Campbell family member or friend who knew Edna and have a story or anecdote to add, please respond in the section below.
Last revised 12/20/17