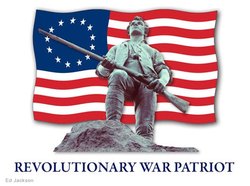 Jacob* B/W Fleming (1744/50-1818) b. Europe or Shrewsbury, Monmouth/Middlesex Co., NJ; r. Dover, Monmouth Co. or Northumberland Co., PA (parents possibly Joseph & Christiana Fleming; Farmer)
-burial: unknown
Sarah Sytje West (1750-1788/9) b & r Shrewsbury, Monmouth Co., NJ (daughter of James & Ann Wing West; Homemaker)
-burial: probably Monmouth Co.,NJ
Wedding: 1772, Shrewbury, Monmouth Co., NJ
Children: most born in Shrewsbury, Monmouth Co., NJ
1. James (1773-1857) r. Pekin, Tazewell, IL
2. Joseph (1773-1828)
3. Stephen W(est?) (1775- ) did he die in childhood? Was there a Jacob too who may have died in infancy? Some sources say so. Often names were reused, especially the father's name.
4. Jacob (1777-1855) One source has this Jacob born in 1788, the last child
5. Sarah (1779-1846)
6. John West (1781-1828)
7. Steven West (1783-  )
8.Lawrence Carlysle* (1784-1862) b. Monmouth or Middlesex Co., NJ, or Derry Twp., Northumberland Co., PA; r. Sugarcreek Twp., Venango Co., PA (m. Margaret Cooper-our line)
-burial: Forest Chapel Cemetery, Sugar Creek twp., Venango Co.
*This is possible parentage based on secondary documents & internet discussion. Research is ongoing. Recently, New Jersey court records of around 1780 suggest that Lawrence Carlysle may have belonged to a William, Samuel, or Andrew. See comments under Fleming Tree and other Vitals. Below is the current narrative from FindaGrave.com.
Documentation:
Various Public Member Family Trees & documents. 11 July 2014. Ancestry.com
RETURN TO OUR FLEMING FAMILY TREE
Captain Jacob Fleming (1750-1818) from FindaGrave.com
Jacob Fleming was born November 1750 in Shrewsbury, New Jersey (Monmouth County)(Manasquan Borough), son of Joseph Fleming and Christian (maiden name not yet known).
In about 1773, Jacob married Sarah 'Sythe' West, who was born May 25, 1750 in Shrewsbury, New Jersey (Monmouth County)(Manasquan Borough), daughter of James West and Ann Wing.
Jacob and Sarah had six children: James Fleming, Stephen West Fleman, Jacob Fleming, Sarah Fleman, John West Fleman, and Joseph Fleman.
Jacob fought in the Revolutionary War and is listed in the records of the Daughters of the American Revolution (DAR) under Patriot number A040619.
Jacob died November 29, 1818 in Dover, Monmouth Co., NJ, and is buried in Christ Churchyard, Shrewsbury, Monmouth Co. Sarah was provided for in Jacob's will.
A very old family Flemons Bible now in my possession suggests that Jacob and Sythe were both buried in Christ Churchyard in Shrewsbury. I am relying on this information until and unless I find information to the contrary.
Family Members (some question)
Parents:
Joseph Fleming
1730–1776
or
Christian Waldron Fleming
1732–1779
Spouse:
Sarah West Fleming
1750 – unknown
Children:
James Fleming
1773–1857
our Lawrence is not listed
Information by Nancy Ladd (46501834); sponsored by Shelley Fleming (48178327)
Last revised: 2/3/21