Daniel Cooper (1810-1880) b. Catawissa, Columbia Co., PA; r. Sugar Creek Twp., Venango Co., PA (Blacksmith) (son of Lawrence Carlysle & Margaret Cooper Fleming; Farmer)
-burial: Lupher/Forest Chapel Cemetery, Utica, Sugarcreek, Canal Twp., Venango Co., PA (For GPS, see "Show map at cemetery site)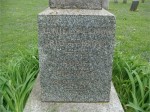 Hope "Hopey/ie" or "Opey" Watson (1819-1879) b. Northern Ireland; r. Sugar Creek Twp. (daughter of Thomas & Margaret Watson; Homemaker)
-burial: Lupher/Forest Chapel Cemetery, Utica (For GPS, see "Show map at cemetery site)
Wedding: 1834/37, Middlesex, NJ, Columbia or Centre Co., PA (?)
Children: 10 total
1. Nancy Jane (1838-1910) b & r Sugarcreek Twp. (m. William Clark Worden)
-buried: Forest Chapel Cemetery
2. Darius (1840-1914) b. Sugarcreek Twp.; r. Dale Twp., Atchison Co., MO (m. Margaret Permelia Parks)
-buried: Pleasant Ridge, Clark Twp., Atchison Co.
3. Mary Ellen (1842-  ) b. Sugarcreek Twp.; r.? (m. George Webber)
4. Daniel Cooper, Jr. (1844- 1908) b. Sugar Creek Twp.; r. Fostoria, Shannon Twp., Pottawatomie Co., KS (m. Susan J. Webber)
-buried: Olsburg Cemetery, Pottawatomie Co.
5. Susanna "Susie" Ethel (1846-1931) b. Sugar Creek Twp., Venango Co.; r. Allegheny Co. (m. Joseph Myler Moon, Jr.; our line)
-burial: Cross Roads Cemtery, Pine Twp., Allegheny Co., PA
6. Margaret E. (1848-1917) b. Sugarcreek Twp.; r. ?
-buried: Franklin Cemetery
7. Thomas Watson (1850-1933) b. Sugarcreek Twp.; r. Wakefield, Clay Co., KS (m. Ida Jane North)
-buried: Highland Cemetery, Wakefield
8. Charlotte White (1852-1928) b. Sugarcreek Twp.; r. Lawrence, Douglas Co., KS (m. Joseph Carvasso Bernhard)
-buried: Oak Hill Cemetery, Lawrence
9. Martha M. (1854-1863) b & r Sugarcreek Twp.
-buried: Forest Chapel Cemetery
10. Chester "Christy" (1857-1918) b. Sugarcreek Twp.,; r. Wakefield, KS (m. Eluna Miller)
-buried: Highland Cemetery, Wakefield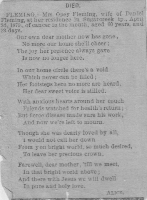 Obituary & Poem for Opey,
wife of Daniel Fleming, written by
Granddaughter Alice (Moon) Hill,
age 14, before her marriage in 1886
FLEMING – Mrs. Opey Fleming, wife of Daniel Fleming, at her residence in Sugarcreek Twp., April 2nd, 1879, of cancer in the mouth, aged 60 years and 23 days
Our own dear mother now had gone,
No more our home she'll cheer;
The joy her presence always gave
Is now no longer here.
In our home circle there's a void
which never can be filled;
Her footsteps here no more are heard,
Her dear sweet voice is stilled.
With anxious heart around her couch
Friends watched for health's return;
But fierce disease made sure his work,
And now we're left to mourn.
Though she was dearly loved by all,
I would not call her down
From you bright world, so much desired,
To leave her precious crown.
Farewell, dear Mother, 'till we meet
In that bright world above;
And there with Jesus we will dwell
In pure and holy love.
Alice
Documentation:
"Daniel & Hopie Fleming." FindaGrave.com. 10 September 2018
https://www.findagrave.com/memorial/36839351/hopie-fleming
"Johnson Genealogy." 21 February 2012
http://www.genealogyhomes.com/johnson-ged/f_25.htm
Ken Gibbons. 13 October 2002
"Obituary & Poem." Personal effects of Myra Hill Miller, daughter of Alice Moon
U.S. Census, 1850. Sugarcreek Twp., Venango Co.,, PA
RETURN TO OUR FLEMING FAMILY TREE
RETURN TO OUR WATSON FAMILY TREE
Last revised: 3/15/21