transcribed by
Larry Pearce
[with comments for readability & context]
and special thanks to
Cindy Leonhardt, Simon's grandniece,
for additional information & photos
4/15/20
(Click on image to enlarge & clarify/Use back arrow to return)
Respecting the national Stay at Home order inspired by the Corona Virus pandemic, my wife Susan and I have been doing spring cleaning and catching up on other past due chores. I've managed to better organize my genealogy files, and in doing so have found some hidden treasures. One, in particular, seemed especially appropriate to the times, a two-page letter written at the end of the First World War by Susan's Great-uncle Simon Lee (1895-1955 ) to his sister, Susan's Grandmother Annie (1885-1971), or "Mom Krause," as she was affectionately known. Two previous articles posted at this site will put this time period into perspective: first, the life story of Mom Krause and second, the transcription of several 1918 wartime letters from my Great Uncle Harry to his sister, my Grandmother Bessie Hill Pearce. The second in that series expresses his concern about the Spanish Flu pandemic that was sweeping the world. Here is a description and transcription of Simon Lee's letter, written in the month following the November Armistice, with my [comments for context and readability]: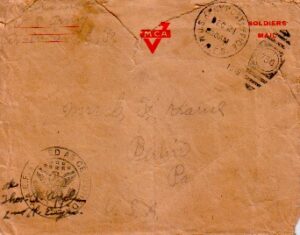 The 4.25 X 5.5-inch envelope contains a red and white YMCA logo and the words in red, "Soldiers' Mail," where a stamp would go. I'm assuming that the YMCA provided the envelope, and there was no charge for postage. The envelope is addressed to: Mrs. C. F. Krause [Charles Frederick], Berlin, PA, U.S.A. The return address in the upper left-hand corner is [rank missing] Simon Lee, U.S. Army, American E. F. This stood for "American Expeditionary Forces".  Finally, there are two postmarks. The one in the lower left-hand corner is the censure's stamp of approval, a circle containing the American eagle surrounded by "A.E.F. [illegible "Approved"?] as Censured" and the number 9787. Over the stamp are the letters "OK" and the signature of Thom. A. Apple, 2nd Lt. Engrs. In the upper right-hand corner is the circular postmark, "U.S. Army Post Office" and the capital letters M.P.E.S  [standing for "Military Postal Express Service"]. The date is Dec. 21, 8:30 AM, and the year 1918 is found outside the circle with an apparent tracking number 756.
The actual letter is 5.5 X 9.25 inches of lined paper with the rather large Knights of Columbus Overseas Service logo in the upper left-hand corner containing the KofC medallion between crossed American flags.  One great irony is that Simon was raised Amish, and the Knights of Columbus is a Catholic Fraternal organization. The fact that Simon was willing to take up arms in defense of his country would have been against Anabaptist principles, but also the Amish and Catholics have been at odds since the Reformation. Our family does not know why Simon, his brothers, and his sisters all eventually left the Amish tradition or exactly when. Most joined the less conservative Mennonite Church. We do know that members of that family went on to serve both their country and their communities.
In the upper right-hand corner of the rough stationary are the words On Active Service with American Expeditionary Forces and A.P.O. [Army Post Office] after which Simon wrote "Folvy, France" and the date, Dec. 19 [dash] 18.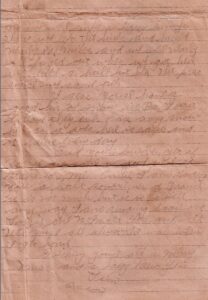 Here then begins the actual correspondence with many phonetic abbreviations:  
Hello Sis, I rec[eived] your [letter?] some time ago and was going to an[swer] long ago, but just put it [off] from one [unit?] to another and [never] got it done.
How are youse [getting?] along[?] Anyway, I am fine, thankful to be alive, but I got through without a scratch. The war is over now and I am [hoping] they will soon take us to [the] U.S.A. How is Charlie?
I guess the young fellows were plenty scarce around Berlin that wasn't in camp or over here, but I hear they are sending the boys home from camp, are they not[?]
We were in this place a few weeks. We were in the lines when peace was signed, and believe [on the back, page 2] me, we were surely a happy bunch. Then we left the lines and hiked nearly 200 miles, and we were nearly all [fagged?] out when we got here. We drill a little, but [unclear] the first since we came over.
I guess youse have a good bit of snow in PA. I don't believe they ever saw any snow here. All it does here is rain, and it rains every day.
Did youse [see the] butcher yet? If youse did, save a good piece of [steak?] for me. Annie, I am sending you a little souvenir of France. It is not much, but it is a little. Anyway, I am sending Sadie and Lizzie one to[o]. I will close and will tell you[se] all about the war when I get home.
Wishing youse all a Merry Xmas and a Happy New Year,
[signed] Sim
[footnote] An[swer] soon
A second sheet was also enclosed, but nothing was written on it. Transcribing old letters is difficult. Not only from interpreting the faded manuscript, but often having to guess the meanings. With luck, after a while, the particular repeated writing style reveals context. Simon's small letter "e's" were constructed with what I call a consistent "raised flip." These are found in his expansion of the pronoun "you," which he writes as "youse." This is still the way the folks in southern Somerset County, PA, talk today. And then there are the phonetic abbreviations: "anc" for "answer" and "rec" for "received." And the absence of punctuation reminds me of Old English script. The reader knew the intention of the writer and usually got the meaning. After all, there's no punctuation used when one speaks. 
As you have seen from the Vitals of parents Christian and Laura Lee, the Sadie and Lizzie mentioned are Simon's sisters, who are older. No doubt, he also kept correspondence with brothers Harry and Glenn and his mother. Father "Crist" had died in 1906. Mother Laura passed a year after the war ended. We don't know what the "little souvenirs of France" were that Simon promised his sisters. And, how about Simon questioning his sister if she or anyone in the family had seen the butcher yet? Throughout his life he worked as a farm laborer and a coal miner, but on his death certificate, Simon was listed as a meat cutter, whom his customers simply referred to as "the Butcher." His shop was just up the road from the family farm in Niverton. Funny that his hobby was riding his Harley-Davidson motorcycle! Of course a Harley is known around the world as "the Hog."
Simon served in the U.S. Army from February 1918 until June 1919, when he was honorably discharged. He married the following year and raised a family. Below is his Veterans Compensation Application that includes a record of his military tour of duty and his later life. It truly gives us a glimpse at his remarkable life.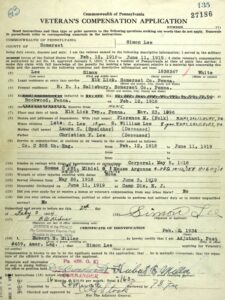 As I struggled with eye strain to transcribe the above letter, I nevertheless felt privileged to have the opportunity to read and share the contents of this century-old correspondence. I'm so thankful that Susan parents were thoughtful enough to preserve it for future generations. The fact that we are now in a viral pandemic similar to the one that occurred during the final year of WW I, is giving us a rare glimpse into the past and how so many suffered. We are thankful that Simon either had no exposure to the virus of that time or chose not to mention it to his family back home.
Last revised 4/16/20