By
Larry Pearce
11/1/02
HILL NAME – HERALDRY – FAMOUS AMERICANS – W. PA HILLS
This series is about my paternal Grandmother Bessie Reed Hill's surname and the ancestors and descendants who have carried it proudly. For more detailed information on the pre-Revolutionary War years of the counties in question, we recommend a quick read of "A Synopsis of Articles on our Early Wilson Families." Before our Hill and Wilson families intermarried, they were part of several land disputes: one, between the States of Pennsylvania and Maryland, and second, the attempt to evict Scots-Irish farmers from the newly claimed Penn family estate, known as "The Manor of Maske." That area around Gettyburg south of present day Harrisburg had a number of Hills, and we wonder if we are related to any: John Hill was appointed as Overseer of the Poor in York County, 1750; the land of James Hill held a well-travelled road from York to the Peach Bottom Ferry on the Susquehanna River, 1768; and Anthony Hill was a resident of York Township, 1783. As early as 1671, a William Hill (spelled "Wyllyam Hyll") was a witness to the will of Chevall Penn back in England. We do know for certain some things about the east-central Pennsylvania pioneers who began our American family, my Great-great-great-great-great (5X) grandparents William (1740-1815) and Elizabeth Dixon Hill, thanks to an e-mail source and a distance cousin, Mrs. Jim (Patricia) Hill of Buffalo Twp., PA. She found evidence among the deeds in York County: "William owned land that was in the area that became Adams County. At one time he owned the largest 'plantation' in the area, with many people and buildings." In fact, the 1801 tax on the William Hill farm in Liberty Township was$2,350, very high compared to his sons' farms, John and Martin, and their neighbors. According to local history, his farm had two stones marking the Mason-Dixon line, one in Pennsylvania and one in Maryland. Apparently, the farm straddled the North-South marker somewhere below Gettysburg. The History of Adams County refers to "the Hominy Stone" in about the same location. Indians used to pound their hominy, or corn, into meal there, and many arrowheads have been found on the old Hill farm. William lived there before, during, and after the American Revolution and married twice. His second wife was Lydia Jack and they had one son, James, whose son was J.L. Hill, a prominent Gettysburg dentist. But, our line sprang from first wife Elizabeth Dixon and the first of their 16 children. (See "Vitals.") No wonder she died, you say. John (1765-1849) married Jane (or "Jean" in Scottish) Wilson (1777-1865) and, according to their obituaries, claimed Indiana County as home. Their first born of six was William (1799-1875), who married Sarah Barber (1797-1873), the daughter of Adam and Sarah Barbour, who had come to Butler County in the 1790s from Ireland. William Hill arrived there and founded Centerville, now Slippery Rock, Butler county, around 1823. He later moved just northwest to Leesburg, Mercer County.
It's not clear whether any of the previous two generations had ever visited Butler County or lived there, but lots for the present day town of Centerville, Slippery Rock Township, had been first surveyed from a Hill farm in 1820. The first plot of the town was recorded in 1825 and included parcels from neighbor Stephen Cooper's farm. The spot of his house is still called Ginger Hill because of the ginger he put in the whiskey he sold. The History of Butler County suggests that Cooper may have sold the ginger and gave away the whiskey. At that time Centerville contained four log homes, which included a tavern and a mercantile. At first, one resident wanted to call the place "Muttontown" because he had just eaten his fill of his favorite meat there. Then the name "Middletown" was considered because of its location between the county seats of Butler and Mercer. But, finally "Centreville" [older spelling] was approved unanimously. Later, the town grew and offered every product and service from chairs to windmills, from millinery to blacksmithing. We know that William Hill began his mercantile reputation there before moving his store north to Leesburg, Mercer County. There, he served as a Justice of the Peace. Other possible relatives doing business in Centerville included Daniel K. Hill, a shoemaker, and J.S. Wilson, a dealer in hardware and farm machinery. He later became a gauger and inspector for the blossoming petroleum industry in nearby Oil City. Click on the map below to enlarge:
William Hill's store in Leesburg is described by cousin Patricia Hill as "one big room, with the family living in the rear and upstairs, at the corner of [old] Rt. 19 facing toward Mercer, left side." Patricia's husband Jim and his sisters remember that the store still had old oil lamps for sale and was filled with antiques. Jim liked the candy case filled with penny candy from which, as a youngster, he got to chose. I believe the old house and store were at one time a funeral home.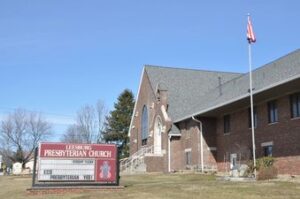 Leesburg Cemetery is on the southwest corner of town across from the Presbyterian church. William, Sarah, and most of their family are buried there.
From Civil War records we know that William and Sarah's son, Captain John Dixon Hill (1824-1915), raised his Company A from Mercer County. He was Captain and Surgeon's Assistant for the 169th Regiment, PA Volunteers, Grand Army of the Republic. What follows is information on the origins of the Hill name and some famous namesakes. Later we plan to share with you some excerpts from our families' wills. We think you'll enjoy hearing about the monetary values placed upon some of the old Hill properties and materials.
The Hill family name is ranked 34th in the United States with about 600,000 members, but one source claims that Hill is one of the most numerous surnames in modern day Northern Ireland. Though its roots can be traced to numerous origins, including English, German, and Jewish, the closest is the Old English "hyll," which literally means "a small rise in the earth," or "hill." The English probably referred to a family as living on or near a hill. As a medieval first name, it could have been shortened from Hillary or the Germanic Hildebrand, although the German "hild" refers to battle or conflict. Our consultant, Patricia Hill, in researching the Westmoreland County, PA, records believes that five Hill families arrived there from Germany in the 1730's. Originally from England, they apparently sought religious freedom first in Switzerland and then in Germany before coming to America. See several of the families to which Patricia alludes below. Several comprehensive genealogies exist today, including Larry King's Blue Ridge Mountain Kinfolk published in 1976 and Mary Louis Donnelly's Genealogy of Thomas Hill published in 1971. One source reminds us that the name could be a short version of the Latin "Hilarius" or Greek "Hilaros," meaning cheerful, glad, or joyful. Dozens of variations exist today including: Hell, Hull, Heller, Hiller, Hillam, Hille, Hillman, Hilleman, etc. We have reason to believe that our Hill family of Adams County, PA, were among the Scots-Irish who settled there. One reason in this argument is that they followed the "Scottish Naming Practices," which we wrote about earlier.
The first use of Hill as a British family name dates to Worcesterhire, England, before 1100 AD and Norman roots. Early records mention Gilbert Del Hil (1191) of Norfolk, William Attehil (1260) of Cambrdgeshire, and Alan Del Hill (1273) of Essex. Sir Roland Hill (1492-1561) was the Protestant Lord Mayor of London. Sir Robert Hill was a Judge of Common Pleas for Henry VI. Thomas Hill (d.1734) was a popular portrait painter. Thomas Rowley Hill was High Sheriff of Worcester. Matthew Davenport Hill was a Birmingham Judge and inspiration for the Penal Servitude Acts of 1853 and 1864. Rowland Hill (1744-1833) was an English evangelist who was denied ordination by the Anglican Church for his unusual preaching style but in service to a higher power built Surrey Chapel in London. Sir Rowland Hill (1795-1879) was behind much of the postal reform of the mid-nineteenth century and was eventually named Secretary to the Post Office. George Birkbeck Norman Hill (1835-1903) was an educator and expert of the life and works of Dr. Johnson.
The Hill family motto is listed in Burke's General Armory as "By God and my sword I have obtained." The coat of arms is a Sable on fess between three spotted leopards. The black sable denotes wisdom while the gold signifies generosity. The red gules (ermine) on the coat means magnanimity. The escallops (mollusks) from ancient times symbolize a pilgrim.

Yet another Blazon of Arms from around 1620 Shilston, Devon, is a silver chevron (inverted "V" blaze) between three black water bougets (stands). Above this is a crest of a silver dove with an olive branch in its beak. Some sources believe the Hill motto to be "To be rather than seem to be.
The first Hill in New England had the same name as our family patriarch, William, and is thought to have arrived in Boston harbor aboard the William & Francis in 1632. His wife was also named Sarah. Other early American Hills, Edward, Hanna, and Elizabeth Hill of Virginia, had arrived there in 1623. The following are some other more famous American Hills that you should be aware of:
+James Hill (1734-1811), of Maine, was a shipbuilder who participated in the Revolutionary War.
+Isaac Hill (1789-1851), of Massachusetts, was a U.S. senator and governor of New Hampshire. He was a member of President Andrew Jackson's "Kitchen Cabinet."
+Frances Maria Mulligan Hill (1799-1884), of New York, was an Episcopal missionary and founder of educational institutions in Greece.
+Daniel Harvey Hill (1821-1889), of South Carolina, was a brigadier general in the Confederate army and college professor.
+Benjamin Harvey Hill (1823-1882), of Georgia, was opposed to secession but became a spokesman for Jefferson Davis in the Confederate senate. After the war he served in the U.S. Congress and Senate.
+Ambrose Powell A.P. Hill (1825-1865), of Virginia, was a brigadier general in the Confederate army. He led the attack on Gettysburg and was later killed near Petersburg.
+George William Hill (1838-1914), of New York, was an astronomer remembered for work in celestial mechanics and mathematics.
+James Jerome Hill (1838-1916), of Canada, was a railroad magnate.
+Grace Livingston Hill (1865-1947), of New York, was a novelist who wrote Matched Pearls.
+Patty Smith Hill (1868-1946), of Kentucky, was a kindergarten teacher whose philosophies and inventions changed American education. She wrote the song "Happy Birthday."
+Joe Hill (1879-1915), of Sweden, was a radical labor leader and songwriter.
+David Jayne Hill (d.1932) was a noted historian and diplomatist.
+George Washington Hill (1884-1946), of Pennsylvania, was the president of the American Tobacco Company and introduced Lucky Strikes in 1917, including their advertising slogans.
+John Wiley Hill (1890-1977), of Indiana, partnered with John Knowlton in founding the famous P.R. firm and authored many books on the subject.
+George Roy Hill (1921-2002) was a famous Hollywood director with hundreds of films to his credit.
Of course, who could forget the BBC's hilarious Benny Hill? Or the gorgeous country singer, blonde bombshell Faith Hill, who sings the lead in to Sunday Night Football? The Internet contains thousands of references to the Hill name all around the world, but perhaps the largest I've discovered is entitled the "Hill Family WebSite Registry". Updated regularly and well maintained, it contains nearly 100 links to such interesting sites as:
o Hill Family Genealogical Forum,
o Hill Families of America,
o The Royal and Noble Families of Britain (many Hills),
o Hill Families of Pennsylvania,
o Heraldry and Origins of the Hill Surname, and
o Hill Family Genealogy (160,000 names in the Mormon database).
Unfortunately, the one link I was most interested in, "Descendants of Joseph Hill~PA.", turned out to be a family from Virginia who moved to Westmoreland County via Philadelphia. They are no doubt part of the notables listed below. Another site, "Hill Family Genealogy~PA":, has German roots and is not related. Other notable Hills of Western Pennsylvania include:
-Westmoreland County's John Hill, whose farm was purchased by Andrew Mellon, the founder of the Mellon family fortune and father of a one-time Secretary of State;
-Westmoreland County's Peter Hill, who donated land for a Reformed church, where graves of both settlers and Indians killed in a 1782 battle are located;
-Beaver County's John Hill, born around 1750, whose large family grew to inhabit much of Western PA and the Midwest, and
-Crawford County's Archibald Hill, born around 1795, whose descendants spread all over the US.
Because of the close geographic proximity of these Hills, I believe that we could be related to any or all of them. Their first names and stories are so similar to ours that further research is called for. Have a look at the other articles in the Hill series and enjoy the story of our ancestors, from wilderness frontier into the 21st century, and by all means do some interviews and investigations of your own, then drop me an e-mail.
Some Documentation:
Abstracts of Adams County, 1800-1826. Westminster, MD: Family Line Publications.
Eble, William Henry, Ed. Pennsylvania Genealogies. 2nd ed. Baltimore: Genealogy Publishing, 1896.
Genealogies of Pennsylvania Families. Baltimore: Genealogy Publishing, 1981.
History of Cumberland & Adams Counties. Chicago: Warner & Beers, 1886
History of York County, 1885.
Please see all other citations at Our Hill Family Tree, Table of Contents, and Vitals
Various Public member Family Trees & other documents.
Ancestry.com
Last revised 4/16/21