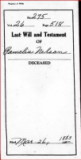 Probated and recorded, Allegheny County, Pennsylvania, No. 275, Vol. 26, Pg. 518
(Handwritten and illegible at times)
In the name of God, Amen. I, Pamelia Nelson of Richland Township, Allegheny County and State of Pennsylvania, being of sound mind but weak in body do make this my last will and testament hereby revoking all other wills by me and declaring that (?) I will my soul to God who gave it.
2nd, I will and bequeath to my grandchildren viz. to Elzina Irene, Pamelia Clara, (and) Thomas Nelson Brooks, being my grandchildren and children of my daughter Margaret Brooks, (?) to each of them, share and share alike all monies, rents, or real estate now obtained or to be obtained from the estate of their father Harvey Brooks.
3rd, to my granddaughter Elzina Irene, the sewing machine and bureau, being her mother's. To my grandson Thomas Nelson Brooks, one sheep. To my granddaughter Pamelia Brooks, her mother's bed. This will being more than of paper (?).
(Underlined)
In witness hereof I have set my hand and seal this 14th day of March, 1882.
(signed) Pamelia Nelson
We the undersigned witnesses, by the request of the testator and in the presences of said in presences of each other, declare that she, the testator Pamelia Nelson, did sign and seal the above (?) in our presence.
(signed) Thomas P. Austen, March 26, 1883
M.F. Donaldson, April 9, 1883
(swore to signatures of testatrix ) S.B. Allison, April 9, 1883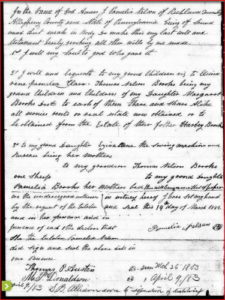 * The 1870 Census shows Margaret (7) and Alvina (8) Lee, daughters of Tabitha Jane, living in grandparents' household along with a (Thomas) Nelson Dodds (14), eldest son of Susan Ann. They were probably cared for elsewhere or became independent after Pamelia's death in 1883. Why were these grandchildren living there before? Except for daughters Susan Ann Dobbs, Tabitha Jane Lee, Mary Pearce, Permelia Pearce, and son John Randolph, some of her daughters had passed: Margaret (1872), Sarah (1849), and Agnes (1853). Probably son-in-law Harvey Brooks left a small estate to care for his  children. (For details and documentation see https://e-gen.info/wp-content/uploads/2011/05/Nelson-descendants.pdf .)