(back 7 generations to England)
Family motto: "Celer et audax"
("Swift and Bold")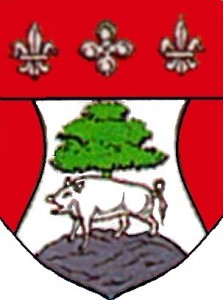 Table of Contents
(click on first name for family Vitals; spousal surname for associated family)
Thomas Pearce (1751/60-1797)
Jane White? (1767-1811)
I
Richard Pearce (1786-1861)
Susan Austen (1791-1865)
I
Charles Pearce (1834-1914)
Permelia Nelson (1839-1914)
I
Wesley Herron Pearce (1876-1955)
Bessie Reed Hill (1887-1974)
I
Ralph Hill Pearce (1917-2002)
Ruth Elizabeth Gray (1917-2005)
I
Larry Edsel Pearce (1948- )
Susan Kay Miller (1949- )
^
Annie Rebecca Pearce Matthew Carter Pearce
(1971- ) (1973- )
DOCUMENTATION:
Sir John Bernard Burke. The General Armory of England, Scotland, Ireland, and Wales. London: Habeison & Sons, 1884
Various Public Member Family Trees & other documents, Ancestry.com
See also "Pearce Family" on main menu
Last revised 2/8/21
Comments & Questions
Jim says:
12/23/20
Hello, I believe I've found records regarding the Isaac Pearce/Pierce/Peirce of Fayette/Bedford County, PA and Sullivan County, Tennessee.
https://www.werelate.org/wiki/Person:Isaac_Pearce_%285%29
His father appears to be a John Pearce of Augusta County, Virginia, whose will was entered into Court in the District of West Augusta. Hope you find it useful in your research. Best regards,
Jim Veregge
Norwalk, CA
Larry's response:
12/24/20
Wow, that's a lot of good information, Jim, and fits nicely with my reference to same. Now I have citations, thanks to you. Now if I can find the time to insert it into my early article, giving you credit, of course. Thanks and have a Merry Christmas. Please stay well and stay in touch. Larry