by
Larry Pearce
with contributions from
Grace TeSelle & David Maihle, Hill cousins
10/30/20
(Click on images to expand/Hit back arrow to return)
Sections:
Click A short biography of Capt. John Dixon Hill
Click Descriptions, maps, & photos of the four farm sites:
Click I. Francis "Frank" L. Hill farm, Denny Road
Click II. William W. Hill farm, 236 Downieville Road
Click III. John "Walt" W. Hill farm, Hill Farm Lane
Click IV. Joseph M. Hill farm, Babcock Boulevard
Click Conclusion
A short biography of Capt. John Dixon Hill
My great-great grandfather, Captain John Dixon Hill (1824-1915), named after his paternal grandfather John (1765-1849) and great-grandmother Elizabeth Dixon according to traditional Scottish naming practices, was born in what is now Slippery Rock, Butler Co., and raised nearby in Leesburg, Mercer  County, PA. He came from a line of Scots-Irish who had first settled farther east in Adams County. How ironic because, after the American Civil War, during which he is credited with raising an entire company of soldiers, Co. A, 169th Regiment, PA Volunteers, he became known as the school teacher/farmer from Adams Township in Southern Butler County. We'll present much more on this below, but the main purpose of this article is to further explain the good he did throughout his remarkable life for his family and community. Despite getting much help and information from my cousins Grace TeSelle and Dave Maihle, our story is still incomplete. All we can do is offer what we think we know and wait for any additional facts to come to light. I hope to present these new details in future revisions, so please check back from time to time. Just save the link to this page or type "John Dixon Hill" in the search box on the homepage.

Captain JD, as he was known, was my great-great paternal grandfather. I was born in Middlesex Township, adjacent to Adams Township not far from what we will call the four Hill family farms, and yet I knew little about him until I started digging recently. And that's an appropriate word because one of the first sources I used, The History of Butler County, 1895, begins the chapter on Adams Twp. by disclosing, "The green, crinoidal limestone found on a few of the higher summits, as on the Hill farms, has seldom, if ever, been utilized for lime or building purposes" (p. 440). Did Captain J.D. know of the white gold beneath the properties he purchased? Has the limestone ever been mined? I do know that when my wife's Amish ancestors came to the mountains of Western Pennsylvania, they always looked for deposits of Limestone because that meant rich soil and healthy crops. I also discovered that my Great-great grandfather Hill was thought of as somewhat a hero and father figure to generations of his descendants. My grandma, Bessie Hill Pearce (1887-1974), his granddaughter, married a farmer, like Captain JD, and must have inherited his love of books and education because my educated family always looked to her as a good example of higher learning. I have written and continue to write much about my accomplished ancestors and their descendants with pride as I  continue my genealogical research.
According to fellow researcher and writer of family history, the late Cousin Genevieve Hill Maihle, John Dixon Hill had moved from Slippery Rock to nearby Leesburg with his parents at a young age and, after graduating from public school, he qualified to teach school. He also helped his father in the family general store there. He married Margaret Thorn in 1850 at the age of 26, and they had two children. Unfortunately, his first wife died just five years later, but he re-married two years after that, another Margaret, whose maiden name their first child, my Great-grandfather Joseph Marshall Hill (1858-1939), also carried, again after Scottish tradition. With the start of the American Civil War in 1861, GG-Grandfather John Dixon began harnessing the enthusiasm of local youth to join the fight to re-unify the States. He was able to form what would become Company A of the 169th Regiment of the Pennsylvania Infantry, as I said above, which trained in Pittsburgh before being assigned to defend Washington, D.C. Family tradition says that he helped in medical procedures as a surgeon's assistant while on duty. According to Civil War historian Bates, the 169th went from Washington into Maryland in pursuit of the Confederates just after the Battle of Gettysburg. Though fired upon, John Dixon Hill's unit escaped harm and were discharge several weeks later. He returned to Leesburg and his family and, between military pay, some entitlements, and possible inheritances and investments, was able to purchase property in Adams Township,  Southern Butler County, where he began to farm and teach school
Which farm was purchased first, we don't know for certain, but probably it was what we call below the John "Walt" Hill farm off of Three Degree Road (see map below). The U.S. Census for Adams Twp., Butler Co., of 1870 tells us that the Captain was married with children and living there just five years after the war. The 1900 Census has son John "Walt" living on or near that farm with his young family. We believe that Captain JD probably resumed his teaching career in Adams Township shortly after he moved and, probably through successful investments, was able to buy additional farmland to share with his four surviving sons before and after his death in 1915 (see below).
John Dixon's second wife, Margaret Sarah (nee Marshall) (1831-1907), had died eight years earlier and wrote her last will and testament on an old, brown envelop. She signed and apparently gave it to their son John "Walt" for transcribing. There are many questions about the exact date of her death and this document. She didn't name an executor or witnesses.
Captain JD also owed property in Iowa 25 years after it had become a state in 1846. Below is the bill for his three parcels in the northwest corner  of the state, not far from the Minnesota and South Dakota borders.
My maternal great-grandfather Gray and his brother each invested in the Missouri Territory just after the Civil War, when the government offered it to returning veterans. My wife's great-uncle Miller moved his family west to the corn belt of mid-west Iowa for the cheap land and apparent unlimited opportunities at the end of the 19th century. Cousin Dave Maihle suggests that our John Dixon may have had a business partner named Andrew J. Hill who looked for such opportunities farther east, such as seeking shares in the early oil industry. John Dixon Hill's daughter-in-law, Joseph's wife, Alice (nee Moon), had come from a Venango County, PA, family involved in that enterprise. Was A.J. Hill, as he called himself, a relative of our Hills? Research is ongoing. One thing is certain, according to Captain JD's final will and testament: after all his generosity during his lifetime, and after providing for his wife should he precede her, and after giving his sons all the land that he owned in 1915, he ordered with a cautionary proviso at the end:
The balance of my estate consisting of money in savings banks, bonds, and mortgages after all expenses are paid shall be distributed between my four sons, share and share alike . . . Should any one of my sons be dissatisfied with this my honest effort to do justly between them and commence any suit at law, or give unnecessary trouble in any way to the Executor herein named, shall forfeit and be debarred from receiving any share in the distribution of the proceeds realized from the sources mentioned in the above.

The History of Butler County, 1895, cited earlier, contains two interesting tidbits regarding GG-Grandfather Hill: First, one Thomas Denny had built a "log house for school purposes" on his farm in 1796 (p. 447). Surely this was the building in which J.D. taught. It is described as "extremely crude" with the logs unhewn; "the floor was constructed of rough pieces of timber, and the openings were plastered with mud." We believe that this was where Grandfather taught because one of his farms was on Denny Road, the one run by son Francis "Frank" Hill. See more below. A future check in the County courthouse will reveal whether Denny had sold a portion of his farm there to GG-Grandfather and Frank. There's more below about that farm.
The second piece of information from a book tying Southern Butler County to our Hill family reports that a charter for the Mutual Fire Insurance Company in nearby Glade Mills, Middlesex Township, was granted in 1873. Of the 15 men who signed the pact was none other than our John D. Hill (p. 451). Did he have a stake in this company? I have written several pieces on my Great-grandfather Joseph M. Hill's (1858-1939) time with the Farmer's Mutual Insurance Company, which was chartered in 1876, just three years after the Glade Mills enterprise. Was the later inspired by the former? We don't know, but it's certain that father JD must have helped his son Joseph get started in this career.
If Captain JD didn't have today's education to become a school teacher, he most certainly would have had the knowledge, experience, and credentials to lead others. Classes in the frontier schools in those early days were only held when the students could get away from their farm duties. We believe that JD had some money, but no doubt saved from his military pay rather than from teaching. We know from the will of his father-in-law, Joseph Marshall, that he had borrowed $1,000. By the way, JD was co-executor for the estate, along with his Marshall brother-in-law. The Captain's father, a public figure and store owner, probably would have loaned him some money. Father William Hill died in 1875, just 12 years after J.D.'s discharge, so perhaps an inheritance was part of the picture. In addition to intelligence and a work ethic, one thing that has apparently been passed down through the Hill family has been generosity, enough that GG-Grandfather was able to set his four sons up in farming with estates of their own, according to family legend. By the way, the good Captain also had a daughter, Mary Anne (1853-1920) by his first marriage, married to Robert T. Love, with nine children. We believe that her marriage and established household probably disqualified her from the rich inheritance of her four living brothers, according to custom. However, Mary Anne and Robert's children, the Captain's grandchildren Leroy, Margaret (Brooks), and Bruce were each given $100 in his will, "payable as they each attain the age of 30 years." John Dixon's seventh and final child, Quincey (1865-1871) had died in childhood.
I'll end this first portion of our story with direct quotes from Captain JD's final will and testament, which was probated upon his death in 1915, and you can decide if his formal gifts of land had come after. Did he "allow" some or all of his sons to farm all or part of the land while maintaining ownership before he died? He may have charged rent while  allowing them to build equity. Again, a future visit to the county court houses will tell us exactly who and when ownership was formalized. So, with youngest son John "Walt" as executor, Captain JD, writes (order and Roman numerals to match this article and my clarifications in [brackets]):
I. [Francis L. "Frank" Hill receives the 35 acres farm on which he resides plus 20 acres off the east side of his father's farm. His children are to care for their mother, Sadie B. Hill].
II. I give to my son W.W. Hill [William Walter by his first marriage] sixty acres of land off the west end of my farm in Adams Township [believed to be the Downieville Rd. property] . . . and at his death to be the property of his sons and daughters, said land to be chargeable with the maintenance of Jennie G. Hill, their mother, during her widowhood only.
III. I give and devise to my son, John W. Hill [whom we refer to as "Walt"], during his life, all the balance of the farm upon which I live.
IV. I give to my son Joseph M. Hill [my great-grandfather] the farm upon which he now lives in Pine Township [now Babcock Blvd., Allegheny Co.] . . . chargeable with the Fifty dollars per year to his mother, Margaret S. Hill [and shall become the property of Joseph's sons and daughters chargeable with the maintenance of my Great-Grandmother Alice Virginia Moon Hill].
It's interesting that, according to family legend, oldest son William, or "W.W." as Captain JD calls him in his will, had the reputation of being "poor." He is omitted from a  requirement in the will after the order for the other three sons to give wife Margaret "the entire use and control of my dwelling house during her life, or as much as she may choose to occupy":
I also direct that she be paid Fifty dollars per year by each of our three sons, Joseph M. Hill, Francis L. Hill, and John W. Hill, payable semi-annually during her life, and should any additional money be required to maintain her comfortably, they shall bear the additional cost. Share and share alike.
(Click link to return to "Sections," Hit "Back arrow," or continue reading.)
Descriptions, maps, & photos of the four farm sites: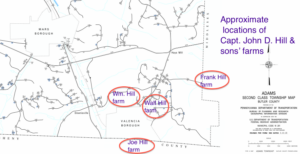 Let's continue now with a virtual tour of the four farms, that we will identify by their locations north to south and identified by Roman numerals, beginning in Adams Township, Butler County: I. Denny Road, II. Downieville Road, III. Hill Farm Lane (or Hill Lane, just to the south), and IV. Babcock Boulevard, south over the Butler-Allegheny County line in Pine Township. We believe that the Captain considered all or part of what is now the Hill Farm Lane property off Three Degree Road his own "plantation," as the Scots-Irish would have called it. Cousin Grace believes, and internet sources seem to indicate, that Three Degree Road once stretched from the Butler County-Nixon Airport to Pittsburgh via Mars, Downieville, Valencia, and Etna. This was the approximate route of the old Butler Short Line street car line, opened in 1907. The road was re-named after the death of Pittsburgh lumber industrialist Edward V. Babcock in 1948. He had been Mayor of the city and eventually County Commissioner. He, had earlier been  the prime motivator behind the formations of North and South Parks in 1927, which so greatly affected my Pearce and associated families.  In an email discussion with Cousin Grace, who reminded me that much of Three Degree Road is nothing but bends and curves, I replied that my wife and I frequent our local Rails to Trails and have understood that three-degrees is the average grade which a loaded train can pull. We're sure we could never do more that that on our bicycles. But, this explains why all the contortions in the roadway. See more below, including the language in Capt. JD's will officially giving the remainder of each farm to his sons.
All of the Hill farms were within a short distance from the small town of Valencia, considered back then as the community center with a general store selling most everything the Hills would need and a railroad that could transport their farm goods south to Pittsburgh. Cousin Grace remembers when her father Harry would go to the general store, which was right beside the train track. He'd have an order for groceries on a Saturday night and he'd take her with him. The owner would gather the order and put everything in a cardboard box. Grace says, "No bags then." She continues that in the box was also a little bag of candy. She doesn't say if that was courtesy of the owner or her dad. Those days were long before Walmart.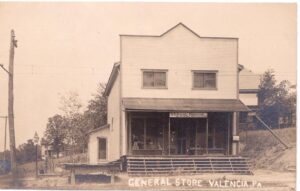 Cousin Dave remembers riding his bicycle to the store in the summer. He says, "They had a soda machine that you put a nickel in, open the top of the cooler, and pull the bottle out. It was truly a general store: food, clothes, fruit, seeds, shoes – anything you could imagine." So that was the Valencia and Adams Township neighborhood. We're about to see how it has changed in the 21st century.
(Click this link to return to "Sections", Hit "Back arrow," or continue reading.)
I. Francis "Frank" L. Hill farm, Denny Road
The first farm to the north of Valencia toward the hamlet of Mars is on Denny Road, just east of Three Degree Road. While pioneer/schoolteacher Denny's property, mentioned earlier, was clearly in Middlesex Township, our maps don't tell us in which municipality  Frank Hill's farm was located. I was delighted recently to tour that house, now owned and occupied by the Nuttal family. I'm told that Travis Hill was the last of our family to live there. I need to place him in one of  our family's generations. Afterwards, however, the Denny Road place was owned by Ettingers and Geyers. Although the barn is gone now and most of the property has been sold, the family has remodeled the old place and it appears to be very comfortable after all these years. The fireplace is still in use, and a visit to the basement reveals the original hole in the floor where the spring water came in. Now on a well, the family uses a sump pump to safely remove the water. They have added rooms and a spacious, modern kitchen. No doubt this old Hill house will serve this family for many years to come.
(Click this link to return to "Sections", Hit "Back arrow," or continue reading.)
II. William W. Hill farm, 236 Downieville Road
Returning west to Three Degree Road and then south, we come to Downieville Road (sometimes spelled "Downeyville") on the left. On the corner and south is the new Cobblestone Retirement Village, where my mother's brother Merle Gray and wife Betty lived before their passing. Cousin Dave Maihle's brother has a house along Downieville Road, but even farther to the west is where the William W. Hill farm used to sit. Dave has friends who purchased the parcel and remodeled the house. As we said above, we don't know exactly when Captain JD moved his family from Mercer County south to southern Butler County, but according to the 1860 Federal Census, the family was still living in Mercer County with young William. By the 1870 Census the expanded family had settled in Adams Township, Butler Co. At that time W.W., as William is listed, was age 19 and working as a "farm laborer," which tells me he hadn't yet left home and was probably working for his father. Ten years later, William, wife Jennie, and young family were out on their own and he is listed as "farmer." Did he own all or part of the Downieville Rd. property by then? We don't know.

An expanded satellite view of the present-day homes along this part of Adams Township reveals boats, campers, swimming pools, and large, green lawns, looking quite different from when our Hill family farmed the land. William's farm probably included  the Cobblestone Retirement Village, mentioned above. My wife and my visits to the area also included, just south, one of the many St. Barnabas Health Care System campuses, Valencia Woods, established in 1900. I can remember an elaborate birthday party for my late sister-in-law at what is shown above as The Crystal Conservatory, an all-glass banquet pavilion. Did the William Hill farm extend this far south?
Another eye-opening discovery was the existence of the century-old Lillian Taylor "Fresh Air" Camp for disadvantaged women and children amid the trees of what was probably our William Hill's farm. The Pittsburgh Post-Gazette of 2005 carried a feature story of the deplorable condition of that 106-acre venue. I was never aware of the camp until researching this article. When I was a boy, my father used to send contributions addressed to the "Heart House, Valencia, PA." Searching the internet now, I see that there once was a "Lillian Home Heart House" with the same co-ordinates as the camp located on the Hill farm. Further investigation has revealed a Heart House in Pittsburgh, part of Goodwill, whose mission statement is: "Transitional housing for women and their children that provides and combines temporary housing, career counseling, education, training and job-placement to assist homeless individuals and families with children." That surely sounds similar to the Lillian Taylor Camp.
The story goes that Charles L. Taylor, a wealthy Pittsburgh industrialist, philanthropist, and associate of Andrew Carnegie, bought 65 acres of farm property from the Hills in 1902, probably after William was in his 50s and had had enough of farming. Taylor was a board member of the Kingsley Association, which took over the property and established this rural charity for women and children, and named it after Taylor's wife. Taylor eventually also purchased additional property across Three Degree Road, probably the John "Walt" Hill property covered below, which became known as the Taylor farm, famous for its Hereford cattle. Hill Cousin Dave Maihle's father Harold was manager for several years. Dave was born there in 1956. If the photographs above and below are any indication, the Taylors and the Hills must have had a good relationship.
As we said above, the Lillian Taylor camp was allowed to deteriorate after a century.  Apparently, the owner of the property, the Kingsley Association, has sold it to the adjoining St. Barnabas Health Care System. It's not clear how the health system might redevelop it.
One thing is for certain, these properties, not far from the Pittsburgh metropolis and the burgeoning Cranberry Township, are gaining in value each year.
(Click to return to "Sections," Hit "Back arrow," or continue reading.)
III. John "Walt" W. Hill farm, Hill Farm Lane

Very much like brother William's redeveloped farm property, Walt's is now typical of the affluence in Adams Twp., if the expensive homes, paved driveways, swimming pools, and manicured lawns are any indication. At least one of Walt's (1863-1946) descendants, Cousin Dave Mailhe, is sad to see this. He has many memories of sitting on the front porch of the old farmhouse and looking out over this Hill farmland. The beautiful picture atop this article is Dave's last memory of the Walt Hill farm. He says that a fire caused by an electrical storm had destroyed the barn before Walt's death in his early 80s just after WW II . Dave Maihle says that lived on the farm in a small house, with his wife, confined to bed. The rest of the family lived on the farm also until only Grandson Dale, a bachelor, was left. He died in 1981, leaving Cousin Dave's parents to "clean-up" the farm to sell it. He says that when they opened the door to the small house where Walt and his wife lived, they found that nothing had been done inside since the death of Walt in. He continues:
The calendar on the wall was 1947. It was amazing how everything was still the same. When I was a kid we would go around outside that house a million times, but we were never allowed to go near it. [Walt's kin] wanted it left just the way it was while [Walt] was  living there. [In the end] we cleaned out the house and pulled it over. Some of the planks on the walls were 20-25 feet long. We saved some of them and some of the large stones from the foundation. My mother, Genevieve, gave me a change purse that Walt's mother had. She used to tell me stories of when she was real young of her grandmother giving her change from that purse to go to the general store in Valencia. It looks the same as when Mother got it from her grandmother. It still has some of the change from the late 1800s.

Dave believes the sturdy house would still be there had the estate not been sold and redeveloped. Today, expensive and expansive homes dot the "Hill" side of what was a very productive agricultural operation.
In fact, the Hill Farm Lane turns south off of Valley Brook Road. Dave says that "Valley Brook" was the name of Walt Hill's dairy store. If the milk house operated anything like the nearby Parks family farm and dairy in Middlesex Twp., customers could take home a gallon of milk in a reuseable glass jug or two gallons of milk in a shiny metal canister with a handle. I remember, as a young lad, returning our family's empty and scrubbed metal can to Parks' on my bicycle, with the bucket's handle hung over my handlebars. Everything was on the honor system in those days, and Dad would stop at Parks' store on the way home from work to pick-up two more gallons of milk for our consumption. Honestly, I don't even know that the milk was pasteurized back then since it wasn't being transported commercially. I do know that we drank a lot of the white liquid back then, and I'm still alive to write this piece.
Walt willed the property to his son Clarence who left it to son Dale, who never married and had no heirs, so the farm was sold to housing developers. It's Dale's sister Genevieve, Cousin Dave's mother, who became a family historian, of sorts, and recorded many stories for posterity.
Grandfather John Dixon Hill had a safe, mentioned in his will, that after his death was brought over to Dale's house. It contained deeds and records of pension payments to war veterans that Grandfather was in charge of. Dave remembers seeing a Civil War musket at the farm when he was just a young boy. Someone along the line had made it into a coat rack. Many old pictures and other keepsakes have been distributed to the descendants. Perhaps one day they will be digitized and shared with all of the living John Dixon Hill descendants.
(Click to return to "Sections," Hit "Back arrow," or continue reading.)
IV. Joseph M. Hill, Babcock Boulevard
Captain JD's oldest son and wife, my great-grandparents, Joseph and Alice (nee Moon), lived about five miles south of the Butler-Allegheny County line beyond Valencia, along Babcock Boulevard. This property was called Maple Shade Farm, and was "given" with the proviso in the father's will that it not be sold or passed on to Joseph's eldest son, Harold "Harry" and his wife Hulda (nee Fisher), until the passing of Alice.
Cousin Grace, Harry and Hulda's daughter, says that, in the end, after both Alice and Harry died, "Affirmative heads prevailed, and an acre was carved out for [Hulda] and a house for her [provided], considering that Harry had paid the taxes for years and was always generous in sharing crops, eggs, etc. with his siblings, who had many mouths to feed."
 The farm was about 100 acres, but it involved two very steep hills that converged to a spring at the bottom, according to Grace. She continues:
There was an oil or gas well in that same area of the valley that was working and looked after by a man named Ferguson.  The highway, now Babcock Blvd., intersected through the farm so that the westerly most part was fairly level, but higher in some places. It was said that at the very highest spot one could see the Cathedral of Learning on the University of Pittsburgh campus on a clear day. The hills were so steep that as a child riding in the wagon beside my Dad, I feared the horses would slip and send the wagon, its load of hay or wheat and us, down over the hill. Usually Daddy led them sideways on the hills, but sometimes it was necessary to go straight down. The horses strained hard against gravity to keep the wagon from running over them. Also, the tractors available in the 30s were big and bulky and could not be used effectively on the hillsides, even if Daddy could have afforded one.
Grace is quick to share a favorite story: "[Daddy] loved his workhorses, Tom and Dick, and when they were together in the field, they were know as 'Tom,' 'Dick,' and 'Harry.'"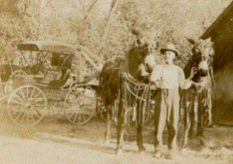 The house (and barn?) are still standing along Babcock Blvd. just over the Butler County line in Allegheny. My Great-grandfather Joseph Marshall Hill, and as we said earlier, more of an insurance agent and director for the Farmer's Mutual Insurance Company than a farmer. By the way, wife Alice helped him with "clerical work," according to a year end report for the company. Have a look at the article "Treasures in an Old Box" for details on Joseph's career, including insurance policies he held before and after WW II.
It was Joseph and Alice's  oldest daughter Bessie who married my Grandfather Wesley Pearce. Cousin Grace has written about her memories of this couple. Wesley's family had operated a farm and grist mill along what is known as Pearce Mill Road, now a part of Allegheny County's North Park just over the ridge to the west. See Table of Contents: Pearce for more background on my family, celebrating 200 years in America this year.

One thing we're sure of is that this was where most of the Hill and Hill-Pearce family gatherings and picnics were held until the establishment of nearby North Park in 1927 when my Pearces were asked to leave their properties as the county park was being created. We Pearces and associated families returned each summer for 50 years to enjoy our own reunions there in the park.
As for the Joseph and Alice Hill farm, Grace believes that it was sold, after her mother died, to a family that raised horses. She says that it became known as either Misty Hills or Misty Valley Farm, which was a fitting named:
Some mornings when I went to bring the cows to the barn for milking, it would be foggy in the low places and my  socks and shoes would be soaked from the dew on the deep grass. I must have been six or seven that summer. It was nice to see it was still farm land as long as my mother lived in her house. The family that bought the farm built houses for their children on the south side portion where it was flatter.
(Click to return to "Sections," Hit "Back arrow," or continue reading.)
As I said from the beginning, this article has come together in fits and starts with, I'm afraid, only bits and pieces to show in the end. I'm so thankful in this dreadful year of 2020-21 for the great and generous help of Hill cousins Grace and Dave, and all by e-mail I might add. Where we have had problems locating properties by virtual maps and assigning these homesteads by municipalities, I have simply left room for future additions. Meanwhile, through what we have known and did discover, we hope we've brought this rich area of Southern Butler and Northern Allegheny Counties to the attention of family and the public. Please check back to this site and this story and others for comments and additions. Finally, I think we all agree that Capt. John Dixon Hill had a life well-lived, doing good for his family and community.
Last revised 1/13/21