(Back 11 generations to Prussia/Germany)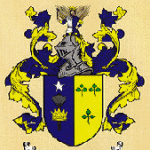 Table of Contents
(Click on first name for Vitals; spousal surname for associated family)
Hermann "Mannus" Bender (c.1675- )
Anna Oswald ( )
I
Christian Bender# (c.1700- )
Unknown ( )
I
Daniel Bender# (c.1725- )
Unknown ( )
I
Jakob Bender (c.1750- )
Helena S. Brenneman + ( )
I
Maria Bender (1783-1860)
Daniel Brenneman + (1769-1842)
I
Elizabeth Brenneman (1816-1890)
Thomas "Tommy" Lee (1816-1900)
I
Christian F. Lee (1858-1906)
Laura Catherine Speicher (1859-1919)
I
Annie J. Lee (1885-1971)
Charles Frederick Krause (1884-1973)
I
Hilda Elizabeth Krause (1921-1997)
Richard Orville Miller (1920-2015)
I
Susan Kay Miller (1949- )
Larry Edsel Pearce (1948- )
^
Annie Rebecca Pearce Matthew Carter Pearce
(1971- ) (1973- )
* Anglicized, probably short for "Fassbender" in German, a cooper or barrel maker
# Possible undocumented ancestors
+Helena's father was Samuel K. (1759-1834), from the same Melchoir line as son-in-law Daniel. Her mother was Marie Schwartzentruber (1765- ).
DOCUMENTATION:
Cindy Leonhardt, BENDER-L Archives. Rootsweb.Ancestry.com. 6 Nov. 2010
"Family with Jacob Bender" (F11191). Internet
Find a Grave. "Maria 'Mary' Bender Brenneman."
Brenneman Family Cemetery records, New Germany, Garrett Co., MD.
Lucy Beachy, ed. The Daniel Bender Family History. Grantsville, MD: Bender Book Rev. Com., 1985