by
Dr. David B. Gray, son*
with introduction by
Larry Pearce, great-nephew
2/28/19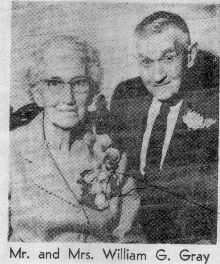 William Garfield Gray (1889-1970) was my Grandfather Paul's brother and my great-uncle. He married Bertha Lovina Bonin (1889-1987) on November 28, 1917, exactly a quarter-century after Grandfather Paul's birthday. Ironically, November 28 was also the date I married my wife, Susan. Weather-wise, it wasn't the sunniest of days, but it was Thanksgiving weekend, a chance to have lots of family gather to celebrate. What follows was researched and written by my cousin, Dr. David B. Gray, a retired Professor of Social Psychology at Westminster College, New Wilmington, PA. See his biography below. The two essays capture farm life in West Deer Township, Allegheny County, PA, in the century from the late 1800s through the late 1900s. For additional context and information go to the links provided.
William Garfield Gray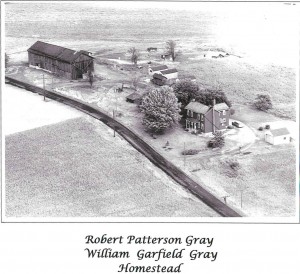 William grew up on a farm on what is now called Kaufman Road, West Deer Twp. As noted in previous family sketches, the farm was bought by Elizabeth Leslie Gray from Elizabeth's family, the Leslies. It was not an outright gift. The acreage was somewhere around 80 acres of farmland, pasture, and woodland. The farm was bounded on the south by what became the coal-mining town of Bairdford, and the Kissick farm; on the west by Obraktas; on the north by Schwabs; and on the east by Moniers and Leslies.
William was a farmer who worked this land all his life. The first allusion we have of his boyhood has to do with the rebuilding of the farmhouse. This event comes from notes dictated by my mother and written by my wife Phyllis. (Also, read a 2005 letter, "About the old Gray Homestead," sent to me by David's late sister, Ella Mae Grubbs.) Part of the farmhouse was torn down, and a newer section (kitchen and one upper bedroom) was moved back from the road and a new section added in front consisting of living and dining rooms downstairs, and two bedrooms upstairs. The notes say, "Will and [Russell] Stanley were old enough to remember this and the boys were sent to summer school in DC." Rather surprising to find these notes.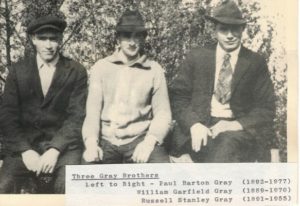 Another part of the narrative is that Aunt Mary Bryce supposedly "rode" in the old kitchen when that part of the house was being moved. Aunt Mary's husband, David Kerr Bryce, of the Bryce glass factories of Mt. Pleasant and Pittsburgh, had died prematurely of typhoid in 1885. It seems that as a widow, Aunt Mary visited the Will Gray family, the Paul Gray family, and the Janet Kellar family possibly for extended periods.
The major reconstruction of the farmhouse was undoubtedly a significant event to my father as a very young boy. If the reader is willing to interpolate a bit, because the account says that Dad and Uncle Stanley were old enough to remember the reconstruction, we could assume that Dad and Uncle Stanley were about 6 and 8 years of age. Paul could have possibly been 5 because he was omitted from this allusion of remembrance. Unfortunately we have no record of the date of the reconstruction but this indirect reasoning could place it approximately in the year 1897, plus or minus a couple years.
Dad often talked about his school days. There was never much detail of what happened inside the school, but he frequently referred to the long walk which seemed to leave an indelible impression on him. It was approximately a three-mile walk, one way. In connection with the distance of course the location on Logan Road was often mentioned. An old 1876 West Deer Township map locates the Logan school on Logan Road very near to where it comes out at right angles to the Culmerville Road. (See also West Deer Township, 1836-1986, Compiled by John Graff, and published by the 150th Anniversary Committee.) I have had the impression that Dad finished the 5th grade, but have no evidence for that.
He attended Bull Creek Presbyterian Church with his parents. There is no record that I know of about how frequently they attended. The church was near Culmerville, which would have been a long buggy ride of about 6 miles, one way. His Father and Mother are both buried in the Bull Creek Cemetery. There is a record of Dad's brother, Stanley, for perfect attendance at Sunday school at Deer Creek Presbyterian Church in 1898. Dad later absented himself from worship for a long period followed by becoming regular in attendance at East Union Presbyterian along with my mother and family.
An indirect glimpse into my father's young adult years is revealed in 1909 when he would have been 20 years old, the eldest son. His father Robert apparently left the responsibility of operating the farm to him. Brothers Stan and Paul, and Aunt Janet were most likely still at home and may have provided some help up until their respective marriages which occurred between four and seven years later. However in the oral history of the family there is no indication of their interest in farming.
Two years later, in 1911, father Robert Patterson Gray makes a definitive break from the farm for his ten-year stint of activities in Florida. Read a series of Robert's letters from Florida to various members of his family. This I believe really leaves Dad with the full weight of the harm on his shoulders at the age of 22. I would surmise that that indicated a pretty strong personality. Six year later he marries at the age of 28.
Dad was respected by the surrounding neighbors for his good crops and sound care of the animals. Dad raised the traditional crops of the area—corn oats wheat and potatoes along with significant produce crops for wholesale in Pittsburgh. Dad's forward-looking spirit was seen in his owning and and driving one the earliest Model T trucks in the community. Strangely, when driver's licenses became required he gave up driving road vehicles entirely. From what I could gather from my siblings, he became a more passive person.
Potatoes were a significant part of the mix of crops. Pest control was accomplished by very early morning dusting. I can still see Dad with the mules, Amos and Andy, in the potato field in the very early morning fog while the dew was still on which helped the dust to stick to the plants. In addition, beetles were picked by hand as well as hoeing being done by hand. Harvesting was a big occasion. A two horse type of plow turned the potatoes onto .the top of the ground. Then came picking by hand and sacking. Most of the harvest was stored in two big cool dirt floor rooms in the basement of the farmhouse. When the rooms were full sometime it was necessary to pit the excess (buried in the ground under a mound of straw and earth). Most were retailed in Bairdford to the coal miners and more distant regular customers as well.
The mining town was about a mile away from the farm. When times were tough the mining families would come to the farm and glean the fields for small potatoes that were missed in the harvest. There was a terrible strike in 1927. Miners were evicted from the Company homes and lived in temporary barracks that whole winter. Dad often gave them potatoes and apples as a matter of survival.
There were two big social/work events in the larger farm community—butchering and threshing. Usually one neighbor would come in and help to butcher several hogs or a beef. A 22-caliber rifle would drop the hog after which its throat would be slit in order to bleed the meat. They were scalded in boiling water in 50-gallon barrels in order to be able scape the hair off. Then the carcass was gutted, quartered, and taken into an unheated enclosed porch to be cut up and canned the next day. Hams and bacon were immersed in barrels of heavy salt brine to preserve them and then smoked in a little outside shanty. They stayed well preserved in brown paper bags in a hot pantry well into the summer. To me, nothing could ever match the taste of those cured hams.
The second big gathering was threshing day. About a half-dozen neighbors would come in all day to throw the wheat and oats down from the mows in the barn to the threshing machine below, and afterwards store the grain in the granary. This was all preceded by the great excitement of the custom thresher coming in the evening before. The sound of the old "oil pull" tractor coming up the ash road—pudup, pudup, pudup– announced the great event. The social part of the event was the great dinner at mid-day for all the workers. The men washed on a long bench outside with several basins. Mother's sisters would come early that morning to help prepare a large dinner for some very hungry men. The gender roles were well defined then.
Making hay remained very primitive on our farm while I was a child. My two brothers (Harold and Chuck) were away at the War. I was only 7 when the War broke out. I tried to do a man's job in the harvests; the physical demands were a struggle. Throwing hay up onto the wagon or building the load required more muscle than a very young boy had. Dad managed to get through the War years somehow. It was a great relief when Harold returned to work on the farm.
In spite of the tough years, life was good. Dad was a very patient and positive person to emulate. However, at that time, any physical expression of affection was rare. Mother and Dad seemed to be a solid couple in total support of each other. I did overhear some worried but not angry discussions about how they were stretched to pay the taxes. Sometime in those early years a new Farmall H tractor came to the farm and made life easier than depending on the horses and mules entirely.
Dad had a serious stroke in about 1966; he had serious impairment on the one side . He recovered quite well after a lot of self-made physical rehabilitation. He died in 1970 at the age of 81.
Bertha Lovina Bonin Gray (1889-1987)
My Mother was born in a nice little but comfortable cottage in West Deer Township only a couple of miles from Dad's farm. Great-grandfather Bonin, who had come over from Germany around the 1850s, had to clear the forest to make it suitable for agriculture. Stories are that the land had what they called hoop snakes. Those were snakes that supposedly moved by coiling themselves into a hoop vertically and rolling instead of slithering horizontally. My hunch is that there may be no such snake; it may have been born out of legend.
They had a very small screened-in porch, protected by the house on three sides. We were repeatedly told that our grandparents loved to sit out there in thunderstorms and watch the drama.
Mother had three sisters and a brother. Harry was the oldest, followed by my mother Bertha, then Irene, Hazel, and Viola. There was also Nora, perhaps the youngest, who died of the flu in the 1918 worldwide Spanish influenza pandemic.
Frequently on Sunday afternoons, a group of us children would walk the two miles to Grandma Bonin's house. It was a ritual and a delightful time. There was a box of dominos on an old sideboard. We always played a game of dominoes on the floor, and then Grandma would serve us a thick slice of home made bread spread generously with her own butter and apple butter. The memory is one of sheer pleasure.
Bonin family diaries indicated that the family prospered moderately well on the little farm. Shopping trips often resulted in buying a hat, dress, pocket book, and often several things at one shopping trip. Short vacations also were noted. Toward the end of their lives they had a relatively up-to-date Chevrolet sedan.
According to Mother, her church was a significant part of her early life. The church building was less than a mile away reached on by a path through the woods. The church was in the town of Bairdford and was Methodist. It was called the "Little Jim" after one of its active pastors. My middle name had originally been Leland after a pastor at the church, but Aunt Mary Bryce wanted to have me as a name-sake so they changed my middle name to Bryce. The church is still there and the building looks well-maintained.
Bertha, my Mother, married Will in 1917 at the age of 28 and moved to her new husband's farm. It is reported that they were married at Aunt Mary Bryce's home on 812 N. Negley Avenue in East Liberty, Pittsburgh. It sounds like there was a reception at some point at the Bonin home. An oral report held that during the reception, Grandfather Robert Patterson called the Bonin home and said, "Willie, we need you here, come home." If our dates are correct, this story is totally fallacious because Robert Patterson Gray was in Florida from 1911 to 1922. On the other hand it may have been an anniversary celebration on a year when Robert Patterson was indeed home. Was this story just spun out of resentment that Robert was reported to be a very demanding personality?
The new couple, Bertha and Will, apparently had Annie (Robert's wife) in the household from the onset of their marriage. The children started to arrive with Harold Robert in 1918, then Ella Mae in 1920, Anna Mary in 1922, Olive Lovina in 1923, Charles William in 1926, and David Bryce in 1934. A stillbirth occurred some time between Chuck and David.
Robert Patterson came back from Florida in the year 1922, six months before Anna Mary's birth and six months before his wife Annie's death. Thus Mother was the caretaker of Annie in a wheel chair during the first three years of her children, and then became the caretaker of Robert Patterson the year after Chuck was born. Robert Patterson was bed-ridden the last couple years of his life. In addition to these demands, Mother would have been pregnant about half of the 16 years from the birth of the oldest child to the youngest.
A typical day in Mother's life started early in the morning by building a fire in the coal burning cook stove, getting breakfast (often cooking rolled oats) and getting the kids off to school. She also cared for in-laws Annie and Robert. Monday was washday for the tribe. A large volume of clothes was put through the old ringer washing machine and then hung on outside lines, often in bitter cold. Cooking usually called for full meals both at dinner (lunch) and supper. All dishwashing was, of course, done by hand.
Mother was in charge of tending to the large vegetable garden, which supplied the family with tomatoes, onions, carrots, lettuce, and cabbage. Dad would run the horse-drawn cultivator through the rows occasionally. Toward evening Mother would gather whatever vegetables were in season for dinner. Baking was no small detail—fresh bread every other day. Homemade pie was common at the evening meal, even on weekdays.
Somewhere in between, Mother would can the winter's supply of tomatoes, beans, and corn. A great deal of beef was also canned at butchering time. These were days before freezers. Apples, potatoes, onions, and sauerkraut were in the basement, which at least meant that her workload was lightened by not having to shop. When members of the family went to retail eggs in Pittsburgh they would bring home staples like flour, sugar, and salt. The Sears-Roebuck catalogue was a convenient way of shopping for necessary dry goods and clothing in those days.
Some of the children's clothes were sewn by hand. In the winter, when duties were lighter, a large quilting frame sat for weeks in the dining room. Mother and some of my aunts  would work on the quilts in their spare time. Her sisters made a social day out of quilting together several times a season. In the later years, Mother and Anna quilted regularly at the church with a group of women. These were important times of sharing, mutual support, and friendship.
Sunday witnessed regular Sunday school and worship at church, which required getting all the children dressed and groomed. In the early days there was also an obligatory preparatory service on Wednesday nights to be ready spiritually to take communion Sunday morning. Communion was observed about four times a year. The Women's Missionary Society was another occasion to gather at the church periodically. Bible reading at home was a regular part of Mother's life.
Mother was generally quite healthy and endured the rigors described above up until her very last year. I cannot imagine keeping up with all that. I guess her most frequent illness was the flu. Mother was consistently an optimistic, up-beat person. She was always looking ahead and encouraging all to be productive and honest, and she passed on a strong sense of purpose to all of us. She lived 17 years after Dad died. She stuck it out for a couple years with Ann at the big lonely farmhouse. Ella Mae's husband (Wilson) and my older brothers set up a mobile home a hundred yards from Ella Mae's house where she spent some good last years close to several of her children. She passed away in 1987 at home. Chuck's wife, Marie, stayed with her the night that she died, at the age of 98.
* For more on Will and Bertha's lives, read their son Dr. David B. Gray's biography (waiting for approval)
Last revised 6/27/19