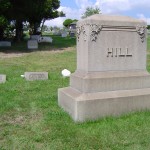 Captain John Dixon (1824-1915)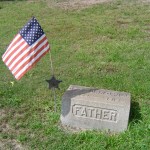 b. Slippery Rock, Butler Co., PA; r. Adams Twp., Butler Co. (son of William & Sarah Barbour  Hill; Retail clerk, Teacher, & Farmer)
-military: Surgeon's Assistant GAR Civil War, Co. A, 169th Reg. PA Infantry (1862-1863)
–cause of death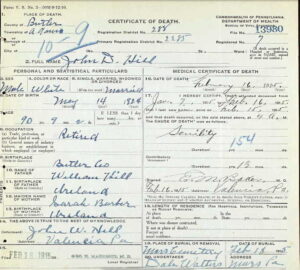 -buried: Mars Cemetery, Mars, Butler Co., PA
Married: 1850 (Two children* to Margaret Stewart Thorn-deceased 1855)
Margaret Sarah Marshall (1831-1915)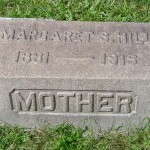 b. Lawrence Co., PA; r. Butler Co. (daughter of Joseph & Elizabeth Marshall; Homemaker)
-buried: Mars Cemetery
Married: 1857
Children:
William Walter* (1851-1935) (m. Jennie Galbraith)
-buried: Mars Cemetery
Mary Anne* (1853-1902) (m. Robert Thompson Love, 9 children)
Joseph Marshall (1858-1939) b. Butler Co.; r. Allegheny Co. (m. Alice Moon; my great-grandparents) -buried: Allegheny Co. Memorial Park, PA
Charles (1859-?) did he die in infancy?
Francis "Frank" Leroy (1860-1946) (m. Sadie B____)
-buried: Mars Cemetery
John Wallace (1863-1946) (m. Ella M____)
-buried: Mars Cemetery
Quincey Adams (1865-1871 died in childhood)
Documentation:
Family tradition, Cemetery records from Cross Roads and Mars Cemeteries and Allegheny Memorial Park
Janelle. e-mail. 16 Nov. 2016
Kay Harrison. "Descendants of John Marshall." 19 March 2014. e-mail
"Hill Family, Mercer Co." 22 April 2010 http://homepages.rootsweb.ancestry.com/~swwhite/hill.html
Patricia Hill, Natrona Hgts./Saxonburg, PA. e-mail. 20 Feb. 2004
"Slippery Rock Twp." History of Butler Co., PA, 1883. Chp.42.
"William Walter Hill. Find-a-Grave. 10 Nov. 2016
http://www.findagrave.com/cgi-bin/fg.cgi?page=gr&GRid=24903185&ref=acom
Various Public Member Family Trees. Ancestry.com
RETURN TO OUR HILL FAMILY TREE
RETURN TO OUR MARSHALL FAMILY TREE
Last revised: 8/19/21