by
Larry Pearce
12/13/17
Click 1. INTRODUCTION
Click 2. SKIBO, NEW SCOTLAND, CONNOQUENESSING, BUTLER CO, PA
Click 3. NEW WESTMORELAND, PA
Click 4. MISCELLANEOUS MATERIAL ON EARLY JAMES GRAYS
Click 5. CONCLUSION
Click 6. FOOTNOTES
Click 7. WORKS CITED & DOCUMENTATION
1. INTRODUCTION
This family researcher once believed that his three-times maternal great-grandfather was James Gray,  born about 1785 in Northern Ireland, came to America, and married a Mary Patterson in 1805. Now, after years of research, I'm not so sure, on several levels. The primary source for this original belief was my careless look at the Index of the  1800 Federal Census for Allegheny County, PA, which placed a James and Mary Gray together alphabetically. Another look and I discover that I'm seeing a simple index for all of Allegheny County, and James appears to be an older head of house from Deer Township and Mary a younger widow from Plumb [sic] Township across the Allegheny River. Unfortunately, it's difficult to make that early report fit my theory, with  little more than the head of household and the numbers and very general ages of those therein. If James was born in 1785, he would have been only 15 and head of household when the survey was taken, not likely. Who was the older male in the census? We'll look more closely at the Grays in the 1800 Census later. Secondary sources for my belief, which can be always questionable, include a local history book entitled, Merrie Olde Middlesex, by Caroljo Forsythe Lee; contributions to Ancestry.com by several very ambitious West Deer Township genealogists; and a marriage index compiled by Bob and Mary Closson titled 175 Southwestern Pennsylvania Marriages Performed by Rev. Abraham Boyd.1Rev. Boyd was pastor of the Bull Creek Presbyterian, the early Gray family church in West Deer, who officiated at the wedding of a James Gray to a Mary Peterson in 1805. We don't know the exact location of the wedding  because Rev. Boyd had planted at least a half dozen other churches in the area during his ministry. I just assumed that this James and Mary were my ancestors. Often the names Peterson and Patterson (both meaning "son of Peter") are interchangeable in Scots-Irish-English translations. Since my great-grandfather was Robert Patterson Gray,2 and Scottish naming practices often honored parents and grandparents, having James Gray as my maternal family patriarch seemed reasonable. Furthermore, Rev. Boyd also wed my two-times great grandparents, William and Elizabeth Leslie Gray in 1837, of which I'm certain.
New information suggests that this William was most likely named for his paternal grandfather, whom we'll meet later. With all the genealogical records available today, one would think my original James and Mary treatise would be easy to support, an open and shut case, no? Turns out the problem seems to be too many bits of possible/probable coincidental and anecdotal evidence, none of which in and of itself can substantiate James and Mary as being my maternal ancestors. In fact, I spent an entire day in the nearby Westmoreland County Historical Society library recently trying to link our James & Mary Gray to any of the multitude of Grays there. I found no definite connection between my Great-great grandfather William S. Gray of West Deer and his father James of Deer Township, or William's supposed namesake from Westmoreland. So, the purpose of this article to to lay out several of what I call "alternative narratives" for the origins of my three-times great grandparents based on the assumption that they were indeed James Gray from Deer Township and a Mary Patterson/Peterson. There are two other well documented Gray families in particular near to the Deer Township in the 1800 Census and much miscellaneous material to consider. So, let's have a look at the possibilities.
(Click to Return to "SECTIONS IN THIS ARTICLE", Hit "Backspace," or continue reading)
2. SKIBO, NEW SCOTLAND, CONNOQUENESSING, BUTLER CO., PA
The first alternative narrative I call simply "Skibo," after the castle and estate in Scotland managed as far back as 960 AD under the Lordship of Alexander, "Laird" or Lord Gray. It was afterwards owned by the Gray family, beginning with John Gray in 1545 and surrendered by Robert Gray in 1745. Andrew Carnegie eventually acquired the famous estate in 1897. Today it's a resort for the wealthy. Part of this Gray family, father Thomas and sons, worked their way to Western Pennsylvania, or what was called "New Scotland" in southern Butler County.3 This Gray family came in 1791 to what they called "New Scotland" in Connoquenessing Township, southern Butler County, site of what was to be the White Oak Springs Presbyterian, not far from a Rev. Abraham Boyd church plant, Middlesex Presbyterian, very near to where I grew up.
I had received a copy of a 250-plus page family reunion report from an apparent distant cousin, Debbie Cooper, years ago entitled The Gray Clan that detailed this family. It took a recent visit to the local community college library and free access to Ancestry.com to bring into focus this first alternative narrative for our James and Mary that we're calling "Skibo." That Gray family branch produced a Thomas Gray, Sr., which we'll associate with the Scottish emigration to America in the late 18th century.
Thomas Gray, Sr. (1761-1853) was born in Scotland at the historical Skibo estate and married Mary James (1761-1830) also of Scotland. Thomas and his three sons, James (1786-1868),  William (1789-1860), John (1791-1853), and daughter Sophia (1784-1871) arrived in America with three other families, the McKinneys, the Grahams, and the McDonalds. The Gray brothers separated upon reaching Philadelphia, then Chester County, but not before making a solemn pact to name their sons after themselves "through the ages zealously, as long as no urgent conflict with the wishes of the mothers."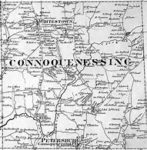 Traveling as far as the Cumberland River Valley, now the land south to Harrisburg, James and Thomas, Sr. awaited enough folks to brave the wilderness together. Finally, in 1791, the families, with eight small children, headed west over rough wagon roads that had been marked by government agents and scouts, finally stopping in what was to be called "Little Scotland," or sometimes "New Scotland" in what is now Butler County.4 George Washington was nearly killed near here by an Indian guide while on his way to Fort LeBoeuf in Erie to order the French out of Western Pennsylvania after the establishment of British Fort Pitt in 1758. Thomas Gray's Butler County deed for 400 acres there is dated 1792. While Thomas and Mary's first four children had been born in the Old Country, the last four were born in Connoquenessing, an Indian word for a phrase meaning "for a long way straight," referring more generally to the land around the Connoquenessing Creek.
These Butler county Gray's oldest son was named James. Born in Skibo in 1786 with some sort of physical disability, perhaps poor eye sight, that kept him from military service. His brothers volunteered for the War of 1812. He was at one time thought to be the father of our William Sylvester. But that James married Margaret Peterson, not Mary Patterson. Could Margaret have been Mary? Could the James Gray and Mary Peterson recorded in Rev. Abraham Boyd's wedding journal in 1805 have been from this Skibo or New Scotland family? Not likely. Margaret was the oldest daughter of Peter Peterson, a famous French and Indian War hero, veteran of Braddock's Defeat, and early settler of Butler County. As you can see from the link, the couple was married around 1812, a few years later than the Mary and James in question, and blessed with a dozen children, but no William Sylvester, my great-great grandfather.
After Margaret died in 1848, the family buried her with other Grays in the old White Oaks Spring Cemetery in Connoquenessing.5 This James Gray eventually migrated farther west to Piketon, Ohio, after two great losses in five years: the death of his wife and his father, Thomas, Sr., whom they called "The Old Pioneer." Thomas had moved in with family in his old age to Armstrong County, just east of Butler. He is quoted as hoping his grandson Peterson Gray, son James' oldest child, would leave the Connoquenessing homestead and join him in his place of retirement. He makes an interesting reference to Blairsville, a small town to the southeast straddling Indiana and Westmoreland Counties: "He is such a stalwart lad, and I fear he is not content in the old home since his brother Thomas went away east to Blairsville to settle." We don't know why Thomas, Jr. settled in Blairsville, but we wonder if there is a connection to our next Gray narrative which we call "New Westmoreland"? Today, there remains a Gray Station Road and a village called simply Gray, just south of Blairsville, and it lies within Westmoreland County.6
(Click to Return to "SECTIONS IN THIS ARTICLE", Hit "Backspace," or continue reading)
3. NEW WESTMORELAND, PA
This Gray family, of Scots-Irish descent, the subject of our second alternative narrative for the origins of pioneer James Gray, apparently came through England during the Revolutionary War (1775-1783).7 Whether these Grays had been drafted to fight for the Redcoats or their emigration was coincidental, we don't know. They were William, possibly our James' father, his brother David, and the name of the third brother has been lost. Some believe his name was John. Following the old Forbes Road to Pittsburgh, now known as the Lincoln Highway or US Rt. 30, they stopped in what is now Westmoreland County. Tradition holds that David was captured by Indians while cutting trees to clear land for farming. The same tradition says that he married a squaw, but nothing else is known. Could his name have been Abner, as described in the above footnote?
The 1800 Federal Census Index for Allegheny County, PA,  reveals that who is believed to be our James Gray is listed alphabetically next to a Mary Gray. Why is this woman in the document, when usually only the "head of household" is included? She was widowed by 1800, but we don't know from whom, except that the family lived in Plumb Township, but she would have been considered head of household. We'll soon see that there were other Grays on that side of the Allegheny. That was her home. 8William Gray (1757/62-1794), one of the three brothers in the original New Westmoreland family, whom we believe may have been our James' father, and my Great-grandfather William Patterson Gray's namesake, had carved out a small farm along the Brush Creek near Greensburg. He married Mary Boreland (1764-1838). 9 One more question as to our James and Mary Patterson Gray marrying in 1805. Why was it nine years, according to my records, until the first child was born, John H.? Surely, my records are incomplete.
The Gush and Long Ancestry.com trees don't always line up with our James and Mary Patterson Gray being the progenitors of my Grays. Their James married twice, the second time to Anna Hope of West Deer Township. Their James' brother George married Jane Hope, probably Anna's sister, also from West Deer. But could this be the missing tie between the Grays of Westmoreland and their eventual settlement in West Deer? James and Anna had at least four children, according to the Gush Tree, James H. (1814-1886), William S. (1816-1879), Rachel (b. 1820), and Margaret Jane (1824-1880), who lived in Stewartsville, near Brush Creek. Could this William have been my Great-grandfather William Sylvester Gray? The dates certainly fit. James' second marriage is said to have been to Rebecca Crosby (b. 1820), young enough to have been a twin sister to Rachel daughter. James would have been over 30 years older than Rebecca. Or could this be a misinterpretation of Census data? Nevertheless, by the 1840 Census and after the death of Anna, this James had moved south to Stewartsville, North Huntington Township, still in Westmoreland County. He practiced blacksmithing and did some farming there. Both Brush Creek and Long Run Presbyterian Cemetery records there have Grays. A James is buried near both a Rachel and Rebecca. I still have some work to do here,10, but this might also explain our James' apparent disappearance from West Deer Township after 1800 and showing up in the Westmoreland County 1840 census. A trip to that courthouse and a look at a possible Last Will & Testament may solve our mystery. We wonder why none of this family information was ever passed on to my mother's Grays of West Deer Township, that I know of. Family historian and Ancestry.com aficionado Margaret Long says that her mother worked on various family history for half a century and, while her mother didn't keep the best source records, she did use family Bible enumerations and met regularly with relatives and neighbors to compare histories. Margaret says that further information came from cemeteries, courthouses, and libraries. I'm seeking copies of some of this data, hoping to find the namesake of my Great-great grandfather William Patterson Gray.
Today there is a Boreland Farm Road near Murraysville, west of Greensburg. William and Mary had three children: James (1788-1861), our supposed ancestor, George (1791-1876)11, and John (1792- ). After William's death in his early thirties, Mary remarried in 1797, to Maj. Hugh Torrance, Jr. (1745-1830), of Revolutionary War fame, and they produced five step-siblings to our Gray family. Mary Gray's second husband was second son of Major Hugh Torrance, Sr. (1701-1784), descendant of notable Ulstermen. 12
Hugh and Mary Boreland Gray Torrance's family, true to the Scottish tradition, included another James, who loved to tell the story of his grandfather meeting the Marquis de LaFayette during his service in the war. That full story is available in Jefferson County, PA – Her Pioneers & People . Major Torrance is buried on his Manordale farm. Mary lived to be 74 and was laid to rest in the Congruity Presbyterian churchyard, a few miles away, near New Alexandria, located along what is now US Rt. 22.
(Click to Return to "SECTIONS IN THIS ARTICLE", Hit "Backspace," or continue reading)

4. MISCELLANEOUS MATERIAL ON EARLY JAMES GRAYS OF THE WESTERN PENNSYLVANIA FRONTIER
Finally, let's consider some incidental information on area families with the same names. As we said earlier in our footnotes, the first known permanent settler in what is now known as Westmoreland County was Mathias Cowan in 1761. Historians refer to his wife only as "Miss Gray," but today we believe it was Rachel, and her sister Mary wed Mathias' brother David. They are listed on the 1773 "List of Taxable Inhabitants" of Westmoreland County along with James and Thomas Gray of nearby Fairfield and Hempfield Townships. An abstract of Thomas' Last Will & Testament can be found there in the public records of 1823. Another document, "Early Landowners of Pennsylvania: Atlas of Patents for Westmoreland County," lists the following Grays: William in Donegal (1769), George in Washington Township (1775), Thomas in Lower Burrel (1797), and James in North Huntingdon (1820) transferred to sons William and James, Jr.
A Richard Gray was born in County Donegal, Ireland, in 1781, and after living in Philadelphia for a time, married the daughter of a American Revolutionary War Colonel, and moved to Pittsburgh to start a brick manufacturing business. One of his five children was James A. Gray (d.1876), a prominent politician and businessman.
Other Grays are listed in early Allegheny County Censuses by head of household in various townships as follows:
1790 – Pitt Township Daniel (no specific age)
1790 – Plum Township Thomas, James, Alex (2), and Moses (no specific ages)
1800 – Allegheny Co. James and William (as listed earlier, both over 45)
The 1850 U.S. Census for Allegheny County lists a James Gray (b. 1780), born in Ireland and living in the Pittsburgh First Ward with a Mary (b. 1797), 3 children and an Ellen McCarty (age 30). Now, "James," referring to the king of both Scotland, James VI, and England, James I, is perhaps the most popular Scots-Irish male name. Could this have been our William's father? Was Mary James' wife, even with 17 years difference in ages, or a daughter. She would have been too young for the 1805 wedding covered in an earlier article. Maybe a second wife? Could Ellen have been a married daughter or a housekeeper? So many possibilities, and again, we'll surely never know the whole story.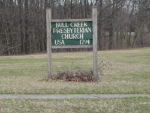 (Click to Return to "SECTIONS IN THIS ARTICLE", Hit "Backspace," or continue reading)
5. CONCLUSION
My quest to find the origins of my three-time (3X) Great-grandfather James Gray and wife Mary Patterson of West Deer township, Allegheny County, PA, began with a single primary source, the various Federal censuses for Allegheny County, 1790 and on. Secondary sources included the Lee history of Middlesex Township, Butler County; the reprinted marriage journal of the Rev. Abraham Boyd; and various Gray family trees from Ancestry.com. A great deal of time was spent in libraries, history centers, and on the internet. At this point, as interesting and coincidental as it is, I believe we can eliminate from consideration as part of our Gray heritage the "Skibo" narrative, also called "New Scotland" in Connoquenessing, Butler County. It's just too well documented. This goes without saying that the "Old Pioneer" and others of that family eventually moved back eastward into Armstrong and modern Westmoreland Counties, possibly mingling with Grays from our second alternative narrative.
Our second account, which we called "New Westmoreland," holds that greatest possibility of connection, although we may never find a primary source linking us with them. As with the Butler County story, so many of the names and dates match. The geographical proximity is uncanny, just across the Allegheny River. But, given the Scottish naming patterns, I now lean toward recognizing William and Mary Boreland Gray of Westmoreland County as the progenitors of our James Gray, although a caution is necessary here: the William and Elizabeth Gray family found in the 1870 Census of North Versailles, Allegheny County, cannot be ours. Most of the dates don't match ours nor do the names of the siblings. I have adjusted Our Gray Family Tree accordingly, but with a caveat. The rest of the names, dates, and places laid out in the final section of this investigation are no less relevant to the confusion as to the origins of our Gray family. Surely, given the tiny population on the Western Pennsylvania frontier in the late 18th and early 19th centuries, some of these Grays must have encountered each other. No doubt some were "cousins" from the Old Country. But our research continues with more reporting to come. I hope you've enjoyed this account and have taken the time to view the links above and the footnotes below. Now, have a look at the Works Cited and other documents that follow, and by all means send along comments, inquiries, and discoveries for the mutual benefit of us Gray descendants. If you can benefit from any of this material or I have caused you to question any of the conjectures or possibilities here, then I have accomplished my purpose.13
Last revised: 4/19/18
(Click to Return to "SECTIONS IN THIS ARTICLE" or Hit "Backspace"