by
Larry Pearce, great-grand nephew
5/1/2
(Click on images to enlarge/hit back arrow to return)
Last revised: with letter/response from former Allegheny County Coronor, Dr. Cyril Wecht (bottom)
For two-and-a-half years as a college student at Indiana University of Pennsylvania I lived in  and worked for the Robinson-Lytle Funeral Home. My duties were to park the visitors' cars, greet folks at the door, take photos of flower arrangements for the families of the deceased, answer the telephone over the dinner hour, and be on call for pick-ups in the hearse. Perhaps the best part was living on the third floor with the son of the owner, who was commuting to the Pittsburgh Institute of Mortuary Science in anticipation of one day taking over the business. Not only was this experience unique among my family and friends, but I had the opportunity to get to know hundreds of Indiana County residents and the workings of a modern funeral home.
Though I had written a very brief reference to my Great-great uncle Joseph Daniel Moon, Sr. (1870-1956), the oldest son of our third generation Moons in America, in the story of Revolutionary War soldier and innkeeper Henry Moon (d.1825), I had forgotten the fascinating background of the man with many nicknames: "Joe Dan" and "J.D.," to introduce a few. More recently, I stumbled upon a yellowed newspaper obituary in my late grandmother's family history file headlined "J.D. Moon Rites Slated." Additional research has unearthed, if you'll excuse the expression, some additional interesting information. The newspaper clipping identified him as Superintendent of the Allegheny County Morgue, and not remembering my earlier reference, I thought, "Oh, that can't possibly be. We didn't have morticians in our family, and that sounds like  a very important position." A few days later, the discovery of another old newspaper clipping announced J.D.'s appointment to that very position at the tender age of 27. Later, his son, Joseph Daniel, Jr. (b.1915), followed in his father's footsteps as a mortician and went into the funeral business near Pittsburgh.  So, this article will fill in some of the details of that father and son duo. In addition, we will make an important historical connection of the worldwide "Spanish Flu" pandemic of 1918, which Joe Dan's job required him to deal with, and the Covid-19 outbreak of 2020, with which all of our readers are familiar, unfortunately.
As background on my Moon family, Let's begin a century before J.D's birth. One of my family's first immigrants to America supposedly came involuntarily, as a conscriptee with British General Burgoyne's army to the Battles of Lake Saratoga. Sometime after the Colonists defeated the Red Coats there and captured the enemy soldiers, our Henry Moon is said to have escaped to join the Federalist forces somewhere in New Jersey. Upon the general surrender of the English forces and the offer of free land to former soldiers in Western Pennsylvania, what was then considered the frontier, Henry and his new wife settled a generous plot of ground in what is now North Park in the hills above Pittsburgh. There he operated a tavern and inn while his sons farmed nearby. By the time the third generation of Moons had arrived, oil had been discovered along the Allegheny River between the Moon homestead and Lake Erie. Young Joseph Myler Moon, Jr. (1835-1905), one of five generations of Josephs, must have had dreams of getting rich because he left the farm and tavern to find his plot of gold. He worked the oil fields to the north and married a local girl, Susan "Susie" Fleming. Joseph, Jr. and "Susie" raised eight kids; the eldest was my Great-grandmother Alice Virginia (1865-1947). It's doubtful that Grandfather Joseph and Susie ever got rich from oil, but eventually they were able to buy a farm just south of there, near Grove City, Mercer County. Their first son, Joseph Daniel Moon, Sr. (1870-1956), the subject of this article, was born in the village of Sugar Lake. 
J.D. grew up on the family farm then went west to what is now Capital University in Columbus, OH. After that, he attended the Cleveland College of Embalming. We don't know why J.D. pursued that line of work, but we believe he travelled all over Western Pennsylvania calling on funeral homes and morgues, selling supplies.
He married twice, first to Bertha Douglas, and we have no vitals on her, and then in his 30s to Edith Alice Blackburn (1873-1962; sometimes spelled "Blackbourne"), who had  married a Nathan Edmund Moon (1872-1901) in 1893. Was she a cousin or a coincidence by her name? He is buried in the Homewood Cemetery of Pittsburgh with other Moons. In 1897, J.D. was named Superintendent of the Allegheny County Morgue in Pittsburgh. At that time he lived in Allison Park in the North Hills, and probably would have married Edith at least four years after taking on his important job at the Morgue and certainly after Nathan had died. We know that J.D. and Edith raised two boys: Joseph Daniel, Jr. (b.1915), and Chester G.  (1913-1993), named for J.D.'s brother Chester. In addition, around 1939, J.D. began teaching at the Pittsburgh Institute of Mortuary Science in the Oakland section of Pittsburgh. He would have been almost 70 then, so he had probably retired from the Morgue.

Edith outlived J.D. by six years. He died in the Grove City Hospital. They are both "resting eternally" with his parents and other Moons at the Cross Roads Presbyterian Cemetery, Gibsonia. Son Joseph Daniel, Jr., became associated with a funeral home in Millvale, Rt. 28 along the Allegheny River northeast of Pittsburgh. According to our cousin Grace Hill TeSelle (b.1928), who knew most of that generation, two of J.D.'s younger siblings, who were unmarried, also lived in Millvale: sister Keturie "Turie" Moon (1877-1943) worked for an insurance company; and  brother Chester "Chet" (1882-1940) sold cars. This is all we know about "Junior" at this time but research is continuing, and we hope to provide more details of these interesting cousins in a future expanded Moon Family Tree.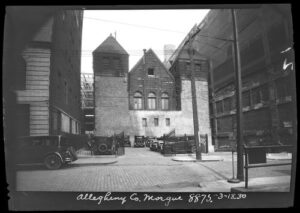 We promised to reveal connections between J.D., the Morgue, as we'll call it, and the "Spanish Flu" pandemic of 1918. A Morgue is defined as "a place where the bodies of dead persons are kept temporarily pending identification or release for burial or autopsy." Pittsburgh's Morgue was built in the downtown section at the end of the 19th century. A 2009 article in the Pittsburgh Post-Gazette says this, rather tongue-in-cheek:
In its early days, the Allegheny County morgue was a place where bereaved people would identify their loved ones by peering into clear glass coolers, and where guys would bring squeamish prom dates so they could hold them close when they got the heebie-jeebies.
J.D. would have been in his 21st year at the Morgue when the Flu hit, and Pittsburgh was hit hard. It was the end of WWI, and the American service personnel were returning to Western Pennsylvania in droves. Read the series of four short letters from that time to my Grandmother Bessie Hill Pearce from her brother Harry for more insight. Not unlike today, our country was not prepared for the consequences of this new virus. A look through the various newspapers of then and now reveals just how things were in Pittsburgh. A recent article in the Tribune-Review says this:
No other big city in the nation had a higher death rate from the 1918 flu than Pittsburgh. More than one in every 100 people — twice the national mortality rate — died that year, according the federal Centers for Disease Control and Prevention. During the worst days here, a new person caught the flu every 70 seconds and someone died of it every 10 minutes.
June Earl Austin worked for the Pennsylvania Railroad back then and said this:
There were so many dead people that the undertakers were all full — they didn't have enough coffins. At the railroad stations, they piled the pine boxes with the dead three or four high on the platforms. The whole town was in mourning; there were dead everywhere.
It's said that children would climb the coffins stacked other places, playing King of the Mountain, not knowing what was inside. Morris Gross was just 8 years old when the "Flu" hit Pittsburgh. He described his experience this way: "People were dying like flies. They were here one day and gone in two or three. It was bad, it was very bad."
The newspapers, the only mass media of the day, were silent that summer, probably because of a Federal law that had been passed during the War, the Espionage Act, making it illegal to publish opinions considered disloyal or harmful to the war effort. Journalist Allison Heinrichs writes, "The headlines in Pittsburgh's eight newspapers during the summer of 1918 blared news about the war, the Pirates' unsuccessful race for the pennant, and a heat wave."
Janice Palko, in an article on the website Popular Pittsburgh.com writes:
Some speculate that the area was hardest hit at that time because Pittsburgh was over-crowded with new immigrants who were living in cramped quarters, making it a perfect breeding ground for the virus. It was so severe that some victims were buried in mass graves. In fact, in 2002, a marker was erected in Winfield Township, near Saxonburg, Butler County to commemorate the site of a mass grave that contains, what are believed to be at least 24 Eastern European miners, some of whom were buried only wrapped in sheets, as coffins were in short supply.
This brings to mind the biblical term "potter's field." The Saxonburg site is called "the Wooden Cross Cemetery." Another 1918 pandemic mass grave, in Schuylkill County, PA, is thought to be the final resting place for up to 1,600 dead, mostly poor immigrants.
While we don't have statistics on the Pittsburgh Morgue, it's said that Philadelphia, another hard hit city looked like a scene out of medieval Europe. According to historian Christopher Klein, "Five hundred bodies crowded the city morgue, which had a capacity for only 36 corpses. The city scrambled to open six supplementary morgues and placed bodies in cold storage  plants."
Surprisingly, unlike today, New York City was never officially closed that fall, despite the deaths of 20,000 persons. But like today, masks were made mandatory. Pittsburgh was a different story when it came to "Stay at Home" orders, according to Palko:
As people continued to fall ill, Pennsylvania's Deputy Health Commissioner B. Franklin Royer ordered all public venues closed, and that included bars, theaters, and dance halls. Churches were allowed to hold services and schools remained open but were instructed to bar anyone who was coughing or sneezing. Unlike the other schools, our local colleges and universities such as Pitt, Duquesne, and Carnegie Tech all closed.
By November, the terrible effects of the "grippe," as it was referred to, were abating. By early in 1919, one of the local papers, rather light heartedly and adjacent to the death notices, ran this: "For the entertainment of soldiers and sailors in Pittsburgh, the war camp community service will hold dances tonight at 8 o'clock in the Eighteenth Regiment Armory" — at Thackeray and O'Hara streets. Grab your partner and skip to the morgue." Apparently, the Flu mysteriously disappeared as quickly as it had come. Let's pray that the same happens with Covid-19.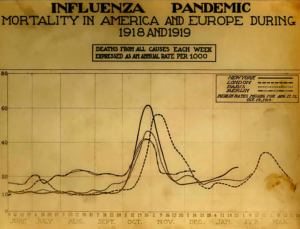 In 1929, a decade after the Spanish Flu had subsided and the bodies that had gone through that coroner's office had been disposed of, under J.D.'s supervision we believe, the original building called the Morgue itself was moved on railroad-type tracks 235 feet up Fourth Avenue to a new location. This was a mammoth operation, which we'll let you to read about in the newspaper accounts. Fortunately, there are many pictures of inside and outside that ornate building being transported.
 In June of 2009, the entire operation, including the crime lab and morgue, was moved to a roomier, $24 million new space along Penn Avenue in Lawrenceville, known as the Strip District. No more backlog of cases, and finally everything was done using modern science. The dozens of employees will analyze blood, fingerprints, ballistics, and drugs with timeliness and precision. Bigger coolers will hold up to 100 bodies. There's even a firing range to test ballistics. The old morgue was saved, remodeled in the style of other City structures, and given new uses.
Dr. Cyril Wecht, made famous for his expertise on the autopsies of President Kennedy after his assassination in 1963, and other notables, served as Deputy Coroner of Allegheny County in 1966, long after J.D. retired, and as Chief Coroner from 1970 to 1980 and again from 1996 to 2006. Many of the records and reports going back over a century are now available online at HistoricPittsburgh.org. Some of the more famous Morgue cases are available on the Post-Gazette website. 
To understand the difference between a Coroner and Medical Examiner, read the website Difference.guru. They are not the same thing. We believe that the Superintendent of the Morgue, our J.D. Moon in this case, is in charge of the physical plant as well as coordination of these various professionals who use the facility. More information is needed. Just which of the dead end up in the county morgue? According to the website for Allegheny County:
The Allegheny County Office of the Medical Examiner (ACOME) has the responsibility of investigating all deaths in the county except for those that are clearly natural and have a physician to issue the death certificate. Other violent, accidental, sudden unexpected, or medically-unattended deaths must be reported to, and fall under the jurisdiction of, ACOME. The office also conducts forensic analyses on evidence from crime scenes to assist law enforcement, judicial court systems, and health and environmental agencies. In instances of threats to the public health, such as the current pandemic, ACOME strives to be informed of all COVID-19 related deaths in order to remain fully invested in our public health. An additional important aspect of this commitment is to monitor  presence of the disease among decedents in the general population.
While we don't have statistics on the number of cases that have gone through the Morgue over the years, nor specifics on the work and duties of our J.D. Moon, we think you'll agree that his job could be grueling, taking nerves of steel. He lived to what would be considered a ripe old age, 86, despite or maybe because of his very unusual career. Our research continues on both our  uncle J.D. and cousin J.D., Jr., and we'll certainly share future findings at this site. Meanwhile, if you "dig anything up," by all means respond below, and we'll share it with future generations.
Addendum: 12/3/20 E-mail to Dr. Cyril Wecht and his response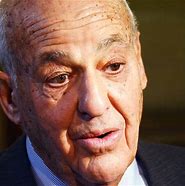 Dear Dr. Wecht,
I watched your interview on a Pittsburgh TV station over the weekend with great interest. A retired educator who is now deeply engaged in family history, I thought of how you might have known my great uncle Joseph Daniel "J.D." Moon who managed the morgue during the 1918 pandemic. He later taught at the PIMS. He and his son also had a funeral home in Sharpsburg. I posted a draft of all I could find back in May:
https://e-gen.info/?page_id=10019
As you have time in your busy schedule, perhaps you could read my short draft and send any corrections and/or  recollections you might have of the Moon family. I also want to plug your webpage and new book in a revised article, with your permission of course. Thank you for your consideration,
Larry Pearce
12/3/20 response with links to various works/information on Dr. Wecht
Dear Mr. Pearce:
Your article about Joseph Daniel Moon is very interesting. I appreciate your thoughtfulness and courtesy in bringing it to my attention. I never had the pleasure of meeting JD Moon.  He died several years before I became involved at the A.C. Coroner's Office. The historic reflections about that building on Fourth Avenue brought back many warm memories.
Thank you for your gracious offer to plug my new book, The Life and Deaths of Cyril Wecht: Memoirs of America's Most Controversial Forensic Pathologist (Exposit Books, 2020), along with your article.  Your readers will enjoy some cross references.
Best wishes to you and your family for a relaxing and enjoyable holiday season.
Sincerely,
Cyril H. Wecht, M.D., J.D.
Last revised 4/5/21