by
Larry Pearce
7/13/17
In the early twentieth century the authors of the comprehensive volume, A Brief History of Yost (Joseph) and Jeremiah Miller and their descendants, surprised their family and  readers around the world by reporting that their unique history had not been formally written down prior to 1911. As with so many families, the persons, dates, and stories had been taken for granted. It was then that the account of the Miller historians had a portion of their research published in an area newspaper through the transcription of a speech given at a family reunion. William H. Miller had addressed a crowd of some 600 Miller descendants at a picnic in Somerset, Pennsylvania, On August 26, 1910. He said, "The fathers and grandfathers of the present generation had frequently talked of their ancestors, and they were known by family records, births and marriages noted in family bibles." He also referred to court records and State archives going back to the time of the American Revolution. It was this speech, highlighted in that early newspaper account, that I used as the simple introduction to my wife Susan's Joseph "Yost" Miller1 family on this webpage from the time is was first posted in 2011. While you can still read that article, today begins a new era in the history of the Miller family of Somerset County with the latest information we have on hand. In addition to the earlier speech and book, you're invited to keep the Joseph Miller Family Tree handy for reference as well as the Vitals pages for multiple generations. Be reminded that while these Millers were all  Lutherans from Germany, my wife's maternal Somerset County ancestors include Anabaptist Millers from Switzerland. Their trees, vitals, and stories may be found under the Krause surname, but caution: some of the German Lutheran Millers and Swiss Anabaptist Millers intermarried over the years. Oh, and don't forget Somerset County's Englishmen like "Saucy Jack" Miller, probably no relation but an important part of local lore. We don't know what church he attended, if any.
Joseph Miller, Sr., Yost's father, was probably born in the Palatinate region of Germany. His family had survived the devastating Thirty Years War (1618-1648) to sail on the ship Barclay in September 1754 from via Rotterdam, Holland. They arrived in the port of Philadelphia and settled in Ephrata, a small town in northern Lancaster County.2 Historians estimate that nearly 100,000 Germans called Pennsylvania home before the Revolutionary War, many at the personal invitation of the William Penn family. Many were patriots, like our Millers, who militarily defended their new homeland. Some couldn't because of their Anabaptist convictions. Still others, some 30,000 called "Hessians," had been hired by the British monarchy to beat back the revolution. It is clear that our Millers, not unlike on America's German front in World War II, may have faced friends, even family, on the battlefield who had come from the same region of the Old World.
Many public records have Joseph's sons Yost and Jeremiah coming to Somerset County from Lancaster County.3  That's about all we know of our early Miller family origins at this time, but research is continuing.4
Joseph Miller's sons Yost and Jeremiah voluntarily signed up to defend the rights of the Colonies in the American Revolution which began in 1776. They each served in various companies.5 Brother Jeremiah apparently suffered for his service to the Colonies the most, having been wounded in the Battle of Long Island. He fought at Princeton and Germantown, but on September 11, 1777, he was taken prisoner in the Battle of Brandywine just south of Philadelphia. According to the Pennsylvania Archives, both Jeremiah and his wife Elizabeth "Betty"6 were captured by the British and taken across the Delaware River to Brunswick, NJ, where they eventually escaped. Jeremiah was honorably discharge on New Year's Day 1778. 
Yost Miller came west to Somerset County, which was then part of Bedford County, around 1784, after being discharged from the Army, marrying, and siring a son. As most frontier settlers, he and brother Jeremiah's chief desire was to farm and raise a family. The first public record for brother Jermiah in the county is the purchase of land just to the west of modern day Somerset Boro in 1805.7 Though Lutherans, the Millers accompanied many Anabaptist Amish-Mennonites and Church of the Brethren who left eastern Pennsylvania for several reasons. Probably first and foremost was economic opportunity; they sought new and larger farms on the frontier that had been opened up after the Fort Stanwix Treaty of 1782.8 The younger generation that had fought in the Revolution were moving away from their parents to this new land, encouraged by the State to settle what once was the "hunting grounds" of the Native Americans. Some of the Anabaptists, who had pledged allegiance to the British monarchy in order to gain passage to America, soon felt a conflict when asked later to fight for the Colonies, so they came West.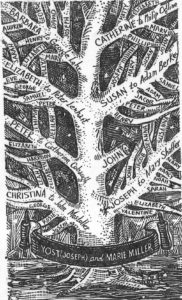 Yost Miller claimed land in what is now Quemahoning Township, in the eastern central part of Somerset County, it is believed, through the process of "Tomahawk Rights" or "Cabin Rights," usually walking around as far as he could through the wilderness in a day and marking the boundaries with an ax. The house and barn were always located as close to a water source as possible. The area that these Millers settled is known today as Coleman's Station, adjacent to the Long "plantation," as farms were called back then. As we said earlier, the Longs had produced Yost's wife, Anna Maria Catharina.9 But Yost did more than clear land and farm. He built the first saw mill in northern part of the county. 
Yost Miller died in 1811, is buried on what today is known as the Barnhart farm, just off Rt. 281, the Stoystown-Friedens Road. His stone reads: "The hour of my departure is come. I hear the voice that calls me home. Oh, my God, let troubles cease, and let thy servant rest in peace." He left property and belongings to his heirs, what was then estimated to be worth $4,000. In today's money that could be worth more than $97 million. Historian William Miller believes that our Millers came to America with some wealth simply because one humble frontier farmer could not possibly have accumulated that much in just 63 years. That's something we'll probably never know, but do have a look at Yost's "Last Will & Testament" to learn where his heart was.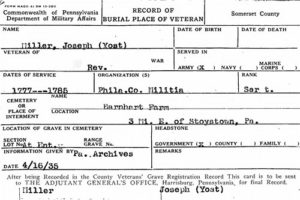 Yost's son was also a Joseph, and his wife Mary was the daughter of Henry Shaffer, Captain of the 8th Co., 2nd Battalion in the Revolution. That couple raised eleven children. Interestingly, this Joseph's oldest son Samuel had 12 sons, all of whom taught school. 
Joseph A. Miller's off-spring included several Judges and an in-law to the Studebaker Auto Company.
In all, 24 of Yost's descendants fought in the Civil War; tragically, some died in battle. Fortunately, Susan's GGgrandfather Noah J. Miller was not one of them. The descendants continued with Noah's son Dibert, who died unexpectedly in his 34th year, his son Howard, and his son Richard, whose daughter I am proud to call my wife.
Though thousands of Yost Miller's successors can be found around the world today, it's interesting that after 236 years, his (4X) great-granddaughter Susan and I have not moved more than 20 miles from his original homestead at Coleman's Station in Quemahoning Township, Somerset County. Yet another interesting personal coincidence. The immigrant Joseph was actually "Mueller," or "Muller," which probably had been anglicized to "Miller" at his point of entry. Both German forms of the name are believed to have  come from Bavaria.10
In conclusion, there isn't much more to say after over two centuries of oral and written history on our Joseph and Yost Miller family. We hope you'll take the time to read the war stories, from the Revolution to World War II, as well as the everyday stories, like "Richard and the Bull." They're all slices of Americana, with more to come I'm sure, that we hope will be passed down to the future generations of Millers. If you are a descendant or have a memory to share about this heritage-rich family, you may comment in the box below or communicate directly via e-mail: LRYPEARCE@GMAIL.COM . 
Documentation:
"Battle of Brandywine. Fold3.com. 23 February 2018
https://blog.fold3.com/tmih-the-battle-of-brandywine-september-11-1777/
Bill Bryson. The Mother Tongue: English & how it got that way. New York: Avon Books, 1990
"Measuring Worth." 23 February 2018
https://www.measuringworth.com/uscompare/relativevalue.php
"Miller Name Meaning & Miller Family History." Ancestry.com. 23 February 2018
https://www.ancestry.com/name-origin?surname=miller
William H. & John S. Miller. A Brief History of Yost (Joseph) and Jeremiah Miller and their Descendants. Johnstown, PA: Benshoff Printing, 1920.
"Yost Miller Reunion." Johnstown Daily Democrat. 27 August, 1910
Various documents and information from Public Member Family Trees. Ancestry.com and FamilySearch.org
Last revised 3/24/22
Footnotes: