Second as sealed & probated 9/16/1867 by
Joseph H. Gray, Register of Wills
Allegheny County, PA
No. 287, Vol. 12, Pg. 534
With comments by
Larry Pearce
17 April 2014
(Click on images to enlarge/return arrow to article)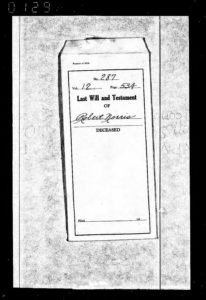 Thanks to a post by Linda Merle on "Scotch-Irish-L Archives," we have at least some of the two last will and testaments of our Robert Norris. We are not certain if the first is attributable to Robert, Sr. (1760-1845), but we know that the second is definitely Robert, Jr. (1785-1867). At this time, we only have a short portion of the 1835 language that  identifies the original Norris farm that straddled West Deer Township, Allegheny County, and Buffalo Township, Butler County, Pennsylvania. It may more properly be called a description of the property on the deed that is being conveyed to the heirs in probate:
It being part of a tract of land warranted in the name of Jacob Musser which became the property of  Robert Norris and whose right and title in the same became vested in Stephen Lowry by Marshall's sale, AD 1807, and in which said tract, the Commonwealth of Pennsylvania by Patent granted to the said Stephen Lowrey, and who by his last will and testament, dated Nov. AD 1821, Registered in the Registrar office in the County of Allegheny, divided the same inter alia to the said Sara Collins, referenced being had at the Marshall's sale, and to the last will and testament of the said Stephen Lowrey will more fully and at large appear and the said Sara Collins by indenture bearing date Dec. 28, 1832, conveyed said tract to Robert Norris, one of the parties in this indenture . . . 
The first impression of this legalese is that it's all said in a single sentence. Secondly, the message is more easily understood starting at the end and working backwards. In other words, Sara Collins sold the farm to our Robert Norris "inter alia," meaning "among other things," perhaps farm machinery or even livestock, in 1832. Perhaps it doesn't matter which Robert Norris received the land, as we assume Robert, Jr. had the land in the end anyway. We can't say for certain without knowing the location of either generation's property. By way of history, the land was first known by the name of its surveyor, James Cunningham, as part of the 720,000 acres west of the Allegheny and north of the Ohio River, called Depreciations Lands, made available in 1783 to soldiers who had served in the America Revolution. As the currency of the new Colonial Republic was nearly worthless, the soldiers had been paid in "Depreciation Certificates" since 1780. Problems with the Indians on the Western Pennsylvania frontier discouraged the veterans from buying the undeveloped land, so in March of 1786, for 11 days, the Cunningham lots were auctioned off in Philadelphia. Another Robert Norris, a patriot who had spent time in debtors' prison, and founder of Norristown, just north of Philadelphia, had patented some of the land that is now West Deer Township. Jacob Musser purchased at Marshall's sale, the portion where our Robert Norris' farm lies, in 1807. Speculator Stephen Lowrey of Baltimore subsequently obtained it with the help of Pittsburgh attorney Thomas Collins. The lawyer later married Lowrey's daughter, Sarah, and in 1821, upon her father's death, the property went to Sara as an inheritance.
Public records indicate that Sara Collins originally sold 155 acres to our Robert Norris in 1830 for $165 and another 100 acres to him for $250 in 1838. The latter portion would have been after the above probate excerpt. The year following the original sale, 1831, Collins sold 107 acres to Robert's half brother Adam Blair Norris (1800-1870) for $430. We wonder about the disparity in prices. Perhaps the locations of the properties was the reason. We understand that the Adam Norris house is still standing and that his 8 children's names are recorded in the basement floor. The home is built of brick from the old Norris family kiln on Blanchard Road, West Deer Twp.
(original handwritten will of 1865/1867)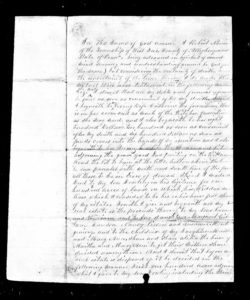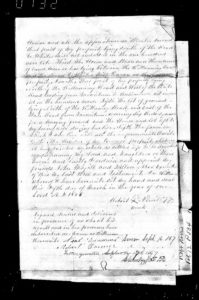 The second Norris will presented here, dated 1865, is obviously that of Robert, Jr., who died in 1867. As we said earlier, his father had died in 1845. After establishing that he lived in West Deer Township, Allegheny County, Pennsylvania, he instructs that all of his debts be paid. This, then, is what he writes:
I bequeath to my loving wife Catherine, the furniture that is in her room and as much of the kitchen furniture as she may need, and I also bequeath to her eight-hundred dollars ($800) . . . and I also bequeath to her during her life, the house and lot adjoining the grave yard [see description below or in Vitals], and fronting on the Kittanning Road, the lot to begin at the little hollow above the house to run parallel with north and south line of the farm. All these to be in lieu of a dower [or dowery: a widow's share for life of her husband's estate].
Third, I made a deed to my son Dowling [my maternal great-great grandfather (1829-1858)] in his lifetime for one-hundred (100) acres of land on which his widow [Elizabeth K. Brown Norris (1824-1916)] now lives which I consider to be his heirs' full share of my estate.
Fourth, I give and bequeath all my real estate or the proceeds thereof to my sons James and William and to my daughters Margaret Gibson, Jane Davidson, Nancy Pillow, and Susanna Montgomery, and to the children of my daughters Martha and Mary Ann, share and share alike, the heirs of Martha and Mary Ann to get their mother's share divided among them [see Robert, Jr's Vitals]. . . First, one-hundred (100) acres adjoining what I gave to my son Dowling, including the brick house and all the apprentices thereto. Second, that part of my property lying south of the road to White's Mill not included in the one-hundred acre lot. Third, the house and stable and three acres of land, more or less, lying between the Kittanning Road and the road to White's Mill known as the Norris property. Fourth, that part of my property lying north of the Kittanning Road and west of the State road leading from Tarentum to Bakerstown not included in the hundred acres. Fifth, the lot of land lying north of the Kittanning Road and east of the State road from Tarentum, reserving six rods for a burying ground and the house and lot left to my loving wife during her life. Sixth, the farm on which I now lie with all the improvements thereto.
And lastly, I ordain and appoint my friends John Magill and Allen Aber executors of this my last will and testament.
Notice that Robert, Jr., doesn't sign the handwritten document, presumably because he doesn't know how to write, which seems unlikely for a man of his accomplishments, or because of some physical reason, which seems more likely for a man in his 80s. His mark is witnessed by Neal Diamond and Robert Brenice, possibly neighbors, in the absence of the named executors. The auctioneer for the estate was John Anderson, possibly another Gray-associated family relative.
So it was that the property of Robert, Jr. and Catherine Norris was bequeathed to their children and grandchildren. My Great-great grandfather Dowling, the youngest child, received the the parcel where the old brick house was located. Of course, Dowling had died quite young, at age 29, years before his father, and so Elizabeth formally inherited it. For many years the grand house was termed "Mrs. Norris' Place" by locals. Dowling and Elizabeth's daughter "Aunt" Mary Norris Bryce, widow of Pittsburgh glassmaker David Bryce and an accomplished still life painter & musician in her own right, eventually inherited the property in 1912, four years before Elizabeth's death. She had been raised by her Aunt Nancy & husband George Pillow after the early death of her father. George was a wealthy engineer with no children, so Aunt Mary do doubt received a lot of attention. My mother said that she used to visit her Gray family in-laws and became well-known among the descendants. I have one of her beautiful nature still-life oil paintings that I inherited in my office. I treasure it.
We close with an interesting and inspiring except from the chapter on our Norris family found in the sesquicentennial tribute to West Deer Township:
The Norris family will be remembered as a group of hard working, dependable citizens who contributed much to the development of West Deer Township. Aside from farming and other occupations, they owned and operated a brickyard, a bus company, and a general store. They also had much to do with they founding of the Pleasant Unity Church.
Documentation:
John Newton Boucher. A Century & a Half of Pittsburgh & her People. Lewis Publishing Co., 1908. p. 200.
Graff, John. West Deer Township: 150 years of history. 17 April 2014
http://www.westdeertownship.com/West%20deer%20HTML/West_Deer%20plus.htm
Mary Etta Monnier and Dorothy Voeckel. "Norris Family." West Deer Township: 150 years of Progress, 1836-1986, Ken Lewetag, ed., 1986.
Linda Merle. "Norrises." Scotch-Irish-L archives. 16 July 1998
http://listsearches.rootsweb.com
Register of Wills, Allegheny County, PA, 1867
Last revised 7/5/18