by
Larry Pearce
posted 2/5/22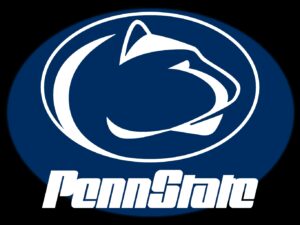 CHAPTER 2 – CHILDHOOD & YOUTH TO ADULTHOOD
My life had begun a difficult dichotomy at the end of my senior year of college at Indiana: the school/career and marital split. Susan and I became engaged on April 18, 1970, while students at that school; we married on November 28 of that year after I had started graduate classes at Penn State. Susan had graduated from IUP shortly afterwards, in December of 1970. This means a somewhat confusing overlap of narratives in this Memoir. I'll talk more about meeting Susan, our engagement, the wedding, honeymoon, and moving in together in a small town near State College in the next chapter. But, for this installment, I'm going off to Penn State as a single student just after Labor Day, 1970. I explained how this academic marriage came to be in the last part. Similar to the IUP selection earlier, the choice of Penn State was commonsensical: PSU offered what I wanted; it was relatively inexpensive and not far away. Further more, my older brother Paul had earned his wings in the Air Force ROTC program there, and our Uncle Dale obtained his public school administration credentials there. His son Jim was in a five year architecture tract when I was there, and our son Matthew took his Masters degree on Penn State's Great  Valley campus down east. This Pittsburgh area young man found the home of the Nittany Lion Gerr-ate!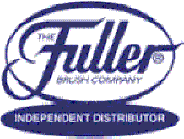 The year I graduated from IUP, Penn State was on a trimester system, which meant that fall classes didn't begin until after Labor Day. Besides summer classes at Indiana, I took what for me were several unusual jobs back in Moon Township: one was selling door-to-door for the Fuller Brush Company and the other as a kitchen helper at a local restaurant. The practice of going door-to-door was common in those days, and Mother bought regularly from these men, the thought of which would be unheard of these days. After signing on and receiving some intensive personal training with Fuller, the first thing this 22-year old young man  was required to do was open a checking account. Banks were mostly local, community institutions back then. In fact, Dad still had his Mars National Bank account some 10 years after we moved. There were few banks in Moon Township then, so I chose what is now the well known PNC Bank down along the river in Coraopolis, the borough of our postal address. My trainer went with me to set everything up. The reason for establishing a financial position was that I had to sell Monday through Friday, put my order in, and write a check to pay for the items sold before receiving them to deliver on Saturday. This all worked smoothly, and I felt like an adult.
One principle that I'll always remember, and I  used in my sales career over a quarter century later, which I'll share in a later installment, had to do  with "getting the prospect to open the door." Fuller sales persons carry free gifts and a list of items "on special" for potential clients. After the lady, in most cases, selects either a small vegetable brush or hair comb, she is handed the item through the open door  along with the list. Her mood at this time is usually friendly and receptive to ordering something on the list. Another aspect of this merchandising was the nature of my "territory" and ME, the salesman. The first week seemed like one sale after the other, very lucrative. The second, not so much. The third was like pulling teeth, and the fourth week was almost without a sale. I had to question: was it me or my sales manager getting the most out of a new hire and eventually introducing him to the real world. Perhaps a little of both. As we'll learn later about my financial services career, selling life insurance progresses in a similar fashion:  unbounded  enthusiasm and great success the first few months and gradually going downhill until everything dries up and the salesman gives up. I quit my Fuller Brush job after making Saturday deliveries the fourth week.
About simultaneously to this experience was afternoon and evening work at Travelers' Paradise restaurant along the Old Steubenville Pike. Earning the State minimum wage of $1.60 per hour, I washed dishes, made salads, sliced steaks, and cleaned shrimp, all while the girls out front made as much as $100 a night in tips. It hardly seemed fair, especially since the owner, who also lived in Sharon Hill Manor, where our family resided, had me mowing his yard for the same minimum wage. I don't remember the ladies pushing a lawnmower.
Having a company car, Dad loaned me the family sedan for getting to and from my summer jobs and my drive to the University Park campus of Penn State. It was a 1965 white 8-cylinder, duel exhaust Chevy Impala, top of the line as far as I was concerned. My opinion changed after I got married and he had sold it to me for $1. I had to start paying for insurance and twice-a-year state inspections. Seemed like some part of that dual exhaust always had to be replaced every six months. Anyway, it was well used by the time I sold it for $250 in the early 70s with 150,000 miles. After the start of classes at Penn State, I usually had loaded it up with fellow students who wanted to go home for the weekend and holidays from the start of classes in the fall until Susan and I were married. More about those newly weds' adventures there, as I said, in Chapter 3.
One scary episode with the car comes immediately to mind. The six of us had successfully made the two-hour trip from Happy Valley, as State College is still called today, to the northern Somerset County area. After dropping my fellow students at their receptive destinations, I proceeded to Susan's parents house. Pulling in the driveway, I felt the brake pedal go to the floor. Fortunately, I wasn't going very fast, and using the emergency brake, managed to get the old Impala stopped. At first, I just sat there, stunned that I had been in charge of so many people's lives, driving a vehicle that was far from road-worthy. The second thing I did was get out of the car, go in the house, and tell my future father-in-law what had just happened. Without hesitation he picked up the phone and called the man down the street who did his State inspections, Chuck Hollsopple. I must admit that I had my doubts that anyone would do a brake job on a weekend. Well, I found out quickly that Chuck would – and did! By Sunday afternoon my fellow students and I were back in the Chevy and safely on our way back to Penn State. Less than a year later, after earning my degree, Susan and I moved to a duplex just down over the hill from Chuck's garage, and he did my inspections and repair work until he passed away unexpectedly. More about Susan and my life in the town of Jerome coming up.
Not unlike my residency at IUP four years earlier, I had never been on the Penn State campus to interview or inspect before arriving with suitcase in hand. That large impressive gate leading to Old Main pointed the way to my graduate dorm on the opposite side of campus. This was not far from Beaver Stadium, where I would operate a television camera for my own MA (Master of Arts degree) graduation a year later. I also got credits for regular camera work just down the street at the WPSU-TV studios covering the nightly "Weather World" broadcasts on Channel 3.
In the trimester before Susan and I married, my social life wasn't that great. I had only lived in student housing twice before: the first semester, freshman year at IUP, before moving into the funeral in town; and the summer session there while completing credits to graduate. I wasn't a frat man and didn't drink or go to parties. But, I did love football, and those were the days of ABC's Monday Night Football with the colorful Howard Cosell.
I would make sure to have my homework completed over the weekend and preps made for classes the beginning of the week. After dinner on Mondays it was off to the lounge/TV room at one of the dorms, where a host of rowdy males had gathered to cheer on the team from closest to their home. Don't forget, Penn State's grad students come from all over the world. That was one of the years leading up to my Pittsburgh Steelers' first appearances, and wins, in a Super Bowl, after the 1974 regular season. Their big fullback then was none other than Franco Harris, a Penn State alum who had earned Rookie of the Year honors his first season, 1972, and  MVP in that game. Football fever was rampant on campus back then. Legendary coach Joe Paterno was in his early years with an 11-1 record, which earned the team, number 10 in the nation, a spot in the Cotton bowl in 1971. Penn State beat Texas. Next to my bride-to-be, football on Saturdays and Monday nights was the center of my other-than-academic world. I should mention that Penn State beat arch rival Pitt in November of 1970, 35-10 at Beaver Stadium in a game I watched from Susan's home the week before our wedding.
A condition for entering the Masters program at Penn State in Speech Communications with a Bachelors degree in Music was that I take some "make-up" classes in the field for no formal credit, in addition to the required courses in that major. Though a lot of extra work, these enabled me to meet other students outside Speech. Perhaps best of all, and I didn't realize this at the time, the request provided a solid background for a second Masters years later at IUP in Rhetoric and Linguistics.
In the spring of 1971, Susan and I volunteered to write, produce, serve as talent, and even engineer a WPSU-FM program we named "Person to Person with the Masters," a take-off on the popular CBS interview show hosted by Edward R. Murrow. If Murrow talked to the living news makers of the day, Susan talked to whichever famous composer I was pretending to be that week, from Bach to Beethoven. Remember that we each had degrees in music. The script was fun to write, and the music we played was even better. The questions dealt with the history of the era in which the  composer lived, his family, his motivation for writing the music, etc. All went well until one night we both got into a laughing fit "through the studio glass." She was on one side and I was running the board on the other. I remember cutting her microphone and going to music. That may have been the final show of the shortened season.
Aside from my radio work at WIUP-FM, a graduate degree in Speech Communications was a far cry from a BS (Bachelor of Science) in Music Education. I used to think that freshman year at IUP was like public school grade 13, very strict and regulated, whereas Penn State spelled opportunity and freedom, academic and otherwise. Of course, with the Viet Nam War in progress and social norms constantly changing, I was seeing things I never saw over at Indiana. There were daily anti-war protests, and one night, walking past the student union where a student social was being held, I saw boys dancing with boys. That came as a shock after thinking homosexuality would always be frowned upon.
Graduate classes are generally smaller, especially when subjects dealing with Communications are usually more abstract than the musical arts. I quickly came to understand, though, that Speech, like Music, is simply one of the five basic languages with a rich history and lots of rules that are subject to change. Other classes, like International Broadcasting consisted mainly of unique cultural and technical practices. For example, the United States began with over-the-air antennae in the late 40s and only moved to Community Antenna Television (CATV) for large metropolitan areas in the 1960's. Whereas other countries, in Europe for example, may have begun with cable, initially wanting to limit audiences by language. They moved antenna TV later on. Susan and my viewing habits now consist of all "free TV," a combination of 16 over-the-air UHF channels converted to digital and hundreds of streaming channels via our inexpensive ROKU box fed by the same cable that provides our free telephone and computer services. Of course we pay a small monthly charge to the local cable for wires and taxes. I can't imagine what that broadcasting course must be like now with all the new streaming networks and telephone options.
By the time that world broadcasting class was over, I was ready to take my wife and new daughter and move to New Zealand, the topic of my final paper. Arthur Hungerford, my instructor, was an MIT grad and National Broadcasting Company (NBC) executive. He was instrumental in the establishment of early television.
One of my first professors and academic advisor was Harold Nelson, a kindly, soft-spoken older gentleman. A graduate of the University of Iowa, he was an expert in broadcasting as an educational medium and responsible for Pennsylvania's Public Radio and Television Network. He respected my background in music, and thought highly of my work dealing with televising a symphony orchestra concert. Dr. Nelson was responsible for my receiving a teaching assistantship (TA) after my first semester, much needed by a young student providing for a new wife and soon-to-be baby. As a TA, I was responsible for baby sitting the broadcast lab on campus in the evening. Students would come in and record scripts, sometimes with on-camera visuals, for classes. I smile when I remember one group who had written a variety program, which they affectionately called, "The Larry Pearce Show." I had no power to give them a good grade, but I must confess that my warmed heart and willing hands gave them all the assistance I could muster.
One memorable class on my schedule actually involved the broadcast lab that I managed. As a final project in a television course, I was to work with another student to produce a half-hour program. My partner and I decided to create a six-part show that used excerpts from classical music, traditional literature, video clips from newscasts, and anything else appropriate. She taped a short ballet routine expressing the conflicts in contemporary society. I set the words of my favorite English poet, William Blake, to scenes from the Viet Nam War with a very sad piece by a favorite American composer, Aaron Copland. We got an "A" on the project, so I guess at least the instructor was moved.
One of the most memorable ends to a required broadcasting class on the history of film in American broadcasting took place, in of all places, a small airplane. What does aviation have to do with radio and TV, you ask? Well, after the section on CATV in the International Broadcasting class mentioned above, a classmate and I decided to submit a unique final project: building the antenna array for the local cable TV company, complete with film. Borrowing the department's 16 mm camera and cajoling a plane and pilot from the company, we headed off to on of the mountains surrounding the campus. It was a beautiful day in May, and my buddy sat in the back of the plane with the camera while I sat in the passenger's seat. Everything was fine until the pilot started to do nose dives and banks around the antennae. If you paid attention to the stories of my bad ears and can imagine what weightless somersaults can do to ones equilibrium, you will know without me telling you, just what all that movement did to my stomach. I held off (and on) as long as I could, but you know the rest of the story: I removed my hat and filled it with embarrassing puke. White as a sheet, I stumbled out of the plane once we got back to the airport and took a dozen deep breaths. Somehow, I was able to climb into my Chevy Impala and make it home to Pine Grove Mills. Wouldn't you know it, my mother-in-law greeted me at the door, announcing that my wife and new baby girl had been released from the hospital and were waiting for me in the living room. Believe it or not, baby Annie came home with a propensity for vomiting too. More about that in the next chapter. Oh, and by the way, my classmate managed to get some great footage and in connecting it to our report, we got an "A."
Years after I received my degree and we had returned to campus for a summer festival, I remember walking into the University's Pattee Library stacks and seeing my thesis on the shelf. What a thrill to see it among the thousands of papers produced by so many graduate luminaries! But, It hadn't come easy. As I said earlier, my first choice for a topic, "How to Televise a Symphony Orchestra Concert," was laid aside first semester because it would have been mostly a report on technology already in place. Instead, after taking classes in experimental research, my short dissertation would be entitled, "An Experimental Study to Determine the Effect of Conventionality in Aural Media." I still loved music, but I had been drawn to a particular aspect of a narrower medium, "radio," or as I called it/them, "aural media." I continued to work in broadcasting, playing music and reading news, but other aural channels to which people could listen included commercial and public service announcements on radio. "Conventionality" would compare a listener's reception of meaning using everyday language, compared to the poetic. Both types of spoken language are used, but my experiment sought to find a measurable, statistical difference in "making meaning." The diagrams in the papers included various accepted communications models and I quoted many well-known theorists.
My hypothesis argued that language using poetic devices, such as metaphor, would be more memorable than let's say scientific-type words that listeners may not be familiar with. Interesting enough, years later, I have been fascinated with the idea that Jesus used simple stories involving familiar people and places to convey his thoughts rather than more abstract language. In addition to the types of words in the experimental samples, I set them to two types of music: "electronic," something just coming on the style scene in the early 70s, and what I called "traditional," background music using instrumental sounds that listeners might hear at any time on the radio.
So, the problem that the experiment would attempt to solve asked the question, "What combination of more convention and less convention in music and script will have the most significant effect upon a the listener's disposition"? While I wrote the two scripts which would attempt to sell, of all things, a ball-point pen, I borrowed the background music from two contemporary composers: my favorite, Aaron Copland, and the lesser known Morton Sobotnick.

The study population was drawn at random from University students. They listened to my commercial samples and filled out a short questionnaire. In the days before iphones and laptops, the answers were tabulated using a punch card machine. I still remember hauling the boxes of "holey papers" into the basement of Old Main, which ironically, was thought of holy ground to many PSU grads around the world. It was hot and noisy down there, more like hell than heaven.
Of course, the results had to be "qualified" using standard scientific methods, and in the end the results came as somewhat of a surprise to me: only minimally significant. If I had pursued the design of the study afterwards and re-administered the tests, the results may have been different. But, my bottom line, and I hope that of the Department, was that I learned a great deal. Some came in handy in my future careers of broadcasting and teaching, which you'll read about in future installments of this memoir.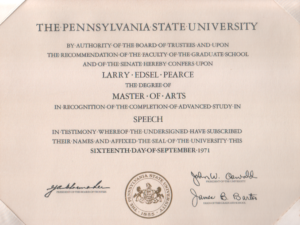 Here, at the end of this installment, I have to be honest. My required courses were completed, my catch-up sessions were caught-up, my thesis had been written. All that was left was my committee signing off on it. They hesitated, and to this day I don't know why. Was is something to do with the topic? That had been approved. Was it the format or writing style? I had followed the  standard academic formula that all graduate experimental theses had to meet. Was it the content? I had done as I was told and kept it simple and concise. Still, there was some hesitation on the part of the committee. I ran into this situation again thirty years later, after completing course work at IUP in partial fulfillment for a Ph.D. in Rhetoric and Linguistics. I had passed three days of written exams and faced a day of oral exams, after which the committee balked. In the end, at both schools, my committee wanted me to spend more time at the final stage of my graduate work. At Indiana, angered after that meeting, I marched over to the Dean's office and requested a change in my application, from Ph.D. back to M.A. While it would mean taking a few more classes, I wouldn't have to write a dissertation. This would be enough to keep my teaching job at Mt. Aloysius and my sanity. I regretted having taken all the research courses, but that's a lot of what Ph.D. work is about. I don't regret the extra language theory classes and meeting new friends. As you read in the last section, I received the IUP M.A. in 2002. But, back in 1970, at Penn State, much younger and spunkier, I simply told the committee, "I'm married with a family and I'm out of money. I can no longer afford to go further with these graduate studies." The committee asked me to leave the room while they discussed the issue. A very few minutes later, I was called in to a smiling trio of faces. The Chair simply said, "You will receive your degree, Mr. Pearce. Congratulations." Somewhat red-faced, I replied, "Thank you very much. You won't regret your decision." I drove back to Susan and Annie in Pine Grove Mills to announce the news. And we all lived happily ever after!
Move to: Interlude to A Half-Century of Marriage and
Chapter 3A: Engagement, Wedding, & Honeymoon
Back to: TABLE OF CONTENTS
Last revised 2/5/22