Exchanged between our Davis & Moon Families of
Iowa, Minnesota, and Pennsylvania
with
Introduction, [Clarifications], & Comments by
Larry Pearce
12/24/14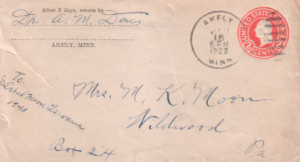 Having recently discovered five family letters from the 1920's and wishing to share them on this venue, I sought a meaningful context for the world and time in which they were written. I found that perhaps the most appropriate atmosphere in which to present them is the era just after World War I, the centennial of its start we observe this year, 2014. By the conflict's end just four years later, some 16 million human beings had lost their lives. [Read the four-part series featuring the exchange of WW I letters between my Grandmother Bessie (Hill) Pearce and her brother Harry and the three-part series of excerpts from the diary of my Great Uncle Raymond Campbell.] Unfortunately, when the letters being shared in this piece were written, most of the parties in Europe responsible for the death and destruction were already positioning for what would be called World War II. [One reference in the letters to the American Civil War reminds us that our families had served their country with pride a half century earlier.] Meetings were optimistically being held in France in the earl 20's to make arrangements for Germany to pay retributions. Meanwhile, back in the United States, life had pretty much returned to normal. Thus, this era provided both signs of hope and controversy for the history books. Several comments in the letters connect the current events of the day to our families. For example, we know that insulin was used to treat diabetes for the first time then and the deadly disease, small pox, which threatened the whole country after the war, was nearly eradicated. Our Davis and Moon families boasted of  having a number of physicians in the line who surely treated both diseases. Fortunately, after 1918, in what was called the "Spanish Flu," which had killed millions around the world, seemed to fade away without even a vaccine. That was both bad and good. On the negative side, a national geological survey then predicted that the country would run out of oil within 20 years. The Teapot Dome Scandal involving government petroleum leases began to make the front pages. What irony, as the Moon and Davis families had first come together working in the earliest oil fields of  Western Pennsylvania. In 1922, the BBC began daily radio broadcasts to the world, but much of the news featured the bloody struggle to form the Irish Free State. All of our families who had originated in the British Isles had sought over the centuries to separate, in one way or another, from Mother England. Other famous  beginnings in the early 20's included the first issue of Readers' Digest, the founding of the Walt Disney conglomerate, and the construction of Yankee Stadium. In Pittsburgh, KQV-AM took to the air to report that the Pirates had recorded 46 base hits in a double header against the Phillies. The National Football League was formed, although the Steelers wouldn't be part of it for another decade. Finally, the Iowa letter mentions cold weather, and the winter of 1922 was particularly brutal across the country, with a record -54 degrees set in Danbury, Wisconsin, and heavy snow collapsing the Knickerbocker Theater in Washington, D.C., killing 98 people. Dr. Davis eventually moved to Minnesota, probably to practice medicine with his sons, and surely experienced that bitterly cold weather before his death there.
So, as we said, the letters that follow were made possible by the merger in the oil fields of Venango County, PA, of our Davis/Davies family of Wales and our Moon family, also from somewhere in the British Isles. We believe that both families emigrated to America in the 18th century. For additional context, see the Moon and Davis  family trees, introductions, and vitals. I'm certain you'll suffer the same confusion as I with sometimes three generations of the same given names in both the Davis and Moon families: Nathan, Alvin, Joseph, Sara Jane, and Keturah, for example. Rather than further confuse you, I've simply transcribed the four family letters, mostly as written [with my comments in italics within brackets and some punctuation changes for clarity.] The basic premise of this exchange of letters begins with Dr. Alvin M. Davis (b. 1851), in his early 70's and living in Western Pennsylvania, trying to establish contact with Moon cousins whom he had known as a boy back in the oil fields of Venango County. Oil had been discovered in that region in 1859 and that inspired a rush for prosperity by companies and workers. Dr. Davis' letter eventually reaches his grand niece, M. Keturah Moon (b. 1877). Unfortunately, while we have the reply to Dr. Davis, we don't have the exchanges that inspired his older sister, Keturah "Tura" Davis Funk (b. 1840), of Iowa, to then write to both their grand niece Keturah "Turie" Moon and her mother, a cousin by marriage, Susan Fleming Moon (b. 1841). Research continues into such things as the references to the earlier generations in Europe; the origin of that interesting name "Keturah" [We know that biblical patriarch Abraham remarried after the death of Sarah, taking Keturah (meaning "fragrance) and producing six more sons (Genesis 25:1–6).]; our confusion over given and middle names such as Nathan E. (Elder and/or Edmond?) and Murdoch (Alexander M. and/or Michael M.?); and more. For now, though, we hope that you enjoy this glimpse into life in "middle" America during the Roaring 20's and the use of the postal service to reach lost relatives.
LETTER #1
[These first two brief letters were transcribed from the original by me, the first handwritten and the second typed.]
843 Hiland Ave.
Coraopolis, PA
December 12, 1921
Dear Doctor [Seymour B. Moon, unknown relation to me],
I am an old practicing physician. I have 2 sons that are surgeons in Minnesota. I was raised near Clintonville, PA, Venango Co. When I was a boy there was [were] some young men by the name of Joe Moon, Hance Moon, & Murdoch Moon from Allegheny Co., near Perrysville I think, [who] visited us. They were cousins to me. My father, Nathan Davis, had a sister [Sarah Jane Davis] that was married to their father [Joseph Myler Moon, Sr.]. Also, their mother had an unmarried sister [Caroline Eliza Davis]. Would you let me know if any of them are living as I would like to know something of my father's father: where he was born, etc. With regards, I remain yours respectfully,
Dr. Alvin M. Davis (Please address me to 116 Willard Ave., New Castle, PA)
LETTER #2
Pittsburgh, PA
January 10, 1922
Dr. Alvin M. Davis
116 Willard Ave.
New Castle, PA
Dear Sir:
Your letter of Dec. 12th last to Dr. Seymour B. Moon, Westinghouse Building, City [Pittsburgh] was referred by him to Alvin Moon in the Mellon National Bank [Alvin T. retired from Mellon Bank after 40 years. I'm not certain which branch he belongs to], and by him referred to me. The Joe Moon you mention was my father — Hance and Murdoch his brothers. All are dead. I may be able to get a little information for you from some other member of my immediate family, and if you so will write you more later as soon as I can see them.
I remember the unmarried sister of Nathan Davis very well. Her name was Eliza, and she knew that family connection from A to Z. The only lamentable fact is that no one realized sufficiently while she was living how important the knowledge she really was. I was named for Keturah Davis, whom Father always said was his favorite cousin. [Does she mean his grandmother, another Davis branch, or even one from another Moon branch?] I'm wondering if she was your sister, and whether or not she is still living. I would like to get into communication with her if she is. Regretting that I cannot give you any definite information now, and promising to do so at an early date, I am Very truly yours,
Keturah Moon
Wildwood P.O.
Allegheny Co., PA
LETTER #3
[Postmarked] Akeley, MN
Jan. 16, 1922
Dear Mrs. Moon,
You're rec'd . . . Am very glad to know you. When I was about 8 to 10 yrs. of age, Your father [Joseph Myler Moon, Jr. (1835-1905)] visited us and we all though great deal of him. Wife and I have just been back to Western PA. We think that we passed through Wildwood on the train going from Butler to Pittsburg[h]. We visited a sister-in-law at Coraopolis, etc. Had a very enjoyable time. Am glad to hear that you know the Moons. I have learned that my father & mother lived to the age of 103. Is that right? Am anxious to know how old my Grandfather Davis was. If you can help me with this I will be much obliged. Keturah Davis [Funk] is my sister. She is still living at Panora, Iowa. Her husband, S.[Samuel] G. Funk, died one year ago.
With regards, Dr. A.M. Davis
LETTER #4
January 19, 1922
Dear Cousin Ketura,
I am so glad to get in touch with some of Father's family. We know you are cousin Joseph's daughter [Joseph Myler Moon, Jr. (1835-1905) and Susannah "Susie" Ethel Fleming Moon (1846-1931)]. I wonder how old your father was. [He was 70 when he died.] I think he was older than me. [He was 5 when she was born.] My 82nd birthday is February 16. My husband [Samuel G. Funk] died last January (1921). He and I had a drug business till 3 years ago. Forty years we had it till his eyesight failed. We had one child, Ruby, who is 41 tomorrow and she has 4 children: Helen is a junior in college. Thazer [Thayer?] finished high school last year. He is on my farm with his father joining [next to?] town. I have a housekeeper since Father died. Margaret and Donald are in public school. They came in to town to school, just 1/2 mile. I see them coming now, and it is 10 below zero, our coldest morning.
I remember Aunt Eliza Davis [This unmarried sister lived with our Moons and had the reputation of knowing the family history "A to Z." She died in 1894 at age 89.].
I want the "e" put in Davis [Davies] for we are Welsh on _____ [underline left blank probably because she couldn't remember and intended to come back or was unreadable by the original transcriber] father's side and there is just one family of that name in Wales [unclear, surely not literally?]. My brother Melville [Rev. Robert Melville Davis (1849-1889)] learned that when he was in the [Reformed] Theological Seminary in Allegheny, [Pittsburgh] Penna., there was [were] 10 children of us, 8 boys and 2 girls. [Actually, some records indicate as many as 13 plus one who died in infancy. It's unclear whether Edmond was Nathan Edmond or Nathan E. was Nathan Elder, Jr.] All gone on but Alvin [Dr. Alvin M. born in 1851 and died in Minnesota] and me. Three of the boys were doctors of medicine and one a Presbyterian minister. How many children were of your family?
I was 39 when married. I have been in Iowa ever since I came west to teach. I did most of my teaching in PA. Its hills and mountains are very dear to me, but my mother is buried out here [Sarah Jane Cross Davis (1816-1882)]. I had lost all traces of my father's family. I am so glad to find you. Brother Alvin sent me your letter. He is at home now in Shely, Minnesota, [The town was renamed "Shelly" to differentiate from "Shely" Township] but he will go up to Roosevelt, Minn. in March. He has a home in Shely , but Roosevelt has no doctor. He went up there a few years ago to be near some of his boys and he made such good friends that he dislikes to leave them without a doctor. I like the climate of Iowa. It has been too warm till today, but there is time enough yet for lots of cold winter (10 degrees below zero today).
Grandmother Davies was over 100. [Also named Keturah; maiden name unknown. Our records suggest late 80's or perhaps 90.] I saw her when she was 90. She seemed so old. I never knew anything about Grandfather. [John Davis/Davies lived 1774-1802.] Brother Alvin is always so anxious to know more about his ancestors. Tell me all about your family.
N.B. [?], our Presbyterian pastor who lives next door, is moving away today. He is a young man and has been here but 3 years, but he got a call to be assistant pastor to a large church in Ohaha [Omaha, IA, straddles the Nebraska line and is also called Council Bluffs]. I was so glad for him being a young man to get such a call.
When convenient, let me hear from you. Is your mother living? Yours lovingly,
Mrs. Ketura W. Funk
Panora, Iowa
PS. Papa Funk was a soldier in the Civil War.
LETTER #5
[This final letter was forwarded for a two-cent stamp by Tura's daughter, Ruby Burgess, a few days after it was composed, with this short note:
"Dear Friends:
Mother has been sick but I think she is better today. Your letter had been mislaid and I found it so will send it. Mother had the gripe [flu] quite hard, has been in bed several days.
[signed] Your friend, Ruby Burgess"]
April 3, 1922
Dear Cousin Susan.
I have been trying to think of cousin Joseph. [This is a reference to my 3XGreat-grandfather Joseph Myler Moon, Sr. (1795-1886), who would have been Susan's father-in-law, and she is most likely trying to recall some facts about his life in the oil fields of Venango County, PA.] I remember of him going to the oil field with my father [Nathan Elder/Edmond Davis, Sr., son of John Davis, Joseph Moon, Sr.'s father-in-law] and then he came down [probably back to McCandless Township, Allegheny County?] once after supplies, but the most I remember was that our little boy's [referring to her brothers] ambition was to be as tall as cousin Joe. They thought lots of him.
Yes, I staid [common misspelling] with Mother [during] vacations [from teaching school in PA and IA]. She and the boys always had lots planned for me to do for them, and then when the family got down to one boy at home, we sold the farm and I got married and she [her mother] came and lived with me, but [just] 2 years. She died young, only 68, and father 62. He was a Civil War soldier and so was my husband [Samuel G. Funk].
Ruby's name is now Ruby Burgess. We are having a small pox scare now here. None in our town, but 8 miles away 2 died yesterday and several before. So vaccination is the go now here. Donald [grandson] had to come here yesterday from school with the hurting of his arm but he is better today.
Do [Are] you able to knit or do patching and other fancy work to help pass the time? [Susan would have been age 76, her husband having died 17 years earlier.] I am real well this winter. I was out to missionary meeting. I have been treasurer for 18 years and re-elected, but it is not much work. The Board sends us small envelopes and they [the Missionary Society] put their monthly [offering] in them every month. And, if [they are] not at the meeting, they bring or send it. Yesterday was the closing up of the year and all pledges were in but one, and she was sick. It will come today and I will send it off on Monday. Our little society of 18 gave $327.26. All in but $3. [We] give the most to home missions as so many foreigners are coming and we are trying to make them good Americans.
Hope this will find you physically well and joyfully looking forward to a happy reunion of loved ones. Won't it be a glad reunion on the other shore?
My oldest granddaughter Helen has trouble with her ears. She has lost the hearing of one ear, but is taking special treatment and will, I hope, be able to save the other one. The loss of hearing is a wonderful [she means "terrible"] affliction. I wonder if osteopathic [holistic medicine compared to just medical. Tura's brother Alvin was a doctor, as were others in the family, but we don't know what kind.] treatment would not help your affliction. [We don't know what Susan's problem was except that she was overweight, if pictures don't lie.] I have great faith in that kind of treatment. While I am a druggist, I never take much medicine, and Papa didn't take but little. I treat my kidneys now with hot lemonade. It is good to treat the poison. I treat them every few weeks for two days with two or three glasses a day and it keeps them fine.
When I began to teach, we lived in Venango County, 12 miles south of Franklin and 3 miles north of Clintonville. During the Civil War we moved to Lawrence County, 10 miles south of New Castle near Wurtumburgh. I had a letter from brother Alvin a few days ago and he was up at Dr. [name left out as she probably forgot, but it may refer to Thomas L.], his youngest son. He [the son] has a hospital in Radena, Minnesota [Probably "Wadena"]. It was 38 below there, but it is dry cold and he can stand it better than zero weather here. He is the last brother living, out of 10 boys. Sister died a year ago last December, so he and I are all that are here now, and they are buried in California, Iowa, Ohio, Pennsylvania, and Arizona.
Yours lovingly,
Cousin Tura [End of the five letters]
In conclusion, I have truly enjoyed various processes involved in this project: first, the literal transcriptions; second Googling the unfamiliar towns and terms (I hope you'll do the ones I didn't); and third, making the connections to our family history. I consider this, as are all my articles, to be just the start as I keep my eyes open for additional letters, notes, and artifacts in my collection to tie or clarify. Please feel free to comment or question below and add to the investigation of these nearly century-old family  conversations.
Last revised 1/30/21
Sources:
"Descendants of Nathan E. Davis." FamilyTreeMaker.com. 13 February 2012.
Ethel Moon Teevans. Unpublished Memoirs. Grove City, PA. 28 May 1976.
Moon & Davis Family Tradition.
Various Wikipedia pages.
"Townships." Venango.Pa-Roots.com. 16 December 2014