Chapter 4B – My Life's Work, Broadcasting
My first full-time job was with "Wireless Johnstown Automobile Company." No, I wasn't selling cars. The first letters of that firm spell WJAC, one of the country's first AM radio stations, founded in 1922 in an early auto dealership on Main street, downtown. From that operation came the FM and TV stations in 1949. Over the years, as their slogan claims, they've been "Serving millions from atop the Alleghenies." I had submitted an application and audition tape there while an undergraduate at IUP but never heard anything then. My big break came in the late summer of 1971, as I was finishing my Masters degree at Penn State. I answered a newspaper ad for an announcing job in Johnstown. I went in for the interview and was asked to take a seat in the waiting room. In a few minutes I was escorted into an inner office where the personnel director again quizzed me on my qualifications. The only real radio experience I had had was gratis with college stations: WIUP-FM and WPSU-FM and TV. I briefly described those positions in my "Indiana" and "Penn State" pieces. To say I was hired "on the spot" is to discount the times I had applied to WJAC before. This time, however, I seemed to have met a need. WJAC-FM, a beautiful music station, had a two-hour classical music program Sunday nights called "Concert of the Air." Johnstown had always prided itself as a somewhat cultural area, with a symphony orchestra, many bands and choirs, and of course, a burgeoning arts center. In fact, the  corporate owner of both the TV and radio stations had strong Penn State ties, with their  corporate headquarters in State College. The President wanted the FM station to have scripted classical music programs, and I'm sure that my degrees in music and especially communications from PSU sealed the deal. I was hired for one month to write a year's worth of those programs. I had my own office, with a typewriter, and hundreds of classical music LP recordings. I was in my glory, as you can imagine. As a sidelight, every week the emcee of a TV program, Scholastic Quiz, would come in an have me provide a short music bite for that episode's music question. Ron and I became good friends, and years later, after he retired from WJAC-TV, he would offer me a job at a start-up Somerset radio station that he had obtained the license for. I declined his deal in favor of college teaching.
Almost a month to the day from when I started writing "Concert of the Air," as if by fate, one of the FM announcers quit and I was offered that job. I can admit it now, but beautiful music announcers are required to keep their talk to a minimum. perhaps cutting in every quarter hour to read a commercial or play a public service announcement (PSA). I remember my colleague, dear Dina, playing commercial for Tampax products  and immediately, and I'm sure inadvertently, following it with a schedule for the Red Cross bloodmobile. We all teased her about that for years. Another time, at the end of the Nixon years, I was eating lunch in the studio and listening to NBC coverage of his resignation, when the network broke in with a car commercial break exclaiming, "Put a new Ford in your future!" We all wondered if that was accidental or if someone paid extra for the placement. Again, another memory.
So this installment covers my 20-plus-year-career in broadcasting, both commercial and public. My inspiration began in high school with various Pittsburgh radio and TV stations and continued through my high education years at Indiana and Penn State. My family and I listened and watched while working around the house, while riding in the car, and after supper until bedtime. There were no iPhones or personal computers and cable TV was just getting started in our area back then. We couldn't see the reason to for "pay TV" when most everything was available "over the air" for free. I can still remember hearing about cable TV and thinking that there would be no irritating commercials to sit through. Boy, did I get that wrong. Even with regular TV, after the availability of remote control, Mom would sit on the couch and mute the commercials. Sometimes she'd be busy knitting and forget to put the sound back on for the rest of us. Stay tuned: more memories to come.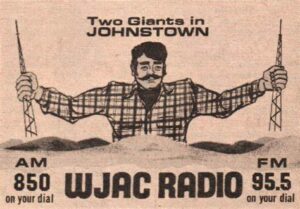 At the end of the first week in March of the year following my hiring as an announcer at WJAC, I had scheduled a weekend vacation trip to Philadelphia to check-out the University of Pennsylvania's Annenberg School for Communication in anticipating Ph.D. studies. Ironically, that was the very day after hearing of the unexpected death of our radio stations manager and being offered his job. I accepted the prestigious job immediately, but Susan and I made the trip east anyway. While we liked Penn's beautiful campus, we couldn't imagine being stuck in such a big, often chaotic, city. We returned home, having scratched that option off our list. Little did we know then that our son Matthew would later finish his undergraduate work there with two majors. He loved big cities and eventually worked there, in New York, and in Charlotte.
By the way, Susan and I also checked out the doctoral program at the geographically closer University of Pittsburgh the following summer just to make sure we had considered all of our options. It had to have been the hottest day of the year and poor Susan was trying to keep our fussy 18-month old daughter happy while I was checking out options in the housing office. As if being struck by lightning, I suddenly turned to her and said, "Come on; we're going home." Again, it occurred to me that my greener pastures were back in the Laurel Highlands, away from the big city, with my young family.
In accepting the management duties at WJAC Radio, I made a silly mistake. When asked how much I expected to be paid, I thought a minute about how much beginning teachers made, and replied $6,000. With all the benefits that went with the salary, that was survivable for a family of four, BUT I forgot that teachers only work nine months a year with holiday breaks and perhaps seven hours a day with paid prep time. While I did get regular raises, I regretted not playing "harder to get." Of course, I didn't have much experience then and would have the opportunity to make much more after I was "demoted" to "commission sales" in 1977 to make room for new station formats. As I said earlier, after that I had more free time and was much happier.
The highlight of my time as manager of the two radio stations was the flexibility that comes with being a supervisor. Such a position usually means that one doesn't actually do the work, but oversee it. Don't get me wrong; I did actually fill in for announcers occasionally when no one else was available, and that was usually the worse shifts – evenings and weekends. But, I spent most of my "free" time writing what I called "radio specials," usually hour-long scripts, voiced by one of our personalities and taped in the studio for presentation after much promotion. One was called "Starry, Starry Night," borrowed from Don McLean's song about the suicide of Vincent van Gogh. It was the brilliant yet tragic tale of the developer of FM radio, Edwin Armstrong: "And when no hope was left in sight, on that starry, starry night, you took your life as lovers often do. I could have told you, Vincent, this world was never meant for one as beautiful as you." One of the great ironies of all of that was that van Gogh's painting was done in 1889, the same year that the great Johnstown Flood took 2,000 lives.
I was asked by our TV side to do a half-hour special on the coming of open heart surgery to our Conemaugh Memorial Hospital. It involved history, interviews with doctors, and unlike radio, actual film clips (in those days) of operating room procedures. I had been on the board of the local chapter of the American Heart Association at the time and got a lot of "atta boys."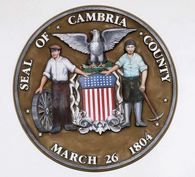 Surely the most listened to project I did around 1976 was what was called, "The Cambria County Chronicle," a daily minute or so clip of local history in honor of the nation's bicentennial. I went back as far as the times of our area Native Americans, through the various wars, and covered contributions by our counties' inventors. Copies of the scripts are still available in local libraries and the Johnstown Flood Museum. After relating the process of completing the project to the local Rotary Club, I was awarded a large tapestry wall hanging of and eagle sitting atop the liberty bell with the backdrop of the American flag. which still greets visitors as they enter our front door. I also gave a brief speech in Ebensburg on the steps of the Cambria County courthouse as their bicentennial time capsule was dedicated. My writings were inside, and I was one of those honored to lower it into the ground with my family looking on. Not to spoil the image, but it had to have been the hottest day of the summer, and I was dressed in my best suit suffering from hemorrhoids. I couldn't wait to get back home afterwards. Oh, what a person won't endure at the price of fame! One of the perks of being in management was having the free time to speak to most of the local service clubs on topics ranging from broadcasting to local history. Oh, did I mention that the price for my services was a free meal?
Susan and I enjoyed an all-expenses-paid trip to Washington, D.C. in 1972 to the national convention of the American Optometric Association (AOA). I had written a 30-minute radio program called "My Excuse," about a blind person's struggles with life. After airing it locally, I submitted it in the annual AOA media competition and won in the radio category. We stayed in a luxury hotel, had a tour of the town, and ate a fancy dinner before the presentation. I still feel a little guilty because I had stayed home from church on a Sunday to write the piece.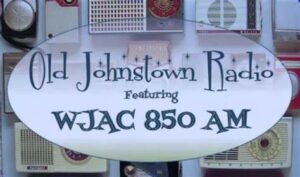 WJAC-AM went to a talk format in the evening after the 6:00 news. I wrote a regular feature called "850 Spotlight," named for our frequency on the radio dial. The subjects ranged from news to sports to entertainment. Sometimes I would summarize the free books that blessed my office. The challenge for me was to familiarize myself with them enough to talk about them. If I was lucky, I could get an interview with the author. Then there were the topics that, looking back now, were just plain stupid. For example, I once called the beautiful and talented Australian singer Olivia Newton-John a "one-hit wonder." We're the same age and she has survived breast cancer while winning every musical award imaginable. I think I was just jealous of her achievements, or her maintaining her blonde hair color. I was once a blonde, you know.
Another adventure for this manager of Johnstown Radio was working with the wonderful and talented conductors of the 94-year-old Johnstown Symphony Orchestra. I said earlier that, having played in the IUP Symphony Orchestra's string section and retiring for a year to finish  grad work at Penn State, I picked up my cello again and played with the JSO for several years. All the while, "Concert of the Air" was a fixture on WJAC Radio at 8:00 Sunday evenings. Those were the days of the late Mischa Semanitsky and Donald Barra, conductors. We decided to tape the symphony concerts in Johnstown's historic Cochran Auditorium and replay them the following Sundays on "COA." To do this justice, the microphones had to be suspended from the high ceiling of the venue to capture the many instruments and sometimes singers. I was elected to climb to the rafters and oh-so-carefully walk the tightrope of narrow boards to the center of the ceiling to lower the mics to capture the sound. After checking with my life insurance agent – just kidding – I did the deed, and the shows were a success.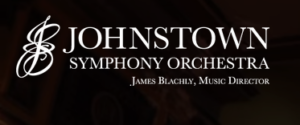 Unfortunately, depending on whom you speak to, the orchestra moved to the East Hills and Pitt's new Pasquerilla Performing Arts Center when Johnstown Senior High moved into Cochran and began renovating. Ironically, after all the controversy surrounding the change, the symphony now, under our new, young conductor, plays venues in various halls around the city. Some of the performances are on YouTube, but I haven't been asked to climb into any ceilings lately. I did have the opportunity to play cello in the pit for a holiday performance at Cochran with the Pittsburgh Ballet in The Nutcracker. Being station manager also got me back stage when big-name artists like Stan Kenton came to town.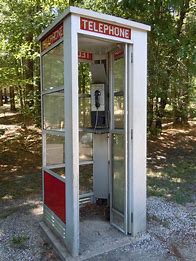 Also memorable, to say the least, were the interviews I did or arranged, the events I attended, and friendships I made at WJAC. We started a night-time talk show on AM called "It's Your Dime." That's back when there were still pay phones and a call cost 10-cents. I was involved with celebs from the Pirates, the Steelers, the Penquins, and a Monroeville night club remembered as "The Holiday House." We talked to performers there by telephone who included Phyllis Diller, Al Martino, and others. In addition to receiving free tickets to many of these venues, I also was able to take my wife to Heinz Hall in Pittsburgh to hear Tony Bennett and Lena Horne. I got to go backstage one late night to interview Alan Jones, an old vaudeville performer and father of my favorite pop singer, Jack Jones. One other time, I got a call from our sister TV station asking me to interview none other than country music great, Johnny Cash, who was performing at the Johnstown War Memorial Arena. Johnny had a TV show at the time and was certainly my favorite country music singer. I remember having to stand on my tip toes and stretch up with the mike to reach his mouth. Before our conversation, he suddenly broke into a big smile. I turned to see his little brother Tommy coming in the door. The two of them gave each other the biggest hug, as if they hadn't seen each other in years. My heart was warmed. As they say, "Those were the days, my friend."
Not to name drop, but my decade at WJAC included working with famous locals like Ron Stephenson, TV news director, who also presented a weekly radio show addressing public issues, and Bill Wilson, TV sports director who was the voice of our springtime remote from the Gee Bee Tire Center which I directed. I found Ron hard to get along with, probably because the job of a news director is to stay remote and unattached. He did seem to warm up to me, however, when I "testified" one time to an incident witnessed by my contractor father-in-law which incriminated one of Ron's local adversaries. Now, as for Bill, he could get along with anyone. His only problem was that his questions in an interview were usually longer than the response. I think that sometimes, by the time Bill was done with his inquiry, the interviewee had forgotten the question. Interesting men though, both of them.
With the AM radio management change to country music in 1978, they hired Don Evans of Pittsburgh's WEEP. My brother Carl "Butch," a long haul trucker told me he listened to him regularly. Also, local performer Arnie McFarland became a good friend. I always tell people that the three of us later moved to WVSC, the Voice of Somerset County, as a package deal. Don has passed and Arnie went into the ministry. I still see him at the Somerset church most Fridays while Susan and I serve Meals on Wheels.
Remember that I had done multiple audition tapes for WJAC? Well, the same was true for WVSC. The only thing was that the ownership there was looking for a sales person. As it turned out, they got an experienced announcer, a writer, and a salesman with me. I spent most of the time selling and writing ads, but my favorite thing was doing remote broadcasts with, as luck would have it, Don Evans, my pal from WJAC. We did some of the craziest things, like at the new County Market, a large grocery store, when I climbed into a cart, Don pushed me around, and we "covered" the grand opening. That's back when I could still climb into a grocery cart AND was stupid enough to do so.
The above photo is Don and me with our WVSC shirts on at the annual Easter Seals softball tournament. Neither of us could hit or field very well, but we had an awful lot of fun raising money for that worthwhile local charity. Don and I covered the opening of the new nine holes at Seven Springs Golf Course, next to the ski slopes. Don was an avid golfer, but I knew almost nothing. You might say that I "carried his bag" as he did the heavy stuff and I made sure the mike was working. I did, however, get to interview one of my heroes, Pittsburgh Pirate Hall of Fame second baseman, Bill Mazeroski. We go back to when I was just 12 years old, coming home from school one fall day, and turning on the TV to see Bill (we're now on a first name basis, you know) hit that ninth inning, game-winning home run in the World Series.
Well that pretty much takes care of what we in broadcasting call the "talent" side of the business. Let's finish now with the behind-the-scenes side that makes all of that possible, "sales." I can still remember the first question the General Manager of WJAC, Inc. asked me in 1978, after I was told that someone else was taking my place at the helm of the radio stations and offered me a job in the sales department: "Have you ever sold anything before?" My immediate answer was, "Yes, I sold for Fuller Brush when I was in college." That seemed to be good enough for him. I talked in more detail about my sales experience in the last installment, "Odd Jobs." Interestingly enough, no one explicitly asked me if I'd ever sold life insurance when I was offered a job with New York Life in 1990. I believe those jobs are offered almost exclusively to folks who have passed the aptitude test, which I had, and were somewhat green behind the ears, so to speak. That is, they really don't know what they're getting into, except that they are promised the moon and stars as far as working conditions and income are concerned.
After I moved to sales in 1978, the new management asked us to share witness to any news stories while we were out on the road. I specifically remember calling in a school bus accident in Davidsville and a fire at Jamesway Discount Store in Somerset. Perhaps the most exciting time was riding with the new manager in a small plane as we circled the Three Mile Island Nuclear Plant near Harrisburg shortly after the famous spill while on our way to cover the Pope's visit in Philadelphia. I had spend some time with him – new manager Denny, not the Pope – to bring him up to speed on the history and workings of the two radio stations.
One of the first changes Denny made to the sales department was to construct "sales booths" in the office, as opposed to individual desks. He added new people, and we were to understand that the office was just a place to make telephone contacts, not to live. Our first campaign, as I explained in the previous installment, brought in thousands of new dollars from both traditionally commercial clients and new not-for-profit organizations. We were selling "Top of Mind Awareness" (TOMA) in the community for the price of $125 per month. We lured them in with a free coffee mug containing our logo and then tried to "up sell" them to other, more expensive advertising packages based on their needs. This was not the unethical "bait and switch" other promoters use. I attribute this community awareness campaign to laying the groundwork for what would be a total of 10 years in the broadcast sales business. Of course, I left WJAC Radio in 1981 when my pension was vested and another sales opportunity arose, which unfortunately didn't pan out. So then it was back to broadcast sales, as I explained above. I joined WVSC Radio in the middle 80s.
But, there came a time in 1990 when it seemed that many local stores and businesses were being taken over by national chains, thus their advertising dollars were being filtered through national ad agencies, usually managed by either the station owner or sales manager. What might have been local restaurants, for example, were "crowded out" by franchises like McDonald's, Wendy's, and Burger King. My commission checks were decreasing as the ads moved to larger, regional stations and TV. I had first been "courted" for a possible career in life insurance and mutual fund sales by a Christian friend I had helped with a weekly radio program at WJAC. At the time I failed the New York Life aptitude test, I presume because I was more interested in broadcasting than insurance and finance. Years later another church friend, for whom I played organ and wrote a song performed at his wedding, encouraged me to again take the test. This time my attitude was different; I was ready for a career change, and I passed the exam. Again, persistence, and no doubt the will of God, prevailed. I quit my radio job and signed on with the Johnstown Insurance office, for which I would work for 18 months.