by
Larry Pearce, cousin
written freely from notes provided by
David B. Gray, Ph.D.
6/27/19
Born on the working farm of his parents, William Garfield (1889-1970) and Bertha Bonin Gray (1890-1987), (link to "Will" story) my cousin David Bryce Gray (b. 1934) was the youngest of 6 children and carries the names of both his great uncle and great aunt on his grandfather's maternal (Norris) side: David "Davey" Norris (1853-1886), who died unmarried at age 32, and Mary Norris Bryce (1856-1940), whose father and husband both died young. (pix w/dog) Fortunately, this was not to be the fate of the subject of this article, a man of integrity whose long life's work turned out to be much different and certainly more rewarding than anyone could have imagined. In fact, David had to wait until retirement to do the things for which he first went to school. You see, after elementary school, David decided to pursue a career in the trades as a bricklayer. He attended the Washington Vocational High School in the Lawrenceville section of Pittsburgh. Coming from a line of farmers in West Deer Township, Allegheny County, PA, he was not afraid of hard work, using his hands. His late sister, Ella Mae Grubbs, in a 2005 letter to me, describes how David helped build the family homestead:
Our house was a ready cut house – we had David help with foundation – then Uncle Paul [the author's grandfather] and his friend put up the frame to the house – then from there [my husband] Wilson finished the house.
Little did David know that it would be mostly his brain that would get the real workout in his distinguished career. David rode the bus, public transportation, into Pittsburgh to school. After graduation, David was encouraged to take up a college degree, and since psychology had always interested him, he applied to Westminister College in New Wilmington, PA, a small Presbyterian Church affiliated school with an outstanding reputation in the Liberal Arts.
David graduated from Westminster College in 1956, but not before he had met Phyllis George at a youth group meeting in his parents' church, East Union Presbyterian. She was also studying at Westminster. They married in 1957, a year after his graduation, and moved to Pittsburgh. Phyllis was able then to finish her degree at Pitt, the oldest university west of the Alleghenies, founded in 1787. David had decided to put his undergraduate degree in psychology to work in the ministry as was enrolled at the Pittsburgh Theological Seminary, an equally old and distinguished institution, founded in 1794. Not long after they each graduated, they started a family that now includes four married children with grandchildren living in New York, Ohio, and Pennsylvania.
After earning a Masters of Divinity degree from the seminary, David was ordained and  served a church in downtown Martin's Ferry, across the Ohio river from Wheeling, WV, for several years. If a higher calling is possible, he felt a tug to minister to young people through college teaching. He enrolled in a doctoral program at Pitt, and by 1964 accepted an Assistant Professorship back at his alma mater, Westminster College. There he championed the field of psychology as a rigorous laboratory science, applying findings to practical problems and issues. David served 17 years as Chair of the Department of  Psychology where he played a key role in developing the Senior Independent Study program. This practice, that every Psychology major was required to complete, included a two-semester laboratory experiment or field assessment and later morphed into an all-college requirement known as Capstone.
While at Westminster, David produced a dozen or so peer-reviewed journal articles on attitude formation and social change in the areas of race, religion, leadership, and the environment. In 1985, fifteen years after the first Earth Day and thirty-plus years before "climate change" entered the common vocabulary, he published his major scholarly work, Ecological Beliefs & Behaviors: Assessment and change. The focus in the last decade before his retirement was directed to political psychology, namely international comparative measurements of the belief in equality and its impact on hierarchical vs. democratic leadership styles taken in the United States, Germany, Poland, and Russia.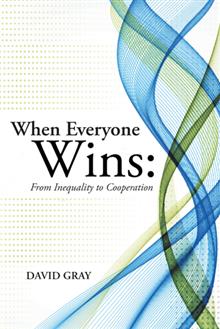 His second psychology book was a popularized treatise entitled, When Everyone Wins: From inequality to cooperation, which appeared in 2014. After 38 years in Westminster's Psychology department, Dr. David received the "Social Award among Academic Achievers" at the Spring Honors Convocation, the year of his retirement.
Here's what the WC Department of Psychology page said about David:
Dr. Gray is a social psychologist who specializes in organizational behavior. His international research program focuses on the relationships among attitudes about equality and work practices. He retired from full-time teaching in 2003 but continues to consult with the department.
All the while, wife Phyllis wasn't far away, maritally or professionally. She helped to launch the gifted program at Wilmington High School, and subsequently taught PA government and civics. She retired after in 2003, the same year as David.
Phyllis bought David a bow for Christmas in the 70's and archery has been an enjoyment ever since. In 1996 they started the Krackow Company, a business conducted primarily on the internet, in order to help make very traditional international archery equipment available around the world. David reminisces:
It was basically a brokerage in which we connected a traditional bowmaker with his customer. This interesting service was discontinued in 2017 because the internet allowed any archer to contact a bowmaker directly from anywhere in the world.
In 1998 the couple brought Lajos Kassai, the founder of the standardized sport of mounted archery in Hungary, to promote and demonstrate the sport here in the United States for the first time. Mounted archery entails shooting the bow from horseback at a canter at Styrofoam targets. Their local Little Neshannock Stables played an important role in launching the sport. David contributed many articles for traditional archery magazines, was the author of the full-color Bows of the World in 2002, and a co-editor with Lukas Novotney of the book entitled, Mounted Archery in the Americas in 2006. Thirteen authors from around the world described the historical development of shooting the bow from a running horse and the modern resurrection of that discipline as a standardized sport. David and Phyllis were instrumental in the formation of the Mounted Archery Association of the Americas. They organized competitions and wrote articles to "mount" interest in the old/new sport.
One of the high points of David's hobby was the gracious invitation in 2011 by King Abdulla II of Jordan, himself an archer, to attend a world-class, full-fledged mounted archery competition in Amman. The first ever international event for Jordan turned out to be a gala festival on a national scale attended by the King himself.
This brings us full circle to a statement made in the introduction: "David had to wait until retirement to do the things for which he first went to school." Remember that bricklaying career he had planned before being sidetracked for over half a century? Well, one of the first things David and Phyllis planned for and accomplished after retirement was remodeling and expanding their beautiful home in the woods overlooking the College. While Phyllis designed many of the new features in the house, including the kitchen and baths, David was busy with the brickcasing. The home is the site of many gatherings of their ever-growing family and many friends and colleagues.
In conclusion, David and Phyllis have been very cooperative and gracious in the preparation of this brief biography. Both are quite busy in their retirements, not to mention humble, so this author has sought to take extra time and care to afford them the privacy they wish while, at the same time, bringing out the fascinating details of their remarkable lives. I'm certain that we haven't heard the last of the Grays of New Wilmington, PA.
Last revised 6/27/19