Transcribed with [Comments]
by
Larry Pearce, son-in-law
3/3/21
(Click on images to enlarge/ Hit back arrow to return)
Return to Part 1: Between Dick & Hilda
Next to Part 3: From Mother Sarah & Aunt Lizzie

[This is the second article of three that presents much-prized letters and telegrams among members of Richard "Dick" and Hilda Krause Miller's families. These include Annie Krause, Hilda's mother, Lizzie Shrader, her aunt, and Sarah Miller, Dick's mother. The last three persons lived in various parts of Somerset County, PA, Northern Appalachia, while Dick and Hilda, wed in 1942, could be found living at several U.S. Army Air Bases in America after Dick was drafted in 1943. Part 1 even includes telegrams and V-mail from England, where he was stationed while conducting 35 bombing missions over Germany.
[The following three letters are from Hilda's mother Annie, known as "Mom," and the first comes from Baltimore, where her son, Hilda's brother Clyde, lived, about a 5-hour journey From "home" by automobile in those days. She is apparently staying with him for the week. Annie comes from an Amish background, and I have transcribed her personal journals and written several articles about her family's migrations. What follows is impressive, not only for the personal content but for her beautiful handwriting. However, and understandably, she sometimes uses archaic words and phrases while omitting some common literary structures such as paragraphs. No doubt she, as many letter writers before the age of e-mail and smart phones, is trying to maintain her train of thought while saving paper. I will try to identify her personal references and conjecture about her meanings as we go]
First Letter
4/11/45
Postmarked: Baltimore, MD, over purple 3-cents "Win the War" stamp
to: S/Sgt and Mrs. Richard O. Miller, 33574321, Sqd. U, Lowry Field, Denver, Colorado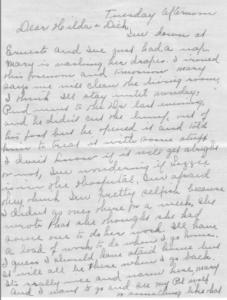 Tuesday afternoon
Dear Hilda & Dick
I'm down at Ernest's and I've just had a nap. Mary [Hilda's oldest brother Ernest's wife] is washing her drapes. I ironed this forenoon, and tomorrow Mary says we will clean the dining room. I think I'll stay until Monday. Pud [nickname for Ralph, another of Hilda's brothers] went to the dr. last evening, and he didn't cut the lump out of his hand but he opened it and told him to treat it with some stuff. I don't know if it will get alright or not. I'm wondering if Lizzie [Hilda's Aunt, Annie's sister] is in the hospital. [She was scheduled for a mastectomy back in Somerset County-see Part 3.] I'm afraid they think I'm pretty selfish because I didn't go over there for a week. She wrote that she thought she had someone to do her work. I'll have a load of work to do when I go home. I guess I should have staid [sp] home, but it will all be there when I go back.
It's really nice and warm here. Mary and I want to go and see My Pal Wolf  [a 1944 film] or something like that. I believe you saw it. I'll bet there will be a letter to home from you when I get there. I haven't heard from Larry [Hilda's youngest brother Lawrence in the Navy] for a couple of weeks. I hope you got your check and pictures. I didn't see Clyde [Hilda's brother who lived in Baltimore] yet, but we think he will come in this evening. I don't know when I will go there. Guess I don't know much to write about down here [humor].
The radio is on and it bothers me. Wish you kids would come home this spring even if you will have to go away again. I went to all-day mission study [at church] on Saturday, then in the afternoon when I was getting real good and sleepy, Shirley [Ernest's daughter] came in and told me [that] there [was] a woman at home that wanted to see me. So I went home and there was an Amish woman from Salisbury [in southern Somerset County where Annie was born] to see me. I told her to come back some time and we would talk [Pennsylvania] Dutch. Guess I was surprised.
Mrs. Miller [Richard's mother Sarah?] wasn't at the meeting. The American Store [Jennerstown] doesn't seem the same since Margaret [?] isn't there. They [?] asked about you. Well, I can't think of one thing to say, so I'll stop for this time and write a few lines to Larry. I'll write when I get home. Love, [signed] Mom [end of first letter]
[The first letter may have been written from Annie's son's in Baltimore, and though she may seem to relax sometimes, with a nap and plans to go to the "picture show," she still has chores to do with her daughter-in-law, like cleaning rooms. Clearly her mind is back home at times as she tells Hilda about her brother and aunt's medical conditions. What letter would be complete without comparing the weather or talking about church. Mom reassures her daughter that others in the neighborhood haven't forgotten about her.
[The second letter is much the same. Are you surprised about this former Amish woman enjoying the movies? More about the health of Hilda's sister-in-law and aunt. Then there's the shocking news about the suicide of a neighbor. Finally, an update of others in the family, the weather, and the condition of the fruit trees. Here's letter number two:]
Second Letter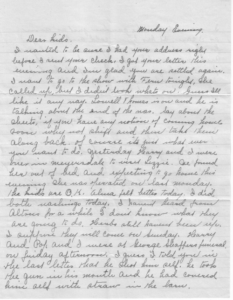 5/5/45
Postmarked Jennerstown, PA over embossed purple 3-cents stamp
to: S/Sgt. R.O. Miller 33574321, Sqd. B-2, L.V.A.A.F, Las Vegas, Nevada
Monday evening
Dear Kids,
I wanted to be sure I had your address right before I sent your check. I got your letter this evening and I'm glad you are settled again. I want to go to the show [movie] with Fern tonight. She called up, but I didn't look what's on. Guess I'll like it anyway. Lowell Thomas is on and he is talking about the end of the war.
Say, about the sheets, if you have any notion of coming home soon, why not shift [?] and then take them along back. Of course it's just whatever you want to do. Yesterday Harry [Hilda's older brother who farmed with "Pop"] and I were over in Meyersdale [hospital?] to visit Lizzie [Hilda's aunt, Annie's sister, who has had a mastectomy-see part 3]. We found her out of bed and expecting to go home this evening. She was operated on last Monday.
The kids are O.K. Alma [Harry's wife] felt better today. I did both washings today [Alma's and hers. They lived in the same house]. I haven't heard from Alton's [middle name of Floyd, Hilda's older brother in Texas or Idaho] for awhile. I don't know what they are going to do. Herb's [Adams, husband of Hilda's sister Olive "Toots"] still haven't been up. I suppose they will come on Sunday. Harry and Pop and I were at George Shaffer's [?] funeral on Friday Afternoon. I guess I told you in the last letter that he shot himself. He took the gun in his mouth, and he had covered himself with straw in the barn.
I want to make garden just as soon as I can. It has been cold and rainy for almost a week. today it was real nice and warm, like spring. I think all the fruit is frozen [blossoms?]. We had awful hard frosts. Now I must go. Write again. I'll write more the next time. Love [signed] Mom
[P.S. at bottom of page 2] Tuesday morning
I'm waiting for the men to come in for breakfast. [next sentence unclear] I'll be serving you uas ou in Boswell. It was good. It's raining hard this morning. No gardening today. I want to iron, and I'm making a rug until the weather makes up its mind. Let me know if you get this. Also, did you get the negative of ones [?] house. I sent it in a letter. I had missed it. [end of second letter]
[The second letter, in a word, is about "news." I'm sure that's what Annie's daughter out in the American west longs to hear. The third letter is no exception, only more about what's for dinner. Be certain that most everything prepared, from the chicken to the beets, was healthy and came off the family farm. Lots about other crops too, and relatives, friends, and neighbors. Again, all the news she could fit into one letter. Did I forget about her opinion of stage dramas? Read for yourself.]
Third Letter
SCAN
May 14, 1945
Postmarked: Jennerstown, PA
to: S/Sgt. R.O. Miller, Sqd. B-2 LVAAF, Las Vegas, Nevada
Dear kids,
I've had my bath and it's only five minutes after three, so I'll start you a letter. Alma [daughter-in-law, wife of son Harry Krause] wrote to Larry [Lawrence, unmarried son in the Navy] and I know she told him everything that happened and is going to happen, so I'll write to you first. I'm expecting Clarences [brother-in-law from Pittsburgh, King] and maybe Jean [daughter-in-law, wife of Clyde Krause from Baltimore] up stairs and her children and Herbs [son-in-law, husband of daughter Olive, Adams] for dinner tomorrow and Harrys too [Alma's husband, Krause]. I have three chickens cooked and a few beans baked and a cake and some beet pickles and apple sauce out in dishes. Now I want to cut some bread for filling yet, then it won't take me so long to get dinner so long tomorrow. I'm going to have, besides the things I mentioned, mashed potatoes, coleslaw, gravy, and for dessert I'm having fruit salad. Guess that will do. Wish you were coming too.
Alma is feeling some better, but I'm still doing her work. Harry cut his hand on a bottle so I've been helping to milk, only this morning I didn't get out. I had a bad headache. It wore off after awhile. I was away three evenings this week. One evening I went to the show [movie] with Fern and Cecil [friends, Kirk], and one evening I went to church, then on Thursday evening I went to Boswell [nearby town] and I saw the high school play. I went on Mrs. Kaufman's ticket [Alma's mother] but I didn't know it until last evening. The play was just ordinary. i couldn't understand so much of it. Anyway, I would rather pay forty cents to see a good show than fifty cents to see one of their plays. Dot and Sara [unknown] were in it. Charlie and a girl [unknown, Dick's brother?] were there. He just said hello. I didn't know the girl.
Pop [husband, Krause] and Harry [son] are sowing oats for Mr. Bittner [neighbor] this afternoon. Gee, I'm glad you are coming home before so awfully long. No, Shirley [granddaughter] isn't through school. Not for a couple of years yet. Forget about Mother's Day. It's alright. I got a very nice card from Ernests [oldest son nearby] and the kids. I didn't hear from any of the rest. I haven't heard from Altons [son somewhere out west] for a good while. I got a letter from Pud [son Ralph in Texas], which I didn't answer. I also got a nice letter from Larry [youngest son in the Navy] the first of the week.
Hope you make out at your new job. I don't know why I can't write better. I get in a hurry and I just scribble. I guess it's alright if you can read it. I suppose you have the check I sent by now. I had sent it before I got your letter. This is a real nice day, for a change. Believe it or not, I haven't listened to my radio programs for three weeks. I still miss the programs. Guess I'll not be able to go to church tomorrow. Clarences always come early. Ethel [sister of daughter-in-law from Johnstown, Overdorff-Hodge] asked me to go along to her church tomorrow evening, but you know our company never leaves that early.
I have the garden half planted. It has been too cold to work in the garden. Well, I guess I would better go and cut that bread or it will be suppertime before I get done. I trimmed my corn and I cut my toe. It bled some, but I hope it doesn't get sore. my feet hurt like the dickens anyhow. I started to read "Hungry Hill." I believe I'm living there. I'm always hungry. I've even chewed nearly all of the chewing gum you sent. Maybe soon we will be able to buy more since Hitler doesn't chew anymore. Or do you think he still chews? [meaning unclear-humor?]
[New part to letter] This is evening now and I'm waiting for Harry to get ready to go and get the groceries [usually in nearby Jennerstown]. It's after eight now. They [Pop and Harry] didn't get done with the oats until late, so the boys [probably grandchildren Ron and Jerry, but unclear who] and I got the cows in and I milked six of them. Harry went out to milk the one that doesn't stand very good.
I got a nice card from Clyde and Jean [son and daughter-in-law] this evening. They wrote that my Mother's Day gift would be a little late. Jean got your present and she said she was going to write and thank you for it, but you know she never gets around to it. Some people are so busy. It looks very much like rain again but maybe it's just getting dark.
Kirk's [friends] house looks pretty nice with its new dress on [humor]. They covered the outside  with something that looks like brick. Guess I'll get Cecil to mow the yard next week. Only one pansy stood the winter. I suppose the rest froze. The little rose bush is just as nice and green and grows just fine. I guess it will soon need some kind of trellis. My house plants aren't so nice. The tiddlewinks [probably tiddlywinks, a form of mountain laurel] are lousy again. I'm going to pull them out as soon as it gets warm enough.
I believe Harry is ready now. [She stops writing for the night.]
This is Sunday morning now and I didn't go to church because I thought Clarences would come early. It's 9:00. Maybe they won't come. I sure hope they do since I fixed for them. The boys [probably grandchildren, unclear who exactly] are going to S[unday] S[chool]. Pop is listening to the radio. Alma doesn't feel so good this morning. I have all the work done up here and downstairs. Dorothy [unknown] told me last evening, in the American store [unclear but probably the grocery store], that she expects her man home now. I don't get many bargains like I used to since the man [unclear] is there instead of Margaret [unknown]. Dorothy told me that Margaret is working in a bakery. I don't know where, but I guess in Philadelphia.
It's dark and gloomy again this morning after a very nice Saturday. It rained last night. Guess you can tell what's wrong with Alma without me telling you, but don't say it when you write. I told her [that] I didn't tell you. Guess I can still say [that] I didn't tell you [unclear, but probably humor]. I sure hope Herb's come today. Guess I'm sorta homesick to see Olive [daughter in Johnstown, Adams]. I haven't seen her for a long time. Maybe they didn't get their license yet [unclear]. Well, I've talked to you for a little while now. I must go and get my shoes on and do a few other things, then this evening I'll finish this letter. I sure wish I could come to see you while you are living in the desert [Las Vegas]. I've never seen a desert. I would gladly help you do your work. [She stops until later.]
This is evening now and the company is all gone, and it's after nine o'clock. Clarences were here for dinner, then this afternoon, Overdorffs and Ethel Lou and her girls and Herbs came. They were all here for supper. Harrys too. I really enjoyed the day. It was an old-fashioned day. Mrs. O[verdorff] said there was a woman who had a big family, and she spent the whole day before Mother's Day cooking and baking. Then on Mother's Day they all came home and they brought her a nice box of candy, then also a pair of stockings. The boys sat in the living room eating the candy while the mother cooked dinner, then the daughter borrowed the stockings to wear home, and they all said, "What a wonderful day it was for Mother." [humor?] I told Mrs. O. she wasn't talking about me. Mr. O. laughed when he thanked me for the wonderful Mother's Day dinner. Well, I believe they all enjoyed it anyway. Olive gave me a pair of stockings and Sadie [sister from Pittsburgh, King] brought me a beautifully decorated cake. Harrys gave me $2.50 to spend on myself. It's over again for another year.
Tomorrow, I want to wash for both of us [Harry and Alma and Pop and Mom?]. I don't get much more done until I bring the clothes in [from hanging outside] an fold them and cook and wash dishes. I'll have to clean up a bit in here tomorrow. You know how it looks on Sunday evening. Mrs. O. thinks Altons are coming home first and that Gennevieve [daughter-in-law in Texas, Krause] intends to stay until after she has her baby. How in the world would she go to California with four babies, alone? Olive says she must answer your letter. They don't have their car fixed yet. They came out with Overdorffs. Sadie got your address and she thinks you owe her a letter. Well, I guess it's bed time for me. I'm tired. I want to send this with Ronnie [grandson] in the morning.
Write again,
Love, [signed] Mom
[PS] They [the people at the house yesterday] all read your letter, and Sadie said she sure wishes you would come to see her. I told her maybe you won't be able to stay very long. Just so I get to see you. I'm not much concerned about the rest. Isn't that nice of me? [humor] [end of letter #3]

[This concludes Part 2, the letters from Hilda Miller's mother, known as simply "Mom." This certainly provides an intimate look into the lives of a Northern Appalachian farm family during the final months of World War II: the Somerset County, PA, dialect and colloquialisms, the activities and relationships among a family of ten, and perhaps most importantly, the kindly attempt of a mother to stay in touch with her young, newly married daughter who was trying to establish a home on the other side of the country with her husband. Perhaps you wish to review the bonds between Dick and Hilda and the means with which they chose to maintain them from when Dick was drafted until he was honorably discharged two years later. Or, by means of the links at the bottom of this page, go on to read more letters to the couple, this time from Dick's mother and Hilda's aunt. As always, you're welcome to share your comments with other readers in the space below.]
Additional Resources:
Annie "Mom" Krause Diaries (1950-1952) and Commentary
A Journey between two Passages: The "Mom" & "Pop" Krause family from the National Road to the Lincoln Highway
Richard & Hilda: The Gunner & The Riveter
Richard Miller's 35 Missions Over Germany in WWII
A Diary of D-Day: As kept by Richard O. Miller (1920-2015)
Excerpts: Greisinger's A World Away but Close to Home
 Autobiography of Hilda E. Krause Miller

Return to Part 1: Between Dick & Hilda
Next to Part 3: From Mother Sarah & Aunt Lizzie
Last revised 3/4/21