Paul Barton (1892-1977)b. Bairdford, West Deer Twp, Allegheny Co, PA; r. Middlesex Twp, Butler Co, PA (son of Robert Patterson Gray & Annie Sims Norris; Carpenter) named for Apostle Paul & Clara Barton, Civil War nurse & American Red Cross founder.
-buried: Bull Creek Cemetery, West Deer Twp, Allegheny Co., PA (See cemetery for GPS)
See Photo Gallery: Paul & Bertha Campbell Gray
Bertha Ione Campbell (1893-1980) b. West Deer Twp, Allegheny Co, PA; r. Middlesex Twp, Butler Co, PA (daughter of William James Campbell & Rachel Elizabeth Hoffman; Homemaker)
-buried: Bull Creek Cemetery, West Deer Twp, Allegheny Co., PA (See cemetery for GPS)
Married: March 8, 1916, Allegheny Co., PA, by Rev. Luther Freeman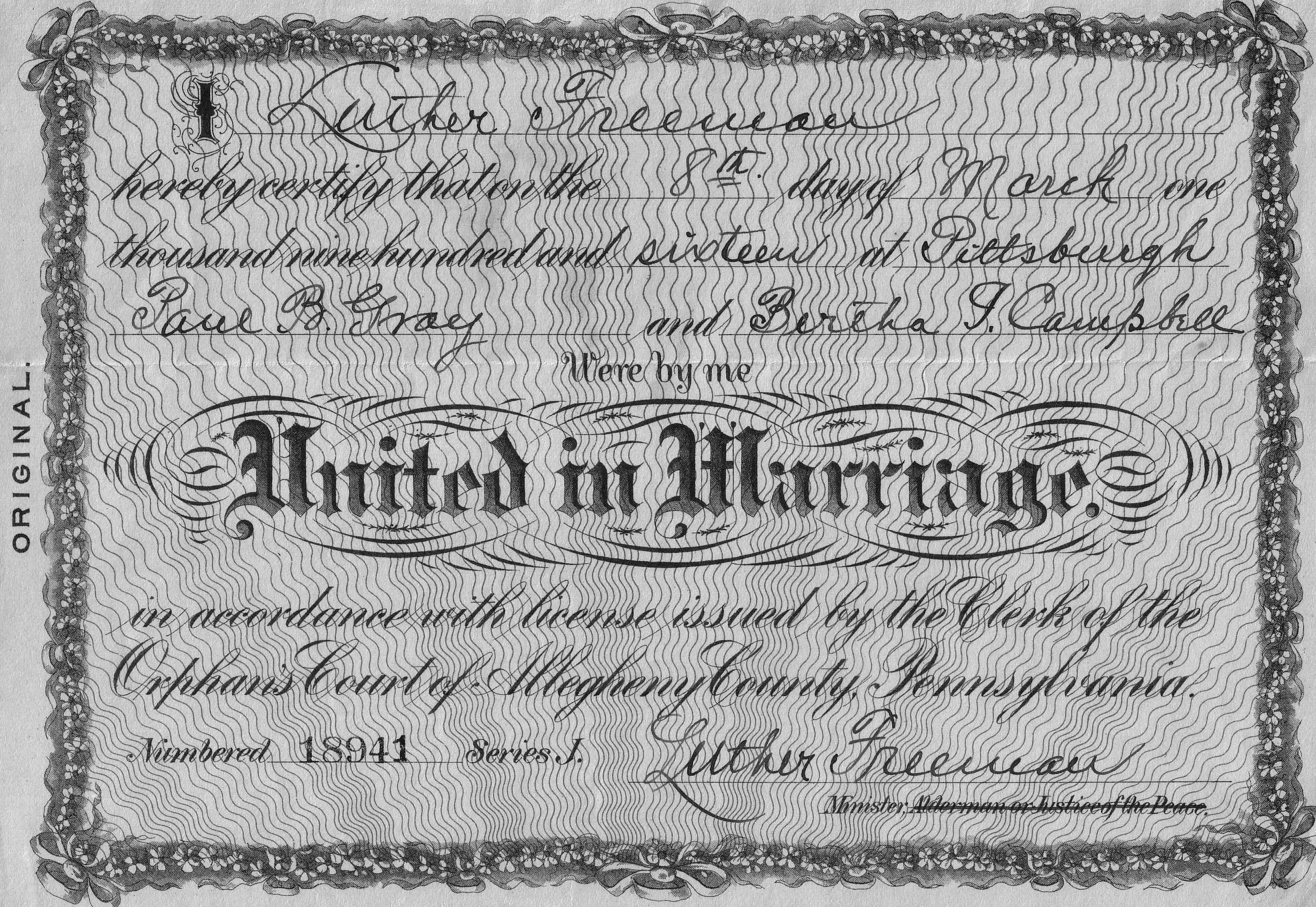 Children:
1. Ruth Elizabeth (1917-2005) b. West Deer Twp,; r. Middlesex & Moon Twps, Butler &  Allegheny Cos, PA;  (m. Ralph Hill Pearce, my father; homemaker) named for biblical woman & Grandmother Hoffman's middle name.
-buried: Allegheny County Memorial Park, PA
2. Barton William (1918 – 200?) r. Middlesex Twp, PA & Paducah, KY (m. Cecelia Elizabeth Brand; m2. Virginia Lucille "Cel" Clark Adcock; Commercial Marketing) named after father's middle name and Uncle William Campbell.
3. Edna Ione (1920 – 1997) r. Butler, PA (unmarried; Educational Clerk) Named for Aunt Edna Gray Keller & mother's middle name.
-buried: Bull Creek Cemetery, WDT
4. Sara Louise (1921 – 2009) r. Evans City & Butler, PA (m. Charles Joseph Choura; Homemaker) named for Great-aunt Sara Campbell Craig and Sara Porter Drum who helped care for and ailing mother Bertha and infant Sara. Louise is a biblical name.
5. Lois Campbell (1922 – 2012) r. Evans City, PA & San Diego, CA (m. William John Nicklas; Homemaker) Lois is a biblical name, & Campbell was mother Bertha's maiden name.
6. Norman "Bob" Edsel (1925 – 2001)  r. Wilmington, NC (m. Eunice Ellen Blanton; General Electric) named for middle name of Uncle Raymond Norman Campbell and son of automaker Henry Ford, Edsel.
7. Merle Jennings (1927 – 2013) r. Butler Co, PA (m. Elizabeth "Betty" Margaret Meinert; Truck 0wner-operator, CDL) first name unknown, but middle name given after William Jennings Bryant, statesman and lawyer in famous 1925 Scopes trial.
-buried: Middlesex UP Cemetery, Cooperstown, Valencia, Allegheny Co., PA
8. Paul Emerson (1929 – 1930) died of pneumonia in infancy; named for father and famous poet, Ralph Waldo Emerson.
-buried: Bull Creek Cemetery, WDT
9. Mary Ellen (1931 – 1990) r. FL (m. Theodore "Ted" Grieg; m2. Charles Stephen Duggan; Professional roller skater, model, & homemaker) named for Great-aunts Mary Campbell, Mary Norris Bryce, and Mary Hoffman. Source of Ellen is unknown
10. Stanley "Dick" Wayne (1933 – ) r. NC, NY, GA, & FL (m. Catherine Claire Utz; HR Director) named for Uncle Russell Stanley Gray; source of Wayne is unknown.
11. Lawrence "Doc" Lorraine (1935 – ) r. Melbourne, FL (m. Carol Anne Augustine; NASA Fireman) named for "devoted & faithful" physician who attended his birth, L. L. Stepp, MD
12. Harriet June (1940-2002 ) r. PA (m. Norman Zane Patton; m2. Ronald D. Argentah; Homemaker) named for Great-aunt Harriet Campbell Huggins and the month of her birth.
Documentation:
Family tradition & records of Edna Gray
RETURN TO OUR GRAY FAMILY TREE
RETURN TO OUR CAMPBELL FAMILY TREE
Last revised 2/215/21