by
Larry Pearce
with photos & info from
Sharon Gray Hiles, Cousin
10/14/20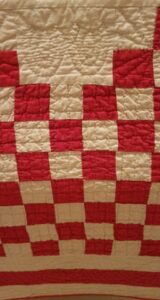 Six hundred miles separated my cousin Sharon and me, growing up. Her dad Norman "Bob," who had moved south after serving his country in WW II and Korea, and my mother Ruth, who had never lived far from her birthplace in Western Pennsylvania, had great respect for each other. She was the eldest of a dozen children, eight years older than Bob, and had left school after 8th grade to take care of her grandmother Rachel [Hoffman] Campbell, who had died before I was born. Uncle Bob and I share the same middle name, Edsel, unusual by today's standards but a reminder of the son of automaker Henry Ford. Unfortunately, the car wasn't as popular as the name. 
I was only 10 years old when the car was introduced, so I don't remember much about it, except that I've tried to keep my middle name a secret most of my life for fear of ridicule. But, suffice it to say, I own two Fords today. I do remember trips to Florida as a youngster with Mom and Dad and family. Sharon's house was exactly halfway, so we'd take all day driving from Pittsburgh to get there, where after a welcome visit, we'd spend the night before getting back on the road.
This short story is about three generations of quilters and knitters: my mother Ruth [Gray] Pearce, her mother Bertha [Campbell] Gray, and her mother Rachel [Hoffman] Campbell. Let's begin with Rachel. I wasn't aware of the fact that this woman, the only slice of German DNA in our otherwise Scots-Irish and English family, was an accomplished quilter. After the sudden death of Sharon's beloved husband Tom, we began to renew our old, remote "cousin friendship." Thanks to the miracle of modern social media, I was able to see and learn about some of the Gray-Campbell-Hoffman heirlooms that Sharon holds. The red and white quilt, I'm told, was constructed by candlelight, in the days before electricity when Rachel was only 12 years old. Sharon is eager to call our attention to the pattern of the tiny stitches. Sharon believes that Rachel may have been taught the Irish Chain Pattern from her mother, Anna "Annie" Katherine Brown, of Scots-Irish descent.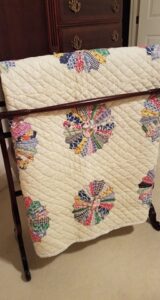 Grandma Bertha's creation is just as complicated and certainly more colorful. Sharon's history is that the top of the quilt was made by her around 1950, just after she was born in August of 1949, but she never finished it. Sharon says, When Grandma came to stay one winter, probably around 1965, "my southern grandmother helped her quilt it." The pattern is Dresden Plate, no doubt an old German pattern. Rachel's father, George Hoffman, had emigrated from Bavaria to northern Allegheny County, PA, around 1846. Having married a descendant of German and Swiss-German immigrants myself, I remember, as a youngster, having heard many of the same most common German words that my wife Susan also must have heard growing up.
Grandma Bertha wanted to give Susan and I a housewarming gift when we settled into our new "cottage in the woods" 45 years ago. She had a beautiful green and blue-on-white embroidered tablecloth mostly finished when we moved in. We had originally invited her here to play our new LaPetite baby grand, but after tickling the ivories a little while she got up and set out to complete the linen masterpiece for our dining room table that had been gifted by my parents. Grandma Gray was a woman of many talents.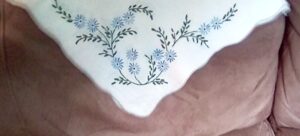 Ironically, the blue strawflower design matches the dinnerware set we collected from our bank and still use for special occasions at that table, covered proudly by Grandma's tablecloth.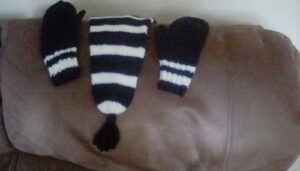 This brings us to my late mother Ruth. I can't recall her ever engaged in quilting or embroidery, but she seemed to be constantly knitting and crocheting. My siblings and I were never at a loss for homemade gloves or slippers. They didn't always fit perfectly, but they had been made by "Mom" especially for our use and they were warm, so we wore them with a smile. Mother made lots of sweaters and vests for us, and of course they were modeled immediately by us kids and photographs were snapped almost as soon as they were taken out of the birthday or Christmas wrapping paper. I'd have to say, though that afghans were her most numerous projects –  every size, shape, and color imaginable. I can't begin to count how many are still displayed on the chairs and sofas used by her descendants around the country. Representing hours and hours of work, they are still as beautiful, practical, and durable as the day she proudly awarded them to her off-spring.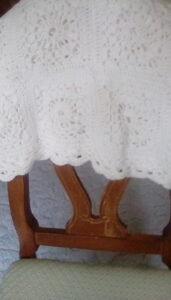 I don't know of anyone in our families who has carried on this grand tradition. There is no rule that says it would be limited to females. Hey, why (k)not an Eagle Scout badge for quilting, knitting, embroidering, or crocheting? Maybe the new female Boy Scout recruits could show the males how to spend their time better than building campfires! If you have a comment or know of any interesting stories along these lines, please reply in the section below and we'll share it with our readers.
Last revised 10/27/20