(back 12 generations to Germany)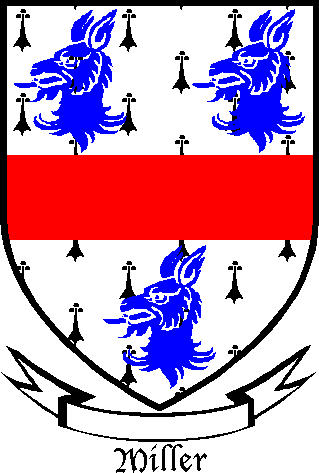 Table of Contents
(Click on first name for Vitals; spousal surname for associated tree)
Johann Michael Miller I (1632- )
Unknown (  )
I
Johann Michael Miller II (1655-1695)
Irene Charitas/Anna Loyse Regina (1657-  )
I
Johann Michael Miller III (1692-1771)
Suzanna Agnes Berchtel/Berchtoll (  )
I
David Miller (1719-1785)
Magdalena ____ (1735  )
I
Abraham (H.?) Miller (1779-1820)
Mary Crill (1781- )
I
Mary Miller (1815-1883)
Christian L. Miller (1813-1891)
I
Sarah Miller (1843 -1925)
Abraham Baer (1834 -1896)
I
Franklin Baer (1862-1916)
Almira Baush (1855-1917)
I
Sarah Jane Baer (1891-1972)
Howard Pearson Miller (1885-1969)
I
Richard Orville Miller (1920-2015)
Hilda Elizabeth Krause (1921-1997)
I
Susan Kay Miller (1949- )
Larry Edsel Pearce (1948- )
^
Annie Rebecca Pearce Matthew Carter Pearce
(1971- ) (1973- )
* It is believed by some that this Miller family originated separately in Germany, perhaps as Brethren, from our Joseph "Yost" Miller family, Susan's chief paternal line, who were Lutherans. These Millers settled first in Lancaster Co. then came to Southern Somerset Co. whereas Joseph's family settled in the northern part. Another family, originating with Christian, were Swiss Anabaptists who settled in Berks Co. before coming to southern Somerset Co. and contributing to Susan's maternal line. Intermarriages between these Christian Millers and Susan's paternal lines connect both. Another theory has that Christian Miller's ancestors were related through the Johann Michael I shown above.
Documentation:
Blough et. al. & related. 13 Dec. 2011
http://wc.rootsweb.ancestry.com/cgi-bin/igm.cgi?op=GET&db= . . .
History of Bedford & Somerset Co's, PA, 1906. "Joseph M. Miller."   http://www.meyersdalepa.org/genealogy/obits/obitsm.html
"Johann Michael Miller Family History." 14 Dec. 2011
http://www.frontierfamilies.net/family/Miller/home.htm
"Mary Miller." 11 Sept. 2004       http://freepages.genealogy.rootsweb.ancestry.com
Internet:                                                   http://sortbyname.com/pages/m104265.html
"Miller Family History." 12 Dec. 2011     http://home.comcast.net/~troygoss/millbk.html
"The Miller Line: Lancaster Co, PA, Millers." 12 Dec. 2011     http://lebo.myweb.uga.edu/miller-pa_geno.html
PAFAYETT-L Archives. 13 Dec. 2011     http://newsfeed.rootsweb.com/th/read/PAFAYETT/20 01-09/100 . . .