(going back 11 generations to Switzerland / Germany)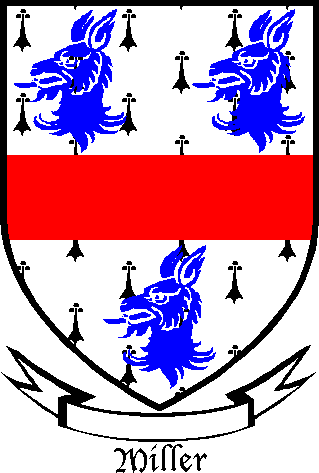 Table of Contents
(Click on first name for Vitals; spousal surname for associated tree)
Christian Miller I (bef. 1642- )
Elisabetha Frey ( )
I
Heinrich (Heini, Hans, Heinest, Henry) Miller (bef. 1664- )
Unknown ( )
I
(Christian?) Nicholas Miller (1675/6-1719)
Unknown (c.1675-bef.1729)
I
Christian Daniel/Jacob? Miller (1700-1777 )
Veronica "Anna" Mishler**/Barbara Holli? ( )
I
Hannes "Indian John" Miller* (1720/30-1798)
Magdelena Leman (1733- )
I
Christian "Glades" Miller, Sr. (1760-1839)
Veronica "Freny" Blough/ Stutzman~(c.1757 – )
X
Christian Miller (1779-1865)
Susannah Musser# (1785-1818)
I
Elisabeth Miller* (1809 -1878)
Christian Baer (1800-1862)
I
Abraham Baer (1834 -1896)
Sarah Miller+ (1843 -1925)
I
Franklin Baer (1862-1916)
Almira Baush (1855-1917)
I
Sarah Jane Baer (1891-1972)
Howard Pearson Miller +(1885-1969)
I
Richard Orville Miller (1920-2015)
Hilda Elizabeth Krause (1921-1997)
I
Susan Kay Miller (1949- )
Larry Edsel Pearce (1948- )
^
Annie Rebecca Pearce Matthew Carter Pearce
(1971- ) (1973- )
X signifies uncertain connection – research ongoing
*These are the Anabaptist Millers of our Southern Somerset County Krause ancestors. Some believe that Hannes' father was Jacob rather than Jacob's brother.
** Research is ongoing to substantiate the connection to Christina Mishler, ancestor to Susan's maternal families.
~ These and other possibilities exist for Veronica "Freny."
#Susannah Musser (1785-1818) is an ancestor of the southern Somerset County Anabaptists who produced our Krause family.
+This Sarah is from Christian L. Miller (1813-1891), grandson of southern line, Hannes Miller, and wife Mary Miller, an entirely different family.
DOCUMENTATION:
Howard Blackburn and William H. Welfley. "Christian Miller." History of Bedford & Somerset Counties, PA. V3. Chicago: Lewis Publishing Co., 1906. pp. 113-116.
"Peter Musser (Moser), 1730-1759." Ancestry.com. Web. 20 April 2013
"Christian Daniel Miller." Familysearch.org. Web. 20 April 2013<http://www.familysearch.org/eng/search/frameset_search.asp?PAGE+/eng/search/ancestorsearchresults.asp>
"Susannah Musser." Freepages. Web. 20 April 2013<http://freepages.genealogy.rootsweb.ancestry.com/~quick/d0187/g0000013.html#1012361>
"Magdalena." Miller Family of Buffalo, NT. Familytreemaker. Web. 20 April 2013<http://familytreemaker.genealogy.com/users/m/i/l/Donald-K-Miller/WEBSITE-0001/UHP-0649.html>.
see also "Hannes 'Indian John' Miller"
"'Wounded John' Miller." 10 Jan. 2013
http://www.genealogy.com/users/h/o/o/Elaine-K-Hooley/FILE/0010page.html