By
Larry Pearce
5/23/11 rev. 5/22/16
My wife Susan's great-grandmother was Susan Bowman (1857-1909). For many years the Bowman ancestry was quite elusive. We knew that they "were among the first settlers in [Somerset] County" (History), but with several Susan Bowmans from which to choose, which one fit as the wife of Dibert Miller, a given name from Miller family tradition? But, it seems that unique names were the exception back then, especially among the Swiss-German immigrants of Somerset County, PA. Also, the Bowmans have spelled their surname many different ways over the years: Buman, Bauman(n), perhaps even Baughman (see bottom of "Our Bowman Family Tree"). So, it was with great interest that I stumbled upon Ulie Buman (probably mit umlaut) (1369-1425) of Zimmerberg, Canton Zurich, Switzerland, also know as "Julius the farmer" ("Bauman/Bowman Connections"). In researching forward through 20 generations, and encountering other fascinating nicknames such as "Big John," "Little John," and "Young John," I finally came to our Susan Bowman married to our Dibert Miller. Is the line direct? Are the names and dates 100% accurate? Probably not, but the reputation of Swiss record keeping over hundreds of years is good, and by the time our Bowman Mennonites arrived in Philadelphia with their family histories safely tucked into their Bibles around 1707, we can be certain that the information is unusually credible for something that old. You are encouraged to refer often to "Our Bowman Family Tree" as we retrace their 650-year journey from the shadow of the Alps in the Old World to the Northern Appalachians in the New. But first, let's consider the origin and meanng of the surname and some famous persons who carry it.
According to Ancestry.com, Bowman is the anglasised version of the original Böman, with quite a different meaning from the German Baumann. Here are the linguistics:
1. English and Scottish: occupational name for an archer, Middle English bow(e)man, bouman (from Old English boga 'bow' + mann 'man'). This word was distinguished from Bowyer, which denoted a maker or seller of the articles. It is possible that in some cases the surname referred originally to someone who untangled wool with a bow. This process, which originated in Italy, became quite common in England in the 13th century. The vibrating string of a bow was worked into a pile of tangled wool, where its rapid vibrations separated the fibers, while still leaving them sufficiently entwined to produce a fine, soft yarn when spun.
2. Americanized form of German Baumann (see Bauer) or the Dutch cognate Bouman.
Other versions of the name Bauer(man) include:
German and Jewish (Ashkenazic): status name for a peasant or nickname meaning 'neighbor', 'fellow citizen', from Middle High German (ge)bur, Middle Low German bur, denoting an occupant of a bur, a small dwelling or building. Compare Old English bur, modern English bower. This word later fell together with Middle High German buwære, an agent noun from Old High German buan 'to cultivate', later also (at first in Low German dialects) 'to build'. The German surname thus has two possible senses: 'peasant' and 'neighbor', 'fellow citizen'. The precise meaning of the Jewish surname, which is of later formation, is unclear. This surname is also found elsewhere in central and eastern Europe, for example in Slovenia, where it may also be a translation of Kmet.
Virtually all of the oldest Bumans and Bowmans were farmers. We have their tax records and many deeds to support this. As the 7th generation of descendants of Julius the farmer moved out away from Zimmerberg, we note that Cleinhans "Little John" Buman (1540-1606) paid taxes in Kuhweile, or "cattle pasture," Switzerland. Having been to this area of the world twice in recent years, I can tell you that not much has changed since our Bumans herded their milk cows back then. One still sees the many small farms, the dairies, the cheese factories of the Emmentaler Region southeast of Bern and Basil. (Go to http://www.myswitzerland.com).
By the 10th generation after Julius, some of the Bumans had ventured beyond the Swiss borders. Was it the persecution of the Mennonite faith? We know of others who crossed back and forth across the Bavarian-Alsace-Swiss border. Was it simply to find more opportunities? The spelling of the surname was beginning to change also. Hans Rudolf "John" Dandiker Baumann (1636-1690) died in Rotterdam, Holland. His son, Wendel Santmann Bauman (1681-1735) was a coppersmith, born in Thun, Bern Canton, Switzerland, but died in the Pequea settlement, Lancaster County, PA, the first of this family to cross the Atlantic.
Nine families agreed with the agents of Governor William Penn, who had traveled to Germany and Switzerland seeking settlers for the new commonwealth, and under the sponsorship of Mennonite minister Rev. Hans Herr, to call the 10,000 acres of wilderness some 60 miles west of Philadelphia their new home. They sailed up the Rhine to Rotterdam and left Gravesend, England, in June 1707 on the Mary Hope, arriving in October to first settle in Germantown, what was then a suburb of the City of Brotherly Love. Within 3 years, the Baumans and others were clearing the land and planting in what is now Lancaster County. The present day village of Lampster, 4 miles southeast of the city of Lancaster, is what was Wendel Bauman's home, a simple log cabin.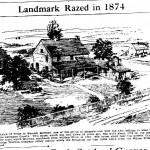 As in the Old Country, some of the younger settlers moved away from home: Canada, Pittsburgh, and the Midwest. Still others back in Switzerland joined them in America. John "Johaness" Santmann Bauman/Bowman, Sr. (1685-1738) was born near Bern but arrived in America in 1712. Our Jacob (after 1723-1745), along with brothers John and Christian, moved west to Bedford County, now Somerset, and were on the first tax assessment there.
Although supposedly being born in Brothersvalley Twp. in southern Somerset County, Grandson Peter Bowman (1783-1880) and wife Mary Horner are reported to have been buried in as many as three different places: in a small town near Stroudsburg in eastern PA with an unusual name, Shaffer's School House; near Hooversville, PA; and another small local farm cemetery. However, we know that his youngest son Benjamin (1816-1908), Benjamin's wife Susanna Berkey, and many of the Bowmans thereafter are buried in the Odd Fellow's Cemetery, just south of Stoystown, Quemahoning Twp., Somerset County. First, Peter seems to be our connection with the old Mennonites of Brothersvalley Twp., much of which is now Elklick and Summit Twps., home of the our Lee and other families who were, and many still are, Amish. (See the "Seven Bearded Bauman Brothers of Berlin" in the Photo Album.) It's important to note that these southern Baumans were probably not Amish, but Mennonite because of allowing their picture to be taken and growing hair above the mouth, practices that the Amish reject. But, with that having been said, we believe our Quemahoning Bowmans were German Reformed because of their connection to the Mt. Tabor/Zimmerman Church, although at this time we don't know where or when the change in religious preferences and practices took place.
Benjamin is reported to have started with 300 acres in Quemahoning Township (History) worth $2,500, according to the 1850 U.S. Census. By the 1870 Census, the real estate is valued at $7,000. Another interesting comparison is how Susan's name apparently doesn't appear in the 1860 record; she would have been age 3. But, by 1870, she is listed as being 13.
Our Dibert Miller (1855-1889) married Susan Bowman, converted her to Lutheranism as far as we know, but lived to be only 34 short years old. We don't know his cause of death. Despite remarrying (Keim), Susan is buried with Dibert at Stoystown, the last of our Millers or Bowmans buried there. At least three generations to follow are, or plan to be, buried at the old St. James Lutheran Church Cemetery in Jenner Twp.
Finally, have some fun with our surname, famous people and places, by Googling or exploring Wikipedia (or Bauman) devoted to the various spellings. For example, we learned that it was our cousin Dr. Jacob T. Bowman, son of Benjamin's brother William, who founded our Somerset Community Hospital out of his home and practice. Now that's a source of pride and certainly worth knowing.
Our research continues into the Bowmans, however you want to spell it, an ancient, fascinating, and ever changing family. We will post future research questions on "Research/Writing in Progress." (Go to https://e-gen.info/?page_id=1947.) We hope you will follow in our journey and perhaps even contribute. Look for future articles on the Bowmans of Germantown and Pequea and the Swiss-German emigration in general.
Works Cited
"Bauman." 23 May 11
http://www3.telus.net/throopgenealogy/bow1.html
"Bauman/Bowman Connections." 23 May 11 http://www.amgelfire.com/in2/kwitinafamily/Bowman.html
History of Bedford, Somerset, & Fulton Counties, PA, 1884. 31/1/11 http://www.pa-rootsweb.org/data/read.php?720.601590
"John J. Bowman." Biographies, Quemahoning Twp., Somerset County, PA. 23 May 2011
http://www.usgenwebarchives.net/pa/somerset/
Hoth, Jan Markle. "Lineage Chart & Notes for Susan Bowman" via e-mail. 22 May11