(Going back 14 generations to Germany/Switzerland)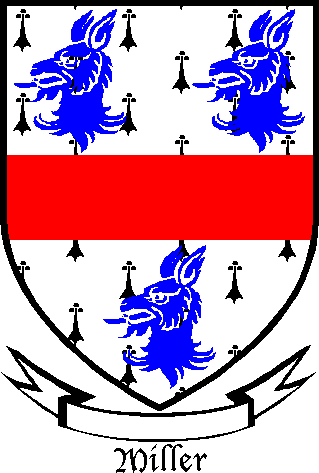 Table of Contents
(Click on first name for Vitals; spousal surname for associated tree)
Christian Miller I (1642- )
Elisabetha Frey ( )
I
Heinrich (Heini, Hans, Heinest, Henry) Miller (1664- )
Unknown ( )
I
Nicholas Miller (1685- )
Unknown ( )
I
Christian Daniel/Jacob? Miller (1700-1777 )
Anna Mishler***/Barbara Holli? ( )
I
Hannes "Indian John" Miller *(1720/30-1798)
Magdelena Lehman (1732-1817)
I
Peter J. Miller (1756-1818)
Mary Stutzman (1756-1838)
I
Joseph Miller (1790-1862)
Catherine Livengood (1792-1871)
X
Christian L. Miller* (1813-1891)
Mary Miller+ (1812-1883)
X
Jacob Miller (abt. 1818-  )
Lydia Wissinger (abt. 1823-  )
I
Sarah Miller* (1843 -1925)
Abraham Baer (1834 -1896)
I
Franklin Baer (1862-1916)
Almira Baush (1855-1917)
I
Sarah Jane Baer (1891-1972)
Howard Pearson Miller (1885-1969)
I
Richard Orville Miller (1920-2015)
Hilda Elizabeth Krause (1921-1997)
I
Susan Kay Miller (1949- )
Larry Edsel Pearce (1948- )
^
Annie Rebecca Pearce Matthew Carter Pearce
(1971- ) (1973- )
X – weak/uncertain link. Research is ongoing.
*This Sarah is possibly associated with Christian L. Miller (1813-1891), great-grandson of Hannes of the Krause-Lee Anabaptists, and wife Mary, no direct connection to our Lutheran Joseph "Yost" Miller. Christian L. is a descendant of the original Anabaptist Christian Miller (c.1642). Research is ongoing.
+Sarah's death certificate indicates her father was Jacob and mother was Lydia Wissinger. Additional information on them cannot be found. See Our Mary Miller Family Tree. Probably originally an Anabaptist, she was born in what is now Summit Township and is buried in the Middlecreek Church of the Brethren Cemetery, all Somerset County, PA.
DOCUMENTATION:
Ancestry.com, "Sarah Miller"
http://freepages.genealogy.rootsweb.ancestry.com/~dphaner/HTML/people/p00000pb.htm#I43712
Rootsweb.Ancestry.com, "Christian L. Miller"    http://wc.rootsweb.ancestry.com/cgi-bin/igm.cgi?op=GET&db=lacor&id=I193017
"Sarah Baer" death certificate, 1925, (misspelled "Bacar"). Son John, Hollsopple, witness. Conemaugh Twp., Somerset County, Pennsylvania