Adapted & posted by
Larry Pearce, uncle
12/17/19
from an article in
Williamsburg's Next Door Neighbors
(December 2019)
by
Susan Williamson
Her husband's military deployment to Kuwait will make Christmas 2019 a little dimmer for Leslie Pearce and her family. Steve Pearce was preparing to retire from the North Carolina Army National Guard, where he serves, when his most recent deployment orders came through. Steve has been away off and on since April, and the last time he was at home was Father's Day. Although depressed at first, Leslie prayed and received both comfort and a sense of purpose. Phone calls from family and friends helped to buoy her spirits. While Steve is away, she intends to grow her copywriting business and lose the weight she gained during treatment for breast cancer in 2016. She is actively networking for her business, and she joined an exercise class at her church. Meeting challenges is part of who she is.
The couple had a son, Paul, when Leslie was 45 and now she is the 61-year-old mother of a 16-year-old junior at Jamestown High School. "I know nothing," she says with a laugh, "because he knows everything." Although Steve won't be home for Christmas, his ex-wife, Joan, will be an invited guest. Joan is the mother of Leslie's stepdaughter, Alexis, and lives in Charlotte. "When I married Steve," she says, "God told me I needed to become friends with this little girl's mother. I did and she reciprocated. We've been spending holidays together ever since.
Joan is like an aunt to our son, and it's been a blessing to our blended family." Alexis is now 26 and will be coming from California, where she is completing a Ph.D. program at Stanford. Holiday food staples for the family include fruit salad, nuts and bolts mix, a vegan kale salad for Alexis, vegetarian entrees for Paul and a turkey for the two mothers. "And Sister Schubert's rolls are always on the menu," she adds. They plan to attend area Christmas events including the Christmas parade, the Grand Illumination and possibly the Yorktown Boat Parade. Despite the challenges she has faced, Leslie operates with a spirit of gratitude and is thankful for her life in beautiful, historical Williamsburg, her family, her church community, the friendships and people in her life.
Leslie has spent most of her career in real estate, beginning in 1994 in Memphis, near her home town of Jackson, Tennessee. In 1997, she decided she was ready for a mid-life change and moved to Charlotte, North Carolina. She knew only two people there and sold one of them a house. She became involved in the leadership committee of a large, interdenominational church called Forest Hill. Meanwhile, Steve moved to the area to be near his ten-year-old daughter, Alexis. He decided to attend the church where she and mother worshipped. Since it was Super Bowl Sunday, Steve was invited by the singles class to attend the Super Bowl party at Leslie's house. So, Leslie says with a laugh, "A good man did show up on my doorstep, although they say that never happens."
The couple later married and their son, Paul, was born. Steve served additional deployments, and Leslie continued in real estate but longed for a career with more time at home to be with Paul and Alexis. In 1999, she began to consider writing for a living. In addition to being a realtor, she also operated a home staging business. She loved the creative nature of improving listed homes and helping buyers see the potential in a prospective home. Sometimes her staging was so successful the owners would say, "I like it this way. I don't want to move now," and she had to remind them that they hired her to sell their house.
Life in Charlotte was hectic, with increasing crime and traffic. The couple decided to move. They considered Savannah, then Charlottesville. When they voiced their wish for a small town with good schools, close to water, her mother-in-law suggested Williamsburg. The family moved to Williamsburg in 2014, eventually buying a home near Jamestown High School and the Williamsburg Community Chapel where they attend church. At first, Leslie continued her real estate career and studied to obtain a Virginia license. She worked with Long and Foster before leaving to concentrate on her writing. After considering a career change for several years, in the spring of 2018 she attended the American Writers and Artists, Incorporated (AWAI) convention in Delray Beach. The AWAI offers classes in copy writing and job listing sites. The conference gave her the confidence to follow her dream of a writing career.
For now, she wants to concentrate on business writing, but down the road, she may want to write some stories. She says, "And I do have some stories to tell. My grandfather and his two brothers from Tennessee married three sisters from New Orleans. My great-grandfather was King of Mardi Gras. They're all gone now, but I have an 85-year-old uncle who still works full time in Tennessee, and I have cousins all over."
Working from home gives Leslie the opportunity to indulge in her hobbies of genealogy, cooking, decorating, repurposing objects and furniture, visiting flea markets and antique stores and meeting people. "I'm an extroverted homebody," she says. "I'm the daughter of an artist and a salesman, so both creativity and people are my path." Another hobby of hers is music. She loves sixties and seventies classic rock, classical music, jazz and Christian music, but not rap, hip-hop or heavy metal. She plans to rejoin the Williamsburg Community Church Choir. Walking the Greensprings Interpretive Trail with their white Labrador, Lucky, is another activity she loves. Their home in Jamestown Hundred backs up to the trail. "I love our home, and, as a former realtor, I was attracted to the wonderful floor plan," she says. Leslie loves the small-town feel of Williamsburg and the many activities it has to offer. "I was busy getting my Virginia license and working in real estate when we first moved," she says, "and I haven't taken the time to really explore the area."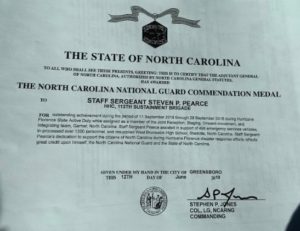 She looks forward to spending more time exploring the local history and visiting interesting places during Steve's deployment. Steve is due back in July. He started his business, Pearce Property Repair, in 2016. He hopes to have it up and running again by the fall. Leslie Pearce isn't shy about what she is doing and why. She says, "God gave me the gift of gab, so I might as well make a living with this gift." Her gift is more than conversation, however, it is her true desire to form and expand community, to bring people into her circle and join them to each other. She exemplifies that goal in her networking, in her business and in her family celebrations. Leslie Pearce looks forward to the holidays and the time she will spend with her family. She is mindful of all that she has to be thankful for and the steps she is taking to make her life even better.
Last revised 12/19/19