(back 11 generations to Switzerland)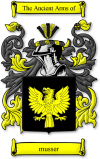 Table of Contents
(Click on first name for Vitals; spousal surname for associated tree)
Baron Benjamin Musser (c.1675 – )
Unknown (  )
I
Hans "John" [email protected] (1704-1752)
Veronica Frony? ( )
I
John [email protected] (1738/53-1828)
Barbara Grider/ Kreider (1740/51-1833)
I
Susannah Musser# (1785-1818)
Christian Miller ~ (1779-1865)
I
Elisabeth Miller+ (1809 -1878)
Christian Baer, Jr. (1800-1862)
I
Abraham Baer (1834 -1896)
Sarah Miller+ (1843 -1925)
I
Franklin Baer (1862-1916)
Almira Baush (1855-1917)
I
Sarah Jane Baer (1891-1972)
Howard Pearson Miller +(1885-1969)
I
Richard Orville Miller (1920-2015)
Hilda Elizabeth Krause (1921-1997)
I
Susan Kay Miller (1949- )
Larry Edsel Pearce (1948- )
^
Annie Rebecca Pearce Matthew Carter Pearce
(1971- ) (1973- )
*Probably originally Möser in German
@One source claims that John was the son of Hans' brother Peter (1730-1859) and wife Anna Hershey (1732-1837) or  Hostetter. Was this a second marriage?
?Was "Frony" a nickname for Veronica or a variation of the surname Forney?
#Susannah Musser (1785-1818) is probably a relative of the southern Somerset County Anabaptists who produced our Krause family.
~ exact Miller origins uncertain – research ongoing
+ Research is ongoing into possible connections among the various Miller families of Somerset County
DOCUMENTATION:
"Descendants of Johann Musser." 24 Nov. 2011.  http://www.rootsweb.ancestry.com/~hcpd/norman/musser.htm
"Hans Musser" 25 Oct. 2011. http://freepages.genealogy.rootsweb.ancestry.com/~quick/d0099/g0000029.html#I000858