by
Larry Pearce
posted 1/29/22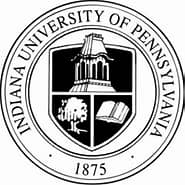 Chapter 2: CHILDHOOD & YOUTH TO ADULTHOOD
C. Indiana University of Pennsylvania (IUP)
I guess I didn't have much choice in colleges for several reasons. My music teacher, Dr. Wetzel, was an IUP grad; my high school guidance counselor, Mr. Lee, was an IUP grad, my best friend Gary and 11 other Moon classmates were headed to IUP, and probably most importantly, my dad, not a college graduate, wanted an inexpensive, near-by state school. He was aware that his brother-in-law, Stanley "Dick" Gray had just graduated from there with help from Veterans' Assistance. It didn't hurt that Mom and Dick's cousin, Joan Campbell Ganley was married to the Vice President of the University and coach of the nationally recognized golf team. I didn't know this important couple until years later when Susan and I began a close relationship after "Bernie" Ganley served as Interim President of Mt. Aloysius College, were I taught for 21 years.
I had thought of several top-notch music schools with the desire to have a career in church music: Westminster Choir College, part of Princeton, and Capital University, a Lutheran conservatory in Columbus, OH. I never applied, but rather took early acceptance in December to IUP. The irony is that I never even visited the campus until spring orientation in February. While there were no leaves in the famous Oak Grove, I was impressed with the large pipe organ in Fisher Auditorium. My SAT score was fairly high, and the music department craved organ majors. My time as a Music Education major at IUP was very rewarding, but fortunately I had a hobby that took me halfway through my working life – broadcasting. Stay tuned! It was over a decade until I was hired for anything close to being a music teacher in a public school, and that was as a full-time substitute band director for someone on sabbatical. Rockwood Area Schools were 45 minutes from our home in Somerset County and didn't even have a football team or marching band. I did some serious drills to get the 100 students to march in parades for the Maple Festival and Farmers' & Threshermen's Jubilee. During my brief time there I always felt like an "outsider," someone from the "big city." But that and several daily subbing jobs got me back in the groove for teaching, even if it was in other fields: decades in Speech and Communications at Mt. Aloysius and Penn Highlands Community College, which we'll talk about later.
As a first semester freshmen, living in one of IUP's oldest dorms, Whitmyre Men's Residence, now the home of the Cook Honors College, was not all new to this shy boy who had spent several weeks in high school at church summer camps. But the horsing around was: throwing pillows out our second floor window, only to get yelled at by the dorm matron. As I look back now, I think about the once-a-month calls home from the pay phone in the hall. We didn't have cell phones for the almost daily calls made now. One fond memory I hold is writing letters to Mom from the laundromat across the street each Saturday when I did my wash. I always knew that they would be responded to with news of family and friends back home sometime the next week.
My freshman roommate, John, was a Home Economics major, rather unusual for a male in those days. Somehow, he got an offer from the local Indiana funeral home in town, Robinson-Lytle. to live there in exchange for a free room and $1.60/hour for time served parking cars at viewings and funerals and an occasional body pick-up around the county. John turned it down and gave my name to the owner. After a thorough interview, I was offered and accepted the job with perks. The mortuary was across from the police station and just down the street from where Actor Jimmie Stewart had grown up. The eight blocks I had to walk to the dining hall and music building kept me in shape, but I had to be up and out the door by 7:00 to make an 8:00 class. After classes, I would eat dinner at 4:00 and be back in my room by 5, with just enough time for a nap before duty called, 5:30 to 9. Although this was a year-round position, I shared it with a wonderful ex-veteran/college student and family man who filled in anytime I needed to play a concert or be home for a holiday. Perhaps the best part was sharing the third floor of the funeral home with Ralph, the owner's son, before he got married and moved out. A graduate of Muskingham College, Ohio, where my girl friend at the time went, and student at the Pittsburgh Institute of Mortuary Science, where as I was to learn much later, my Great-uncle J.D. Moon  taught while heading the Pittsburgh Morgue during the 1918 Spanish Flu Epidemic. Ralph and I would go on local jaunts to pickup the deceased, but perhaps my fondest memory is of the night we watched the Apollo 11 moon landing on his TV together in 1969.
Lest you think living in a funeral home is creepy, it had its advantages, like a small pipe organ, on which I practiced, and many of the amenities of home: a nice hot shower and large refrigerator where I stored my snacks. The only thing was that to get to them, I had to go through the casket display room, down the elevator, and walk the hall between the embalming room and hair dressers' salon. The refrigerator often held leftover embalming fluid. All of that never seemed to bother my appetite. I had a summer substitute position playing the organ for a church in nearby Homer City. When I wasn't on duty and wanted to practice there, I'd jump on my 100 cc Yamaha motorcycle, stop at the local Winky's fast food for a bag of their 15-cent hamburgers, and head for the church.
Coming back to the funeral home, whether from practice or a date, I would park in the back garage that held the hearses. The Robinsons, the older couple from the family who founded the business and lived on the second floor, didn't appreciate what they considered to be "the loud noise the motorcycle makes" and told me so. I tried hard to tone it down, sometimes shutting down and coasting into the garage. I remember taking the Parkway home Friday afternoons to Moon Township, invariably getting stuck in the Squirrel Hill Tunnel during rush hour. I was lucky I didn't choke to death, let alone get run over. Those days ended one weekend when my chain broke about halfway between Indiana and home. A call to good old Dad and he was there to help pack the bike in the back of his station wagon, and get us home to Mom's bar-b-qued steak, my favorite Friday night fare.
In the summers, during the days, before parking lot duty, I was a handyman for the local furniture store, Penn Furniture, unfortunately no longer in business. My job interview for that lasted about 10 seconds. Wally Young, the store manager, asked me where I lived, and I said, "Robinson-Lytle." He replied, "Well if Kay Lytle will have you then so will I. You're hired." Needless to say, Indiana was a small town and everyone knew everyone else, often going to the same church and frequenting the same business establishments. My job at Penn Furniture, just down the street from the funeral home, was to off-load the trucks backed into the dock, unwrap the furniture before moving it to the warehouse or the sales floor, and help as needed with deliveries or carpet installation. I learned a lot those summers about merchandising and customer relations. I learned that sometimes before a big sale, it was necessary to put new, higher priced tags on the items, which like car dealers have, the manufacturers suggested retail price (MSRP), over which another tag was placed containing pretty much the same original store price.
Before talking about my post-secondary education, let's take a tour of the University. In many ways, the 100-acre campus of IUP was beautiful and well maintained. Dating back to 1875, the University began as the Indiana Normal School, and then in 1927 it became part of Pennsylvania's 13 college system of higher education called Indiana State Teacher's College. In 1959 the title was simply Indiana State College, and finally, just before I enrolled, the school became known as Indiana University of Pennsylvania in 1965. An NCAA Division II athletic powerhouse, IUP enrolled as many as 15,000 graduate and undergraduate students, offering a variety of majors and certificates. The music education department, where I received my degree, has had as many as 300 potential music teachers studying at one time.
The IUP campus offers lots of exercise, and I don't just mean the field house and stadium at the bottom of the hill where I spent many Saturdays. Three miles off campus one can find what's known as the College Lodge, run by the Student Cooperative Association, with 281 acres of fun, including ski slopes and 10 miles of hiking trails. I learned to use the rope tow there and received my graduate school orientation there years later.  But, back on campus, fall meant home football games against rivals like Slippery Rock, California, and Shippensburg. Sometimes despite rain and snow, I would sit in the bleachers and cheer for the Big Indians until I was hoarse. The 200-member marching band always complimented the action on the field. The field sat in the middle of the surrounding hills, offering the most beautiful fall colors. After the game, I had my work cut out for me to get back up the hill to the funeral home to work, if the schedule required it.
The Field House also had a giant swimming pool where I spent Saturday afternoon when there wasn't a football game. Upstairs was the gym where the maroon and slate basketball team played. I attended many of their home games. The building was the largest venue on campus, hosting many big name concerts, some of which included Frankie Valli and the Four Seasons, Dionne Warwick, The Association, and Smokey Robinson to name a few. If you're over 60, you may remember them. It seemed, though, that the concerts were shorter than the line at the Student Union to get tickets.
If the Field House was at the south end of campus, the Student Union was at the north end. Aside from selling required texts in the Book Store upstairs, the downstairs had a small restaurant and dance floor, where there was lots of action each Friday and Saturday night. It wasn't unusual, if I weren't scheduled to work, for me to get a date and dance the night away. The music was sometimes recorded with a D.J. and sometimes live with a band. Sometimes a friend and I would go and just pick-up a dance partner and future date. More exercise, don't you know!
Across and down the street was an outdoor concert venue called Flagstone Theater. In the summer, a large screen was set up and the University offered movies. We could lounge on blankets or sit on the benches. I remember lots of 60s-type folk performers there and up the grade in the Oak Grove. Entertaining us were  mostly guitars, but also a well-known trombone player, the late Harold Betters and his band, who played many years at Steelers' games. Music was always a big part of the college experience, even if one weren't majoring in it. The Oak Grove hosted not only students, but lots of squirrels. The problem was that people wanted to feed the cute little creatures. My wife Susan tells of the rodents with the long tales trying to climb up her leg on occasion. I must confess, I thought they had good taste, if not good sense. The Oak Grove was also the scene of a gigantic snowball fight among students on the first major snow fall of Winter. I can still see the innocent victims hiding behind the giant oak trees for protection and the girls screaming encouragement to the boys below from their overlooking windows in Sutton Hall.Next to the Oak Grove was the Stabley Library, where I spent a lot of time reading books, listening to recordings, and even composing music.
Just down the street was Foster Dining Hall where Susan and I ate the majority of our meals while at college. Unlike many students, having walked eight blocks, nearly a mile from the funeral home, I was there when the doors opened at 7 a.m. so I could get to my 8:00 classes. When I would meet my future wife, Susan, she could pick me out of the crowd by my red stocking cap. In colder weather I also wore my red Moon High jacket.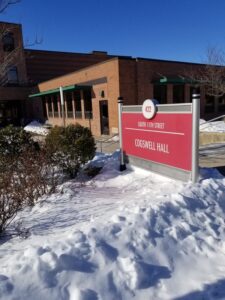 Just up the street was the Music Department building, Cogswell Hall, complete with a library holding its own massive music collection. We students spent hours there listening in fulfillment of Music History requirements. Cogswell was three story building offering  both practice rooms and class rooms. Shaped in a semi-circle, it could project the sounds of performances offered on the plaza outside as far as the Oak Grove. The marching band still warms up there before football games. The building has undergone many improvements over the years, including the addition of several rehearsal rooms and a large recital hall. It has earned the designation of  an "All-Steinway School," for it's variety of many models of this famous brand.
As a student in the organ department, I belonged to what we called "The Organ Club," actually part of the American Guild of Organists. We traveled to other towns, cities, and universities to hear world renown performers and hear from organ builders. Our socials were held at Miss Carl's house. She was our teacher and organist at the local Methodist church. She was also the one who flunked me on what was called "The Organ Jury." Each instrumentalist was required to pass what I considered to be a rather difficult performance test. The organ jury included playing something from the standard repertoire and a hymn, selected by the instructor, transposed a half-step up or down, while just looking at the normal key in the hymn book. That I had trouble with. With all the fancy electronics on today's keyboards, I don't believe this is any longer required like some other demands to graduate from undergrad.
I can still remember hearing Miss Carl's words, "I think you'd better come back in the summer and try this again." I had other plans for the months ahead, like earning money. I got off the organ bench in Fisher Auditorium and stormed out the side door, encountering my fiancé, Susan, a vocal major, who was waiting for me and had also just failed her jury, in piano, her minor field of study. With some guilt, I still smile at her excuse: I had always wanted her to learn to play tennis, and to please me, she had spent several hours with me on the courts the day before. Afterwards, she could hardly walk; her arms, hands, and fingers were stiff to where she simply couldn't play the piano. I think God was watching over us because as it turned out my advisor, Dr. Stitt, had apparently forgotten to have me take freshmen English II, a requirement from three years earlier. Susan had already planned to take classes that summer and graduate early. Everything worked out. We each passed our juries a few months later, took our required credits, and best of all, got to spend the summer together before I graduated and went off to grad school at Penn State and she did her student teaching at Conemaugh Township and graduated. We were married Thanksgiving weekend that year. Read all about that ongoing adventure in Chapter 3.

Some of the highlights of my years in IUP's music department included playing preludes on occasional Sundays at Indiana's large Presbyterian church, Graystone, and performing in a departmental recital at Fisher Auditorium on campus. Miss Carl surely had faith in me as she asked me to play for winter graduation my senior year. For several months one summer I was a substitute organist at the nearby Homer City Presbyterian Church. Not only did I keep up with my keyboard practice, but I met several very nice girls there. That was before I met Susan, my bride. I was never sure whether any of them were impressed with my musicianship, my looks and charm, or my motorcycle.
I also played the cello in a string recital and in the pit orchestra for the musical "Hello Dolly." That was just plain fun. Imagine how thrilled I was to get to travel across the state to Mansfield University to play under George Szell, the famous Conductor of the Cleveland Symphony, in the Pennsylvania State Orchestra presentation of Gustav Mahler's glorious 9th Symphony, which he had recorded the year before.
While I was at IUP, the Music Department help what was in effect a famous composers' forum. Not only did we get to play their works, but they actually conducted many of them and held workshops explaining their techniques and motivations. I remember Aaron Copland, Vincent Persichetti, and John Jacob Niles, to name a few.
In addition to being a double major in Music Education, organ and cello, I was considered to be a vocal minor. Remember that I had sung in our church choir for several years and the high school concert choir my senior year, in addition to being the accompanist. My biggest role, however, was as the drunken gardener in IUP's presentation of Mozart's "The Marriage of Figaro." Though brief, this was my "coming out" as an opera star! Mom and Dad were in the audience. I can't imagine them sitting through that lengthy ordeal.
I seldom went home over the weekend when there was a football game at the stadium, so they were glad to see me I'm sure. The IUP Big Indians, as they were called back in the good old days before political correctness, were usually at the top or near on the national Division II rankings. In 1968, they earned a spot in the Boardwalk Bowl played in Atlantic City.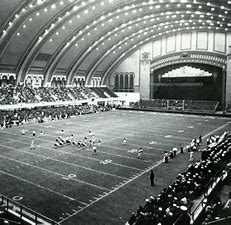 Other years they played teams from all over the mid-west and east for a trophy. Their fabulous marching band, known as "The Legend" went right along with them. I remember brushing a foot of snow off the bleachers at Miller Stadium in mid-November just to sit and watch the magic unfold in front of my eyes. I was always hoarse by the time the afternoon was over. As with the telephone in the dorm hallway mentioned earlier, these were the days before all the games being available online. Today, I still don't miss a game, only today I say, "Go Crimson Hawks," the political correct name of our mascot.

I referred earlier to how those college years coincided with the Viet Nam War. Reserve Officer Training Corps (ROTC) was a required class for men at all State schools. Remember that my brother Paul graduated from Penn State as a 1st Lieutenant, having completed the Air Force ROTC program there. But, sometimes I think we freshmen at IUP had the last laugh because our instruction on the drill field was always scheduled for Thursdays, and it seems that it always rained on Thursdays. Subsequently, practice was cancelled. I remember having to take apart and put back together an M-1 rifle as a classroom requirement and aking myself, "What does this have to do with studying music?" Before the all-volunteer army, naturally, the U.S. Government during the war  wanted most young men to serve overseas. The way to get enough fodder for the fire was to conduct a draft as a present for when males turned 18. This had been going on since the American Civil War. The only exceptions were religious or health exemptions, and I honestly had neither. So, on the assigned day, I trekked from IUP off to the Federal Building in Pittsburgh for a physical and enlistment. Believe it or not, with no car, and an older brother who had taught me the best way, I hitch-hiked the hour or so there. Paul, who had lots of experience at this from his days at Penn State, told me to carry a sign and either a tennis racquet or guitar case. That, he said, could easily be seen by passing cars as proof that you were a young student and an indication of your destination. I don't remember if I had the racquet or the case, but I did have a sign that read, "Downtown Pittsburgh." It worked; I made my appointment on time and hardly broke a sweat.
The physical was fairly routine, if undressing in front of a roomful of naked men with uniformed soldiers looking on is normal. I was about to pass with flying colors (red for embarrassment, white for the color of my private parts, and blue for the thought of shooting a gun at someone I had never met) until I came to the hearing part. You may remember that I've had ear problems since childhood, perhaps from swimming in the cow pasture. By high school I was flunking regular ear exams which ended with several ear drum lancings by an otologist. Long story short, I was dismissed from the draft physical and rejected from military service. I can remember leaving the Federal Building that day with a fake frown on my face, but as soon as I got outside of the building, I broke into a smile that nearly cracked my face. There was a man at the bottom of the steps selling poppies for a veterans' organization to whom I gave a crisp, new $1 bill, saying, "Thank you" for that poppy. I was truly grateful for that flower of wartime remembrance and kept it above the mirror of my dad's car for years. By the way, my hitch-hike back to Indiana was a time of celebration. Unfortunately, one of my fellow football players and a Key Club officer at Moon has his name of the Viet Nam memorial in Washington, D.C. for giving his life for his country.
Aside from a great education in music and all the teaching-related subjects that this entails, I had a fascination with broadcasting. I guess this stemmed from a habit I may have gotten from my mother, who listened to beautiful music every afternoon while fixing supper, or my oldest brother, who belonged to a record club and introduced me to many styles of music. My radio at home was usually tuned to the Clark Race Show on KDKA each day after school when I got older. He offered the perfect blend of popular music, news, weather, and things happening in Greater Pittsburgh. He lived on the other side of Moon Township, so there were lots of updates on getting to and from work. I even took in one of his Dance Parties at the studios one Saturday. All this is to say that my friend Gary, with all his musical talent and personality, got a D.J. job at Indiana's local radio station for which he got paid. The best I could do was get accepted to volunteer a few hours a week at the not-for-profit college station, called WIUP, what else! It wasn't long before I was named that station manager. I did some interesting interviews with some interesting consequences. When I introduced my talk with the university's new president, Dr. William Hassler, I began by innocently explaining to the audience, "That's an A followed by two S's." Fortunately, I guess, we didn't have a large listenership. At least no one complained.
By the fall of my senior year, I had quit my funeral home job and moved into an apartment above a laundromat across the street from Whitmyre Hall with some college friends. That experience didn't work out so well, as they often came in late after a night of partying waking me up. In addition, I came down with a very uncomfortable respiratory condition, perhaps bronchitis or even mononucleosis, though I never went to a doctor. That lasted until the end of the semester, at which time I moved back home to Moon Township, where I spent my final formal semester fulfilling my student teaching requirement in the music department in the Wilkinsburg School District, just east of Pittsburgh. As we'll see below, I spent a summer session at IUP afterwards to meet several unexpected requirements to graduate. During those months I lived in college housing.
I remember the morning I met with the Principal of Wilkinsburg Senior High in preparation for my upcoming teaching assignment. I had had possession of a full beard for several years by then. With naturally curly hair, I learned that not shaving meant no in-grown facial hair and no pain from trying keep my self younger looking. Upon entering the administrator's office, I was met with a scowl, hearing, "I'm sorry but your appearance doesn't meet our dress and personal appearance code. You won't be able to teach here until you have that beard shaved." I was devastated. The late 60s and early 70s were the day of Viet Nam protests and hippies, and lots of student grew beards. I thought nothing of it, but turning, I said, "Thank you," and exited his office. Now what was I going to do? I didn't want to drive the whole way home to shave and then to come back to keep my appointment. These were also the days when I was hoping to get at least a part-time job in broadcasting, after my interests at WIUP-FM. I spent the rest of the morning driving to several radio stations in Pittsburgh to talk to the personal directors in anticipation of making a demo tape. After lunch at a fast food, I did something that I had never done before. Are you ready? After driving back to Wilkinsburg, I went into a barber shop across from the high school and asked for a shave. Now understand, I had never been in a barber shop and haven't been since. My dad, and now my wife, always cut my hair. I often kid her that this was one of the conditions for our getting married. After the closet shave I've ever had, I went across the street and into the principal's office for my student teaching interview. All ended well.
Wilkinsburg Borough is now in discussion to become part of the adjacent City of Pittsburgh. This may mean higher taxes, but residents already have access to police, fire, and other services. Unfortunately, the population and commerce are dropping. In 1969, when I decided that I'd like to practice teach in a real city school, I chose Wilkinsburg because of its proximity to Pittsburgh and my home in Moon Township on the other side of the county. My term began in January 1970. I would have to leave my parent's house before 7 a.m. to beat the main part of rush hour into and through the city to the borough. Any later and I could be delayed as much as an hour, especially if weather or an accident were a factor. The same was true after class, around 3 p.m. I learned which lane to be in at what point. The most exciting segment was on the Parkway between the Mon River and the city. Normally a person could pass on the left, but I found that if I stayed to the far right, which contained several exits, I could avoid the backups, then at the very last minute, before entering the ramp to the Ft. Pitt Bridge west, I would swerve left, avoiding the ramp to the North Side but taking advantage of the slow down of traffic around the curve into the tunnel.
Probably two incidents come to mind from teaching times that might have endangered my life among the "city kids." The first happened in a general music class of all Black students one afternoon. As most young people do, especially with a substitute or student teacher, these folks were horsing around and giving me a rough time. I had reached the end of my rope, not to speak in racial terms, and I threw an erasure from the front toward the back of the room. Everyone ducked, and the felt object struck a blackboard there, leaving a white mark. Surely, that was stupid of me, showing my hot temper, but no one was hurt and the class behaved after that. I only came close to being that angry many years later while directing a band rehearsal at Rockwood High in Somerset County. When the players wouldn't behave, I kicked the podium that I was standing beside, to get their attention. It worked; everyone stopped what they were doing and looked at me in silence. The problem was that I thought I had broken my toe, but probably out of embarrassment, I smiled instead of crying, and they gave me a smirk.
They other occurrence that could have cost me my life involved some of the Wilkinsburg band students who had a hidden stash of candy in the closet under the steps to the rehearsal room. They had stolen it from the cafeteria over a period of time and were selling it, excuse the pun, on the "black market." I must admit having some qualms about turning them in after a fellow student squealed on them. The band director, my supervising teacher, spend much of the time I was responsible for the class, in another building, working for the school board. I told him what was going on, and the scheme was broken up. I don't know what happened to the criminals, but I know I didn't suffer any consequences. My conscience was clear. Maybe I should have taken a bribe – I love candy! My student teaching ended in May when I conducted a number with the Wilkinsburg High School Band in the spring concert. My days there were very rewarding.
Little did I know at that time how my broadcasting experience at IUP would come in handy because, when no music teaching jobs became available, I immediately sought a graduate degree in Communications. At that time, Allen Funt was the producer and talent on the TV Show, Candid Camera, a favorite of our family. Funt's alma mater was Syracuse University, the home of a renowned broadcasting major. I applied and sent out requests for three personal recommendations from IUP faculty who knew and liked me. As I sat back and waited to hear from the school, I applied to Penn State, where my brother Paul had gone, mostly as a back-up. Penn State has many strong departments, but I never thought of Broadcasting as one of them. In fact, the major to which I applied was titled Speech Communications, which included many things. As the fall semester grew near and I hadn't heard from Syracuse, I called their graduate admissions office, only to hear that they had not received all the required papers, specifically one of the letters of recommendation from IUP's music department. I was so angry and disappointed that I didn't even want to know why one of my esteemed professors would do this to me. I took it personally, when perhaps it was just an oversight. Now I believe it was God's will. I was engaged to be married at the time, and why would I subject my new bride to being six hours from home after we were married when she could be two hours. Penn State, as it turned out, was definitely the right choice. More about Big Blue in the next section.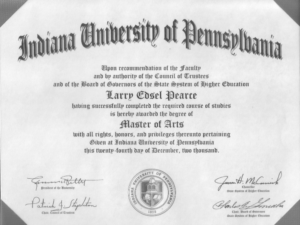 In the next installment, you read about my married life at Penn State while residing in the adjacent small town of Pine Grove Mills. I earned my first Master degree there, an M.A. in Speech Communications. After completion, Susan and I moved back to Somerset County, where I pursued several careers, one of which required a return to graduate classes at IUP from 1995 to 2002. There, I earned a second Masters degree to keep my job as adjunct professor in English at Mt. Aloysius College in Cresson. Those years at Indiana were spent commuting hundreds of miles. Visualize, if you will, a triangle of roads with each side about 50 miles, from home in northern Somerset County, northeast to Cresson in Cambria County, directly west to central Indiana County, then southwest back home. Some days (and nights) that amounted to 150 miles total. In the end, it all worked out, and as I said to Susan just a minute ago, "You know, I think I could make my home in Indiana – all over again."
Move to next sub-chapter 3D:  We Are Penn State
Return to: TABLE OF CONTENTS
Last revised 1/29/22