Wendel/Wynand Santmann (1665/81-1735) b. Thun, Canton Bern, Switzerland; r. Pequea Creek, Lancaster County, PA (son of Hans "John" Rudolf Dandiker & Anna Santmann Bauman – some sources have mother as Anna Meili Funck) coppersmith by trade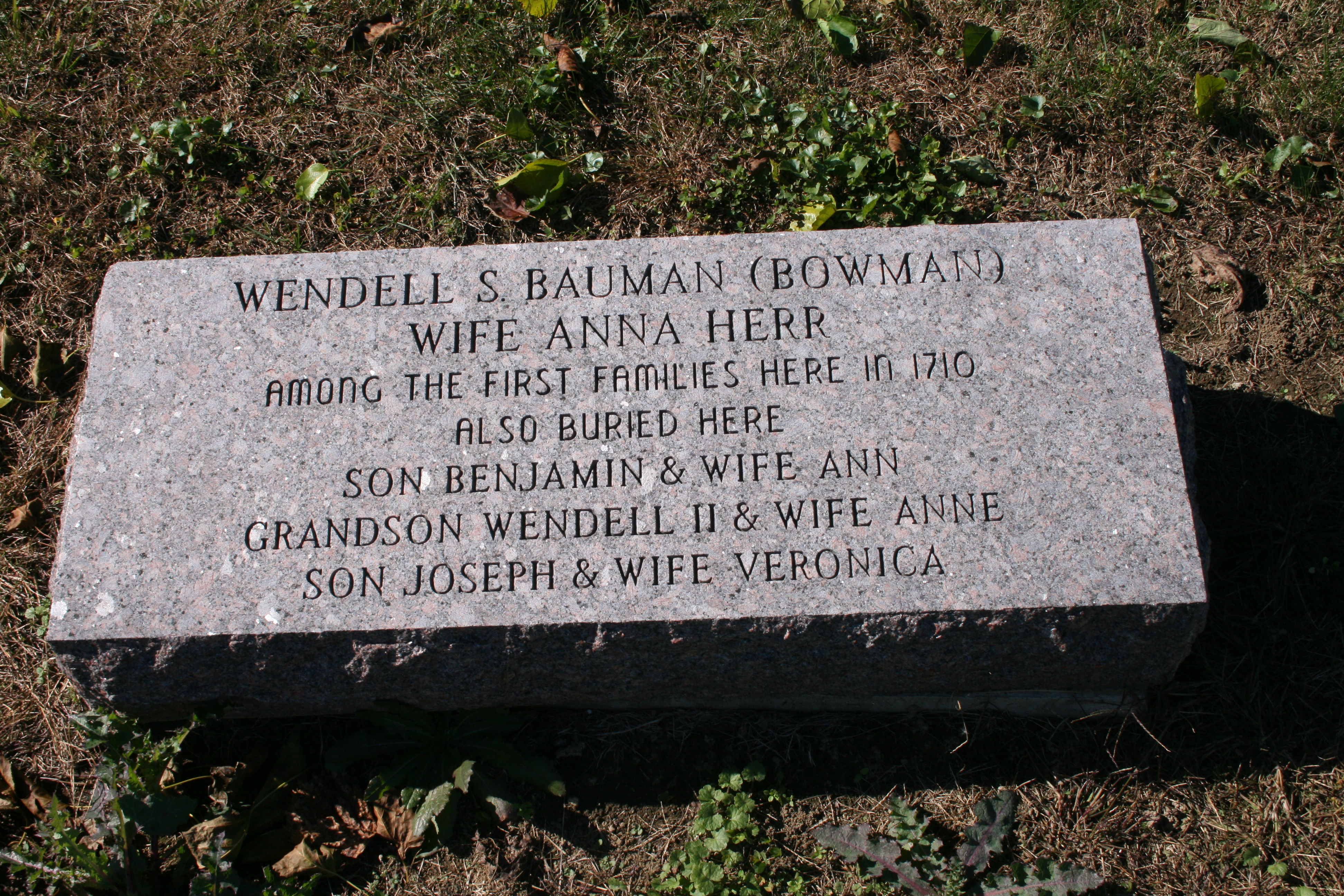 burial: Rev. Hans Tschantz graveyard, south of Lampeter, 8 miles southwest of Lancaster, PA, between the Willow Street (or Brick) and Strasburg Mennonite meeting houses.
Emigration: 1707-10 from Rotterdam, Holland, to New York. Lived in Kingston before a brief stay in Germantown near Philadelphia and eventual settlement in Lancaster County, PA
m1. Anne K. Coopersmith (1680/5-before 1735) b. Switzerland; r. may have died in America, (parents unknown)
m2. Anna Kendig Herr (1679/80-before 1735)
Married: 1709, Pennsylvania?
Children: Exact names & dates uncertain. We believe these children represent the separation of the Virginia and Pennsylvania Bowmans as well as the Lancaster/Berks County families. Some Baumans moved to Maryland. This family represents the evolution of the surname from Baumann (Swiss) to Bauman (Eastern PA) to Bowman (VA & Somerset County, PA) as Swiss-German & English-speaking public officials recorded their names.
Christian Baumann (1700/02-1735) b. Switzerland; r. Virginia? (m. Barbara Haitt, 5 children, possibly the daughter/sister of Jost/Yost Hite/Heydt/Haitt who, with 16 families, left from Alsace in 1710 to sail for New York. After going to Kingston, they moved to Germantown/Philadelphia in 1716 before settling the Shenandoah Valley, Virginia, in 1731. Yost Hite stopped in Winchester, while Christian Baumann and other families cleared land in Edinburg and Woodstock. Today, I-81 has the Bowman's Crossing exit nearby. Other families may have stopped in Maryland before coming north again to Somerset County and then going to Elkhart, IN. ex. John J. Bowman, Sr.)(other sources have Christian married to Elizabeth Oberholtzer in 1745, before moving to Berks County, PA, but this is probably another Christian*)
Jacob "Brecknock?" or "Nimrod?"# Bauman (1701-1745) b. Switzerland; r. Somerset County, Pennsylvania (m. Elizabeth Krueger, 3 children – our line)
Michael (1702 – )
Anna Cecelia (1703-1771/77) r. Lancaster Co. (m. Jacob Weaver)
Benjamin (17o1/12-1775) r. Pittsburgh (m. Ann ______)
Joseph (1714- ) r. Pittsburgh (m. Veronica ________)
Jacob Johannes "John"* (1710/22-1749/78/88) b. Lampeter, Lancaster Co.; r. Woodstock, Shenandoah Co., VA (m. Marie Elizabeth Rueger)
Peter* (1726-1806) (had 10 children with 3 wives)
Magdalena (1719- ) (m. Jacob Groh)
Barbara (  )
Henrick (  )
Elizabeth (  )
* The H.M. Bowman writing has these sons moving from Pequea 25 miles northeast to Alleghany Creek, Berks County in the 1740's. This Jacob, the youngest, he claims, was nicknamed "Nimrod of the Pequea country"# because of his prowess at hunting and fishing. Other sources has this Jacob "Nimrod" (1743-1803) as the son of the above Jacob "Brecknock" Bowman, Sr. (1722-1788) born in the Palatinate, marrying Veronica/Verina, fathering 15 children,  and dying in Brecknock, Berks County.
# The nickname "Nimrod" comes from the Bible and is a reference to the King of Shinar, Noah's great-grandson, who was a "great hunter before the Lord."
Documentation:
"The Bauman Ancestors of Clarence L. Snyder," which includes "The Bauman Family History" (1967) available online
"Bowman Family." Cogeco.ca  18 May 2016  http://home.cogeco.ca/~familytree/bowman.html
"Bowman Family Tree." Angelfire.com. 18 May 2016  http://www.angelfire.com/in2/kwitina/family/Bowman.html
"Bowman Family Tree." Telus.net. 23 May 2016    http://www3.telus.net/throopgenealogy/bow1.html
George W. Bowman. "The Christian Bowman Family." Indiana Magazine of History, V. 34, Is. 1, March 1938
H. M. Bowman. "The Removal of Wendell Bauman's sons Christian, Peter, and Jacob to Berks County." available online
"Wendel Santmann Bauman." Find-a-Grave.com. 23 May 2016  http://www.findagrave.com/cgi-bin/fg.cgi?page=gr&GRid=104706157
See also "Our Bowman Family Tree" & "Vitals: Bowman"
Various Ancestry.com Public Member Family Trees & other sources
RETURN TO OUR BOWMAN FAMILY TREE