by
Larry Pearce, nephew
6/7/19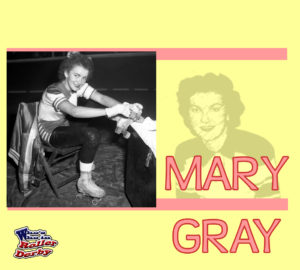 Several words came immediately to mind as I began this biography: beautiful, inspiring, kind, and  adventurous, to name a few. How many young people growing up can boast that their aunt had been a professional Roller Derby skater, had travelled much of Europe, and still had time to successfully raise four children? I guess I looked up to my Aunt Mary as different than the rest of her eleven siblings. Many had served in the military overseas and came home to establish a household, but in the lines that follow I hope you'll understand why Mary brought a note of encouragement to me personally each time our paths crossed, mostly at her parents', my grandparents' house, when I played the piano for her.
Born the ninth of a dozen children on the family farm in southern Butler County, Western Pennsylvania, at the start of the Great Depression, 1931, Mary Ellen Gray was most likely named for her great aunts, Mary Campbell (1868-1947), Mary Norris Bryce (1852-1940), and Mary Hoffman (b. 1852). Of course we shouldn't forget that her sisters Ruth, my mother, Sara, and Lois were all Bible characters, so Mary the mother of Jesus  was the ultimate namesake. The source of her middle name is unknown, but my sister Ellen was no doubt named after Aunt Mary.
One can only imagine that Mary started out as a "tomboy." With two brothers on each side of her birth, it had been nine years since older sister Lois (1922-2012) and another nine years until the birth of younger sister Harriet (1940-2002). We must mention that another older brother, Emerson (1929-1930) died of pneumonia in infancy. Our understanding is that the precious child had been put down to nap near an open window during a family gathering and never recovered from a quick and quiet illness. Mary's sister, my Aunt Edna (1920-1997), just a child herself at the time wrote several tributes to the baby brother, and his unexpected death had a profound effect on the entire family. The arrival of Mary must have been a welcome relief to the grieving parents and innocent siblings.
Aunt Mary attended Mars High School, and while her brothers were off serving their country in the U.S. Marines and Navy, she learned to roller skate at the same local rink that I did, Twin Willows along Rt. 8. Her father, a carpenter, had helped to build the structure and skating was a very popular pastime among young people during and after the War. The building is still standing, although I don't know what it's used for now. Decals and other memorabilia honoring the rink are available online.
Mary "tried out" for and was accepted by a national professional roller derby team soon out of high school. The sport, which began as a series of endurance races, complete with pushing and shoving, actually began in the late 1800s. In the 1908 a group of rink owners in Chicago popularized the races, and by 1914, it had spread to other cities, including New York. The sport has a rich and varied history and became an inexpensive diversion during the Great Depression. In 1935 film publicist Leo Seltzer, claiming that 93% of Americans roller skated at least once a year, organized what he called the Transcontinental Roller Derby at the Chicago Coliseum. Around a wooden, oval, banked track, 25 male-female teams competed before an audience as much as 11 1/2 hours a day, covering over 3,000 miles, the distance from Los Angeles to New York City. After the success of this show, Seltzer  began touring with a portable track that cost upwards of $20,000. Crowds averaged 10,000 fans paying  10 to 25-cents admission. Hollywood celebrities became affiliated with the activities, and Roller Derby was as popular then as professional football is today. The sad thing was that Seltzer, after initially wanting to keep the sport "legitimate," eventually encouraged "dirty tricks" in the game for the amusement of the fans: elbowing, whipping and slamming in to the rails, and having skaters exaggerate hits and falls.
Over the years the marathon racing nature of Roller Derby was simplified and coverage was broadcast on the radio by 1939. By 1948, it was carried on CBS in New York and then ABC Television nationwide. Daily results and League standings could be found in local newspapers and fan newsletters. As with all professional sports, many of the players enlisted in the service during World War II, and teams had to consolidate. Perhaps the most famous example, in pro-football, was the combining of the Pittsburgh Steelers and Philadelphia Eagles, who became known as the Pennsylvania "Steagles." With the end of the war, Roller Derby continued to grow in presence and popularity. Aunt Mary began skating for the Chicago Westerners in the early 50s but, unfortunately, suffered a broken leg and had to quite the game. Today, many videos of Roller Derby action are available online. With a keen eye, and perhaps a magnifying glass, one just might be able to spot Mary.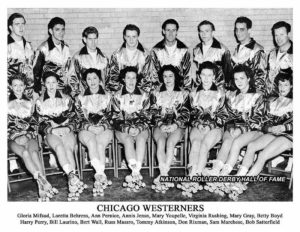 But good things can come out of bad. It was around this time that Mary met and married her first husband, Theodore "Ted" Grieg. In 1953 son Ralph "Terry" Emerson was born. Surely his middle name was in memory of Mary's baby brother who had died the year before she was born. The union between Mary and Ted lasted only a few years before she met and fell in love with a career military man, thirteen years her junior, Charles "Doug" Duggan. That happy  marriage resulted in the births of Tammy in 1957, Bruce in 1958, and Mary Ellen (junior) in 1964.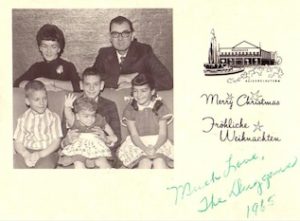 Doug was Program Director for Air Force communications, which included radio and television in the European theater. He and the family were stationed in Germany and Greece. What a thrill it was for our family to receive Christmas cards from those places we could only dream of. After Doug retired, the couple settled in Satellite Beach, Florida. All of Mary and Doug's children married and may be found in locations from Florida, to Georgia, to California. The five grandchildren so far have produced many great-grandchildren.
Double tragedies struck when Mary and Doug died within a year of each other at their Florida residence. The good news is that each of their descendants is doing well. Terry has had a successful automotive sales career among the rich and famous of Hollywood. Tammy and husband Alex live on Merritt Island where he has retired from a fascinating job as mechanic at the Kennedy Space Center. Their children are engaged in various activities involving marine tourism along the seacoast there. Bruce and his wife Shannah live and work on the West Coast while Mary Ellen and husband Don Osteen operate the busy Paulding Building Supply and Ace Hardware just north of Atlanta. When the family can't get together, they are active on Facebook.
Aunt Mary travelled a long way from rural Western Pennsylvania of the Great Depression to professional sports to military bride living around the globe to life on America's technologically advanced Space Coast. I can still remember our meetings when I was just a teenager searching for some sort of artistic identity. As I played grandma's old upright piano, she encouraged me to keep striving for excellence. Memory of her will live on, as I have used my music degree, teaching in the public schools and privately, directing church and community choirs, and playing the organ in leading worship around our community. Now, with this brief biography of her, I hope to preserve those memories of her in writing, pictures and online sources for generations to come.
Last revised 1/7/20