As compiled by
Larry Pearce
1/14/02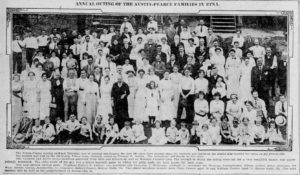 (Click on photo to enlarge and read the caption below)

I don't think any discussion of our genealogy would be complete without some knowledge of the various formal Pearce family organizations across the country and the regular reunions they hold. It is my hope that those of you reading this in the years to come will help to keep it updated for future use. This article will also take a look at some less formal groups, including the past and present activities and reunions of our own family. We begin with an annotated list, in no particular order, of contacts from the latest Directory of Family Associations:
• Francis Pearce Family Organization
341 East Sixth Ave.
Durango, CO 81301
(303) 247-3551
Deora L. Pierce Powell
Francis lived from 1740-89 in Derry Twp., Mifflin County (Pennsylvania?), and his son Obediah lived from1760-1835. We're still seeking more information on these, although we don't think that they're directly related to us. We have no information on reunion dates.
• Pearce Organization
4314 SW 22nd Street
Ocala, FL 34474
(904) 237-2444
Margaret Pearce Pastuer, Editor
We've enjoyed reading articles from this southern branch, though they're not directly related either, in what they call the Pearce Bulletin.
• Pearce Family Association
410 South Chestnut St.
Lindsborg, KS 67456
Donna Opat, Editor
This group's simple newsletter is published three time a year and is called the Pearce Family. They ask $5 per year and will accept stories about any Pearces. These descendants of William Robert and Joannah Brace Pearce began meeting in 1978. Their first reunion was held with 90 relatives at the Lindsborg American Legion Hall. Since then, the get-togethers have been held in Minneapolis, Concordia, St. Joe, Clifton, Springfield CO, Wichita, and other places.
• Pearcy – Piercy Family Association
9701 North 111th East Ave,
Owasso, OK 74055
Robert D. Pearcy, President
You'll have to read the interesting origins of the Percys in earlier articles; these are probably transplants from the New England states. They publish a regular newsletter as well.
• Sherman N. Pierce Reunion
501 East 63rd North Sioux #12
Wichita, KS 67219
(316) 744-2736
C/O Gene P. Ewert
Though spelled differently, these folks are located in Kansas as is one of the above. Our 1911 genealogy shows some of our direct relations there too, but as of now we don't know if we're connected.
• Pierce Family Reunion
P.O. Box 397
Collegedale, TN 37315
C/O H. Moyers
Again, they're spelled differently, but as you've seen in earlier articles, there are plenty of notoriously similar surnames in Tennessee, including Isaac Peairs.
• Pierce Family Organization
119 Cedar
Snohomish, WA 98290
C/O S. Pierce Countryman
Little more is known about this West Coast tribe. As with all family reunions, especially with communications as they are today, it's possible that the address and contact person are only temporary and subject to change with new officers elected each year.
It's doubtful that the phone book or directory assistance would carry any of the organizational names listed above. Most family groups don't have the money or the necessity to be accessible to the general public. So, check your local library or history center for the latest copy of the Directory of Family Associations, as linked to above, or start by writing or phoning one of the contact persons above. Newer directories may even have e-mail addresses or online links listed.
Now, let's look at several Pearce reunions that are held each year without the benefit of formal family organizations. One Pearce family reunion that I am aware of is held each summer at a Cambria County park near Ebensburg, Pennsylvania. They run a small advertisement in the Johnstown newspaper. I indicated in an earlier article that probably families unrelated to us attend from several towns nearby as well as the nearby counties of Indiana, Jefferson, and Clearfield.
We discussed early Pearce settlers to Eastern Maryland in previous articles. Although not directly related to us, Valerie [Pearce] Crockett is both a member of the E-Gen: Pearce network and a spokesperson for her annual reunion held at the Pavilion in Cecilton, Maryland, just off Route 213 from the Elkton Exit on I-95. That simple affair features covered dishes and old-fashioned reminiscing. This July, as far as we know, they will gather again, with their hearts and minds set on a 100th meeting in 2027.
The descendants of Richard and Susan Austen Pearce never had a formal association nor do they now have a regular reunion that we know of. We are, however, aware of several Austen family groups that are quite active; they meet regularly and publish their research. Several of those Austens are also members of the E-Gen network. Perhaps we can provide more information on their meetings in a future article. However, an informal group that called itself The Austen and Pearce Families, the direct descendants of our Richard and Susan, apparently met regularly and published an extensive genealogy in 1911. While that is obviously out of print, I know of several copies still circulating. My treasured resource is a barely legible copy of a copy, and it has raised almost as many questions as it's answered. Someday I hope to post a transcription of the old gem. But, it, along with the Original Family Narrative, is truly the basis of any genealogical work one can do on the Pearce or Austen families.
There are at least two other clues to the existence of our early family reunions. One was a portion of a small lapel banner or ribbon my late Uncle Dale had that proclaimed, "4th Austen-Pearce Reunion, August 17, 1911," and this is the part that was missing: ". . . meville, Ohio." I assume that it was held in Jeromeville, the original American homestead of Ambrose and Susannah Austen, and at that time, convenient to the Ohio and Western Pennsylvania homes of both Austens and Pearces, if they had automobiles.
The second clue was a photocopy of the back of a postcard or newspaper announcement provided by cousin Terry Jones of Slippery Rock. It was probably given to him by his grandmother from New Castle who had written at the bottom, "Dad & I went." You saw a photograph of the participants published in the Pittsburgh Post-Gazette shortly after it was held and in a 1996 newspaper article (link) about the old haunted house of Thomas P. and Lydia Austen. The pre-reunion announcement was as follows (Notice the spelling of Austen at that time):
AUSTIN – PEARCE REUNION
The annual Austin-Pearce Reunion will be held at Gibsonia, Pa., on Thursday, August 28, 1913. All relatives are requested and urged to be present. Ample provision is being made for the entertainment of all that come. So come.
Friends will be met at Gibsonia Station on the Butler Short Line, and taken to where they will be entertained. Those coming via Pittsburgh will take the Butler Short Line streetcar at corner of Penn Ave. and 6th St., Pittsburgh, which leaves there every hour on the hour. Those coming via Youngstown and New Castle can come to Mars or Valencia by train then take Butler Short Line streetcar to Gibsonia.
It is desired that those attending this reunion arrive at Gibsonia the day before, or Aug. 27th, if possible. Please notify Mr. D.D. McKelvy of Gibsonia, that you are coming and the time you will arrive, and oblige [the] committee.
I think it is interesting that a family reunion would be held on Thursday, a workday, and that family was asked to arrive the day before. Where did everyone stay? When did they leave for home? Did some stay the entire weekend? Also, was the picnic held at McKelvy's home or at Pearce's Pine Creek farm and mill? I believe that they each had Gibsonia addresses in those days. D.D. McKelvy, by the way, was married to Permelia (1862- ?), the oldest daughter of my great-grandparents Charles and Permelia Nelson Pearce.
We don't know how long the Austen-Pearce reunion was held, especially with the start of World War I and the almost simultaneous deaths of Charles and Permelia in 1914 [see "Settlement at Pine Creek: Part II"]. But, the minutes of an outgrowth of these early gatherings indicate, "The children of Charles and Permelia Nelson Pearce decided in 1925 to hold a Pearce-Nelson Reunion on August 28, 1926, at the home of Charles and Nettie Pearce Anderson, Allison Park, Pa." Nettie (1878- ) was the youngest of Charles and Permelia Nelson Pearce's five daughters and five sons, although Bertha (1864- ) had died prior to the 1911 genealogy. By reunion time in 1926 there were 32 grandchildren and 18 great-grandchildren. Sixty-five people attended, and the minutes say, "A beautiful dinner was served on the lawn at 12 o'clock. At 6 o'clock they again partook of sumptuous food."
The following year, 1927, after the County had taken the Pearce farm and mill by eminent domain, the reunion was held at what is referred to in the minutes as "Pearce Mill Park," with 90 people in attendance. The brick farm house had been left intact by the park builders, and is still standing today as the park's administration building, but it's not known exactly when the old wooden mill was torn down. The minutes simply say, "Pearce Mill was then 107 years old."
Over the next few years the picnic was moved among various groves in the park: Hickory and Devil's Elbow, to name a few. The attendance continued to grow until it reached 118 in 1931. It was decided then to "have the reunion in the afternoon instead of all day." The 1932 minutes read: "They pitched quoits and played mush ball. Some of the girls were very apt at the game. Dinner was served at 6:30 and everyone seemed to be an expert at making food disappear."
The 10th reunion in 1935 was moved to Andre's cottage in Slippery Rock Park and featured motorboat rides, swimming, and horseshoes. Unfortunately, the Pearce-Nelson Reunion was suspended for five years with the start of World War II, but fortunately it was resumed in 1946 at Miller's Grove, North Park. There was a long list of marriages and births, several deaths, and a list of the names of the boys in the service, according to the 1981 reunion summary. In the years that followed the picnic was held at ten different groves in the park, but the favorites seemed to be high atop Flagstaff Hill overlooking the former Pearce farm and mill property. They included the Roosevelt and School House groves. Some of the "highlights" were as follows:
➢ 1954, children enjoyed a special guest, "Prince," a dark brown pony.
➢ 1955, Ray Anderson and (my uncle) Walt Pearce ate up all the pie.
➢ 1957, reunion-goers voted to discontinue providing ham, but to provide ice cream and Lemon Blend.
➢ 1975, the temperature reached 95 degrees.
➢ 1976, the weather was cold and rainy.
➢ 1977, the picnic was held at Clarence Neely's residence with thunder and lightening sending people home early.
➢ 1980, 50th reunion with white elephant sale. Dale Pearce gave a brief history of the Pearce Family [This was a year before his death. See his biography].
➢ 1981, considerable discussion about whether to continue the gathering, but with only 33 in attendance, this was one of the final meetings.
My childhood memories of the Pearce Reunion include swimming at North Park's giant pool with my sister and cousins. Admission was only 50 cents. When the picnic was held atop Flagstaff, we'd always climb the heights to enjoy the windy view. We played "catch" with the baseball, and as we grew older, and the elder men asked us to join them pitching horseshoes, we felt like we had been invited into a sacred fraternity. The Lemon Blend was "sickening sweet" in the hot August afternoons, but after dinner, the Neapolitan ice cream was a wonderful and welcome relief from the heat. It was always packed in dry ice, and the kids were allowed to hold small pieces of the magical substance in Styrofoam cups. All by itself, it would steam in the humid weather, but add water, and it would bubble and gurgle like a witch's boiling cauldron. Occasionally, someone would bring slides or movies to the reunion. These were special for several reasons: first, we didn't get to enjoy these media very often in those days, even in school; and second, everyone had to wait until it got dark, usually around 8:30, and then it was as fun as an outdoor drive-in movie. Finally, we had to say goodbye and climb into the car for the sleepy ride home. Our hands may have been dirty from a day's play, and our bodies were weary from running and throwing and climbing, but our hearts were a little lighter having been a part of this ancient human tradition. The stories and the memories were enough to last a lifetime.
Probably the most important aspect of these family reunions was seeing aunts and uncles and cousins whom we'd never see otherwise. Some of the great aunts and uncles looked so old that we children couldn't believe that they could still be alive. We learned to make friends quickly and play intensely with the cousins because we wouldn't see them for a whole year after the picnic was over. I had been married about ten years, and my children were still in elementary school, when the Pearce Reunion was disbanded, so my family hasn't had the advantage of knowing well the more distant relatives who had presented themselves at earlier gatherings.
I envy the families who have maintained the glorious tradition of holding family reunions. Perhaps in the coming years the descendants of Richard and Susan Austen Pearce, or at least the more recent branches, can organize a regular gathering. It seems to me that the first step is to study the successful attempts that other families have made, including the ones listed above. Do you have special knowledge or memories of a Pearce Reunion? Why not make some notes below, and send them to me at LRYPEARCE@GMAIL.COM . I'll be glad to share them with everyone at E-Gen.info. You can be assured that these precious moments won't be lost after you're gone but will be enjoyed by our descendants for many years to come.
Last revised 10/16/19; E-mail address revised 3/25/22
NOTES: