(back 9 generations to Northern Ireland)
Various family mottos: "Ne tenta vel perfice"
("Attempt not or accomplish")
"Esse quam videri"
("To be, rather than to seem")
"Nil desperandum"
("Never despair")

Table of Contents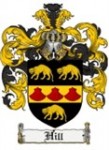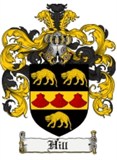 (Click on first name for Vitals/spousal surname for associated tree)
William Hill (c. 1740-1815)
Elizabeth Dixon ( )
I
John Hill (1765-1849)
Jane/Jean Wilson* (1777-1865)
I
William Hill (1799-1875)
Sarah Barber (1797-1873)
I
John Dixon Hill (1824-1915)
Margaret Sarah Marshall (1831-1907)
I
Joseph Marshall Hill (1858-1939)
Alice Virginia Moon (1865-1947)
I
Bessie Reed Hill (1887-1974)
Wesley Herron Pearce (1876-1955)
I
Ralph Hill Pearce (1917-2002)
Ruth Elizabeth Gray (1917-2005)
I
Larry Edsel Pearce (1948- )
Susan Kay Miller (1949- )
^
Annie Rebecca Pearce Matthew Carter Pearce
(1971- ) (1973- )
* James Wilson (b.1747) married Hettie Jack (b.1753) in another Pearce-associated family. Henry Moon (before 1760) married Sarah Wilson (?).  In a Gray-related family, John Anderson (b. 1731) married Elizabeth Wilson (?). Research continues to see if there is any Wilson connection as the dates are very close.
DOCUMENTATION:
Sir John Bernard Burke. The General Armory of England, Scotland, Ireland, and Wales. London: Habeison & Sons, 1884
Family tradition, Cemetery records from Cross Roads and Allegheny Memorial Park
"Hill Family, Mercer Co." 22 April 2010 http://homepages.rootsweb.ancestry.com/~swwhite/hill.html
Patricia Hill, Natrona Hgts/Saxonburg, PA. e-mail. 20 Feb. 2004
"Slippery Rock Twp." History of Butler Co., PA, 1883. Chp.42.
Various Public Member Family Trees & sources. Ancestry.com
Last revised: 12/30/16