Austrian Conductor & namesake
by
Larry Pearce
8/29/23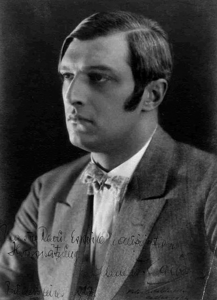 My wife Susan's mother was a Krause, slightly different spelling but the same family, we're sure. Her earliest known ancestor goes back to 18th century Germany. The first one to land in America was Karl Ferdinand Krause (1840-1912). He came from Prussia. landed in Baltimore, and eventually settled in Accident, MD. The surviving Krauses still celebrate a family reunion each year at the church he attended adjacent to the old farm in what's known as The Cove. I recall the surprise Susan and I had in the summer of 1990 when we toured Austria with our son Matthew, an exchange student in Germany. We drove through the famous town of Oberammergau, the site of the Passion Play presented each decade, and saw directly across the street from the entryway a large sign for "Kraus Motors," an automobile dealership. Yet another spelling, but a thrill, nevertheless.
So the Krause name, as we would spell it, means "one with curly hair," surely a reference to ones hair. On this webpage I like to relate as many meanings, sources, and spellings of family surnames as I can find. I don't know about their hair, but one thing that it seems all the Krauses have in common is hard work and a desire to succeed. Read about the various accomplishments of Susan's grandfather, Charles "Pop" Krause (1884-1973), son of Karl Ferdinand. It's no wonder I have trouble keeping up with his granddaughter and my wife Susan.
Like Susan, the subject of our story here was a musician. I first became acquainted with Clemens Heinrich Krauss while I was sitting in the parking lot of our local Somerset Hospital waiting for Susan to complete a physical therapy session. Listening to our classical music station WQEJ-FM, Johnstown, I was informed that the day was the anniversary of a concert conducted by Krauss, held in Vienna, Austria, on August 11,1929, honoring the music of the Strausses, Johann and Richard. Ironically, despite both having been music majors and still musicians, we had never heard of Clemens Krauss. I instantly thought, "That would make an interesting E-gen story", and so my research began.
Perhaps even more famous is the annual New Year's Concert of the Vienna Philharmonic, conducted by Krauss until his death in 1954. A happy occasion, it features the dances of the Strausses and is usually broadcast over American Public Television. The name Clemens Krauss is also associated with opera. Born in Vienna to to a young Clementine Krauss, a ballet dancer with the Vienna Imperial Opera who went on to be a well-known actress and opera singer. Not only were they both related to musicians, but his father was a product of wealthy bankers. Other relatives were nobility. He certainly had everything going for him.
Everyone's heard of the Vienna Boys Choir and, because of his "extraordinary beautiful soprano voice" as a youth Clemens was a member. His conducting debut was just before the First World War in 1913 Moravia. He was married twice, naturally to gifted and famous sopranos, to whom he had two sons. During and after the war, he conducted orchestras throughout Germany and Austria. In 1929, the year of the above-mentioned Strauss Tribute Concert, he was invited to conduct in America: the Philadelphia Orchestra and the New York Philharmonic. That same year he returned to Austria to direct the Vienna State Opera and later the Vienna Philharmonic. Krauss is often associated with the bold music of Richard Wagner. By the mid-1930s he was fired by the Philharmonic because of falling attendance at concerts featuring avant-garde music.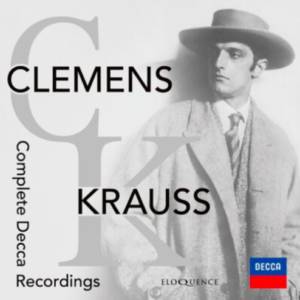 Never a member of the German National Socialist Workers Party (Nazis), he did however meet with Hitler and directed the Berlin State Opera before the start of World War II. To his favor, he and his wife are credited with helping dozens of Jews escape from Germany. But because of his association with German culture, the Allies outlawed his public appearances until 1947. After the war he resumed the annual New Year's Day Strauss concerts. Much of that early music has been preserved on Decca Records, although Krauss made relatively few recordings otherwise. Several have been re-released today on compact disc.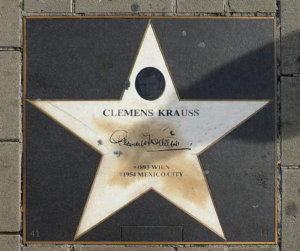 Walk of Fame, Vienna
In the early 50s Krauss conducted around the world, including London and Mexico City, where he died in 1954. His body was returned to Austria for burial. His wife died in 1985 and rests beside him there.
While Susan's hair is straight, mine is curly, probably from my Scots-Irish roots. While her maternal family were Krauses, I often wonder where she gets all her musical talent, not that I have any more because of my coiffure.
Last revised 8/29/23