transcribed with [Comments]
by
Larry Pearce, son-in-law
2/24/21
(Click on images to enlarge/Use back arrow to return)
Forward to Part 2: Letters from Annie "Mom" Krause
Forward to Part 3: Letters from Dick's Mother & Hilda's Aunt
[I have transcribed, researched, written about, and posted many old letters at this site over the past two decades. Each of my wife and my four main families is well-represented. One from my maternal great-great uncle to my great-grandmother was from the Civil War, 1863. Four others date to near the end of World War I, 1918, and include my paternal great-uncle to his sister, my grandmother. Most recently I found several fascinating written communications dating from 1932 to 1946 between my paternal great-grandmother and her daughter. Spanning the period before to just after World War II, these reminded me so much of today's problems involving the Covid Pandemic: isolation, concern for family health, economic hardships, and of course political divisions. You are invited to scan each family's "Table of Contents" for the many more old letters and postcards. I promise that you'll gain new insights on both our families and the world in which they lived. You can also put names, dates, and subjects in the Search box in the upper right-hand corner of each page.
[This brings us to the subject of a three-part series of articles based on correspondence from the World War II-era. Part 1 features communications between my wife Susan's parents, the Millers of Somerset County, PA. My mother-in-law was always "Hilda," but my father-in-law was a man with seemingly many names and nicknames: "Richard," his given name;"Dick," the most common nickname for said given name; and "R.O.", his first initial and that of his middle name, "Orville." I suppose that middle name, perhaps a reference to one of the famous flying Wright brothers, was appropriate for a member of the U.S. Army Air Corps, predecessor to today's Air Force. For the record, though, Susan tells me that her dad never liked his middle name. You'll find all of these names and nicknames in the messages below.
[Part 2 contains transcriptions of three letters to the young couple as the war is about to end from Hilda's mother, Annie Krause, or just plain "Mom" as her family called her. Part 3 presents a letter from Dick's mother, Sarah, and one from Hilda's aunt, Lizzie, both from back home in Somerset County, PA. Let's begin with Part 1.
[As a disclaimer, I hesitate to call these first missives "Love letters" because, while the newly-weds Dick and Hilda express their deep devotion for each other in each communique, they are careful not to be too graphic with those feelings. And by the way, I had Susan read each one to screen anything too personal. I can assure you that the World War II-era military had earlier "censured" all notes, personal or official, "to protect sensitive information being leaked to the 'enemy aliens'". This makes me smile, having read the exchanges because it's hard to imagine that "I love you" could be code for anything sinister.
[Before actually looking at the letters and telegrams, you are invited to read some of the additional history and background of the couple, especially of Richard who, before his passing in 2015, did extensive interviews for Eric Greisinger's book, A World Away but Close to Home, as well as sit-downs for the Pennsylvania State Historical Center, Somerset, and the National World War II Museum, New Orleans. My favorite bit of information, if I must say so myself, is in the article, "The Gunner & The Riveter," a personal biography on the couple.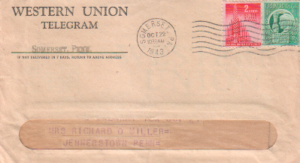 [The correspondence presented below is in chronological order as much as possible. I have coded each with either a "T," for Western Union Telegram, or "V," for V-mail. The telegrams were hand-delivered to the addressee in larger cities, but had postage stamps placed on the envelopes and were sent through the U.S. mail in small towns and rural areas. The military addresses like Miami Beach and Kearney, NE, are either the closest cities to where Dick was stationed or central secure military depots. I tried unsuccessfully to determine the meanings of the numbers and letters associated with the military addresses. The messages were closely censured, as I said before, in that time of war and usually brief. Charges for telegrams were assessed by the number of words with a limit of 15 letters per word. The envelopes in which the telegrams were delivered were either 6-inches long and brownish.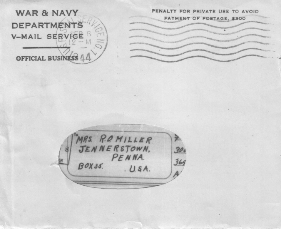 [The V-mail envelopes were 4 1/2-inches long and white. "V" stood for "Victory" and was considered official business of the "War & Navy Departments." They each traveled through the postal service and were stamped. In the corner was a warning: "Penalty for private use to avoid payment of postage-$300." Both telegrams and V-mail had a clear plastic windows through which the receiver's name and address could be seen. While the telegrams were printed on thin, yellow strips of paper in capital letters, the smaller V-mail sheets could be hand-written on and then were microfilmed and placed in the envelope. While the short letters usually contained a hand-written date and the envelopes a stamped postmark, the day of receipt is impossible to determine.  The Pennsylvania addresses like Jennerstown and Boswell are the nearest post offices to Hilda. The communications between Dick and Hilda were obviously short and some might say obvious or even unnecessary. But, what counted was the personal thoughts of the two who must have been terribly in love but separated by many miles and a terrible war.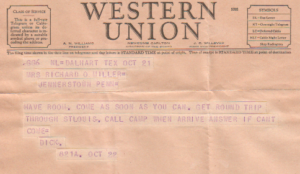 [It was not always possible to organize the letters and telegrams below by dates as some of the dates are missing or incomplete. My comments will hopefully give you a timeline of locations, events, and even feelings of the two parties. Hilda had moved to Baltimore to live with her brother Clyde after high school. She worked for the Glen L. Martin Aircraft Factory there. Dick relocated there to be with her, working for Calvert Distillery before joining her at Glen L. Martin. He was going to night school to be a machinist. They were married on August 27, 1942. Dick was drafted into the Army the following February and bused from Somerset to Fort Indiantown Gap, PA, then to Miami for basic training. This was where the first telegram was sent the following year from Hilda. Dick replied from Nebraska on his way to Denver. He tells her to go back home to Jennerstown and wait til he's settled to join him. A month later he invites her to Buckley Air Field in Colorado where he is training, and she travels there by train with Dick's brother, Omar. After a brief visit, they return home. Dick apparently is moved to Dalhart Air Base in Texas sometime in the fall of 1943, but Hilda doesn't visit there until March of 1944, after which she returned home.]
[Begin telegrams & letters]
T-3/21/43 Jennerstown, Penn, to Pvt. Richard O. Miller 403 TR Group Flight B BPC, Miami Beach, FL
EVERYONE HERE ALL RIGHT. HOPE TO SEE YOU SOON. KEEP WRITING. LOVE= HILDA
T-3/24/43 Kearney, Nebr, to Mrs. Richard O. Miller, 1214 Moss St.
NOT ALLOWED TO SAY MUCH. GO HOME WHEN READY. I'M SENDING ALL OTHER MAIL HOME. DON'T WRITE TILL YOU GET ADDRESS. I LOVE YOU=DICK
T-4/23/43 Buckley Field, CO, to Mrs. Richard O. Miller
ARRIVED BUCKLEYFIELD COLO 12 PM WEDNESDAY. ADDRESS 767 TSS BKS C-314. FEELING WELL. WRITE=RICHARD
T-5/3/43 Boswell, Penn, to PFC Richard O. Miller, 767 TS SQ SP Brcks C314

OMER AND I LEAVING JOHNSTOWN TUESDAY NIGHT AT TEN OCLOCK=HILDA
T-10/21/43 Dalhart, TX, to Mrs. Richard O. Miller, Jennerstown, Penn
HAVE ROOM. COME AS SOON AS YOU CAN. GET ROUND TRIP THOUGH STLOUIS. CALL CAMP WHEN ARRIVE ANSWER IF CANT COME=DICK
T-3/6/44 Johnstown, Penn, to Sgt Richard O. Miller, DeWitt Prov 467th Sqd H
LEAVING JOHNSTOWN THURSDAY MORNING. ARRIVE IN DALHART SATURDAY AT 10:50 PM. LOVE=HILDA
[The next communiques begin a month later, with telegrams listing no point of origin. The first V-mail arrives home in Somerset County  labeled just "England" in mid-June. Dick explained in a interview before he passed away that he was suddenly chosen to be part of the 369th Bomber Squadron when another airman got sick and because of his small stature he could fit into a ball turret. He was shipped to New York City and then to England for B-17 bomber runs over Germany. We believe Dick flew out of the English air base near what is today the Cambridge American Military Cemetery and Memorial, just south of what is known as "The Wash." That outstanding physical feature was the landmark by which planes and bombers such as Dick's B-17 located their landing fields after crossing the English Channel from Europe.]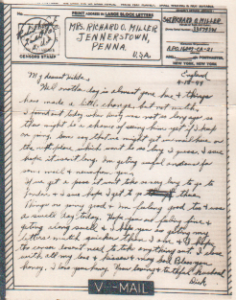 V-Dick to Hilda written 4/13/44; stamped 4/15/44 England; postmarked 4/15/44 U.S. (labeled Mrs. Richard O. Miller, Jennerstown,Penna, U.S.A.)
My dearest Hilda.
Well how are you feeling today? I am good as ever so I'll try & write a few letters this afternoon or I won't have many friends, but I guess as long as I have you I shouldn't worry, should I? Things are like they were my last week or so in Dalhart, [TX], remember, only I have no place to go. But, don't get me wrong; I'm not complaining.
We get treated well here & K.P. [kitchen patrol] was a joke last night. How is the old car working & did you get the tires yet? I sure hope so or you'll be doing a bit of walking. Did Alt [younger brother Alton] get called for the army yet? I didn't hear or see anything of Dusty [?] yet. If I can I'll send you a cablegram as soon as I get your letter. Did you get sore [?] again when you went back home or doesn't it [underlined] bother you anymore & and if it does, find out what causes it, will you Honey? Are you working hard now? Coming back to the old subject [underlined], Honey, how about calling them Zek & Elmer [?] instead of the names that Russell & Virginia [cousin Glenna's sister ?] used, remember? Is that a deal & do you still think we can use Jane Ann for the name or do you want to change it? Honey, I'm kind of in the ___ [illegible, underlined] today, but I know you're not. I hope this isn't too small to read. Well Honey, I must write some more letters now & keep your chin up & everything will be fine. I don't seal my letters as I just put a kiss in them; is that O.K.! I love you, Honey.
With all my love, 
Dick
V-Dick to Hilda written 4/14/44; stamped 4/18/44 England; postmarked 4/22/44 U.S. 
My dearest Hilda,
I'll try & write a little this afternoon so I get to bed earlier tonight. I wrote 4 last night till 11:30. Boy, it's hard to find something to write about around here and nothing to do. Once I get some mail I'll have plenty to write about and answer questions. Last night before I went to bed I got out my "little book" & read a little & when I opened it up, 3 of your pictures jumped out. I had forgot they were there & they sure made me feel good too. I believe I'm catching a little bit of a cold now. Honey, do you like the new place better now than you did at first? I bet you do because you have things fixed up by now, I hope. Do you get as cold in bed as you did over home? Wouldn't it sure be swell if we were still living in our little cabin in town. I bet it's nice & warm there by now. Maybe we could even watch those mules down there in the field, remember. I didn't write to Bones [?] yet. Maybe I'll get around to it one of these days when I don't know what to do with myself. How is pop & Mom getting along? Are they still fussing? Tell them I said to cut it out. Well Honey, maybe I'll write another letter [underlined] afterwhile if I can think of something. I'll close, Honey, with all my love and kisses & remember, keep that chin up just like on your picture. I love you, Honey Dearest. Love, Dick.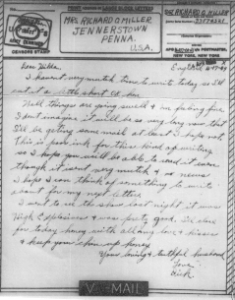 V-Dick to Hilda written 4/16/44; stamped 4/18/44 England; postmarked 4/24/44 U.S. 
My dearest Hilda,
Well I made it to church this morning & had a little work to do this forenoon & now I have nothing till morning, so I'm going to write a letter home & maybe to someone else too. I still owe a lot of letters. If you can, will you send me Hatay's & Bob's [?] address or give them mine, OK Hon? I'll write to Dusty when I get settled. I hope I'm not writing too small that you can't read it. I sure hope you like my long letter that I wrote last night. How are you feeling these nice spring days? I feel fine, but I can't sleep too good yet. I can't figure out what's wrong. Maybe I'm just not used to sleeping alone yet. How does it affect you? Or don't you miss it [underlined]? I run [sic] out of good ink so I must use this. I can't get to mine. I hope you will be able to see this. For sme reason I can't thin of anything to write this afternoon so I'm going to close & try & write more the next time. I'm wound down & no one to wind me up again. Things are tough all over, aren't they, Hon? Just so long, Honey, & keep your chin up & don't forget to smile. I love you, Honey Dearest, with all my heart. Your loving husband, Dick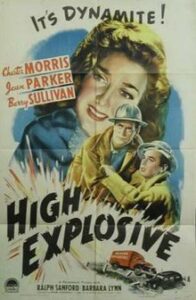 V-Dick to Hilda written 4/17/44; stamped England; postmarked 5/1/44 U.S.
Dear Hilda,
I haven't much time to write today so I'll cut it a little short, OK Hon?
Well things are going swell & I'm feeling fine. I don't imagine it will be so very long now that I'll be getting some mail, at least I hope not. This is poor ink for this kind of writing so I hope you will be able to read it even though it isn't very much & [there's] no news. I hope I can think of something to write about for my next letter. I went to the show last night. It was High Explosives & was pretty good. I'll close for today, Honey, with all my love & kisees & keep your chin up, Honey. Your loving and truthful husband, love, Dick.
V-Dick to Hilda written 4/18/44; stamped England; postmarked 4/28/44 U.S.
My dearest Hilda,
Well another day is almost gone & things have made a little change, but not much. I found out today where Dusty was not so long ago, so there might be a chance of seeing him yet if I keep on going. Some say that we might get am mail here of the next place, which won't be so long I guess. I sure hope it isn't long. I'm getting awful anxious for some mail & news from you. If we get a pass it won't take so very long to go to London & I sure hope it get to go there. Things are going good & I'm feeling good too. It was a swell day today. Hope you are feeling fine & getting along swell & I hope you are getting my letters much quicker than I am & I hope the censor doesn't need to take anything out. I close with all my love & kisses & may God bless you, Honey. I love you, Honey. Your loving & truthful husband, Dick.
V-Dick to Hilda written 4/20/44; stamped England; postmarked 4/28/44 U.S.
My dearest Hilda,
Well here I go again trying to write a letter & nothing to write about, but I'll write something just to take up my time & so you have something to read. I'm feeling fine & things are going swell. I'm a little tired from sitting most of the day & have the same thing again tomorrow yet. The days are getting pretty long & the nights are getting shorter except when I can't sleep good like last night. I dream about the darndest things that I never think about and never what I would like to dream about. Things are tough all over, aren't they Hon? One of the other fellows got some letters today, so I hope tomorrow is my turn for some mail. Well Honey, I guess I'll close for tonight with all my love & a good night kiss & may God bless you, Honey. I'll try & write more tonight, I mean tomorrow night & maybe I'll have some letters to answer, I hope. I love you, Honey. Your loving & truthful husband, Dick.
T-6/12/44 No origin, rec'd Somerset, PA, & mailed 6/20 to Mrs. Richard O. Miller
DEAREST HILDA. RECEIVED LETTERS THIS WEEK. IM FEELING FINE. HOPE YOU ARE THE SAME. LOVE=RICHARD MILLER
[This is the end of the personalized V-mail letters. The one below was a pre-written card with graphics, like a greeting card. While the stamped date and any indication of when it was actually sent is unclear, I believe, if the postmark is any indication, that it went out nearly nine months after the last V-mail. This possibly indicates the intense war-related activity in between.]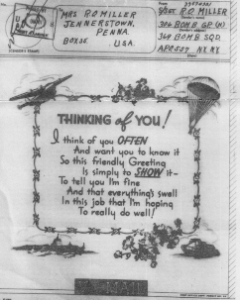 V-Dick to Hilda written & stamped? postmarked 9/6/44 U.S.
"Thinking of you!
I think of you OFTEN
And want you to know it,
So this friendly Greeting
Is simply to SHOW it –
To tell you I'm fine
And that everything's swell
In this job that I'm hoping
To really do well!"
[There had been no communication between Dick and Hilda from June to September, 1944, when we assume these wartime activities took place, some 35 missions, including on D-Day, June 6. ]
T-10/?/44 No origin, rec'd Somerset, PA, & mailed 10/13/44 to Mrs. Richard O. Miller
LETTERS SENT. PLEASE DON'T WORRY. ALL MY LOVE DEAREST=RICHARD O. MILLER
[Sometime around Thanksgiving of that year, Dick is shipped back to New York City and allowed to go home for a few weeks on furlough. Returning to the Army, he completes his duty as a newly promoted staff sargeant teaching gunnery detail for the B-29 in at the Las Vegas Gunnery School. Hilda meets him for a short stay in Dyersburg, TN, in early March 1945.]
T-3/6/45 Johnstown, Penn, to Sgt. Richard O. Miller, 419 TNG Unit AAB
LEAVING JOHNSTOWN AT 953 PM MONDAY. WILL ARRIVE IN DYERSBURG 923 PM TUESDAY. WILL SEE YOU SOON. LOVE=HILDA
T-3/7/45 Chicago, IL, to Sgt. Richard O. Miller, 419 TNG Unit AAB
OUR TRAIN WAS LATE. HAVE TO WAIT TILL TONIGHT AT 7:45. WILL ARRIVE IN DYERSBURG AT 6:50 WEDNESDAY MORNING. MISSED THE TRAIN. LOVE=HILDA
[End of telegrams & letters]
[Dick is finally honorably discharged from the Loredo, TX, Army Air Base in late fall of that year, six months after victory was declared in Europe (VE-Day). This ends the transcriptions of the 16 World War II letters and telegrams that we have of Dick and Hilda Miller, between Somerset County, PA, and his various stations in the U.S. and England.  As we said above, please take some time to read the first-hand accounts of Dick's days in the ball turret of his B-17 named "How Soon" during his 35 missions over Germany. In researching this article I came upon several letters composed in the spring of 1945, sent to Hilda and Dick at various locations from Hilda's mother and a neighbor. They have been incorporated into a story written a few year earlier around the family's wartime letters. I think they offer further context on this wartime couple's experience. And by all means, if you have questions or clarifications to anything in this article, do take the time to write me a note in the Comments section below.]
Additional Resources:
Annie "Mom" Krause Diaries (1950-1952) and Commentary
A Journey between two Passages: The "Mom" & "Pop" Krause family from the National Road to the Lincoln Highway
Richard & Hilda: The Gunner & The Riveter
Richard Miller's 35 Missions Over Germany in WWII
A Diary of D-Day: As kept by Richard O. Miller (1920-2015)
Excerpts: Greisinger's A World Away but Close to Home
Autobiography of Hilda E. (Krause) Miller
Forward to Part 2: Letters from Annie "Mom" Krause
Forward to Part 3: Letters from Dick's Mother & Hilda's Aunt
Last revised 3/2/21