Transcribed with [Comments]
by
Larry Pearce, son-in-law
2/27/21
(Click on image to enlarge/Hit back arrow to return)
Return to Part 1: Between Dick & Hilda
Return to Part 2: Letters from "Mom" Krause
[Welcome to the third and final part in a series of transcriptions of World War II-era personal letters with [comments & clarifications]. These were inherited from my wife Susan's late father, Richard O. Miller (1920-2015), who had saved many from the effects of his late wife Hilda [Krause](1921-1997). The original family communications were in the form of telegrams and V-mail between Dick and Hilda during and after the War. The first part gives the reader much context for and locations of the missives. The second posting at this site presents the letters from Hilda's mother, Annie [Lee] Krause (1885-1971), to the couple living at the Army Air Force field in Las Vegas in 1945. All together, these two-dozen communiques give us a very personal look at life in America and Europe during those terrible days.
[Let's begin with a letter to Richard, as his mother Sarah called him, and wife Hilda, from his home. Sarah (1891-1972)(Mrs. Howard P. Miller), was an equal partner on the same family farm she had grown up on back in Somerset County, Northern Appalachia. Highly conversational with little punctuation, Mother talks to her young son and new daughter-in-law. This transcriber had difficulty telling where one sentence ended and another began. With few capital letters and many articles missing, the meanings were sometimes unclear. My wife was often able to clarify names and relationships. What comes through, however, is her sense of humor and sometimes sarcasm. I'll provide a similar context for the second letter, from Hilda's Aunt Lizzie, below.]
First letter: from Richard's mother Sarah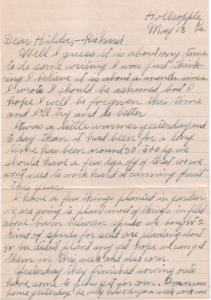 May 13, 1945
Addressed to: S/Sgt. Richard o. Miller, 33574321, Sqd. B-2, L.V.A.A.F. Las Vegas, Nevada
from: Mrs. Howard P. Miller, Hollsopple R. 1, Pa.,
with 3-cent purple "Win the War" U.S. postage stamp
Dear Hilda, — Richard
Well I guess it is about my time to do some writing I was just thinking. I believe it is about a month since I wrote. I should be ashamed, but I hope I will be forgiven this time and I'll try and do better.
It was a little warmer yesterday and today than it had been for a long time. [It] has been around 30 to 60 dg. We should have a few days off of that 100. [sarcasm?] We won't need to work hard at canning fruit this year. [humor? meaning unclear]
I have a few things planted in [the] garden. We are going to plant most of [the] things in [the] field above [the] barn between [the] spuds [potatoes]. We bought 2 kinds of spuds for seed. [We] are planting about 45 bu[shels]. [We] didn't plant any yet. Hope we can get the in this week, and also corn.
Yesterday they finished sowing oats. [They] have some to plow yet for corn. Omar [Richard's brother] was home yesterday. He only has 5 days a week work now [at the Johnstown steel mill]. Today we were down at Reita's [sp?] for dinner. I guess I had told you Leon's are moving to Detroit as soon as the people get out of [the] house. She [they?] was out last week. The lady told her they will get out as soon as school closes. Dorothy [sp] Lee sure is getting big. Aunt Ada [Charles' wife – see below] is very worried. She would like to rent her house and keep 2 rooms of it for herself. She doesn't like to stay alone. She could get school teachers to board. She can't decide what to do.
We had a letter from Alton [Richard's youngest brother] last week and 3 pictures. It was written Apr. 22. I have been wondering if he will get to come home on his way to [the] Pacific. Did the V.E. day [May 8, 1945] make any difference in your jobs?
Oh yes, [Uncle] Chas. [Charles] said you better not make your Mrs. work too hard or she will walk out on you like my [his] lady did. That is what he has to raz me about now. I guess you don't know [that] Ada B. [Charles' wife] moved up to Steve's [son/brother?] about a month ago. She told Clyde [Richard's brother] she had to work too hard. She couldn't stand it, and they tried to make me believe another line. Well, just as she has it. I do pity the youngsters, but there isn't anything I can do about it because I can't boss her. That isn't in my place. If she was my daughter it would be different. Well, now you know what made Hilda sick last summer. I made her work too hard. [sarcasm?] They [?] haven't been down since they left.
I didn't get to church. Today was tonite [unclear] and while we were milking, Chas beat it, so Pop and I are home tonite. Ha Ha. Omar left early to let the Dodge at Bayman's garage as catch the bus to town.
We had a letter from Uncle Earl [Howard's brother in Iowa]. Glenn's [Richard's cousin there] have a little daughter. They call her Jane Ellen.
Clyde says he is getting along pretty good in [the] army. Alton said he wrote to him and [he] said he likes it. Alt said he can't feed me [stories?], that I was there too. Ada B. had went [sic] down [meaning unclear].  [I] didn't hear if she came back yet or not.
We had the Olds[mobile] in the shop again as week. [We] just got it Sat[urday] nite. [They] had to put new rings in, and I don't know what all [it] cost: about some $80 or $90. It costs more to keep that thing going than to raise a family. Hope old Henry [Ford – didn't make Olds] soon makes some for $400 and puts repair parts in [the] dime stores. Ha Ha.
I'm not through cleaning [the] house yet. [I] have [the] upstairs about finished and [the] dining room, got it papered now, [and] the living room looks heckish. [I] wish I had got a little different paper and put some in both rooms.
The peeps [baby chickens] are doing good [sic] now. They [the hatchery] replaced a hundred and didn't say it was their fault so many died. We have about 260 now. I weighed one. It weighed 2 oz. near 2 lb. [just less than 2 pounds seems very heavy for a "peep"] so if nothing happens, they will make pretty good eating till July [seems too soon for eatable chickens].
[P.S. She finished the letter on a new day] Mon morn: [It] is a nice, clear day and the birds are very happy by the noise they make, and so am I  for the nice weather, but I can't say so much about my job: that is [to] cut spuds. Guess I must close now and get to work. I'll try and write soon this time, and [I'm] hoping to hear from you soon. Be good. Bye, [signed] Mom [end of 1st letter]
[The next letter, while shorter, also contains the down-home tone and some bad news. Hilda's maternal aunt Lizzie lived just around the bend from the Amish farm house in which she and Hilda's mother Annie grew up. She talks about her brother and a neighbor, planting gardens, and her faith. The most amazing thing to me was the discussion in paragraph three of having to have a breast removed. There was no other preventative or curative treatment in those days. In the next paragraph she reports what she has baked, as if that news was on the same level as a mastectomy.
[This letter was written about six weeks before the above and sent to one of the two air bases in Denver, CO: Lowry or Buckley, which one isn't clear. Apparently, Dick and Hilda were living away from the airfields. Not unlike the first letter, this one contained few punctuation marks and many abbreviations, which at times, I had to place and complete to get the meaning I thought was intended. Lizzie, like Sarah above, obviously has a wonderful sense of humor. Enjoy.]
Second Letter: From Aunt Lizzie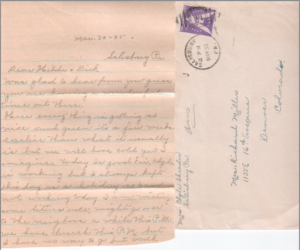 Mar. 30, 1945
to: Mrs. Richard Miller, 1135 E. Aremice [?], Denver, CO
with 3-cent purple "Win the War" stamp upside down
from: Mrs. Clyde [Lizzie] Shrader, Salisbury, PA
Dear Hilda & Dick,
Was glad to hear from you. Guess you are having a wonderful time out there. Here everything is getting so nice and green. It's a few weeks earlier than what it usually is, but we will have cold yet I imagine. Today is Good Fri[day]. Clyde is working, but I always kept this day as a holiday, so I am not working today. I am writing some letters once. [I] might go over to the neighbors a while this P.M. We have church this P.M. but I have no way to go but walk. The Lutherans had their church last night,
Dick Arvin [a neighbor] was home several weeks ago [from the War?]. Lois & Dick are getting ready to build a house across the road from Sim's. [Uncle Simon Lee (1895-1955) was a brother of Hilda's mother Annie, a butcher after WW I, his house stood on the corner just beyond the Lee farm. After he retired, he collected antiques and artifacts and turned his downstairs into a museum.] She [Lois] says that way she can make good use of her money. It won't be very big: 3 rooms & a bath. Billy [son?] was still in Eng[land], but he said his wounds were healed more. We expect to go over to Krause's [Sister Annie in Jennerstown?] on Sun[day] if we can. [I] haven't been over since last fall. [I] guess they were glad they were rid of us for awhile once [humor].
I am getting ready to go to the hospital as soon as the Dr. says I'm fit. I have to get my left breast taken out. I have a hard lump in it and the Dr. says it [the breast] will have to come off before it gets serious. Boy Oh boy, do I dread it, but I guess everyone does. I'm not sick but terrible worried about it.
Yesterday I baked a cake and some bread. [I] guess I won't fix much for Easter. It's just another day. Lots of people have a lot planted in their gardens. I don't. I think it's plenty early yet. Well, I don't know any news, so I'll close. Write soon again. Yours with love,
[signed] Clyde & Lizzie [end of 2nd letter]
[What a terrific look at life back home for a young couple on the other side of the country during wartime. A mix of community and farm life, good news and bad, these words must have been received with some homesickness and longing for the conflict to end and a return to normalcy, not unlike our time of the Covid Pandemic today. I'm only too proud and honored to be able to share these writers' thoughts with you, over three-quarters of a century later. Will you share your sentiments, and perhaps clarifications, below? Thanks.]
Additional Resources:
Annie "Mom" Krause Diaries (1950-1952) and Commentary
A Journey between two Passages: The "Mom" & "Pop" Krause family from the National Road to the Lincoln Highway
Richard & Hilda: The Gunner & The Riveter
Richard Miller's 35 Missions Over Germany in WWII
A Diary of D-Day: As kept by Richard O. Miller (1920-2015)
Excerpts: Greisinger's A World Away but Close to Home
Autobiography of Hilda E. (Krause) Miller
Return to Part 1: Between Dick & Hilda
Return to Part 2: Letters from "Mom" Krause
Last revised 3/4/21