by
Larry Pearce
5/21/20
Table of Contents
(Click on names & links to go directly; on images to enlarge; back arrow to return)
1. AUSTEN: various namesakes of Kent, UK
2. PEARCE: and associates Jack, Crummy, Reed, & Heginbotham
3. GRAY: pastor turned college professor
4. MILLER: several Bishops from our Anabaptist community
As I review our families' histories from time to time, certain categories seem to leap out at me from the computer screen. Recently, the number of Christian ministers and historical religious figures associated with our families astounded me. This article will list those persons, past and present, by four main groups: Austen and Pearce on my dad's side, Gray on my mother's side, and Miller, representing both sides of my wife Susan's family. From there I'll proceed chronologically, "relating," if you'll excuse the expression, a little bit about them specifically and other ancestors who have been engaged in the ministry of the Church generally. For example my Austen and Pearce surnames carry historic connections to the well-known Christian Saints Augustine and Peter. This is not to say that my family, and certainly not me, is therefore "saintly," but I hope you'll find this discussion interesting, if not simply coincidental. The biblical basis for all of this comes from the very words of Christ given during His final resurrected day on earth, known as "The Great Commission":
Then the eleven disciples went to Galilee, to the mountain where Jesus had told them to go. When they saw him, they worshiped him; but some doubted. Then Jesus came to them and said, "All authority in heaven and on earth has been given to me. Therefore go and make disciples of all nations, baptizing them in the name of the Father and of the Son and of the Holy Spirit, and teaching them to obey everything I have commanded you. And surely I am with you always, to the very end of the age.
Please take the time to check at least some of the many links provided for more information on the various names and people. Clicking on the surname will take you to the respective family trees. From there you'll find Tables of Content for each family, in which Introductions and various articles will offer more specific details.
An introduction  to this family first states that the name can be spelled a dozen different way throughout the British Isles. Perhaps most appropriate to the subject at hand is mention of the Rev. David Austin (with an "i"), a "saddlebag"or itinerate Scots-Irish Presbyterian who was ordained in New York in 1788. I don't know if we're related, but it was after another traveling preacher that my Grandfather Wesley Herron Pearce was given his middle name. We'll hear more about that later. 
Robert Penhey, a British historian, has written commentary on my Austen-Pearce "Original Family Narrative," as follows [with my personal comments in brackets]:
The name "Austen" originates from the French "Augustin," the name of a saint (Latin name Aurelius Augustinus)[354-430 AD] of the [Roman] Catholic Church from the period shortly after its separation from the Orthodox. This is not to say that the Austin/Austens are blood relations of the said bishop. His name probably relates in turn to the grand nephew of Julius Caesar, Octavianus, who took the title Caesar Augustus. He was the one in charge in Rome at the turn of the Era. Surnames [such as Austen] were originally descriptive epithets to distinguish one baptized Charles [Austen, my 3Xgreat-uncle] from another. An ancestor of the Charles of the text probably worked for an Austen (Augustinian) monastery in some capacity, or simply wished to be associated with a later St. Austin (Augustine) who brought the Catholic version of Christianity to Britain (about 605) and began the process of ousting the Celtic Church, which was a version of the Orthodox cut off from the Greek Church by the geographical position of the Roman one. Austin set up his headquarters at Canterbury in Kent, the county of Charles' birth. [Ironically, according to Gerhard Herm, "Rome's former Celtic subjects had, after 403, to deal not only with attacks from without; they also had to fend of barbarians who were native to the island. There were Germans on the Channel coast. Roman commanders had allowed these blond savages to settle in Kent as a reward for military service." Constantinople viewed this pagan threat with such seriousness that an army was sent to Britain. The hero of this bloody war, called the "Hallelujah Battle," was named Ambrosius Aurelianus (c. 340 who later became Archbishop of Milan who is said to have baptized Augustine), and he is regarded as the last Roman commander in Britain. Some historians have regarded him as the "factual kernel in the myth" later coined King Arthur and the Knights of the Round Table (The Celts 274-8). Remember that Charles Austen and Susan Austen Pearce's father was also named Ambrose, undoubtedly a very popular name in Kent.]  The vowel change from I to E [in Austen] most likely happened in England [after the time of Augustine's arrival].
Whether my Austens are related to the famous writer Jane Austen has not been established definitively, but as both are connected to County Kent, the odds are very high. In addition, several of Jane's ancestors were ministers, and according to a study entitled  The Baptists of Smarden & the Weald of Kent (1640-2000), by Norman Hopkins, John Austin was Deacon of Tilden (1640); John Austen, was the Minister of Zion (1732-1765); Benjamin Austin, the same (1790-1815); John Austin was Deacon of Zion (1794); and the following were called "Messengers," (representatives & overseers): Daniel Austin at  Portsmouth, Ambrose at Sussex, and another Ambrose at Dorset. Seems like "Ambrose" was a popular first name for the Austens. For more details, see Andrew Hill's letter to me regarding those men.
An online search of notable Pearces in Christian ministry will reveal many names, most probably unknown in the 21st century. I used to listen to the late Bill Pearce (1926-2010) native of Carlisle, PA, radio host, trombonist, recording artist, and minister of music. He often performed with Billy Graham crusades. We can still enjoy Bill on Youtube. Another less known church musician was Dr. Stephen Austen Pearce (1836-1900). We may be related to him as he was born in Kent. He was an organist and composer who played and taught in New York City. For even more famous Pearces associated with the Church, read "Upon this Rock, Part III" and the two-part series "Faith of our Fathers (and Mothers)." 
The surname "Pearce" has several possible origins. One comes from the Olde French "percer," to pierce or breach, and "haie," a hedge or enclosure and was originally given to a soldier, possibly in North France, remembered for his breach of a fortification. The name was brought to England by the Normans in 1066 and is first recorded in the Domesday Book. The name was anglicized as Pearcey, Pearcy, Piercey and Piercy. One, William de Percy (1030-1096), who accompanied William "the Conqueror" (1066-1087), founded a leading Northumbrian family from whom Sir Henry Percy (1364-1403) , known as "Harry Hotspur," was descended. He helped place Henry IV on the throne but later revolted and was killed. A family branch spelling their name Piercy established themselves at Malton in North Yorkshire (c.1500). The first recorded spelling of the family name is shown to be that of Ralph Percehai which was dated 1086, in the Domesday Book of Berkshire. 
Other possible origins of the "Pearce" surname, also spelled "Pierce," especially in Ireland and Germany, according to writer Kimberly Powell, come from the Middle English "Piers," a derivative of the Greek "petros," for "stone" or "rock." It may have been bestowed or chosen as a topographic name for someone who lived in a rocky area, or as an occupational name for a quarryman or stone mason.
A variant of Piers, a Middle English form of the first name "Peter." The Old French would be "Pierre." Peter is derived from the Greek petros, which comes from the Latin "petra," meaning "stone" or "rock". My name, ending in "ce" means "the son of Peter." I like this version because it reminds me of Jesus' calling his disciple Peter "the rock, upon which I will build my church." Read more at Surnamedb.com or MeaningofNamen.com. All this detail is to say, it seems to me, that our name has historically and even theologically been linked to strength in warfare and commitment to cause. In the case of this article, the cause has been and continues to be Christ the Lord.
My ancestors, the Pearces of the village Bromham, Wiltshire, England, were considered "non-conformists" and were followers of evangelist John Wesley (1703-1791), who inspired the Methodist movement. One of the most interesting stories on this side of the Pond is the founding of Pearce Memorial Church, a Free Methodist church near Rochester, NY. The denomination and congregation were built as an anti-slavery statement on Wesleyan principles during the Civil. After WW II the sanctuary was destroyed by fire of an undetermined origin. In 1951, the new building was dedicated to Bishop William Pearce (1862-1947), a native of Cornwall, England, and migrant to California who ministered to miners from a wagon there during the Gold Rush. After accepting a call to Upstate New York in 1904, he became the longest serving Bishop of the denomination. While I haven't established a genetic link to Bishop Pearce, it's highly likely that our families are related due to the proximity of his native Cornwall to our Wiltshire. Look for the upcoming article on our Pearce connection to John Wesley and his musician brother Charles.
When Great-great grandfather Richard, his wife Susan (Austen), and his twin Sarah and her husband, Richard's brother-in-law by marriage, Charles Austen, and their families settled in McCandless Township, northern Allegheny County in 1821, they attended the nearby Cross Roads Presbyterian Church because that was the only house of worship in those parts. The Rev. Francis Herron (1774-1860) rode up from his home church in Pittsburgh, the First Presbyterian, to fill the pulpit, serve communion, and probably marry and bury folks. He also visited his cousin James Jack, of West Deer Township, also a distant relative of the Pearces about whose famous ancestor we'll discuss below. Rev. Herron had started at Middle Springs/Rock Springs, Chambersburg, PA, near where our Hill family had originated. Later, after being called to Pittsburgh, he helped found the Western Theological Seminary there, where so many of the early Presbyterian ministers of the region did their training for ordination. He was so admired that my grandfather Wesley (1876-1955) was given his surname as a middle name. The Pearces, however,  carried with them the spirit of John Wesley, and before long were conducting there own church services in the home of fellow believers, becoming the founding members of the new Salem United Methodist Church, originally along Pearce Mill Road. The church was later moved west to the growing mainline community of Wexford, where it is still active. Grandfather Wesley's wife Bessie Reed Hill (1887-1974) was given a middle name after the Rev. Alvin McClure Reed, the husband of her great-aunt Anna Martha Marshall (1840-1939). The Marshalls were Scots-Irish Presbyterians of the Enon Valley, Lawrence County. Read more about Rev. Reed below.
We have already written the story of our Rev. William Jack (  ), Presbyterian minister of Edinburgh, Scotland. A descendant of the French Huguenots, the Jacques, or James, as they were probably called when they crossed the English Channel, were Reformed Protestants, followers of John Calvin. Our Rev. Jack was called to the Bull Alley Church of Dublin, Ireland. Serving only a short time, he was recalled from there under the new reign of King Charles II (1630-1685), who sought to strengthen the Church of England by "ejecting" 61 reformed preachers from around the Isles. Incidentally, the Bull Alley Church still ministers today and many of the descendants of Rev. Jack came to America and were instrumental in settling the Western Pennsylvania frontier and inspiring the writing of Declaration of Independence.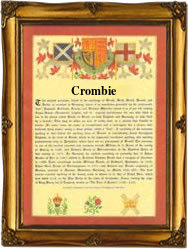 The next set of minister families include great uncles and cousins through marriage with the unusual surname of Crummy. Unfortunately, this name often carries a pejorative meaning in modern times. But the name actually comes from the Scots-Irish Celtic "Crombie, a town in Northern Ireland. An historical search of the name with respect to early Western Pennsylvania reveals the 1825 marriage of Nancy Baker to David Crummy, both of Deer Creek Township, Allegheny County, by a Rev. Pearce. While I couldn't find any more on the parties involved, I think it's ironic that the Crummys and Pearce had been so closely associated so long ago. Furthermore, many of my mother's associated families came from West Deer Township and supposedly the second oldest Presbyterian church in Allegheny County, Bull Creek, founded in 1794.
I also found a Rev. C.A. Crummy of Butler in a 1924 photo from my Grandmother Bessie  of the Rev. Alvin McLure Reed and wife's 60th anniversary gathering in Enon Valley, the place where her Grandmother Marshall was born. It was Grandma Bessie's Great-aunt Anna Martha (1840-1939) of there who married the Rev. Alvin McLure Reed, who is covered below. The Rev. C.A. Crummy may have been the pioneer preacher who produced the esteemed line-up of namesakes. He had fought in the Civil War, after which he attended what is now the Presbyterian Washington & Jefferson College in "little" Wshington, PA, and the old Western Theological Seminary in Pittsburgh.
The Rev. Dr. Hugh Russell, D.D. (1886-1957) was married to Mary "Mayme" Hill, my Grandmother Bessie Reed Pearce's sister. After college he attended the old Western Theological Seminary in Pittsburgh, and after ordination served the Derry Presbyterian Church in Westmoreland County. Hugh and Mayme's marriage produced three children, one of whom was son Lester, described below. An article about the work of this Dr. Russell in the New-Dispatch of 1940 simply said that he "moved a lot." These Crummys are buried with many of Mayme's Hill family in the Allegheny Memorial Park Cemetery, Allison Park. My parents rest there also.
The Rev. Dr. Lester W. Crummy (1918-2008) lived to be 90 years old. The son of the above Rev. Dr. Hugh Russell Crummy was born in Elderton, Armstrong County, not far from the home of my 4Xgreat-grandfather John Hill (1765-1849). After receiving a diploma from Derry High School and a degree from the Presbyterian Waynesburg University (1940), he attended the old Western Theological Seminary, now part of the Pittsburgh Theological Seminary, and was ordained in 1943. His amazing calling within the Presbyterian Church USA included pastorates near Pittsburgh: Beltzhoover, Brushton, Sharpsburg, & Pleasant Unity. During this time he earned a Doctorate in Sociology from the Indiana University Medical Center, Indianapolis. In the next 25 years he served as Chaplain at Shadyside, West Penn, & St. Francis General Hospitals. As if that wasn't enough, Dr. Crummy held interim positions for 11 different churches in the Pittsburgh area at various times. According to his obituary published in the Tribune-Review, "He sang for 50 years with the Westinghouse Male Chorus, was a member of the Masons, the  Shriners, & Tall Cedars of Lebanon." I think it's fair to say that this inspirational man, like his father, "never let any grass grow beneath his feet," as the saying goes.
Rev. Alvin McClure Reed (1841-1925), from whom my Grandmother Bessie received her middle name, lived his final years in Greenville, PA. He died an unfortunate death at age 84 in a car accident. Ordained and installed in June, 1876, he served several pastorates within the Erie Presbytery: Little Beaver, Plain Grove, and  Old Salem Presbyterian in Greenville beginning in 1890. Upon his death, his son Harry donated the family home to Thiel College, a Lutheran school in Greenville. The Reeds were descendants of Col. Robert Reed, the first settler in Mercer County. Reed's Furnace is an historic site there. John Reed was a pioneer to adjacent Butler County. Another relative in the ministry in Northwest PA  was Rev. J.S. Reed, a Presbyterian who pastored the old Hermon and Princeton churches.
Rev. Dr. McLeod Milligan Pearce (1874-1948) was President of Geneva College in Beaver Falls, PA, for 25 years. I have written a detailed account of his remarkable life. His father, William Pearce, was a great-great uncle, the son of my Great-grandfather Charles' oldest brother Ambrose (1814-1874), born in England. William, not unlike his son McLeod, was a builder, only of buildings, not students. He was responsible for Geneva College's "Old Main," a magnificent structure. Surely it was their noble work ethic that still stands today along with countless students and the building itself. I remember another building on campus when I toured years ago, Pearce Hall. In the lobby was a picture of Dr. McLeod with his greying hair combed straight back and black eyebrows. I thought, "That sure look like my dad." Needless to say, I was proud of what the Pearces had accomplished at Geneva.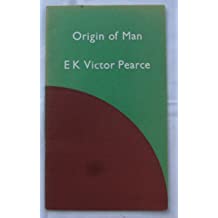 The Rev. Dr. Eustace Kenneth (E.K.) Victor Pearce (1913-2010) of Bourne, Lincolnshire, UK, was adopted. He told me himself over the telephone the year my wife and I served as volunteers for Wycliff Bible Translators near London. I had a list of Pearce families I had gotten from a book, and was determined to take our days off to search for them. Our Original Family Narrative says that our Pearces had come from Bourne, but I now I believe it was one of the Bournes to the south in Wiltshire. My article on the visit to the first Bourne was one of my first at this website. I can't say that I was disappointed to find out about the genetic origins of Dr. Victor after I learned of his credentials. The internet calls him "a  contemporary British writer and world-wide radio evangelist." Many of his books are still available online.
Brodie Heginbotham was born in 1997 in Edenton, North Carolina, to Lori and Gary Heginbotham. Gary is the son of my cousin, the former Joyce Pearce who has assisted me in several family history projects, including this one. Her grandson Brodie graduated with a degree in Religious Studies at the University of North Carolina at Chapel Hill after transferring from the UNC School of the Arts in Winston-Salem. He is currently a seminary student at Duke Divinity School. Grandmother Joyce remembers:
When he was about five years old, the family was visiting our church one Sunday and during the service the minister asked the children during Kids' Time if any of them knew what they wanted to be when they grew up.  Brodie raised his hand and said he wanted to be a preacher. When he was eight, he had a bad accident on his bike. A car hit him and threw him into a ditch. An older man in the neighborhood came to visit him. He was a retired preacher.  I was amazed to hear Brodie recite so many Bible verses. When he was at Winston-Salem he led a Bible study on Wednesday nights. It got so big he also held it Saturday mornings.
I asked Brodie about his inspirations and aspirations and he replied, "My primary inspirations include men like Dallas Willard and Richard Foster, as well as the many ancient great fathers of the Church like Augustine and Athanasius. I hope to pastor a local church that will help people understand the presence of God in the here and now, and become more like Jesus."  This part of our article will surely need to be updated as Brodie proceeds to ordination and his call.

Professor David B. Gray, Ph.D., was born in 1934 and is my cousin. He was kind enough to allow me to post his inspirational autobiography at this site. Coming from a line of farmers, his first ambition was actually bricklaying, and so he attended a trade school in Pittsburgh. But David soon aspired to more that just working with his hands. He soon found himself at Westminster College in New Wilmington, PA, a small Presbyterian Church affiliated school with an outstanding reputation in the Liberal Arts. After graduating with a degree in Psychology in 1956 and marrying his wife Phyllis, he moved to Pittsburgh to allow her to finish her degree at Pitt. While he was waiting, he enrolled at Pittsburgh Theological Seminary there where he earned a Masters of Divinity and was ordained into the ministry. He served a Presbyterian congregation in Martin's Ferry, OH, just across the river from Wheeling, WV. David says he felt a higher calling to minister to young people, and so he enrolled in the doctoral program at Pitt, and by 1964 accepted an Assistant Professorship at his alma mater, Westminster. After 38 years at the College, 17 of which he was Chair of his department, he authored several books, many articles, and some prestigious awards, Dr. David retired. He and phyllis have a large extended family spread over the East Coast. He also recently retired from a second business, the Krackow Company, primarily an internet endeavor offering traditional archery equipment around the world. Of course, he's had the opportunity to travel and speak in many lands. One of my fondest memories in visiting David was him showing off a bricklaying job at his house. This man of many talents likes to stay busy, even harkening back to his first ambition.
My wife Susan's maiden name was Miller. While her father's ancestors were staunch Lutherans from Germany who arrived in the Colonies in time to fight the British for American independence, her mother's Krause and associate ancestors were both Lutheran and Amish-Mennonite. The Krauses came from Prussia mid-19th century, but the Anabaptists were Swiss-Germans who arrived at least a century earlier, and their refusal to take up arms for their country was one of the main reasons they had been asked to leave Europe. All these families eventually made their way to the mountains of West Central Pennsylvania, and many intermarried. I have been unable to find clergy among the Lutheran Millers and Krauses, but I have found several religious leaders among the Amish-Mennonite Millers who married into both sides. Yes, I believe that Susan's parents, like so many others in what were the isolated mountains of Somerset County, were distantly related. And by the way, the surname Miller is probably the most common name among the Amish. I wrote about that surname in an article entitled, "The Invasion of the Millers."
Let's begin with Amishman Christian "Schmidt" Miller (1763-1845), whom we'll call call a cousin. He was born in Berks County, Eastern PA, a nephew of the distant grandfather on both sides of Susan's family, Hannes "Indian John" Miller. I hope you'll click and read about his ordeal with the Native Americans. Schmidt Miller and so many of the immigrants went west after the Ft. Stanwix Treaty of 1784 opened up that land for free and low cost settlement. Indian John stayed in the Berlin-Brothersvalley area, while Schmidt made a right turn off the Glades Pike (now Rt. 31) to farm near Johnstown. That city was originally settled by fellow Amishman Joseph Schantz (1749-1813) and took his name. A word of caution here: If the surname Miller is common, the first name Christian is perhaps even more common. Add Christian to Miller and you'll no doubt find dozens. Take time to read my article, "The Many Christian Miller." In short, our Christian "Schmidt" Miller was an orphan who first became know as an expert blacksmith. From this trade he had accumulated enough money to purchase 400 acres of land in northern Somerset County from the Shawnee Indians. One historian, J. Virgil Miller, believes that farms was about five miles from where Susan and I now live. Sometime before the Amish of this part of the county headed farther west because of the influx of Eastern European immigrants who worked the mills and mines, Schmidt was ordained the first Bishop of the Johnstown District.
By 1880, when it was no longer possible for the Amish to gather in private homes for worship and study, two meetinghouses were built: one in Geistown, just east of Johnstown in Cambria County, and the other near Davidsville, Somerset County. This latter was known as the Kaufman Church because, "Isaac Kaufman had built and financed its construction and because more than half the members had the name Kaufman." By the turn of the century, and after the death of succeeding Bishop Moses B. Miller, many of the Old Order Amish had either gone west or joined the newer Mennonite movement, building at least three more churches in the area. Bishop Schmidt remained, married twice, and fathered ten children. Passing in his 70's, he was buried with his second wife on their farm. We're left with the image of a man who forged both metal and souls on the early, rugged Pennsylvania frontier.
Another Amish-Mennonite cousin, or perhaps even closer in DNA, was Bishop Jacob  Saylor (1715-1793) of Meyersdale, southern Somerset County, PA. He is credited with being the first Mennonite minister in the county. Dr. Ezra Clayton Saylor (1881-1954) has written a wonderful, detailed history of the family going back to the German State Church of 1388. The name then was spelled "Seiler," meaning "rope maker." While it's unclear which of the reformed churches the Saylors followed in the early 16th century, the Lutheran or the German Brethren, these ancestors used a small book entitled, "A Collection of Religious Readings," by Menno Simons, printed in 1575. Of course Menno Simons (1496-1561) was the founder of the Mennonite movement. Many of these early Somerset County Saylor settlers are buried on land overlooking the town of Meyersdale, a cemetery called Saylor Hill Burial Ground and sometimes, as the original land patent of 1774 calls it, Three Hills.
In conclusion, you may ask how has all this affected the faith of my wife and me? I have written a four-part description of our faith journey entitled, "Christianity Comes Home." The piece begins with our religious upbringing and continues through our experiences and beliefs, influenced by ever-changing times, but grounded in the Word of God, the Bible. Having been active in the Church all my life, I began my college studies as an organ major. The late 2oth century offered few opportunities for traditional worship as I knew it in Somerset County where we settled. The Scots-Irish Presbyterians were scarce among the many Germans here. And even as we raised our kids in the United Methodist tradition, it was at times more influenced by the German Evangelical United Brethren (EUB) than the English Wesleyan practices. Susan began as a very traditional German Lutheran but moved to the local United Methodist Church after we married and began raising children. She too had been a music major in college. We both served the Church as organists, choir directors, and singers. Living so close to the City of Johnstown and suburbs, we were constantly being lured away from our church of membership by musical opportunities. When the kids were teenagers we all became active in the mainstream Presbyterian church in Johnstown (PCUSA). When they left home, we joined a large suburban Lutheran church (ELCA) to lead the music ministry there. After retirement from that ministry, we returned to the earlier local United Methodist congregation where we served in leadership capacities, both musical and organizational. But dwindling membership and disagreements over church policies caused us to ask where we could best serve. We are now at one of the oldest congregations in Somerset County that recently built a new building and left the mainline organization to be part of the relatively new Evangelical Presbyterian Church (EPC). Unfortunately, or fortunately as the case may be, their new structure is too small to hold all the new members and carry out the many service opportunities. Construction plans are in the works. Also, the worship format, in attempting to appeal to the large number of young families, has included much from the popular "Praise" format. The century-old pipe organ, which was tenderly moved from the old sanctuary, is used fewer time than once a month despite our church having several classically trained organists. It remains to be seen how God is moving with regards to our worship. Susan and I continue to be open to his call, even in our senior years.
Other articles of interest pertaining to family history and this subject:
"Abbreviated Penhey Commentary on Pearce-Austen Original Family Narrative" 
"New info on Pearces of Old England" 
Last revised 6/9/20