by
Larry Pearce, nephew
6/1/19
Born on the Middlesex Township, Butler County, PA, Gray family farm at the beginning of the Great Depression in 1933, my Uncle Stan was "sandwiched in" between older sister Mary (1931-1990) and younger brother Lawrence "Doc" (b. 1935). If he likes food, he also still has an appetite for life. Though poor by today's standards, his parents, my grandparents, Paul and Bertha Gray raised 12 children between 1917 and 1940. He says that when he was 16, and passed his driver's test, he was only 4-feet, 9-inches tall and weighed only 110 pounds. But, that didn't mean he couldn't work hard. As we shall see, "hard work" became his mantra. Even then, when not in school, he helped his brother Merle (1927-2013) working Saturdays for a distant cousin "Abe" Norris, making deliveries of dressed chickens and fresh eggs for Norrises' Farm Market along Rt. 8 in nearby Cooperstown. Maybe that's why "Uncle Dick," as we called him, was seemingly "always in the vicinity [of his Aunt Mary Bryce's apartment] around lunch time [when he later worked a Pittsburgh route] and remembers always being hungry." His first car was a 1942 Chevy coupe. Made during WW II, it was black with no chrome and no back seat. It did, however, have a wooden platform in the back to hold a big tub of ice for the chickens and room enough for three cases of eggs, 30-dozen each. The boys would often drive as far away as Gettysburg to pickup the eggs.
Later, they delivered in a Ford, probably acquired through a local dealership once owned by his uncle Russell Stanley Gray, for whom he was named. What brings a smile to Stan's face is remembering that the old "Woodie," as it was called for its distinctive side panels, didn't have a dependable first gear. When they had a delivery up a steep street, they'd simply put it in reverse and back up the hill.
Uncle Stan was a senior at Mars High School when a certain freshman, Catherine "Cathy" Claire Utz, caught his eye. She lived in Wexford, Pine Township, Allegheny County, and her family attended Salem Methodist Church, which was founded by my Pearce Family near Allegheny County's North Park. A descendant of staunch Scots-Irish Presbyterian Grays and Campbells, Stan nevertheless communicated with Cathy after graduation and for the entire time he was serving his country overseas in the U.S. Navy. When he returned, they were married in Salem Church.
Stanley's four-year tour of duty fell during the Korean War. After basic training at Great Lakes, he received additional training in San Francisco on the 8VR Lockheed Constellation Military Transport. He ran into his older brother Norman "Bob" (1925-2001) there, who was also on his way to the Korean conflict. Although Stan never fought on the Korean Peninsula, he shuttled back and forth between Pearl Harbor and Tokyo with servicemen and equipment.
After the Korean Truce was signed, Stan returned to the farm and married Cathy. He took advantage of the GI Bill and studied Business with a minor in Drivers' Education. He and his new bride at had family at Indiana State Teachers' College, now Indiana University of Pennsylvania (IUP), my alma mater. His cousin Joan Campbell was also there and was later to marry Bernie Ganley, who became a national champion golf coach and university president. But all was not a bed of roses for Stan and Cathy as their first born, in 1959, two-year old Richard "Dickie", was run over and tragically  killed by a milk delivery truck one morning. I'll always remember the honor of being asked to be a pall bearer at his funeral.
Despite the overwhelming grief, Uncle Stan and Aunt Cathy completed their college studies and went on to raise two more boys, James "Jimmie" and Douglas "Doug," and a daughter Cynthia "Cindy." Having first visited the beautiful city of Melbourne, on Florida's Space Coast, with his parents in 1949, and having his brother Doc move there after he got married and worked as a fireman and mechanic for various NASA contractors, Stan took a job there with Harris Corporation, now one of America's 100 largest defense contractors, worth over $7.4 billion in 2016. Harris has always done work with the Navy and liked what they saw on Stan's resume. I am able to relate because one of their subsidiaries, Gates. provided much of the radio transmission equipment I used during my 20 years in broadcasting. Stan and his young family lived on the edge of Melbourne in nearby Eau Gallie. I remember a Christmas visit to their house with my parents as a teenager. Real northern "Christmas trees" are rare that far south and can be quite expensive. That year, while the women talked and prepared the feast, the men hiked out into, what seemed to me at least, the swamp to "build" a Christmas tree. With our bow saw we carefully cut fresh, living limbs from several young pines and a tree truck, them dragged them all back to the house. In the garage we drilled holes in the tree truck and strategically stuck the branches in them until we had as "perfect" a free "Christmas tree" as one could expect in Florida. As for the rest of the day, as they say, "A good time was had by all."
Stan eventually served in Human Relations with Harris Corporation, and they asked him to take a temporary position in Poughkeepsie, New York, just north of the Big Apple, to set up new operations there. Well, what was estimated to take 18 months turned out to be three years, and the couple who loved sunny southern weather got tired of the snow, and as Stan says, "Cashed out." They took their pension and savings and bought a day care center in the town of King, on the scenic piedmont of North Carolina. Cathy was finally able to use her skills to the max, serving 126 registered infants and toddlers in their new business. The actual child care center was out in the country, and Stan's job was to keep track of the children's pets: a goat, sheep, a donkey, a dog, ponies, and some rabbits. With no pension and no health insurance then, Stan recalls pumping gas while not on duty for 75-cents an hour. While Cathy taught music and tended the kids, Stan drove the day care van.
The ambitious couple's life got even busier and better when they got an offer to buy the day care center. After the deal and exchange of cash was complete, they spent the next decade and over 200-thousand miles visiting all 50 states and much of Canada. They wore out three motor homes. I can remember them "visiting" one of our wonderful Gray Reunions in Bairdford, sharing incredible stories, and giving tours of their traveling residence. In answer to my question of how they got their mail, they replied that they had a "service" in Cincinnati that would pack it up and ship it to their "next" destination. Most of us can't imagine that lifestyle.
At some point Stan and Cathy decided it was time to "settle down – again." They used the money they had saved and bought 28-acres in the Georgia mountains, in the historic  resort town of Ellijay. Complete with new A-frame log house, lake, and two ATVs, they hosted what they called "The Southern Gray Reunion" in 2011.
Growing older, as we all are, and experiencing several medical problems, including a broken bone, hearing loss, and aortic valve insufficiency, Stan and Cathy sold the Ellijay property and decided to move into another home close to son Jim, in Tallahasse, Florida. Before they could make that move, another residence came on the market, just south of brother Doc, in Sebastian. This is the home of the historic Pelican Island National Wildlife Refuge, America's first such protectorate. The village is where the couple lives is called Park Place, a gated community on a lake with nearly 400 homes. Their even busier lives include church, a Methodist of course, Meals on Wheels, regular gym and water aerobics. Cathy volunteers each week in a local thrift shop, plays cards, and entertains family. Recently, during a visit from Susan and me, she and Aunt Cathy put together jigsaw puzzles while Uncle Stan gave me a tour of Sebastian's abundant parks and Pelican Island wildlife refuge.
Their son Doug, now retired, lives just north in Melbourne with his wife Elizabeth. He maintains rental properties while their sons Elliot and Ian serve in the U.S. Coast Guard. As we said, son Jim and wife Deb live on the Florida panhandle and operate a graphic design business. Daughter Cindy, a retired Delta flight attendant and mother of Grayson and Olivia, lives in Dallas, TX, with her husband and works for the son of famous businessman Ross Perot. Stan is quick to point out that Cindy can get them free Delta tickets for anywhere in the world. Stan and Cathy seem very happy and healthy in their retirement village, close to beloved brother Doc and many of their nieces and nephews. I may live far away in Pennsylvania, but I felt right at home in their sunny world. When I miss my dear uncle, I just go on Facebook and enjoy his wonderful smile.
Sad addendum: Aunt Cathy passed away on August 3, 2020, after a short illness. Needless to say, Uncle Stan and family are devastated. He sent the following photo of her memorial plaque, which may be found in one of Cathy's favorite places, which has been renamed after her. She spent lots of time volunteering there and for many other charities.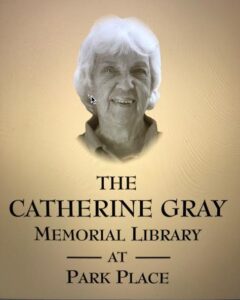 Her obituary was printed in the September local newsletter, the Park Place Pulse:
Catherine Gray, 84, of Sebastian, Florida passed away at home August 3, 2020, surrounded by her family. She was born February 19, 1936, in Wexford, PA, to the late Charles and Portia Utz. Catherine graduated from Mars High School in 1954 and received her Associates of Arts Degree from Brevard Community College in 1973. She married Stanley Gray in 1955 and moved from Pennsylvania to Eau Galle (Melbourne), Florida, in 1961. She lived in Poughkeepsie, NY; King, NC; and Ellijay, GA, before settling in Sebastian in 2015. Catherine was the Director of Guerin & Dare Day Care in Melbourne before starting her own school, "Country Adventure and Child Development" in King, NC, in 1980. She was an avid gardener, volunteer, and community activist, participating in many causes throughout her life. She was involved in the Park Place Back Pack Program, Water Aerobics, Library, and she volunteered weekly at the Hope Charity Thrift Store until its closing. She helped Stan with Meals On Wheels from time to time and was involved in many of the Park Place functions and events. Catherine is survived by her husband Stan, and her three children, Jim, Doug and Cyndi. She asked that any donations be made to VNA Hospice, Vero Beach, or the Backpack Program in Park Place in lieu of flowers. Checks can be made out to: VNA, 901 37th Street, Vero Beach, Fl. 32960; or Sue Doss (Backpack Program).
This is Stan's eulogy from a poem by Henry Van Dyke entitled "I am Standing on the Seashore," certainly very meaningful and personal from their home in Sebastian: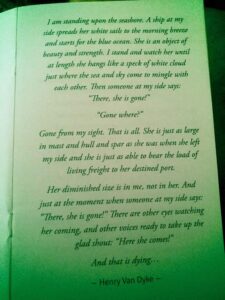 Stan also penned a touching goodbye seen here in his own handwriting: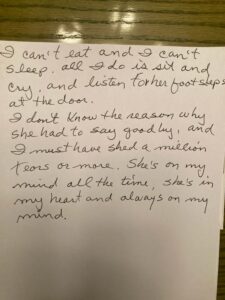 Last revised 9/29/20