by
Larry Pearce, cousin through marriage
2/17/20
with special Addenda below
Jim Stark (1923-2022), died at 99-years young, the husband of my dad's late first cousin Nettie. I had written a "Cousins' Corner" honoring her and her sister Alice after they passed away. They are credited with supporting me when I began my family history research and writing over two decades ago. Meeting with them every few months at their homes in southern Butler County, PA, I collected family trees, photographs, artifacts, and most importantly, stories. Nettie's husband Jim and Alice's spouse Emery were never far away. I couldn't leave the Stark house without a tour and briefing of Jim's latest project. We'll look at his restoration of everything from automobiles to airplanes in a minute, but let's begin with Jim's family background.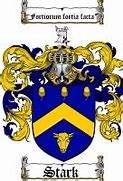 According to several internet sources, the surname Stark, with its many spellings, originated in England and Northern Europe in the Middle Ages, and just as the sound of the name suggests today, it means "brave" or "bold." It's the nickname for a strong or determined person, and that surely fits Jim Stark. In fact, the family motto is "Fortiorum fortia facta," or "Brave deeds of brave men. The bulls on the crest and coat of arms stand for valor. A German named Johannes Stark (1874-1957)  was awarded the Nobel Prize in Physics in 1919. In America, where the first Stark had first landed in 1641, Major General John Stark led troops in the Revolutionary War, and fine Starck pianos were made in Chicago until 1965. Surely everyone's heard of the 1996 HBO fictional character Ned Stark, Lord of Winterfell, from Game of Thrones. His family crest with the symbolic wolf is pictured below. With many similes in the show's script likening a man's life to the seasons of the year, we believe our Jim continues to be "A Man for all Seasons." If that phrase sounds familiar, it's the name of a very popular 1966 film about the final years of Sir Thomas More (1478-1535), Lord Chancellor of England and Patron Saint of Statesmen and Politicians. But let's consider the many talents and experiences of our own Jim Stark.
At a banquet held in a local church to honor American military veterans, we learned that Jim was one of those brave young men who landed on Omaha Beach in Normandy, June 6, 1944, part of a wave of 160,000 soldiers, many of whom lost their lives. According to an article in the Butler Eagle, "You could have heard a pin drop" when Jim got up to speak at the dinner. "With tears in his eyes," Jim thanked everyone, saying, " It's very nice of you people to do this. It's an honor to be honored like this. It's such a wonderful thing for you people to do these things for us after all these years." Below is Jim's more complete recollection of his war years, but humble and grateful was everyone's impression of Jim Stark that night, and has always been mine over the years.
Jim always seemed to have a sense of history, and particular, family history. He put his thoughts and memories down on paper over the years. He was still quite versatile on the computer keyboard and with the internet until he passed this summer, and I still get regular updates on his family and that part of the state via e-mail. Here are just some of the stories and information that Jim typed, printed, and shared with me over the years. Let's start with his autobiography, in his own words: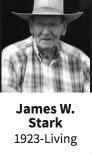 I, James William. Stark, was born April 24, 1923, to Lester J. "Les" and Helen F. Ruediger Stark at the Stark home in Lardintown, a village near Sarver, PA. Three months later our family  moved to the Harvey farm on the road between Lardintown and Ekastown. I attended Lardintown School each day after walking a mile to get there, since we had no bus service. After graduating from the 8th grade in 1936 (I didn't go to High School), I went to work in Uncle Russell's flour and feed mill in Lardintown. I also worked in my Uncle Jess's mill in nearby Millerstown, General Mills in Butler, and at Altman Feed in Apollo until 1942.
A year after the United States entered World War II, December 1942, I was called to serve of our country. The next month, January 2, 1943, I went to basic training in Louisiana. After that I served in England from 1943 through 1944, including the D-Day invasion at Normandy, France. My unit marched north through Belgium and saw conflict in the famous Battle of the Bulge, Holland, and finally into Germany. I was awarded four Battle Stars after duty as a Staff Sargent, a Platoon Leader, a Mine & Booby Trap Specialist. Thirty-four months after enlisting, I was discharged on  November 30, 1945. [Read more about Jim's military service below.]
Coming home,  I opened my own feed mill on Main Street in Saxonburg in January of 1946. It was going well until I had to sell out in the early 60s due to back injury. I married girlfriend Nettie M. Miller, daughter of Clarence and Myra Miller, on February 2, 1946. After retiring from the milling business, I went to work at Butler Savings and Loan, which later became the Union National Bank of Pittsburgh, Butler office. After 10 years I went to work for the Valley National Bank, Freeport, as Branch Manager. After a decade there, I was offered a Job as Manager of the Bauman Bus Company. Eight years later in 1988, I Retired from fulltime work, although I did odd jobs for Aqua Jet Car Wash in nearby Cheswick and also served part time at Eric Smith's car wash in Saxonburg. Unfortunately, I fell and broke my hip in 2010 and decided, "No more part time work." It was after that that I started to restore old farm tractors in our basement and managed to finish three. [Read more about Jim's restoration hobby below.]
Nettie went to be with the Lord on May 1 2012. We had been together for 66 wonderful years. We had three terrific children: Janet (b. 1948), Bruce (b. 1954), and Cheryl (b. 1957). Bruce passed away at age 48  in 2001. In 2016, I fell and broke my other hip, which ended my working altogether. In my lifetime I had been a miller, obtained my pilot's license, had a hobby as a mechanic, a welder, understood electric wiring, and even performed some carpenter work. I guess I was proud to be able to fix just about anything for anyone. [Read about Jim and Nettie's house below.]
Our family attended the Bull Creek United Presbyterian Church in West Deer Township  until 1962, after which we moved our membership to the Clinton United Presbyterian Church near Saxonburg. I have preached on several occasions, served in nearly all the offices of the church, and even went on short term mission trips with Nettie.
Jim has composed a Statement of Faith that he calls, "How to go to Heaven." He has shared this many times with others, and it has guided him throughout his rich, full life, including his secular life. Jim, as a part of his community spirit, is also proud to have been elected to and served on the South Butler School Board for 12 years.
Jim's military service makes for some interesting reading. He was one of our brave soldiers, without whom we could not enjoy the freedoms we have today:
I received a notice from Uncle Sam on December 8, 1942 to take a trip to Pittsburgh for a physical. About a week later I received word that I was to report to the Butler County Courthouse on February 1, 1943. I was loaded onto a bus that day, not knowing where we were going. We left Butler about 9 p.m. and, traveling most of the night, our trip  ended at Camp Mead, MD. After a week of running from one place to another, we were herded into a place that was the end of civilian life. Everything had to come off and was to be sent home. Now we were ready for final inspection but still no clothes. I had trouble with that. We then walked between two rows of medics, being checked from head to toe, and then the shots started. Not having had any shots in my life, those needles looked a lot longer than they actually were. With that, we were ready for the next move.
We are now loaded onto a train headed for Louisiana. A very uncomfortable ride, the railroad coaches were very old and had no heat, so it was a relief when we finally got into some of the southern states. On February 8, 1943, we arrived at Camp Clayborn, Louisiana. We now were ready for basic training. There we learned all about fighting, hand-to-hand combat. That training turned a lot of boys into men. I was made a squad leader over 14 men. This position carried a rating of Sargent 1, and I had three stripes on my sleeve. We were given the title of Combat Engineers. Officially, it was time for furlows, but we didn't get any.
After basic we were to get furloughs home but the Mississippi River was on the rampage and we were shipped to Cotton Plant, Arkansas, to combat the flood waters. Then we were ordered back to Camp Clayborn. Now we were sure we would get our furloughs but, again, that didn't happen. We were alerted and loaded onto a train headed for where, we didn't know. We found out later that we were headed for Camp Shanks in New York. Five days to make the trip. Each morning we would unload in a pasture along the way to get our exercise. Some of the stops were close to some of our homes but we were not allowed to leave the train. One stop was made in Erie and that was close to my home, about 90 miles. I was on guard duty, and I didn't dare think about jumping ship then.
After 30 days at Camp Shanks, June 30, 1943 to be exact, we were loaded onto a big ship, the Queen Elizabeth – WOW! At 0430 (4:30 in the morning) we left the New York harbor, and it was light enough that we were able to see the Statue of Liberty as we passed. Later, looking back, I saw her slowly sinking into the horizon. The next day we were given some books, one on England and customs, and the other on learning to speak French. NOW WE FINALLY KNEW WHERE WE WERE GOING. We were on the beautiful ship Queen Elizabeth. Six days later we docked at the Firth of Clyde in Scotland, her birth place. July 7th we boarded a British train and arrived at Devizes, Wiltshire, our first camp in England.
We were assigned the job of building camps for the Air Force that would be coming to England. After we had built several camps, and always doing a good job and always ahead of schedule, Headquarters, seeing the type of workers we were, decided to assign us to a very important job of supplying gasoline and oil to keep vehicles supplied. I took mine & booby trap training. This made me the instructor for our Company.
Our training took us all over England. We were trained in P O L (petroleum, oil, and lubrication). It was our job to get gasoline to the vehicles as soon as we could. While we were being trained here, the Staff Sargent came in drunk after bed check and was rolling everyone out of bed. One of the men reported him and the Officer of The Day came to us. He went to the Staff Sargent and ripped his stripes off and gave them to me. I was the Staff Sargent (leader of the platoon) from that point on. After eleven months of training, we ended up in Southampton on June 5th and loaded for our trip across the English  Channel. On June 5th we moved into the Channel. On the night of the sixth we could see all that was going on. I now know where we get fireworks from. The morning of June 9th we left our ship by way of a rope net into a landing craft headed for Omaha Beach. About five hundred feet from where we were to unload, we got stuck on a bomb crater under the water. Just then the front of the landing craft was dropped and we had to face jumping into the water. Now we knew why we were issued life belts. We had our wallets in our helmets and rifles high above our heads. We all made it. We later heard that about 1,200 men drown because of the water soaked packs. All the casualties had been removed by the time we got there. It was a busy place with traffic everywhere.
We moved up the beach, and when our equipment arrived, we had to make a road up to where we built a ten-thousand barrel gasoline tank, ready for tankers (ships) to fill. The next day we started to connect lines to fill "jerry cans." No tank trucks –  all 5-gallon cans (jerry cans). A few days later we moved to Cherbourg. Here we were able to use the underground tanks that the Germans had used. We cleaned them before using. Now we followed the front with two 4-inch lines and one 6-inch (for gasoline, oil, and aviation fuel). These eventually supplied pump stations through Belgium, Holland, and into Germany. This was approximate 750 – 2000 miles of pipe. We were at the Rhine River when the war ended.
After that, things changed. We moved to Reims, France, to build dispersing camps for staging areas to wait until soldiers' numbers came up for shipping home. We had German POW's to do the work. My crew was setting up tents. While checking up on the crews, I saw a POW running, and when I checked, he was on his way to wake the guard who was supposed to be keeping an eye on the prisoners. Some of the men were boys, 16 & 17-years old who had been fighting. My number came up, and I was shipped to La Harve, back in France, where I boarded a Victory ship. Eight days later I saw the Statue of Liberty rise up as we came closer to port. I was discharged from Fort Indian Town Gap, PA. I called home and told them I would be boarding a train in Pittsburgh. Then a problem came up: there was no train; it had taken off. So, what now? I saw an old bus at the station, and I happened to ask the right person to find that it was going through Tarentum near my home via River Avenue. They said that it was already full, so I asked if I could stand on the door step and, fortunately, was allowed. All this uncertainty had taken about two hours longer. When it was time to get off the bus, I started to run. When I came to the track where the train that I was supposed to be on was, I looked over and, sure enough, my family was patiently sitting there. It must have been a long two hours not knowing how I was going to get there, and I couldn't get word to them. I know it was a tough time for me, and I'm sure it was for them also.
Jim recounted the history of Nettie and his family's rural abode with the Sarver address where they raised their three kids. He called it, "This Old House":
I was discharged from the Army November 30, 1945, after serving 34 months during WW II . Twenty-nine months was spent overseas and included the Invasion of Normandy, on Omaha Beach, better known as D-Day. When I got home in January 1946, I opened a feed store in Saxonburg. Nettie was working at Pittsburgh Plate Glass (P.P.G. Industries) and we decided to get married. Well then, the hunt for a place to live  began. Places for rent were scarce. As it happened, a friend who lived in a three-room cottage was moving out and we rented it for $25 a month, furnished. No electric or gas for heat or cooking, though. We had to build a fire in the cook stove and carry water from across the road. Two months of that was enough . We rented another place from an older lady but didn't get the stove connected until her son moved his daughter and son-in -law in with us. That did it. We moved out, stored the furniture, and lived with Nettie's mother and dad.
We decided then that it was time to try building a home for ourselves. Dad and Mother gave us the property. Our money was all invested in the feed store, so we didn't have much to work with. I came up with the idea of buying an old house and using the lumber to build something to live in. We located an old house in a strip mine 37 miles from the property and bought it for only $100. Little did we realize how much was going to be involved. The house was more than a hundred years old and had been completely built of oak lumber. We had to get a farmer with a team of horses to haul it out to where we could load it on the truck. All-in-all we had enough lumber to start. We would have enough to get it up to the square [roof line] if we kept it small. It turned out to be 22′ X 26′. We just hoped that lumber would become available by the time we got that far. For a while after the war we had to get a priority to be able to even purchase lumber. The lumber industry just couldn't keep up with the demand for housing materials. By the time we got the walls up, lumber started to free up and we were able to continue. My father-in-law helped a lot, and we finally had it finished enough to live in by November, 1946.
One thing we needed then was heat, so another hole had to be dug out to put the coal furnace in. Dad's gas line was within 50 feet, so for the gas range, Dad let us connect to his line for cooking. We also laid a water line from Mother and Dad's well, now we had running water. We had no bathroom, but we did have a little house at the end of a path out back. We made a little 6′ X 6′ space at the end of the living room that we used for a clothes closet.  After about two years, we made it into a bath room. After getting a set of steps to the upper part, we were able to make a bedroom on each side of the stairs. Being that this was a story-and-a-half, we now had three bedrooms. At this time we discovered that the brick siding we had on wasn't keeping the water out, and the studs in the wall had rotted where the fire stops were.
Being that the house was so small we decided to rebuild. We added sixteen feet to the length and two feet to the width. After getting the first part up, we backed up and replaced all the outside wall and made that part the same as the addition New sheeting was added, and we covered the house with brown cedar shakes. A new heating system was installed. Then we had Bill Campbell plaster the interior. There are still no cracks to this day. (Good Job, Bill!) There wasn't a finished floor, so we did some bartering for the that. We had loaned one of our feed mill trucks to owners of a local cabinet shop, and in return they gave us enough oak boards for the floor, which ironically is now covered with carpet. All the work this far was done while working at the feed store during the day. There was no Sunday work because we didn't want it to fall down! We have always had a saying around here, "If you do it on Sunday you will have to do it over on Monday." All that construction took about eight years to complete.
After a number of years, we thought it would be nice to have a fireplace in the living room. I took the 12-foot wall out at the end and built a fireplace and chimney. This took all summer and 3,000 brick in all. Nettie took a picture of me standing on top of the chimney when I had finished. I could only lay about 30 bricks a morning before going to work at the bank. The coal mine workers would drive by and would call up to me and say, "Better hurry; Santa is coming."
After many years, retirement time came when we started to think about what we would do if we couldn't take care of things. In December of 2002 we took a look at the nearby Concordia Retirement Home, but we didn't altogether like the way they had things set up. When you move there, they want to own everything you have. We decided to build a room on the back side for two old people, 18′ X 25′, with a sit-in shower,  zoned heat so we could heat that room and not heat in the rest of the house. We hired a contractor this time and it all worked out very well. This addition created a short hallway so we built the washer and dryer into the area next to the bedroom. The garage is under the house, so I bought a used stair-glide for $300, repaired it, and installed it in the stairway to the basement. If we can't walk up, we ride. There were times when we thought we would never get all these projects done, but soon we could enjoy the fruits of our labor.
Let's go back to Jim's first career as a miller after he got out of the Army. In yet another short, descriptive story that he called simply, "Stark's Feed Store & Mill," Jim takes us all the way back to 1849 and the beginnings of how he began this work:
The first grist mill in the area was built by Daniel Lardin in 1849 and was powered by a steam engine. This took place in a small settlement later named Lardintown with six homes, a small store, and a repair shop. A few years later it was operated by William Lardin. Later the mill burned down but was re-built and operated until 1883 when the capability of producing flour for baking was added. Purchased by Valentine Stark shortly after, the mill remained a feed and flour operation. This was the only mill in Clinton Township, southern Butler County, back then. His son, Russell, worked in the mill and took over when his father was no longer able to work. Power was provided by a one-cylinder, natural gas engine. Other equipment was added, including a three-cylinder upright engine. The mill was equipped to make flour, Cream of Wheat cereal, and buckwheat flour. A feed mixer was installed for mixing dairy feed, poultry feed and hog feed, all ground from the farmers' grain. The mill also did custom seed cleaning for the farmers. Russell had an accident in the mill and died in 1938. The old mill was sold in 1941 to T. L. Smeltzer and Son but was closed many years later. As of 2019 the property contains a small building with the bottom used for housing pigs and the top floor used for storage.
The other local mill, just up the road at Millerstown, was run by my uncle Jess Stark. That mill burned in late 1940's, but a new one was built and is still in operation, run by "Buzzy" and his son, Ron.
Being a member of a family of flour and feed mill owners, I decided one day, while I was still enlisted, that when I came home from the service, I would like to start a feed store in Saxonburg, one of the oldest and largest towns in our area. I wrote a letter home and told them what I was thinking about. Dad went to Saxonburg to check what was available and located two old buildings that we could use. They needed a lot of repair, but Dad was sure we could make them work for us. He located the owner in Pittsburgh, and she agreed to rent the property  for $25 a month.
I came home November 30, 1945, and opened the store the first week of January, 1946. After a few months passed, I saw that feed alone wasn't going to make it go. So, we decided to put in a mill to grind feed for the farmers. Dad knew a person who sold equipment and went to Belleville, PA, to get what we needed. He didn't wait for us to talk it about what I wanted. He came back with a small 10-inch hammer mill and a 25 HP engine. This would be a mill that a local farmer could use. This was a time when I had to do something I didn't particularly care to do. I told Dad that we would never make it with that and asked him to take the mill and engine back. He didn't say much, but the next day he took it back. Later, I found a used mill I wanted for $75 and an old Hart Parr engine for $150 that ran on natural gas and could be operated with a handcrank. It had been used in a saw mill. . The other mill in the immediate area used a burr mill and a one-cylinder gasoline engine for grinding. Ours was a hammer mill with a 4-cylinder, 50 HP engine. They didn't use the speedier hammer mills, so word spread and more customers came to us because our milling process was much faster now.

After a while the other feed mill sold out to the Farm Bureau. They had sold the popular Wayne Feeds. The salesman came to us and wanted us to take on his product. I told him we couldn't afford a full carload at $3000. He asked if I really wanted Wayne Feeds, and of course it was what we needed to succeed. We hadn't chosen a brand name feed at this time. He watched us work that day, staying until closing time. He then told me he was going to do something for me. He would order a carload of feed and would pay for it. We could pay as we sold it. He did that six times. I now was able to pay without having him come from Greensburg. Wayne Feeds made Stark's Feed Store a go, and he made out in the end, becoming one of their top dealers. Thanks to Ernest Noyes, the salesman. He helped us for six months until we were able to pay.
After a while more business came to us, so it looked like we were going to do alright. But, now we needed more power. We bought a Detroit 4-cylinder, GM diesel, finding it much better. In five years our business had grown, but we now needed to grind faster. We needed more power in the mill to get the customers in and out faster. So we traded that engine in for a 6-cylinder. This brought more farmers in because we were able to grind faster than before. Now we needed another mixer so we could be grinding while we  unloaded the other mixer. The first mixer was only a one-ton and so we added a larger one, a two-ton.  Now we had the equipment we needed, complete with two employees and three trucks. The third truck was usually loaded with inventory that we didn't have room for. The Fertilizer and seed business was doing well . We did an average of 40 tons of fertilizer during the spring season and 20 tons during the fall.
I talked to my neighbor about selling the extra lots we owned, but in the end we decided we would give some extra ground there to the Borough of Saxonburg for a street between the neighbor and us.  The Borough gladly accepted, and eventually both the neighbor and we sold lots. There were five lots. The back corner lot on what is now Horne Avenue sold  for $750 others sold for $500.
After 15 years of heavy work I developed four degenerated discs in my back. Sometimes I could hardly get around. I was a school director at the time, and once was asked by another director if I had ever thought of giving up the feed business. He worked for Butler Savings and Trust and told me that they had an opening, and he thought I should apply for it. I didn't think there was any use in me going as I hadn't gone to high school. He talked with some officers, and they didn't think I had enough education. The one that told me that I should at least try. He told them that I had had leadership experience in the service along with business experience when I returned home, and that I knew how to deal with people. To make a long story short, I took the job at the bank and decided to let one of my employees manage the mill. I made him a good deal and he bought it. That was 1962. We had had the milling business for 16 years. Unfortunately, the new employee-owner decided to go out of business a few years later.
Jim went to work as a teller at the local bank around 1978. It didn't take much convincing for the bank to hire Jim, despite his lack of formal training in that line of work. Jim had tons of practical experience as a businessman. After that, Jim managed a school bus transportation company with his wife, Nettie. Little did he know that one of the younger female drivers, Ann, whom he says, "didn't particularly like me," would turn out to be his best friend years later after Nettie died.
We said at the outset that Jim could do about anything, from administration to sales to mechanics. Here's an e-mail Jim sent me recalling his interest in flying, encouraged by a friend at church:
Another fellow at church was interested in flying, So we decided to check around and we found this one [see above] for sale. It was an old Aircoupe, probably first manufactured back in the late 40s.  We bought it . My partner had his license and he was a good teacher. I learned to fly and got my license. We decided to make a few repairs to it, so we took it to the air strip near our church. First, we decided to replace some of the metal . We took the wings off and brought the plane over to my basement garage in two parts . We towed the fuselage with a VW car and put the wings on my truck. It wasn't long until we were satisfied that it was ready to take back to the air strip and put the wings back on. It was a very simple plane to fly. The coordinated controls were all connected to the wheel so all we had to do was drive it – oops, I better make that "fly." I had many hours of pleasure in the air, maybe 50. After that we decided to get a plane with all controls available, like today's modern planes. We bought one for $2,100 and sold it for $4,000.
Then we found a Cessna 150 for $4,500, inspected and ready to go. We bought it and flew it for about 100 hours. Eventually, we decided to sell it too, but first it needed some outer polishing. After a bit of work we sold it for $7,000. My pal was now older. At least he said that this was his reason for selling. Well, that ended my days of flying too. The old plane is now about 100 miles from here, completely restored, and for sale for $25,000.
Jim's mechanical skills didn't stop with airplanes. It seems he always had old cars or tractors being restored in his garage. His modus operandi was pretty much the same: acquire, disassemble, restore or replace parts, clean and paint, then reassemble. In the case of the Farmall Cub (c. 1955) pictured above and below, he was proud to say that, after returning it to his neighbor, it's never been out of the barn, except to show it off, of course.
Jim and his son-in-law had several classic cars stored in their barn, waiting for the right buyer, but one "fixer-upper" story that just has to be shared involves another tractor, an old, gray Massey Ferguson that Jim saw sitting in a neighbor's field. Naturally, the neighbor was only too glad to get rid of it. The rest is a tale for the ages.
The history of this farm machine company goes back nearly 175 years to Canada. Prototypes were even commissioned for the military and used around the world. In the late 50s, before the modern age of the large red MF series numbering in the 100s, the simple, low-riding gray modern was easily affordable by Pennsylvania farmers. True to his plan, Jim towed the rusty old tractor home and not only disassembled it, but photographed each part for repair or replacement. By this time, Jim was in his 80s, a time when most of his contemporaries would have been satisfied with looking at something in a museum. Not Jim! He took the pictures and the part numbers to his computer to see if the components were available. Sometimes, when they weren't, he was able to manufacture a replacement. Otherwise, he had the pieces shipped right to his door. He said that one part came from as far away as Brazil. Below is Jim's pride and joy, a rebirth of sorts.
In one visit with Jim, I asked him to list all the skills he had learned in his lifetime. In short, he ran out of fingers before he recalled them all. To name a few, and in no particular order, he was proud to have been a leader in the military and community, a machinist and mechanic, a miller and tradesman, electrician, plumber, carpenter, mason, welder, and the list goes on.
But his life was not always been about work. Jim used to take Nettie on his motorcycle. It's probably fortunate for both of them that he eventually traded two wheels for four, although he said he let his neighbor mow his grass toward the end. But, he did run a new, completely enclosed Polaris Ranger to get the mail. He sometimes rode his stairlift to get to it in the basement.
Jim Stark and wife Nettie certainly enriched the lives of their younger cousins, my wife and me. From being able to "horse around" with his two daughters, about our age, at family reunions, to sharing the incredible life experiences for our genealogy website, I'll always be indebted to Jim and Nettie. We dearly miss them. Susan and I always looked  forward to bringing lunch to Jim every few months before he died and spending the afternoon just talking and reminiscing. I'm glad to be able to preserve his stories and pictures for posterity – although he did most of the work! Jim wass one of a kind, the kind they don't make anymore, a man for all seasons.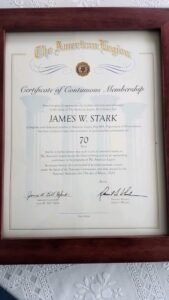 ADDENDUM: The American Legion awarded Jim a commendation one weekend for his  70-year continuous membership. With the national coronavirus pandemic and orders to shelter-in-place, the local chapter was kind enough to present the award to Jim on his doorstep, with family looking on. Congratulations, Jim. You never cease to make us proud!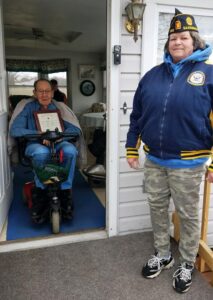 ADDENDUM: See the story & photos of Jim's 97th birthday parade here.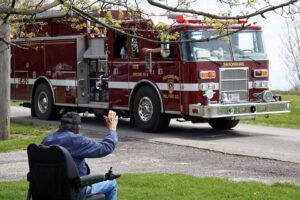 ADDENDUM: This is 98-year old Jim with beautiful daughter Cheryl at 175th anniversary observance of the Clinton United Presbyterian Church taken in October 2021.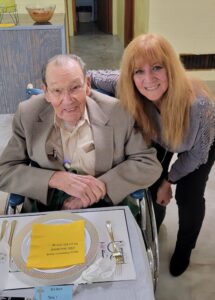 ADDENDUM:  Online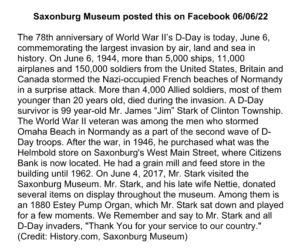 ADDENDUM: Credit Butler Eagle Obituaries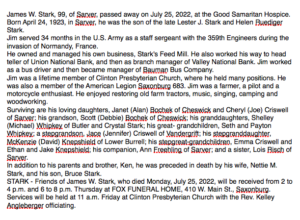 Last revised 7/2o/22