By
Larry Pearce, nephew
1/18/04,
4/25/05, & 8/2/13
Everyone has had a favorite relative, and mine was my Uncle Merle Gray. In his younger days he kept us amused on the softball field at family reunions. This ended when he fractured his leg in an attempt to "hit it out of the park" in the late 1970's. Later, he rehearsed his trucker jokes on my brothers and me at other family get-togethers. I'd drive two hours to his home Butler County, PA, just to listen to his memories of growing up in Western Pennsylvania. In many ways he reminds me of another of my heroes, the late Johnny Cash, legendary American singer and storyteller. More about that later, but after so many years of hearing Uncle Merle's tales, this article is my humble effort to tell his.
From his birth on February 24, 1927, until the mid-1930's, this seventh of twelve children of Paul Barton and Bertha Ione Gray lived in a modest but sturdy red brick house that his father had built in the predominantly Scotch-Irish West Deer Township, Allegheny County, PA. When the family moved to a small farm in Middlesex Township, Butler County, he continued his education in the Mars School District. But his young life consisted of more than school. As Johnny Cash did when his family moved to a new farm at about the same time (Turner, The Man Called Cash, p. 19), one of the first things Merle had to do was to help his father clear scrub brush from the land. They had a team of mules named Amos and Andy to do the pulling, but Merle had to get in under the white thorn bushes to attach the chain, and that wasn't much fun. Also at home, there were other animals and crops to care for and new brothers and sisters arriving regularly. [See the four-part series, "My Mother Ruth".] In about the eighth grade he began working for a neighborhood farmer, Dale Hall, for $20 a month. He had to walk from the farm to the Walters' Dance Hall to catch a bus to Mars High School. Before long he moved to the Glen Allen Farm where his pay increased to $30 per month.
Merle loved to brag that when it came to drive legally, he got both his learner's permit and his license on the same day. You see, he had been studying his older brother's manual and so that on his 16th birthday he went to Butler and came home with this rare accomplishment. Needless to say, the officers and his family were amazed. But, as intelligent and hard-working as he was, he never finished high school.
Later that year, 1943, he hitchhiked to California. His father had done this at age 18. He rented an ocean front room at Hermosa Beach for $7 a week and began working for Harvill Aircraft, a wartime industry. Before long, he found himself working as a rodman on a survey team for an oil company in the western states of California, Wyoming, Utah, New Mexico, and Texas.
On February 23, 1945, after having lived and worked in Texas earning $125 a month and returning home to Western Pennsylvania, he enlisted in the United States Marine Corps. He says he didn't want to be drafted when he turned 18, but his parents wouldn't sign the permission papers to sign up early. So, he enlisted anyway and became one of four U.S. Marines in that family. He began in the infantry and had hoped to join the motor pool like his brother Barton. He said his feet bothered him. Advancement never came because the war ended with the armistice in November, 1945.
Returning home and picking up where he had left off as a civilian, Merle hitch-hiked to Iowa to be with a girl he had met through her sister while working at Glenshaw Glass before the war. The 15-year old beauty was visiting other family there. On his way home he says he remembers it snowing between Youngstown, Ohio, and New Castle, PA, until it came up to his knees. He married that girl a short time later. He was with her until his death after almost 7 decades. Her name was Elizabeth Margaret Meinert, but everyone knows her as just "Betty." They borrowed a relative's 1940 Plymouth to get around, but blew up the engine. The young couple paid just $60 a month for room and board with Betty's parents from 1945 until 48. Merle worked with her father at the Isabella Company for 62 cents an hour.
The next year Merle began with Carnegie-Illinois Steel, now part of U.S. Steel Corporation, unloading coke with a steam crane along the Allegheny River in Etna. He worked seven years there. Before the age of electric furnaces, industry used this "charred" coal to heat a mixture of iron ore, limestone, and scrap metal to make steel. Merle remembered the dark cloud that hung over the city 24 hours a day and hot dirty water that flowed past the Point, downtown. All that changed in the '50s as Pittsburgh experienced a renaissance of commerce and technology. But, that meant that some people lost their jobs, and Merle was one of them. In 1954 he took a new job as a deck hand for Captain Griffith on a steam-powered riverboat run by Marine Ways. The tug could push six barges at a time from the Rabena Mines, supposedly the largest mining complex in the world in those days. Each floating container was 26 X 17 X 8-feet, weighed 6,000 tons, and could carry 36,000 tons of coal per day, mostly to electric generating station up and down the Ohio and Mississippi Rivers. Merle normally worked for ten straight days and then enjoyed five off. His shift was six hours on and six off. He loved his job and said, "The president of the United States never ate better." His duties? As the boat neared a dock or lock, the captain would blow the whistle, and with two giant ropes on his shoulders, he had to be ready to tie off the boat and the barges. Not only was this hard work, but it was dangerous too. One false step and he could end up in the icy water or crushed between the vessels.
But always the optimist, Merle remembered with a smile the good times. While the riverboat was cruising to its destination, he could rest. He said the original steam engine was so relaxing, but when diesel motors came along, they shook the whole structure and he couldn't get much sleep.
By the mid -1950's, after World War II, Pittsburgh steel production had gone down "real bad," so he was laid off from the riverboats in 1955. Almost immediately, he was called by Halstead-Mitchell Industries in Zelienople to work in shipping and receiving. The company made air conditioning and refrigeration equipment such as air-cooled and water-cooled condensers, from one-half to one-hundred ton cooling towers. Merle fondly remembered his boss, Jim Carver, ordering him to back the big trucks into the dock for loading and unloading. By 1956 Byron and Fred Halstead were expanding with another huge building to manufacture and extrude copper into pipes for refrigeration and cooling. Within several years, he said, "We were the largest producer of copper tubing in the country, and this meant going into the trucking business."
Halstead-Mitchell started off with one old R-190 International 10-wheeler and a 16-foot Humes wagon. He said smiling, "You had to get out and lock the tongue when you wanted to back up and into a dock for loading or unloading." In addition, Halstead got six new 13-61 Mack Bulldogs and one new Autocar plus several new 40-foot tandem flatbed trailers. He boasted:
My income doubled as I went on the road driving. All seven of us got two and three trips a week: Boston; New York; Perth Amboy, NJ; Baltimore; and Detroit. After four years and 400,000 miles, I ordered a new Autocar from A.R.Boarts in Butler. I found out I could more than double my income again by owning my own tractor instead of just driving someone else's.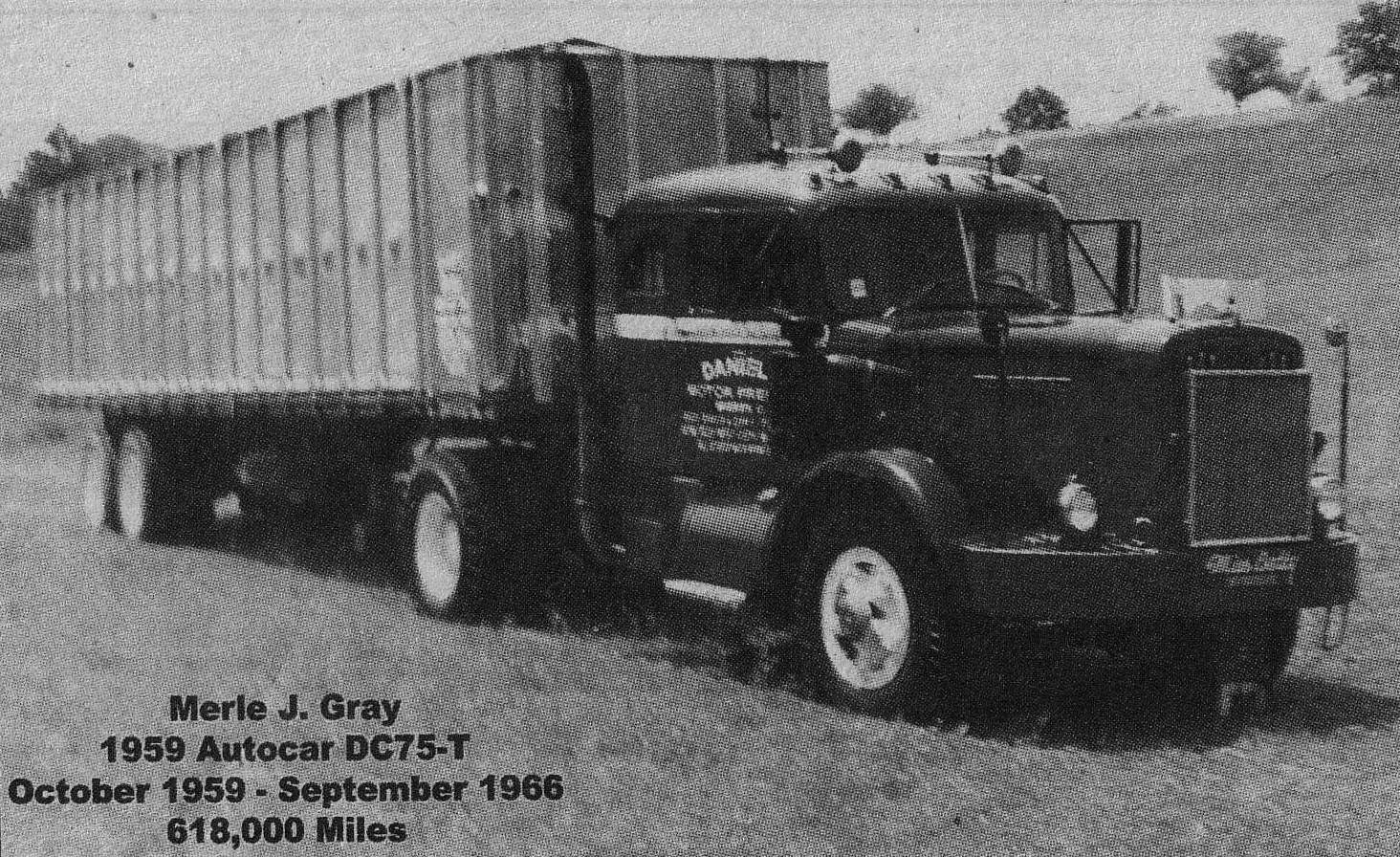 I leased on with Daniels' Motor Freight out of Warren, Ohio, one of the oldest trucking companies in the eastern United States. I earned 25 cents per mile. That was 12 cents driver's pay and 13 cents as the owner of the tractor. Daniels paid all highway taxes and tolls, state license, a fuel allowance of 15 ½ cents per gallon plus tires and oil. The big engine took 44 quarts every time I changed oil. I pulled their trailers from terminal to terminal. They had interstate commerce rights for all states and cities from the Mississippi River east and the Ohio River north and east to the St. Lawrence. That included New York, New Jersey, Pennsylvania, Maryland, West Virginia, Ohio, Michigan, Indiana, Illinois, and Wisconsin.
Merle belonged to the International Brotherhood of Teamsters. He paid $7 per month dues while the company contributed weekly to the health, welfare, and pension fund. Jimmie Hoffa was the union president at the time. He mysteriously disappeared in 1975.
"I had pretty good trucking until October 30, 1967, when the big green 'E' took Daniels over," said Merle. Eazor Express, of Pittsburgh, was one of the top 10 freight companies in the eastern United States. He continued, "A lot of drastic changes took place! We who had our own tractors had to buy our own trailers. Big change in pay too, for the better! Seventy-five percent commission on the gross pay of the load.
About this same time, Merle's nephew, my brother Carl "Butch" Pearce, was discharged from the Navy and wanted to be a truck driver. Merle bought him a new 1967 White Road Commander cabover with a sleeper. A new Fruehof 40-foot highside, opentop trailer was attached. Merle said:
He did real good for several years and he bought the whole rig from me. He went on for years and years doing well and putting 985,000 miles on the tractor before trading it for a very large Peter-Built 10-wheeler. He drove it for many years then sold it and bought a really modern, green Volvo with a 450 Cummins engine. He kept truckin' until his health failed early in 2003. Carl died on December 12, 2004 at the age of 62. Betty and I always felt like he was our fourth son. [See Carl's story and funeral euolgies.]
But backtracking a bit in our story, in 1948, after living with Betty's parents for three years, the couple moved into a very nice little home one-half mile west of Route 8 on a beautiful hillside along Rt. 228. Merle had gotten three acres from his father, a carpenter, and together they constructed the one and one-half story, 28 X 30-foot wood frame house. Betty and Merle raised three sons and a daughter there. [See their descendants to follow.] In 1971 they added on, resulting in one and one-third more living space (4,300 sq. ft.). The garden was a pleasure, but with all the grass to mow and more house to clean, the couple began looking for another place. In 1997 they sold out, 49 ½ years after they had moved in. They relocated eight miles north toward Butler, again just west off Route 8, this time into a quaint 1300 sq. ft. red brick ranch on three-quarters of an acre. The house was 2 ½ miles south of the county seat on Marshall Drive. Around the beautifully manicured front lawn Merle had tulips, roses, and other flowers in season. The almost level lot had a large garden in the back where Merle cultivated asparagus, rhubarb, potatoes, corn, and many other vegetables.
Toward the end of his life, he and Betty moved one more time, south, still in Butler County, to a townhome near the new Mars High School. Closer to their doctors, their church, and many stores, the beautiful one-story abode was in a development with several dear friends. Merle was able to stay active and continue his hobby of raising flowers.
But, plants are not the most important things Merle and Betty grew over the years. In addition to their four children, they now have eight grandchildren and sixteen great grandchildren. This Gray family is as follows:
I. Merle Jennings (1927 – 2013) married Elizabeth "Betty" Margaret Meinert (1927 – )
-A. David Evans (1945 – ) married Diane Lynn Robbins (1950 – )
–1. Kimberly Ann (1971 – ) married Clint Andrew Patterson (1970 – )
—a. Caitlin Amber (1991 – )
—b. Cody Patterson (1993 – )
–2. Matthew David (1974 – ) married Mindy Lynn Stum (1974- )
-B. Robert Merle (1947 – ) married Bonnie Lee Ziegler (1947 – )
–1. Allen Robert (1965 – ) married Elaine Lucas (1960 – )
—a. Lucas Allen (1994 – )
—b. Joshua Alexander (1996- )
–2. Michelle Elise (1969 – ) married Todd Kozik (1966- )
—a. Camryn Ray (2005- )
-C. Thomas Michael (1948 – 2017) married Colleen Naomi Jeuther (1951 – ) (M1)
–1. Sandra Lee (1971 – ) married Phillip Zivkovich (1965 – )
—a. Amanda Lee (1992 – )
—b. Brooke Lynn (1994 – )
—c. Valeria Ann (1996 – )
–2. Bradley Michael (1974 – ) married Amanda Sue Andrews ( )
Thomas Remarried – Lynne Diane White (1945 – )(M2)
Thomas Remarried – Bonnie McMillan (1966 – )(M3)
-D. Barbara Ann (1953 – ) married Richard Lee Davis (1952 – ) (M1)
–1. Elizabeth Ann (1978 – ) married Jonathon Carter (1978- )
—a. Taylor Davis (2004- )
Barbara Remarried – Charles Frank Giltenboth (1942 – )(M2)
–1. Charles Frank, Jr. (1983 – )
*NOTE: The above list is being updated. Check back.
Family was important to this couple. Proud to mention his Gray family's recent 50th reunion held at the East Union Presbyterian Church near Cheswick, PA, Merle and Betty had attended nearly every celebration. Most of his relatives and ancestors are buried there or at the nearby Bull Creek Presbyterian. At his death on July 23 of 2013, Merle had been the oldest member of the Glade Run United Presbyterian Church in Cooperstown. He had joined with his brother Norman "Bob" as teenagers 73 years earlier. It has been said that Merle's Great-great grandfather James helped construct Glade Run's original log building in 1812. Merle served as a trustee and Sunday School teacher. The sanctuary was filled at his memorial service and he was laid to rest by family and friends from around the country in the church cemetery.
In conclusion, I treasure the times and memories I was able to share with my favorite uncle over the years, and especially in writing this piece. Like Johnny Cash, Merle had both good times and bad, but he was never afraid of hard work. And like any good storyteller, he was on the road a lot. After his retirement from trucking, Merle said, "I have been desperately trying to make up for the 52 years I spent away from Betty, out on the road half to two-thirds of each week. But it just is never going to happen. I would love to spend another lifetime with my Betty." They were married for 68 years.
Last revised 2/20/20