(Click on images to enlarge/back arrow to return)
Joseph Marshall (1858-1939) b. Allegheny Co., PA; r. Gibsonia, Pine Twp., PA  (son of John Dixon & Margaret Hill; Insurance Business; my great-grandfather)
buried: Allegheny County Memorial Park, Allison Park, Allegheny Co., PA (See Show Map" for GPS at AMP)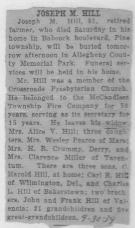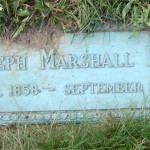 M1. Molly Dunlap (d. before 1885) little is known except that she died during childbirth and is referred to on Joseph and Alice's marriage application.
M2. Alice Virginia Moon (1865-1947) b. McCandless Twp., Allegheny Co., PA; Gibsonia, Pine Twp. (daughter of  Joseph Myler, Jr & Susan E. Fleming Moon; Homemaker)
–cause of death
-buried: Allegheny County Memorial Park (See Show Map" for GPS at AMP)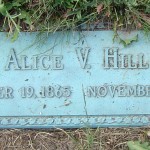 Married: 1886
See "Photo Album: Hill" for Joseph & Alice's estate settlement
Children:
1. Bessie Reed (1887-1974) b. Pine Twp., Allegheny Co., PA; r. Middlesex Twp., Butler Co., PA (m. Wesley H. Pearce, farmer; my grandparents)
–cause of death
-buried: Cross Roads Cemetery, Pine Twp., PA
2. Mary "Mayme" Fleming (1888-1982) (m. Rev. Dr. Hugh Russell Crummy)
3. Harold "Harry" Alton (1891-1945) (m. Hulda Fisher; Farmer)
4. Carl Raymond (1893-1970) b. Allegheny Co; r. Delaware (m. Deborah Spencer; insurance)
5. Hazel Irene (1896-1932) (died giving birth to twins, Jane & Jean) (m. Alex K. Nicely, plumber)
6. Charles Leroy (1898-1980) b & r Allegheny Co. (m. Martha Ellen Bonin; mechanic)
7. Myra Jean (1899-1978) (m. Thomas Clarence Miller, mechanic)
-buried: Bull Creek Cemetery, Culmerville, West Deer Twp., Allegheny Co.
Documentation:
Family tradition; notes from Alice Dreischer, Nettie Stark, & Jean Ruth Hill
Ken Gibbons. 13 October 2002
"Joseph & Alice Hill." FindaGrave.com. 17 October 2018
https://www.findagrave.com/memorial/193861419/alice-v.-hill
"Joseph Marshall Hill." Kevin Miller. 24 Jan. 2017.
Ancestry.com
Grace TeSelle. various e-mails
Various Public Member Family Trees & other documents. Ancestry.com
RETURN TO OUR HILL FAMILY TREE
RETURN TO OUR MOON FAMILY TREE
Last revised: 2/7/21