by
Larry Pearce
3/26/22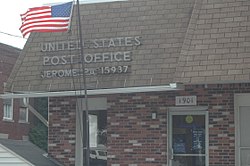 Chapter 3: A Half Century of Marriage
C. Getting Established in Jerome
Having been born in a Protestant farming community, and raised in middle class suburbia, I never dreamed that the first full-sized house I rented with my wife and infant daughter would be in a former coal mining center with the same name as the a fourth century Roman Catholic saint, Jerome. This northern Somerset County, PA, village of fewer than 1,000 residents at the last census began in 1904 as a company town for the the Hillman Coal & Coke Company of Pittsburgh, not to be confused with the Jerome Copper Mine in Arizona. Back at the turn of the century there were as many as 3,000 folks living there. Its moniker was actually given for Jerome Coulson, son of one of the mine's officials. No doubt he was named for Saint Jerome, who is formally honored by the Roman Catholics, the Eastern Orthodox, and Lutherans, and ironically the village of the same name contained many immigrants representing those faiths: Italians, Polish, Russians, Hungarians, and Germans, etc. The Jerome mine was the largest single "black gold" operation in West-central Pennsylvania's Cambria-Somerset area employing over 1,000 men.
While I didn't feel much affinity to what I saw as a depressed, lower class neighborhood constructed on land that wasn't much good for anything else, I look back today with fondness for its humble dwellings and friendly people. One could walk from one side of town to the other in 15 minutes. I know now that there were also residents of my heritage, Scots-Irish, Welsh, and English. Not unlike the Allegheny County coal mining towns to the west that my Grandpap Paul Gray built about a decade later, the Jerome homes were all wood also, either two story duplexes, as was ours on Somerset Street, or single-family cottages, found further up the hillsides.
Susan, daughter Annie, and I signed an open lease in September, 1971, with the family of an Italian dentist, his school teacher brother, and their mother, all of whom were still in the township and had lived in this house before us. Like many of the homes, the side yard contained a grape arbor covering a cement patio, something like what could be found in Italy. As our predecessors, we tried our hand at homemade wine. We had a small garden over the septic bed in the back yard, which obviously prospered. Many places also had fruit trees: apple, pear, peach, and so on. The year before we built our own house and moved, the small swimming pool we had for our kids sprung a leak and we used that level space to increase the size of our garden. That was our children's first experience with agriculture. We also had room for a swing set in the back next to a small garage on the ally, where I kept the car.
I'm told that the town of Jerome once had a movie theater that would hold as many as 300 people. The old hotel is now a tavern called Knuckleheads Saloon, which looks over main street, Rt. 403, better known as Penn Avenue. All that's left of the original bank is an ATM next to the post office. Another such institution, constructed about 20 years ago just east of town, sits empty now. It's next to another new booming enterprise, the Dollar General market place. I remember Marian's Appliance store in what we called "The Lower End," which is now closed. There were several dry goods and grocery stores there too. What was once an auto dealership with a large showroom was converted to a bowling alley and then to a nursing home, which still operates under the name Country Manor. Believe it or not, the YMCA had a presence in Jerome at one time, and one of the bars had a bocce ball court. Many residents still belong to the American Legion or Polish Falcons, both of which have meeting halls serving food and drinks there.
By the time we moved to Jerome, the national interstate system of highways had worked its way into Appalachia. What became known as north-south U.S. Rt. 219, one of several heavily travel roads between I-90 south of Lake Erie to Virginia/West Virginia that ends with the number "19," now weaves its way as a modern four-lane from northern Cambria to southern Somerset County. The rest is a modest two-lane path. Those of us hoping for a miracle, refer to it as "The North Star Highway" and expect to see it stretch as a four-lane   from Lake Erie south to Virginia. However, after more than half a century, it seems to come from nowhere and go nowhere. Locals joke that the only attention it gets is when some politician is running for re-election: he'll time it so as to have a ribbon cutting for some small section.
From one point in the late 19th century, the distance between Johnstown, just north of Jerome, and Somerset, just south, was served by a two-lane road known as the Somerset Pike, now Rt. 985. (Look for an article on the village of Forwardstown to be posted along with the next installment.) Susan and I have lived along that important by-way, about four miles west and "down over the hill" from Jerome, for nearly 50 years. While a few improvements have been made to it, all of it is still a two-lane path. At one time plans were in the works for a railroad parallel to it between the two hubs. This is all to say that as early as 1908 a public bond was issued to build a streetcar line between Jerome and Johnstown. The tram ran every two hours and took just an hour, with stops in-between, to get to Johnstown. Plans were in the works for the rail to run as far south as Rockwood, through which a major commuter train called the Great Allegheny Passage ran. Those plans were tabled in 1933 when the Jerome line ceased and the B & O Railroad constructed a short rail to haul just coal from the Hillman to the main trunk four miles north in Hollsopple. Busses took over passenger service then, hauling residents to and from work, shopping, and recreation. Today, with so many cars on the road, the counties run mini-busses and vans for senior citizens and the handicapped.
The town of Jerome, its people, and industry have a lot more history, but this installment is about my life there from 1971 until 1975. I encourage you to click on the links, as available, for the following interesting stories concerning events important to the life and work in this part of America:
1922 – U.M.W. strike
1932 – Mine explosion
1954 – Closing of the mine
1952 – Jerome V.F.D.
1955-64 – Dorfman & Hoffman Shirt Manufacturers (see Boswell, PA)
1970s-75 – Jerome Sawmill & fire
1990 – Jeff "Hoss" Hostetler, N.F.L. quarterback & others
Son Matthew was born on April 18th, the same day, only three years later, that I had proposed to Susan. His sister Annie had been born on April 29th, a year after the proposal, earlier than we had planned. Matt, I'm told, came late, possibly 10 months in the making. If Annie was just over 6 pounds, Matthew was a Susan-suffering 10-plus pounds. Most overdue births were not concerning in those days, if the woman was healthy, especially second arrivals. But, she was so miserable that she decided to take a walk up to the dairy in a fit of discomfort. Long story short, Matthew announced his entrance into the world that very night. I got her and Annie in the car in the early morning hours and drove the opposite direction from Johnstown's Mercy Catholic Hospital, to Susan's parents' house, because the little girl would need a baby sitter. How ironic, we being Protestant, but that's where our doctor practiced. Many years later Susan and I would both realize our wonderful careers in Catholic institutions, she teaching music just across the road from the hospital, and me teaching English to many nursing students up the road. Matthew would be living in a Catholic country in South America. Anyway, the three of us made it to Mercy's ER, where I found a spot in front of the building. After "delivering" Susan, I told the doctor that I'd be right back after I parked the car. He said, "Oh, you won't have time to do that." He was right; Matthew arrived within minutes. That was a few days before Easter, and the nurses attached bunny ears to the young lad for the enjoyment of visitors to the nursery. Unfortunately, Susan contracted phlebitis in one of her legs and had to remain in the hospital for nearly a week. Hope it wasn't caused by that uphill hike the day before her delivery. All ended well, and as our insurance agent, Johnny, told us, "You now have a Million Dollar Family," meaning a girl and a boy. He appeared at our door each year before our birthdays to update our coverage, which has not reached a million dollars, yet. Unlike Annie, Matt seemed to take to formula and gained weight quickly.
Our temporary home on Somerset Street in Jerome was the perfect place for a young family. The landlord had constructed a short chain-link fence around the property to keep our kids away from what little traffic there was. If we didn't know the families up and down the street, we at least knew their names. While there were no sidewalks, at least the street was level and there was a sidewalk from the front porch up to the front gate and one down to the garage. Across the alley a path meandered down across the small stream/sewage trough to the post office, about 100 yards away. Our favorite hike was west to the end of Somerset Street where the old company store sat, then left up a steep street to Berzonski's Dairy Story. At one time that family pasteurized enough milk from their nearby farm to service the community. The rest went to one of two dairies in Johnstown. The one-gallon glass jugs had a red plastic handle that made carrying easy. But we also bought bread, food staples, and of course candy. The biggest attraction in the summer was the frozen custard in various sizes and flavors.
A local contractor bought the dairy store when it closed about a decade ago. That company also took over and converted the beautiful brick elementary school building, built just north of there in 1961, to a large workspace. The kids loved to sled ride down the steep bank behind. Across the road from the school was the Lutheran church, now a free food distribution center. Next to it was the source of that small stream/sewage trough mentioned above. The water has been made safe in recent years, but when we lived there in the early '70s, it wasn't. Nevertheless, we would enjoy the apples that grew nearby, after a thorough washing of course. Maybe all that apple sauce, apple butter, and jelly made us who we are today?
Daughter Annie was just four months old when we moved from Pine Grove Mills, near State College, after I finished my first graduate degree at Penn State. Susan's parents had decided to move their church membership from the Lutheran three-church charge as a newer, larger complex was built. They became United Methodists in Jennerstown, about three miles away. Susan and I "shopped around," looking for good music opportunities and support for our soon-to-be growing family. After visiting several local congregations, we too began attending the Jennerstown church. I didn't know about my Pearce family's possible connection to Methodist patriarch John Wesley at that time. This was a good choice, as many of our kids' schoolmates and young families went there. We all became lifelong friends. The later irony was that we moved our membership to several Johnstown churches for even more musical opportunities, while Annie and Matthew took advantage of their teen ministries. More about that in coming chapters.
While Susan was growing the kids and often relying on her mother for transportation to sewing and young mother sessions, I had my own list of extra-work activities: SCUBA club at the Johnstown YMCA, board membership at the American Heart Association, and various levels of volunteering at our church. I accepted substitute organist jobs around the area and played cello in the Johnstown Symphony. More about all that under Missions and Ministries ahead. All that is to say that we kept busy, especially around the holidays. My parents from Moon Township would spend Christmas with us and/or Susan's parents who lived just 2 miles south of Jerome. Our involvement in church music then would usually dictate that.
Two nerve-wracking episodes from our life in Jerome come to mind: one involving visits from the landlady and the other my being taken to the emergency room. First, the family who had lived at our address before us was old Italian blood and the matriarch was meticulous in every regard. Several times we got a phone call from her school-teacher son saying that they would be stopping shortly for "an inspection." With two young children being raised and four floors to maintain, Susan could hardly contain herself. We managed to put things back where they belonged and do a little sweeping and dusting before the front doorbell rang. Fortunately, they did their own "quick sweep" through the house and gave us a stamp of approval. To this day I don't know how legal, let along ethical, such an inspection was, but we had nothing to hide and knew that we were doing the best that we could. All ended well.
The same could be said for my "high protein Stillman diet," so popular back in that time. Several modern weight lose plans are similar: Atkins, Paleo, Ketogenic, etc. My older brother Paul put me onto this, having had to stay in shape for his military service: Avoid all fat and carbohydrates; eat nothing but protein, mainly meat and fish; and drink as much non-sugary liquid as possible, usually 80-100 ounces per day to wash the impurities away. I don't remember ever NOT being fat. Maybe it was all that unpasteurized whole milk I had drunk as a child? So the diet was both satisfying (I love meat) and gratifying (I could lose a pound a day). Well, one Saturday night I thought I'd celebrate by substituting wine I had brewed in the basement for the highly chlorinated Jerome water. As if that wasn't bad enough, I climbed in a hot tub of water for my Saturday night bath. It wasn't long before I thought I was going to die. The excruciating pain raged though my joints, particularly my elbows and jaw. I begged Susan to take me to the emergency room. Thankfully she did, and after some pain medicine and much dilution of the uremic acid with water, I was resting comfortably. I had poisoned myself all in the name of vanity. Never again, I vowed. After returning home, I rested comfortably and even went to church the next morning, a little embarrassed by my indiscretion.
One of the most memorable and gratifying practices our family started in Jerome was bike riding. I had inherited my older brother Paul's "big tire" 26-inch cycle after he graduated from Penn State, got married, and went off to the Air Force. For some reason he had sanded it down and spray painted it bright safety orange to match his military training. I picked up a narrow gauge used bike for Susan at a local store. I repainted it red, and we bought child seats for each. Unfortunately, neither bike had gears and Susan's was a boy's edition with a bar across the middle, which she quickly learned to navigate. Our favorite ride was two miles, all downhill, to the Eash's, an older Church of the Brethren couple whose daughter, a physically-challenged Penn State grad and college professor, now goes to church with us and has remained a lifelong friend. The ride back up to Jerome wasn't as much fun without gears, but we rode those bikes for many years and the kids became enthusiasts into adulthood. Susan and my most recent ride together was over the Great Allegheny Passage in Maryland. That was the same week the end of October 2020 that I incubated Covid-19, before inoculations. For some reason, though we shared a water bottle, Susan never got sick. Annie and Matthew had inspired that ride the summer before by joining us for a "long coast" down the rails-to-trails from Frostburg to Cumberland. We hope to do it again in the future.
Another positive thing I recall about those early 70s Jerome days was my introduction to car pooling. The oil crisis of 1973 instigated the whole movement, and it wasn't a bad thing, really. Not only did the working person save money but he/she got to know his/her neighbors. Of course, say the word "car pool" and ones mind goes to the highly populated by ways of New York City and Los Angeles, but JEROME? Remember, I was driving a big, old eight-cylinder Chevrolet, great for when I was taking ride money from a load of Penn State students anxious to get home for the weekend. But not so good for a ten mile jaunt to work each day by myself. One of the ladies, Linda, who worked on the same floor with me at WJAC (more on this job forthcoming) in Johnstown and who attended church with me each week suggested that we might ride together and save. We tried it and it was fun. We shared the same schedule, 8 to 5, and we alternated weeks. Before long we added another lady from the east end of Jerome whom we dropped at the hospital below WJAC. Linda and I continued to ride together for a while even after we moved to Forwardstown, about which you'll hear in the next chapter.
Ongoing video & photo page:
Annie & Matt with Uncle Dan, Aunt LaRue, Cousin Tate & Rex (c.1975)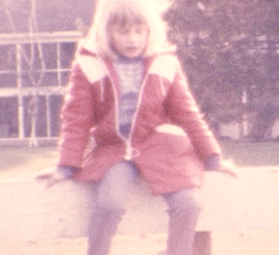 #1 – :30 sec. Movie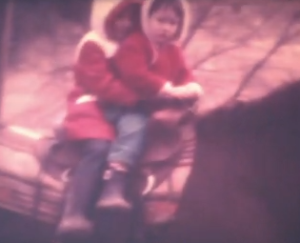 #2 – :55 sec. Movie
Move to next installment: Forward to Forwardstown
Return to: Table of Contents
Last revised 11/5/22