as compiled by
Granddaughter Cindy Leonhardt
and
E-gen Administrator Larry Pearce
1/26/21
(Charles Frederick & Annie Lee Krause Vitals)
Daniel Lloyd Miller (1946-2020)
Grandson & oldest son of Hilda Krause Miller (1921-1997)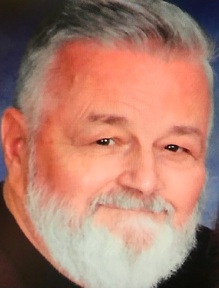 (Click here for Dan's story & Obit)
David Kaufman Krause (1945-2020)
Grandson & third son of Harry Glenson Krause (1910-1970)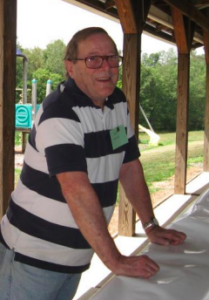 David K. Krause, 74, of Ferrellton, went to be with the Lord September 19, 2020 at Somerset Hospital. Born December 3, 1945 in Jenner Township, Somerset County. Son of Harry G. and Alma R. (Kaufman) Krause.
Preceded in death by parents, an infant sister, brothers James, Fred, Ronald and Jerry and nephews Dwight and Jeremy Krause. Survived by wife of 44 years Barbara A. (Butcher) Krause; son Kyle D. Krause married to Alyssa A. (Godin); grandson Sebastian I. Krause; sister Rita J. married to Bill Varney; sisters-in-law Patricia (Saylor) Krause, Donna (Holsopple) Krause and Debra (Butcher) McCusker and numerous nieces, nephews, great nieces and nephews and cousins.
A 1963 graduate of JBJ Joint High School, Boswell. A U.S. Army veteran of Vietnam War. Self-employed Accountant for former Krause & Wojnarowski of Boswell. Owner/Operator of Krause's Soft Freeze, Jennerstown until 1990. Dave enjoyed selling Pampered Chef products for over 15 years. Member of Christian Community Church, Stoystown where he loved to cook and bake for church events. He enjoyed spending time with his grandson and 2 special cats. He was an avid reader and solver of crossword puzzles. He also had a ministry of encouragement of sending notes and cards to people.
Viewing from 4-8PM Tuesday at Hoffman Funeral Home & Cremation Services, Boswell with face coverings and social distancing please. Funeral service 10AM Wednesday at Christian Community Church with Rev. Charles T. Kelly presiding. No viewing at the church. Interment Jennerstown Lutheran Cemetery. Donations in David's memory may be sent to Christian Community Church, 2610 Lincoln Hwy., Stoystown, PA 15563. To express condolences, make a donation, order flowers or plant a memorial tree, visit HoffmanFuneralHomes.com.
James "Jay" E. Cristler (1937-2020)
Husband of Granddaughter Sandra "Sandy", daughter of Floyd Alton Krause (1913-1978)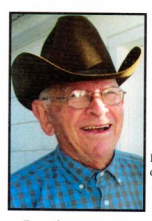 James "Jay" Cristler, 83, passed away on Dec. 7, 2020 at the Wind River Rehabilitation and Care Center. Private family graveside service will be held at Mountain View Cemetery. Jay was born on Feb. 23, 1937 in Buffalo, WY to Howard L. and Rena Doris (Walker) Cristler. He lived his younger years outside of Buffalo in the Powder River country. His first years were spent in a sheep wagon. The family moved to Riverton in 1951. Jay graduated from Riverton High School in 1955.
He served in the National Guard and was honorably discharged Nov. 30, 1962. Jay met Sandra Krause in Gas Hills, WY and they were married Jun 12 1967 in Bonners Ferry, ID. He worked as a rod man on a survey crew in Montana, Oklahoma, Texas and New Mexico. He operated a service station in Shoshoni for a brief time and then returned to surveying for an oil company. From there, he went to Bolivia, South America for a year. Upon returning, he worked for Lucky Mac Mine in the Gas Hills for 25 years. Jay took early retirement and went to full time farming and raising sheep and later cows. Jay loved to fish. He was very active in the Riverton Bowling Assoc. and an avid bowler. He liked anything he could do in the great outdoors.
He is survived by his wife of 53 years, Sandra Cristler, his daughter Vicky (Louis) Morales and granddaughter Rosey Morales of Riverton, brother Art (Joy) Cristler of Twin Falls, ID and many nieces and nephews. Jay was preceded in death by his parents, Howard & Doris Cristler; brother, Paul Cristler; sisters, Marilyn Albright, Beverly Coburn; and infant sister,Linda Rae Cristler. On-line condolences for the family may be made at theDavisFuneralHome.com. Services are under the direction of the Davis Funeral Home.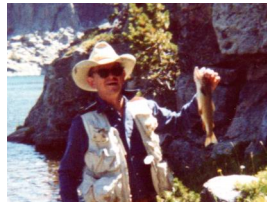 Wishing & Fishing
by
Jay Cristler
February 1993
When I think of my life and all the things I have wished,
The places I remember are the places I have fished.
I've fished in lakes and rivers, cricks, and ponds, and streams;
Any place there are fish and sometimes not, it seems.
From the Amazon Basin where the vicious Piranha play,
To the lower Pecos Valley where the largemouth bass lay,
To the Sweetwater River, the upper Powder and Big Wind;
The places I have fished are the places I have been.
When I leave this world, I'll take along my fishing pole.
If there's no fish in heaven, then I'm going down below,
'Cause you know I'm always lookin' for another fishing hole.
And you know I'm gonna' find one, so I'll need my fishing pole.
Last revised 1/26/21