by
Larry Pearce
3/20/20
(Click on images to enlarge & clarify/Hit back arrow to return)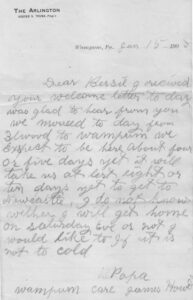 TRANSCRIPTION: [with revisions for readability]
(Heading) The Arlington, Kasper N. Trunk, Prop., Wampum, PA, January 15, 1905
Dear Bessie,
I received your welcome letter today [and] was glad to hear from you. We moved today from Elwood to Wampum. We expect to be here about four or five days, yet it will take us at least eight or ten days yet to get to New Castle. I do not know whether I will get home on Saturday eve[ning] or not. I would like to, if it is not too cold.
(signed) Papa, Wampum
(plus other names) Carl, James, & Harry [or Howard?]
COMMENTARY:
This is a letter to my grandmother, Bessie Reed Hill (1887-1974), age 17 at the time, from her father, Joseph Marshall Hill (1858-1939). He was 46. Bessie later married my grandfather, Wesley Herron Pearce (1876-1955), but when this letter was written in 1905, she was known as Joseph and wife Alice's Hill's oldest child. She had six siblings, several on whom are listed at the bottom of the letter. Surely, Joseph had included a letter to his wife in the envelope, but how amazing that this personal letter to his young daughter and others has survived for 115 years. Perhaps equally amazing was that, apparently, young Bessie had first written to her dad, anticipating his arrival at the Arlington. Imagine his delight when he was given her letter upon his arrival. The family must have had the  itinerary for his long journey.
Great-grandfather Joseph was an agent and Director of Farmers' Mutual Fire Insurance Company, a local organization that had served Western Pennsylvania since 1876. It's still in business today. My guess is that he was on a multi-city business trip, perhaps adjusting claims as he is reported to have done in my previous articles about him. My presumption is that "Elwood" in the second sentence is a reference to today's Ellwood City, resting mostly in Lawrence County. A portion of the town now also lies in Beaver County. A commonly known borough, it's not far from Joseph's farm in northern Allegheny County. But, the town of Wampum from which the letter was written was new to me, and I was surprised to find many online references to it and the Hotel Arlington there. Founded in 1796, Wampum is the oldest borough in Lawrence County, a center for mining and  manufacturing and hub for several railroads. Ore, coal, lime, and blue clay were extracted from the earth resulting in the finished products of pig iron and cement.  The proprietor of the Arlington, where Joseph stayed, was Kasper N. Trunk, a well-known citizen in his day. The first post office was known as "Irish Ripple," a reference to the many Irish settlers and the waves in the nearby Big Beaver River. Wampum, unfortunately, has a dubious history that includes a devastating fire in 1910 and a terrible flood three years later.
Wampum is only 8 miles from Joseph's next destination, New Castle, another industrial city which goes back to the late 1700s. Resting near the Pennsylvania-Ohio border, New Castle is known as the center of the Pittsburgh-Lake Erie Railroad, which took over the Ohio River to Lake Erie canal in the late 1800s. References as to why Joseph spent eight to ten days getting to New Castle are unclear. One understands that he was "working" his way on business along the north-south mainline, calling on potential clients or investigating insurance claims, but one would think he would be "riding the rails." He was a successful businessman, and so his final comment to Bessie in his mid-January letter saying, "If it's not too cold," might mean that he is driving an early automobile, one without a heater and perhaps only a canvas roof. Or, was Joseph in a horse and buggy? That is probably the most obvious.
As a family historian, I use my previous research as a springboard to all possibilities. Joseph's mother was Margaret Marshall (1831-1907), from whom he inherited his middle name and whose maternal ancestors came from the Enon Valley in Beaver and Lawrence Counties. Surely he still had family there whom he may have visited on this particular business trip. In the early Wampum annals we find various different Marshall names such as the First National  Bank Director, an Elder at the Presbyterian Church, and Marshall Funeral Home Proprietor. Were any or all of these Joseph's cousins?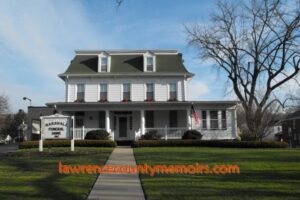 Further investigations find prominent citizens in Wampum's sister city, Newport: Reed and Pierce. My grandmother Bessie's middle name was Reed, after her great-aunt Anna Marshall (1840-1939), born in the Enon Valley of Lawrence County and who married the Rev. Alvin Reed. Of course Bessie married my grandfather Wesley Pearce, with the English spelling. "Pierce" is Irish, as are so many names in that area.
As for the three names at the bottom of the letter, Carl (1893-1970) was his second son, just 11 years old then. He later followed his father into the insurance business and  eventually lived and worked in Delaware. The second name, James, is a complete mystery. I continue to search for nicknames and possible cousins and will have to update this article when someone named James is found. Finally, the third name seems scribbled off the edge of the paper. Joseph had a son Harry (1891-1945), a nickname for Harold. He was later to inherit the family farm and marry a school teacher, seemingly the best of all possible worlds in those days. If the name is Harry, he would have been 13 at the time. But what about the rest of the children. Joseph may have written them separately, or if he didn't, we will probably never know the reason.
Credit: Thanks to LawrenceCountyMemoirs.com for the old photos and historical information.
Last revised 4/27/20