Christian, Sr. (1800-1862) b. Switzerland or Germany, coming to America in 1821 with brothers John & Ole; r. Stoneycreek & Conemaugh Twps., Somerset Co., PA (possibly son of John Jacob Bare; Farmer, weaver & cooper) 1850 Stoneycreek Census spells name "Bear."
-burial: Blough Mennonite Cemetery, Conemaugh Twp., Somerset Co., PA (First row toward church, lower left; Christian's stone is badly damaged) (GPS 40.19998,-78.95567)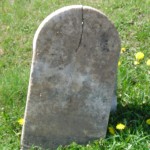 Elizabeth (1809-1878) b. Stoneycreek or Brothersvalley Twp., Somerset Co, PA; r. Stoneycreek & Conemaugh Twp. (daughter of Christian & Susannah Musser Miller – research is ongoing as to possible connection to descendants of Hannes "Indian John" Miller)
-burial: Blough Mennonite Cemetery, Conemaugh Twp., Somerset Co., PA (First row toward church, lower left; Elisabeth's stone is legible) (GPS: same as above)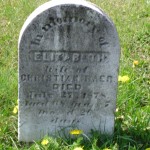 Emigration: July 5, 1821, Switzerland to Le Havre, France, to New York to Eastern PA. Transportation was aboard Brig Thetis. Passenger & Immigration list and Wills & Probate Records declare his occupation as "Weaver" although he operated a farm in Conemaugh Township, Somerset County, PA.
Religious affiliation: Amish-Mennonite
Marriage: (c. 1816) place unknown
Children:
1. Solomon J. (1827-1885) b & r Stoneycreek Twp., Somerset Co. (m. Agnes L. ___)
-burial: Pike COB Cemetery, Brotherton, Stoneycreek Twp.
2. John (1831-  ) b. Somerset Co.; r. Shelby Co., IA; m. Rachel Blough)
-military: 24th Iowa Infantry, 1862
3. Abraham (1834-1895) b & r Conemaugh Twp. (m. Sarah Miller)
-burial: Maple Springs Cemetery, Conemaugh Twp.
4. Anna (1835- )
5. Jacob (1839- )
-military: GAR PA Regiment; froze to death while on picket duty
6. Christian, Jr. (1843- ) 1860 Census has listed as "Rahasim," possibly a middle name to distinguish him from his father?
7. Catharine (1845-1897) b & r Conemaugh Twp. (m. Rev. Peter A. Blough)
-burial: Blough Mennonite Cemetery, Conemaugh Twp.
8. Mary/Maria (1847-1932) b & r Somerset County (m. Daniel Hostetler)
-burial: Berkey Cemetery, Windber, PA
9. Susanna "Susan" (1850-1915) b & r Somerset Co. (m. Jacob A. Blough) 1850 Stoneycreek Census lists her as age 3 1/2. Could she have been adopted?
-burial: Blough Mennonite Cemetery
Documentation:
Tammy Adamson-McMullen. e-mail. 10 May 2012
Howard Blackburn and William H. Welfley. "Christian Miller." History of Bedford & Somerset Counties, PA. V3. Chicago: Lewis Publishing Co., 1906. pp. 113-116.
Various memorials. Find-a-Grave.com. 7 May 2016.
https://www.findagrave.com/memorial/144681334
Mona Serratt Knight. GenForum.com
"Peter Musser (Moser), 1730-1759." Ancestry.com. Web. 20 April 2013
"Christian Daniel Miller." Familysearch.org. Web. 20 April 2013 http://www.familysearch.org/eng/search/frameset_search.asp?PAGE+/eng/search/ancestorsearchresults.asp>
"Susannah Musser." Freepages. Web. 20 April 2013<http://freepages.genealogy.rootsweb.ancestry.com/~quick/d0187/g0000013.html#1012361>
"Magdalena." Miller Family of Buffalo, NT. Familytreemaker. Web. 20 April 2013<http://familytreemaker.genealogy.com/users/m/i/l/Donald-K-Miller/WEBSITE-0001/UHP-0649.html>.
U.S. Census: 1830, 40, 50 & 1867 Ancestry.com & FamilySearch.com
See also "Introduction: Baer"
RETURN TO OUR BAER FAMILY TREE
RETURN TO OUR ELIZABETH MILLER FAMILY TREE
Last revised: 11/8/18